What is it about after the holidays that makes you want to claw your eyeballs out from all the clutter in your house!? That's where I am at this very moment as I am packing everything away. Do you feel this way too? Do you find yourself wanting to super glue a trash bag to your hand and just throw everything and anything into it for the next week?
I decided that I needed to put my neurotic cleaning tendencies to better use then trashing everything in sight so I've been working on tweaking my organization in small areas around my house. Hopefully this will scratch the itch long enough for my sanity to come back. 😉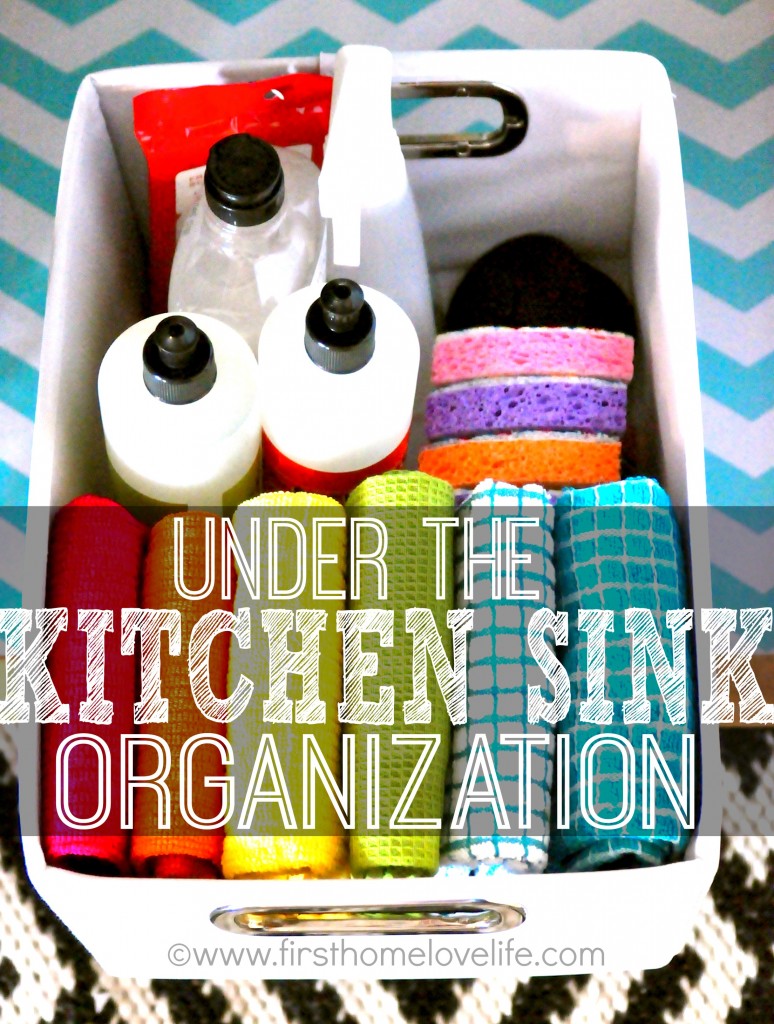 Under my kitchen sink area wasn't terribly cluttered to begin with but the grossness factor was bothering me and there were a few items that were tucked under there that didn't belong. I also had items like dishtowels in a drawer beside my sink that I wanted to be able to store down there so I could utilize that drawer a little better.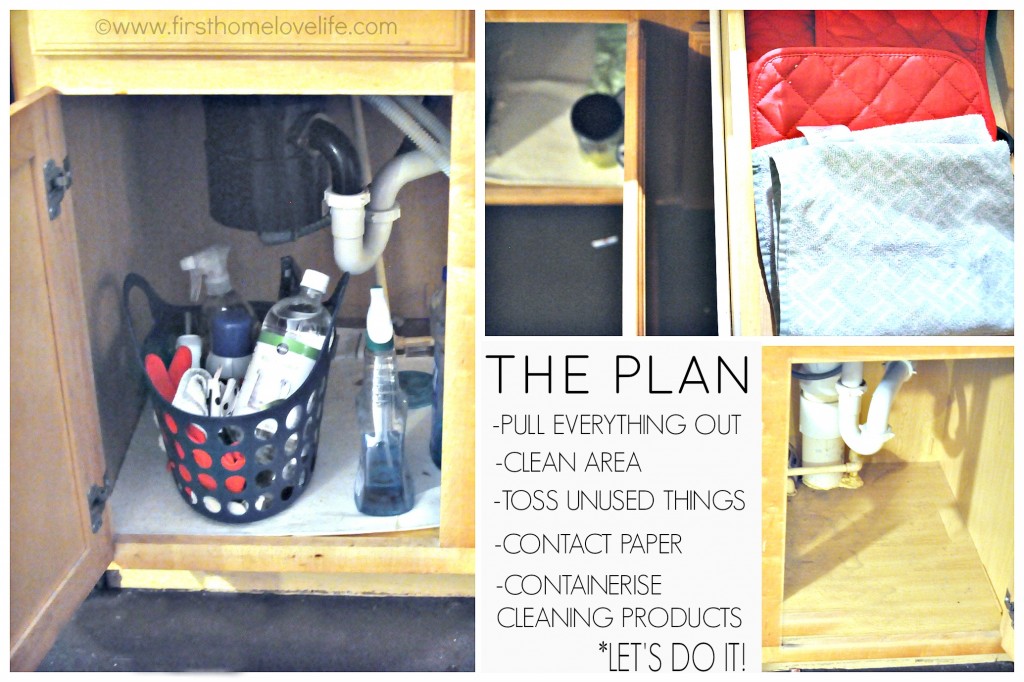 The first thing I did was purchase a few items like self adhesive shelf liner in a chevron pattern
(contact paper) and a new
cleaning product caddy
. The one I have been using for a while was from the dollar store but it was pretty flimsy and awkward to pull out from under the sink with one hand. Luckily, I have
Amazon Prime
which gives me free two day shipping, so I was able to find exactly what I needed without leaving my house. I highly recommend signing up for it in the new year if you can! It's saved our family quite a bit of money by not having to buy gas to go the store or inevitably browsing while at a store and buying things you don't need. I just search, click, buy…and it's delivered to my doorstep in two days. It rocks! Enough about that though…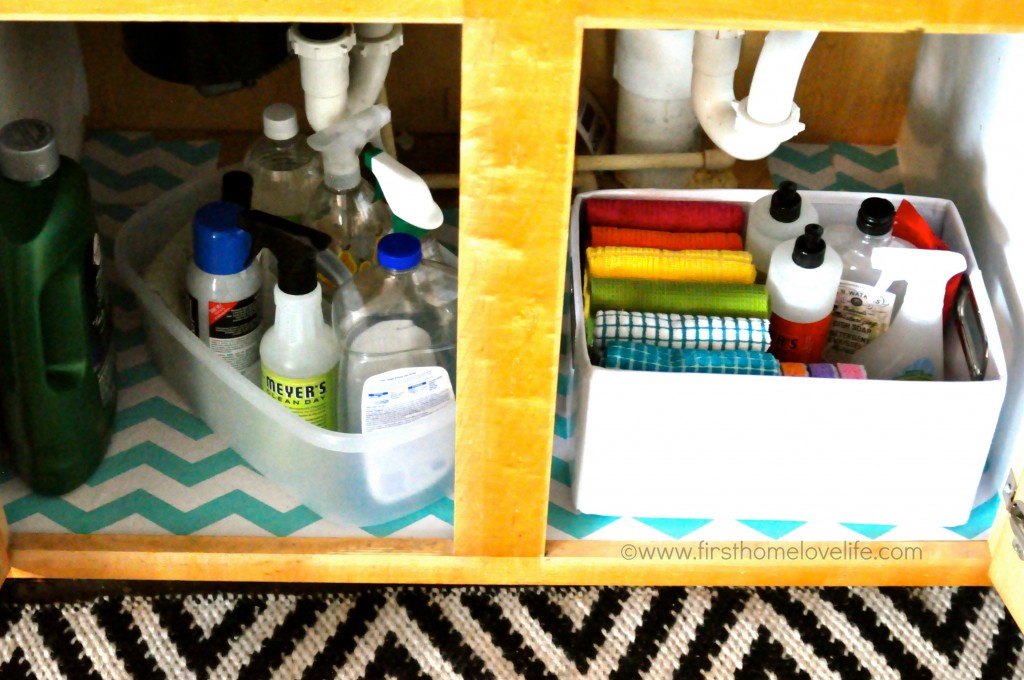 In order to keep everything looking neat and uncluttered I decided to repurpose a tote I had in my closet. It has a faux patent leather material on it so I knew it would be perfect for a damp area like under the kitchen sink because I could wipe in down easily. Plastic would be the next best solution if you need to purchase one. I would NOT recommend getting one of those material ones or even a wicker basket.
You might also notice I painted the inside walls white. Something about crisp white paint makes everything look fresh and clean. I would've loved to do the back wall, but I'm going to wait until we replace our sink so it's easier for me to reach behind those pipes. I also really adore the contact paper! It's bright and fun, and completely unexpected when you open those doors! 🙂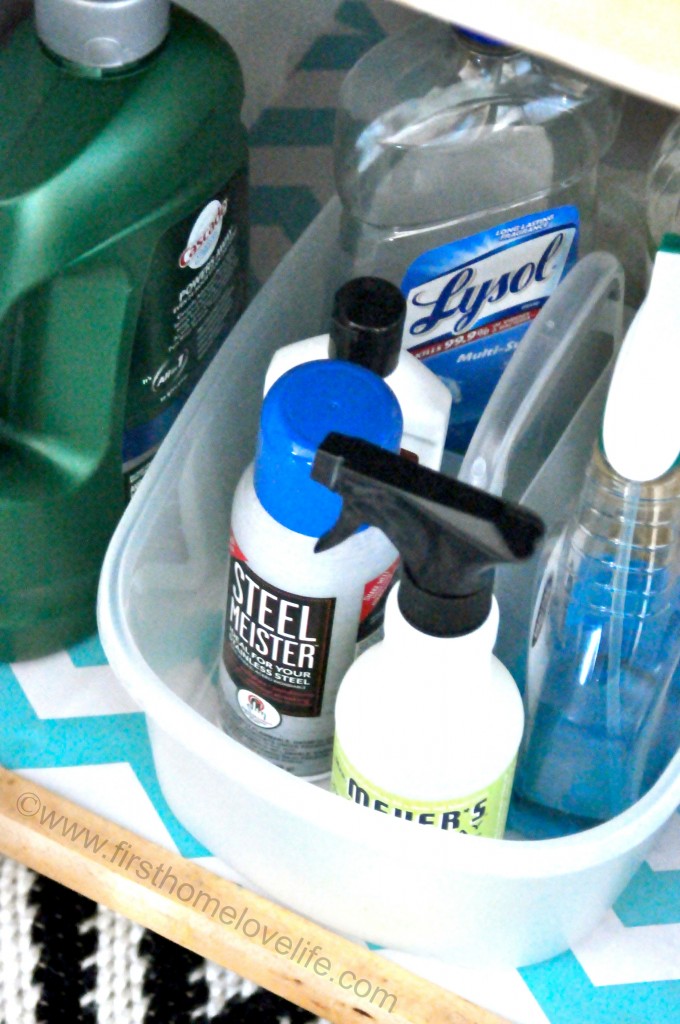 I have plenty of room in my cleaning caddy to add a few more products if need be, but I have my staples that I love and use on a regular basis like my Mrs. Meyers countertop spray, glass top stove cleaner, and stainless steel cleaner. The products in this caddy are designated only for my kitchen, but if you keep all of your household cleaning supplies under your kitchen sink because you have nowhere else to store them then making separate caddies for different parts of your house might be the best solution for you. That way you can just grab and go when it's time to clean the house. 🙂
I also keep our dishwashing liquid on the side where the dishwasher is. If you use the tablets, you could put them in a covered jar for easy access. I also always keep a bottle of distilled white vinegar in my caddy. Vinegar is a great for cleaning, but use sparingly since it's very acidic and abrasive. It could actually damage your appliances if you use it too much!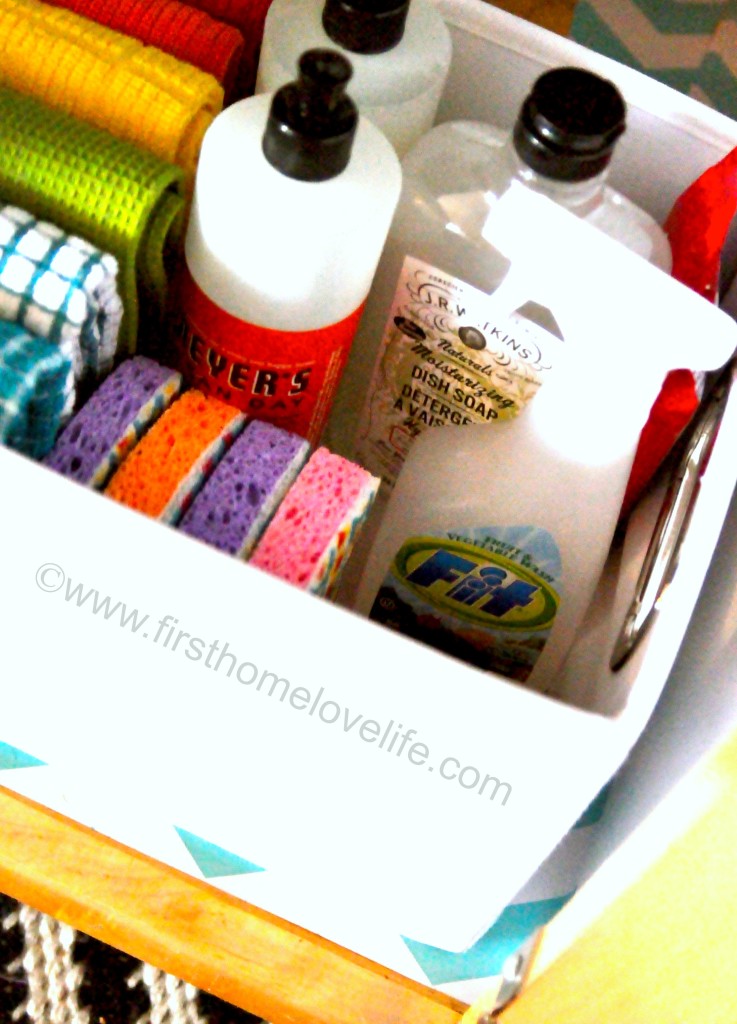 The tote holds all of our kitchen sink essentials like dishtowels, sponges, fruit and vegetable wash, dish soap, extra hand soap, and the sink plugs. I even have a small pack of disinfecting hand wipes in there just in case.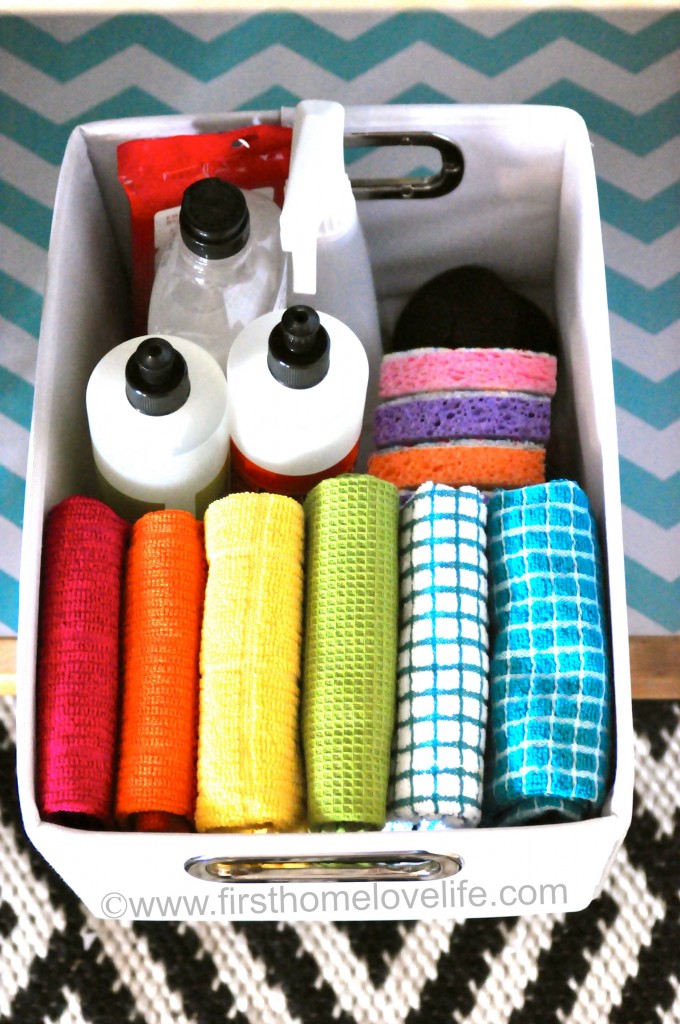 I'm super pleased with how it turned out! Before, under the kitchen sink was a dark, dirty, and disgusting place to look through, and now it makes me happy every time I open those cabinet doors! I'm a big believer in making things not only functional for you and your lifestyle but pretty as well! I know for me, when something looks nice…I want to keep it that way. 🙂
Are you in clean up and organization mode at your house? What's an area that you desperately need help with? I'd love to know in the comments below or on my Facebook page, maybe I can help!
Talk to you soon friends, take care!
XO
*DISCLAIMER: This post contains Amazon affiliate links, where if an item is purchased using my link I will receive a very small commission. For more information on First Home Love Life's disclosure policy
click here
.
Comments
comments