This post brought to you by FrogTape brand painter's tape. All opinions are 100% mine.
Do you remember a time before Pinterest?
A time where the only inspiration and images came from your head, and all of us felt more creative and unique because we weren't lost in a sea of over the top decor and staged photos…
I struggled with this post. Yes, it's sponsored, but I realized something when I was sent FrogTape painter's tape to review. I lost my mojo. Seriously.
You see, I've used this tape MANY times before. Actually, It's the only tape I use now when painting because I think it is the BEST painters tape on the market with it's PaintBlock® Technology. I always get perfectly crisp lines when using FrogTape® so it was a no brainer for me to accept an offer to write about it…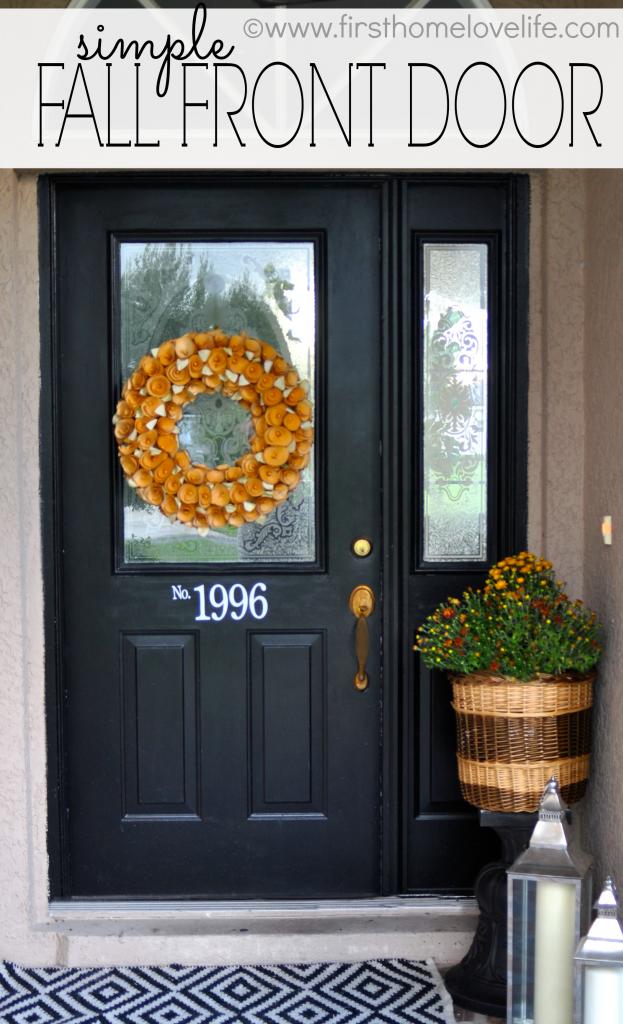 I had originally planned to show you how to use this tape to create an awesome chevron accent wall (something you definitely can do using FrogTape®) but after realizing I didn't want a chevron wall in my house, I changed gears and decided to paint stripes on curtains. The FrogTape® did exactly what it was supposed to, the lines were crisp and didn't cause the paint to bleed through at all, but the paint on the curtains…splotchy and cheap looking.
So I stopped trying to duplicate other people's ideas and decided to stick with my approach to decorating in general. (KISS) "Keep It Simple, Stupid."
For a good part of August and now halfway through September my "fall" front door looked like this…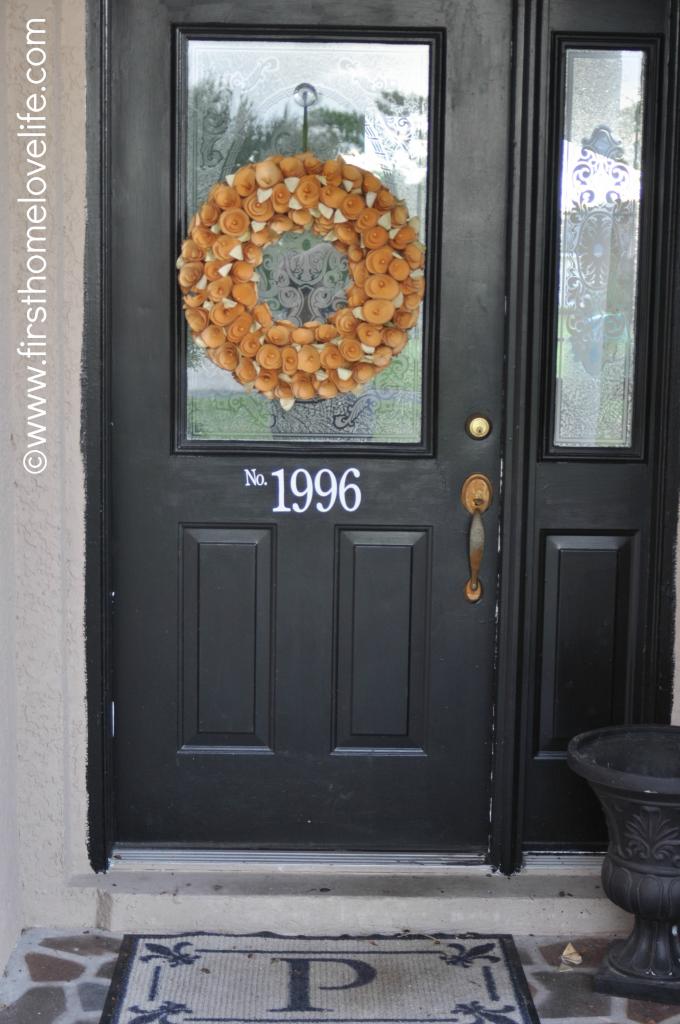 Pretty, eh?
So instead of turning to Pinterest like I normally would, I waited until I had an idea, my own idea.
When I pulled into the garage this afternoon I looked over and saw this basket just sitting there on a pile of scrap wood. It used to hold a fig tree, but after that died I just tossed it into the garage to either sell at a yard sale or donate. That's when inspiration hit. I thought it would be pretty striped…so that's what I did. Me, myself, a can of dark gold spray paint, and my FrogTape painter's tape.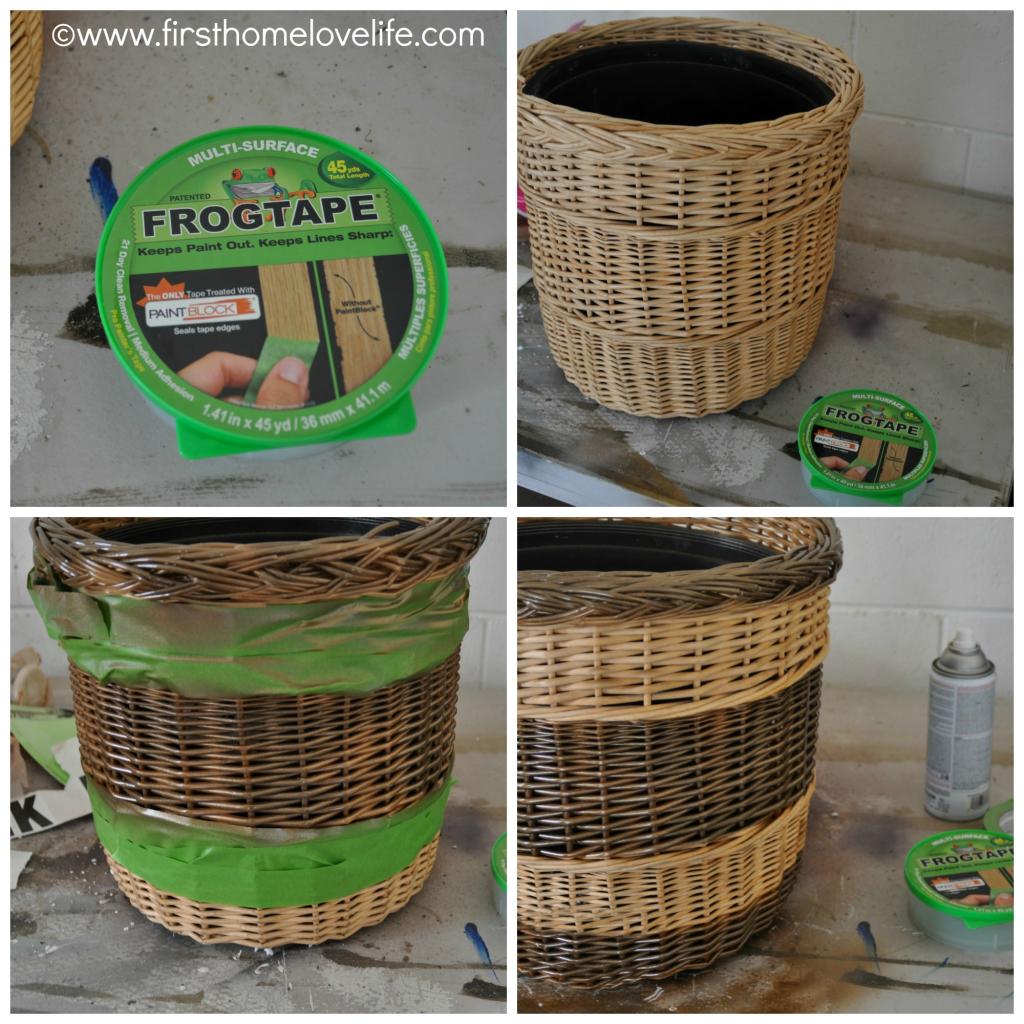 The FrogTape® worked great, as it always does clinging onto even the weirdest of textures like this wicker basket. I still was able to get perfectly crisp and clean lines.
Once it was dry, I planted some mums in it and placed it on top of my urn (that I turned upside down) to create a pedestal.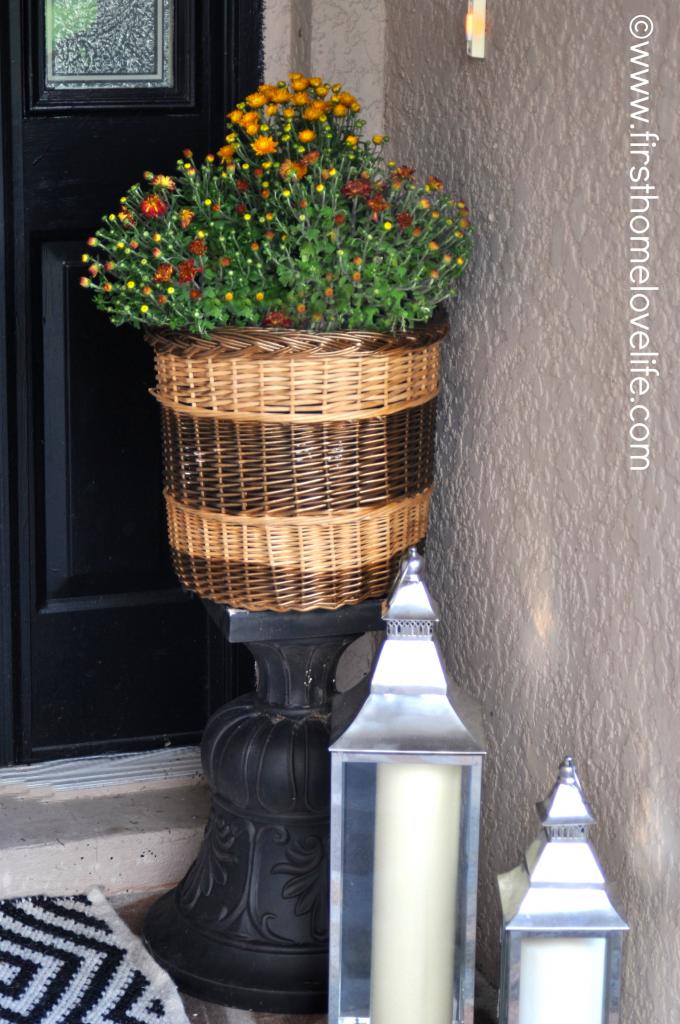 To complete the look I switched out the dirty front door rug for this braided black and white one, and added a couple of silver lanterns.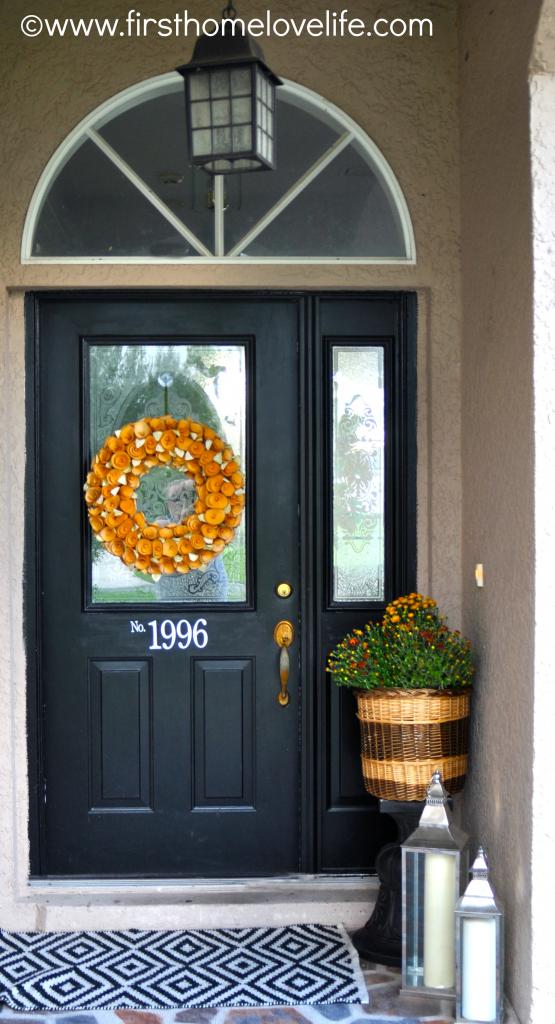 I just love the way the striped basket really makes our front door pop now!
Is it it out of this world creative? No. Is it going to go viral on Pinterest? Probably not. But it's true to my style and taste. Simple to do, fresh and festive, and a perfect look for my fall front door.
Moral of this story…stay true to yourself and inspiration will hit. There was a time when Pinterest didn't exist.
So, have you compared other painters tapes to FrogTape painter's tape yet? There really isn't anything not to love about it, and I've been using it for all my painting projects big and small for close to a year now, as well as following them on Twitter @FrogTape.
Talk to you soon guys, take care!
XO
Linking up to: DIYSHOWOFF
Comments
comments