Pork Marsala with Mushrooms and Shallots- a crazy simple yet scrumptiously great dinner, served in 30 minutes or less!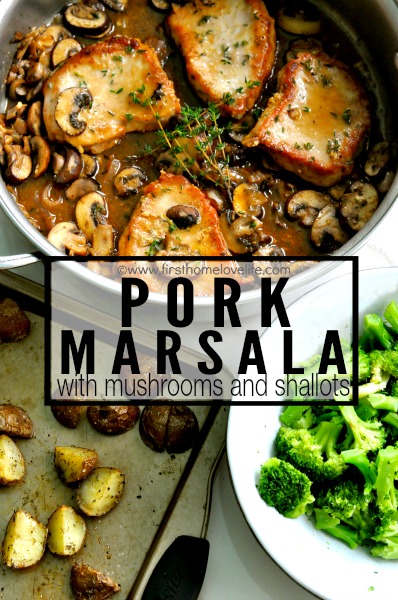 I never intended to start sharing my dinner recipes as regularly as I have been, but you guys are the best, and you're constantly asking for more! You've also been asking for 'prep pics' – meaning where I'm taking shots while cooking, and while I'm not going to promise every recipe will have that, I will make an effort to try and take pictures while preparing some things (spoiler alert: prep pics below!)  😉
I love that blogging gives me the ability to share my favorite recipes with you, especially ones that are family favorites and easy to make. This pork marsala dish is a perfect example! It's super flavorful, a one pan dish, and my family LOVES it, so I'm pretty sure yours will too!
Did I mention it's done in about 30 minutes? Uhhh hello busy weeknight amazing meal! Here I'm serving it up with roasted potatoes and broccoli, but I've served it with egg noodles and green beans before and it's just as good! I love that its super versatile in that way, because its fun to switch up the routine dinners to keep you from getting bored, ya know? 🙂
Here's what you'll need…(serves 4)
1 lb boneless center cut pork chops (on the thin side)
2 thinly sliced shallots
2 chopped garlic cloves
1 box pre sliced baby bella mushrooms
1/2 cup Marsala wine
1/2 cup chicken stock
about 2 tablespoons olive oil
about 2 tablespoons butter
about 1/3 cup all purpose flour
about 1 teaspoon of garlic powder
about 1/2 teaspoon of Kosher salt and ground pepper
fresh thyme
**optional about a teaspoon Dijon Mustard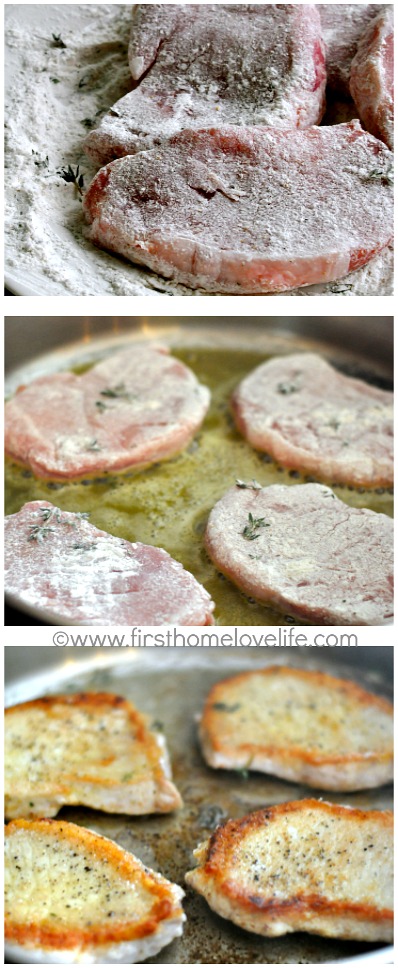 On a plate or shallow bowl add flour, garlic powder and salt and pepper-mix. Toss your pork in the mixture to coat all sides and tap off the excess.
In a saute pan or similar add butter and oil to a medium high heat, when butter is melted, add pork.
Add pork to pan and cook, flipping over one time when sides get golden brown.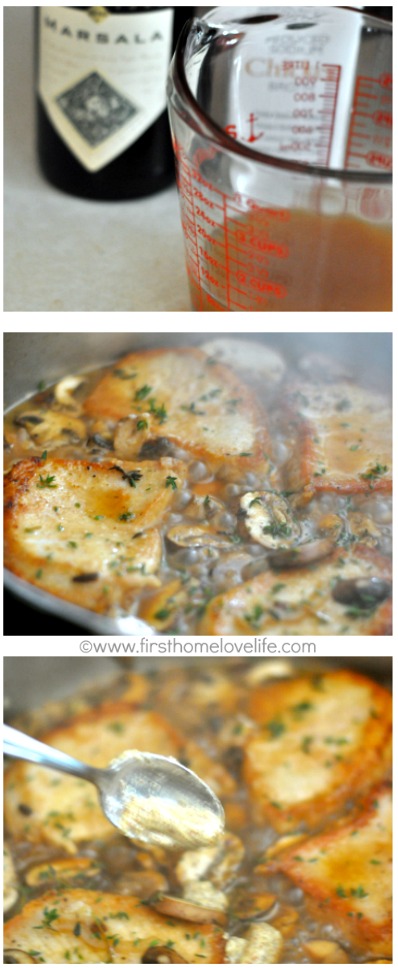 Lower the heat to medium-lowish and add your mushrooms, shallots, and garlic to the pan. Use tongs to toss them around so they are touching the pan.
Add in your Marsala wine and chicken broth, and use a wooden spoon to scrape up the bits at the bottom of the pan.
Add in fresh thyme (about a teaspoon-tablespoon)
Cover the pan and let cook for about 7-8 minutes
Optional- add in about a teaspoon of Dijon Mustard (pork and mustard are a match made in heaven) and let cook for another 3-4 minutes uncovered
It will be ready when the sauce has thickened into a gravy.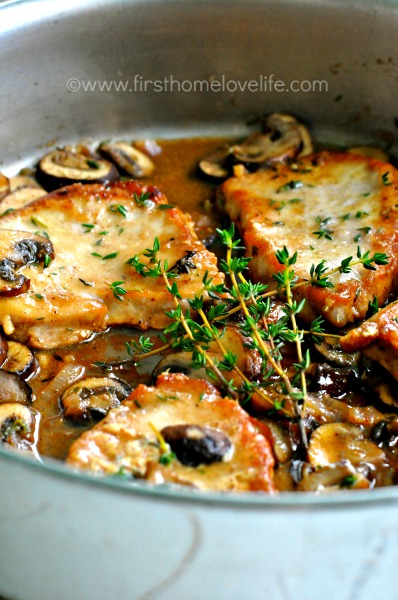 Could it be any simpler? You know…We're coming up on entertaining season, and this could easily be served to a crowd. Your friends and family will think you're amazing – I won't tell them how easy it was to make, promise! 😉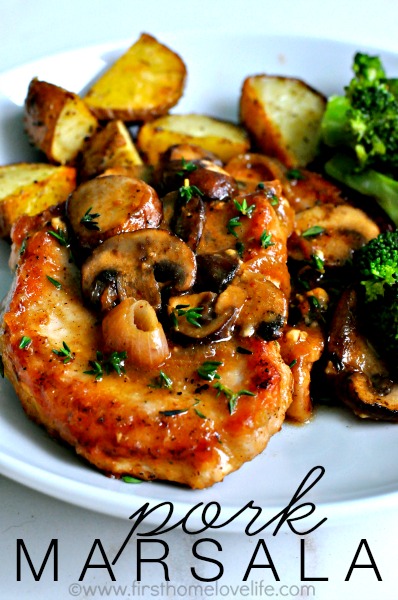 SO EASY, SO DELICIOUS!
I hope you love this recipe as much as we do!
Talk to you soon friends, take care!
XO
Comments
comments