I know, I know…
It's still early June, but I'm already getting ready for our Fourth of July party and thought now would be the perfect time to share this super simple favor idea with you so you had time to grab the supplies and make it for yours. This year we're having a handful of neighbors over and throwing a pot luck block party, so I'm pretty excited about it and want to make it special, especially for the little ones who are still a bit too small to hold on to sparklers or may be a little scared to watch the fireworks…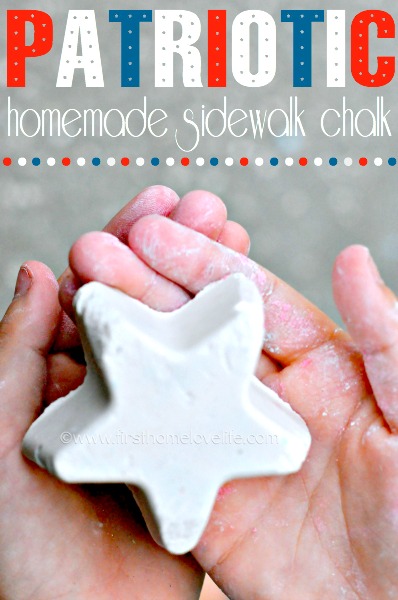 That's when I came up with the idea of making some patriotic star shaped chalk for them to keep their little hands busy while the bigger kids are playing with poppers and sparklers. Of course…Knowing these kids they'll probably end up wanting to have their own chalk too 🙂
Lucky for me (and you) it's SO quick and easy to whip up a bunch of these so I'll be making a ton more to hand out as favors this year!
Here's what you'll need…
–Star Silicone Mold

 (Amazon affiliate link)
– Plaster of Paris (which can be found in any home improvement store usually near the paint department)
– Washable/Tempura paint (I'm using Crayola brand because that's what I had on hand)
-You'll also need some disposable mixing bowls and spoons, measuring cups, and some tap water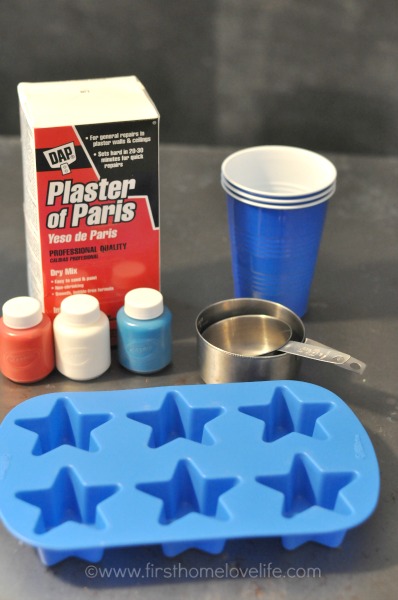 I mixed up mine in some disposable cups using plastic forks. Fancy, I know… 😉 But seriously, this couldn't be any easier!
First measure out about a cup of Plaster of Paris (maybe a little less than a cup) Put it into your mixing bowl.
Then add 1/2 cup tap water to it and begin to stir
Now add one color of paint…I eyeballed it until I got the pigment I liked-if I guessed, probably about 2 tablespoons.
Mix until everything is well combined and has the consistency of sandy pancake batter (?) mmm delicious…
Repeat the process for each individual color, and then pour it into your mold.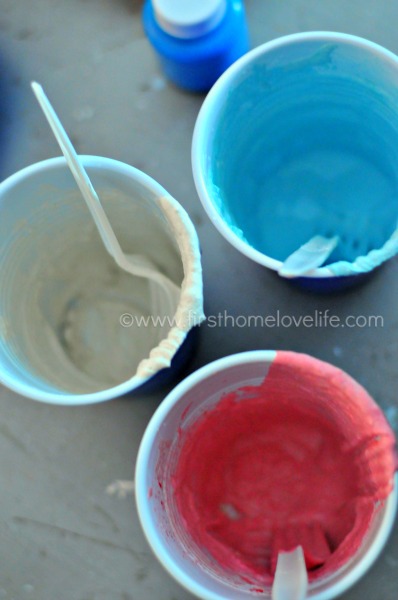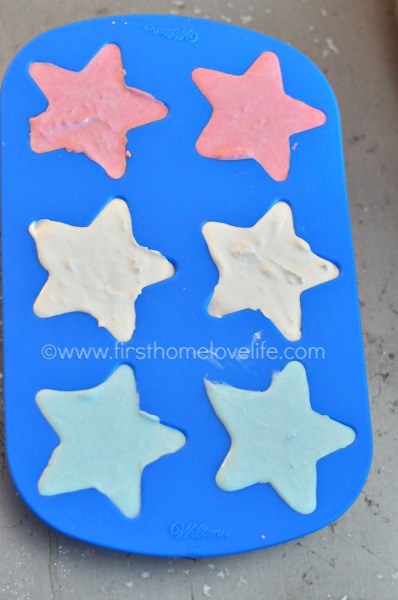 If you have over spill just clean it up with your finger so it doesn't dry wonky. Give the silicone a little tap tap tap on the table to get any air bubbles out and then place it somewhere to dry and harden.
After a few hours, you'll have these little cuties…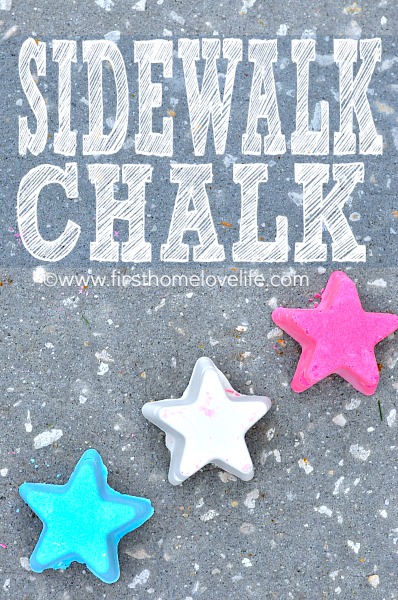 Super sweet, cheap and so easy to do! That's my kind party favor 🙂
Do you have any fun plans for the Fourth this year? I'd love to hear about it in the comments below!
Talk to you soon friends, take care!
XO
Comments
comments