Healthy and delicious is the only way to describe this make you feel good soup! Put this sausage, sweet potato, and kale soup on your menu and your family will thank you for it!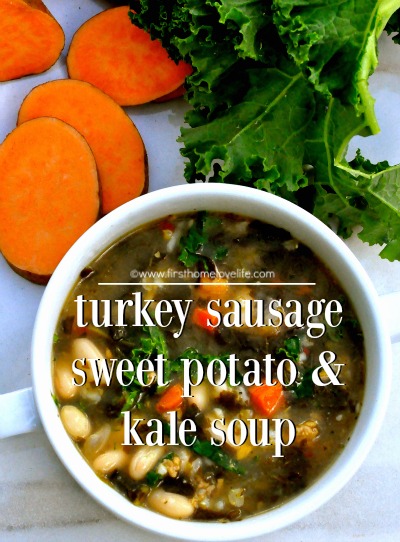 Where to begin…
2015 has been such a bust for my blog, but pretty good personally for me. I think I needed to take the time away from social media to kind of just jump into this journey head first and not look back. I'm no where near done, but I'm at a point where I feel comfortable blogging again without being sucked back into bad habits (see: sitting at a desk for hours a day while stuffing my face with junk) I've been on a mission to get my weight under control, health back, and fitness level back up to where it once was.
A lot of people are going to decide to start their own journey's on the first of January, and I'm so excited for you and want to be here to encourage you and tell you that YOU CAN do this. It's going to be hard, there's going to be days that you fall, but the key is to get back up and keep going. Don't give up!
I slowly lost 20 lbs. when I cut out a few bad things in my regular diet in the beginning of the year but once I added exercise and much cleaner eating habits…The weight has been falling off and I'm now -30 lbs. since around the end of September. (And yes, I stuck with it even during the holidays) 🙂
Now, I'm still a major foodie at heart so I can't give up things I love forever but I follow an 80-20 rule. Eat as clean and healthy as possible 80% of the time, and allow myself to indulge a little 20% of the time. I've seen big changes in my body and feel so much better than before. It's crazy.
So what does that mean for my site? I'll still be posting organizing and cleaning tips, along with decor, and of course delicious recipes…but I'll also be now including much healthier ones to help you if you're beginning your weight loss journey and need some inspiration. Starting off today with this super satisfying and healthy turkey sausage, sweet potato and kale soup…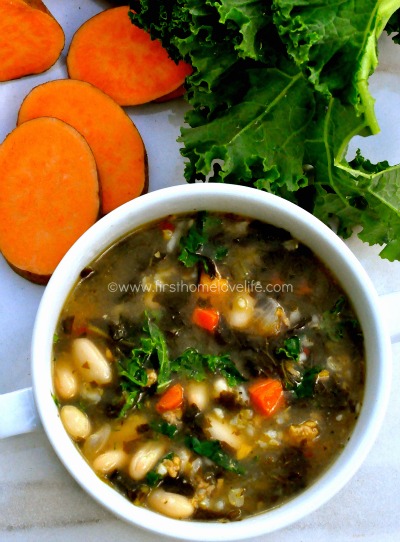 You'll need…(Serves 4-6)
1 lb. spicy ground turkey sausage
1 can cannellini beans- drained and rinsed
2 sweet potatoes- cubed
1 bunch of kale roughly chopped (about 4-5 cups)
1 large yellow onion – diced
2-4 cloves of garlic- minced
1 TBSP olive oil
4 cups low sodium chicken broth
2 cups water
1/2 teaspoon cayenne pepper
salt and pepper to taste
In a large pot, heat the olive oil over medium-high heat and add your ground sausage to brown. Breaking it up with your spoon into small crumbles. Once it begins to brown, add in your chopped onion and garlic (season with salt and pepper) Cook for about 5 minutes,
Once the onions begin to soften and sausage is cooked. Sprinkle the cayenne in and stir everything together. Add the cubed sweet potatoes, broth and water, cover and bring to a boil.
Reduce the heat to a simmer, and add in the cannellini beans and chopped kale- cook uncovered for about 5-10 minutes depending how wilted you want your kale to be.
Serve hot immediately or let the soup cool completely and put it in the fridge or freezer. It holds up great either way.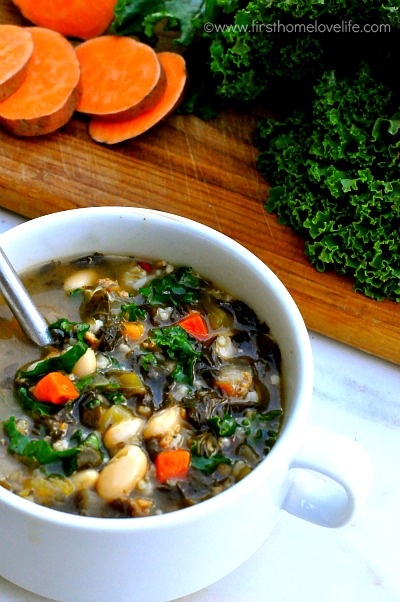 It's super simple with not a ton of ingredients, but big bold flavors. Perfect mix of heat and sweet and will make your tastebuds happy along with your waistline. 😉
I hope you love this recipe as much as I do! Don't forget to pin it to come back to it later!
Talk to you soon friends, take care!
XO
Comments
comments