Today, my husband and I enjoyed a leisurely morning while our daughter was in school. We went to Home Depot–always a great start to the day when that happens— did some yard work, took a dip in the pool to cool down, and decided to grill up some kabobs for lunch. He was really in the mood for a gyro, so being the good wife I am {wink} did these kabobs up "Greek-style" with an amazing and mmmm-garlicky homemade tzatziki dip on the side! So light, yet full of flavor–these grilled chicken skewers with homemade tzatziki will be a big hit in your home too! 🙂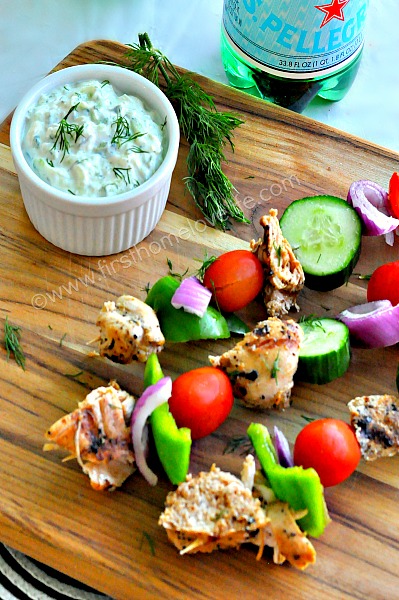 Here's what you'll need…
2-3 boneless and skinless chicken breasts
2 english cucumbers
1 red pepper
1 green pepper
1 pint grape tomotoes
1/2 red onion
1 lemon
8 oz plain greek yogurt
4-5 cloves garlic
1 tablespoon of fresh chopped dill
2 tablespoons fresh chopped parsley
salt and pepper
olive oil
**Marzetti lemon vinaigrette salad dressing (I used this to marinade the chicken, but italian dressing would work just as well)
First thing is to rinse off your chicken breasts, set them in a bowl and add some olive oil, **lemon salad dressing, fresh parsley, 2 chopped garlic cloves, and salt and pepper into the bowl and mix everything together—let the chicken marinade for about 20-30 minutes in the fridge.
Next, get started on making the tzatziki–the longer it sits, the better it will be 🙂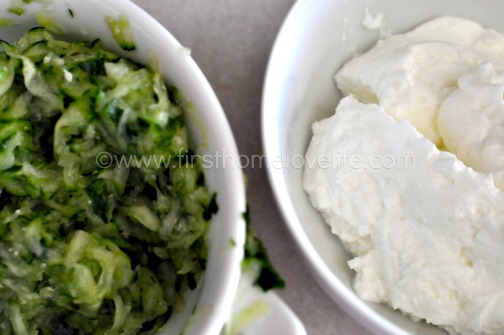 Get out your box grater and grate 1 of the cucumbers into a clean white dish towel (cheesecloth is even better if you have it)
Squeeze out the grated cucumber until no more water is coming from it and dump it into a mixing bowl
Now add in 8oz. of plain greek yogurt and stir it together
Add juice of 1/2 a lemon, fresh chopped dill, 2-3 garlic cloves, and a sprinkle of salt and pepper, and stir again
Refrigerate until ready to use
Take your chicken out to the hot grill and throw them on to cook!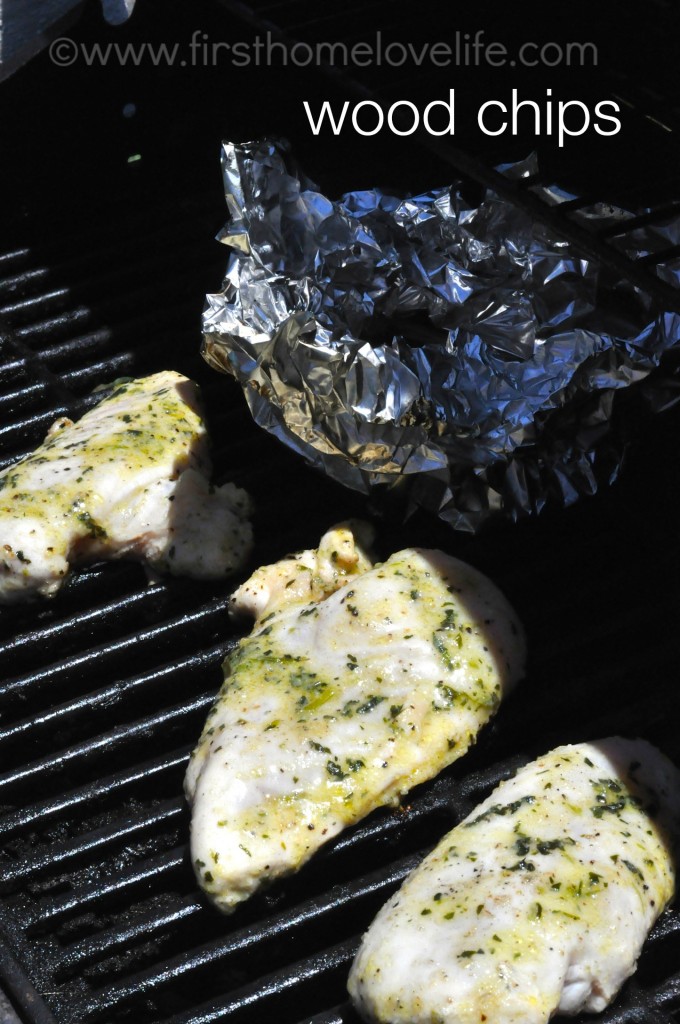 *GRILLING TIP* Whether it's veggies, fish, chicken, beef or pork– if you have a gas grill like we do but LOVE the woodsy smokey flavor of a wood oven! Make a tinfoil bowl and throw some flavored wood chips in there! It will infuse whatever you're cooking with that aroma and flavor we all love! Mmmm–so delish!
Once your chicken breasts are cooked through, take them inside to rest for a bit before cutting them into cubes or chunks big enough to be skewered.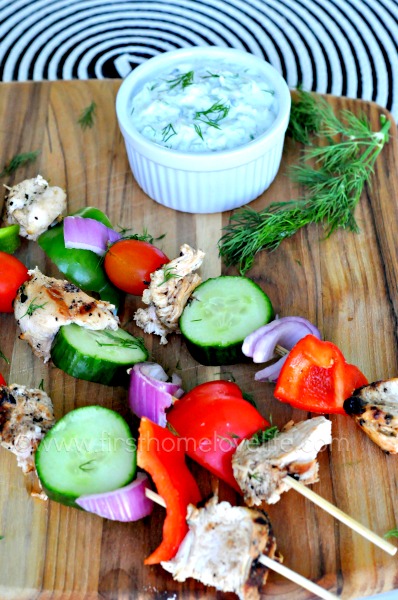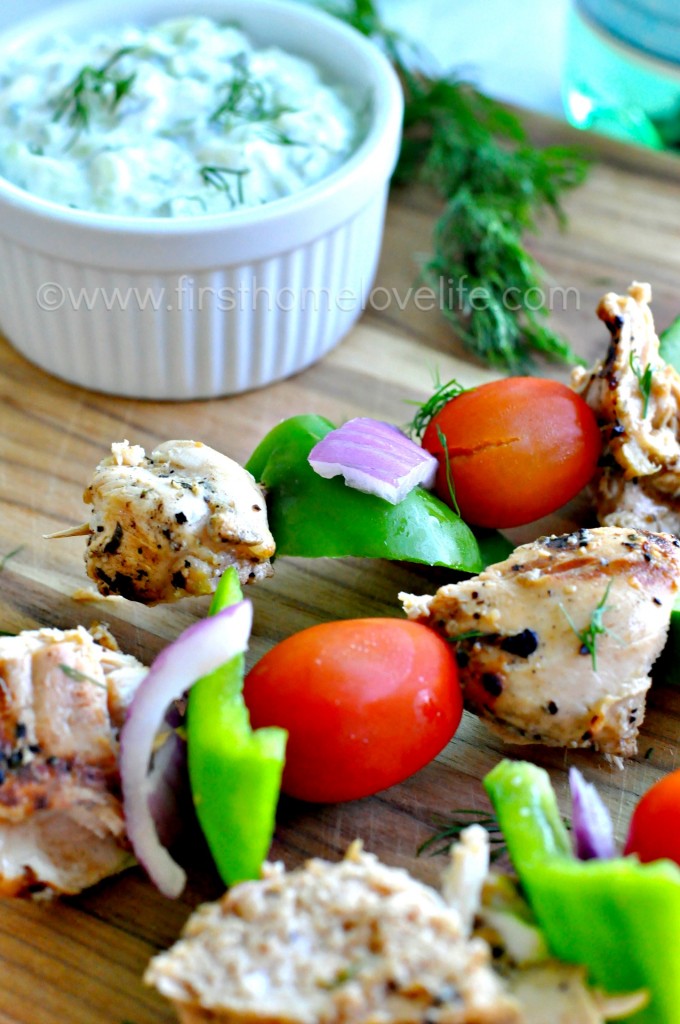 I alternated meat with veggies and used grape tomatoes, sliced red onion, green and red bell pepper chunks along with a slice of cucumber. It was like a deconstructed gyro on a stick, and hubs was VERY happy about that! 🙂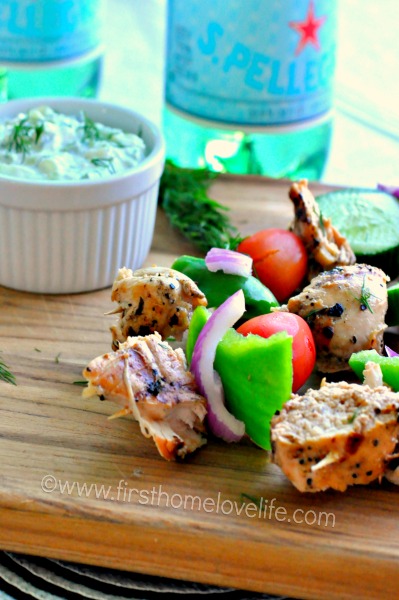 They were so tasty when dipped into that delicious tzatziki, especially eaten outside after we just got out of the pool! Food always taste better when you're eating outside, doesn't it? 🙂
I hope you loved this recipe! Now, go get grilling!
Talk to you soon friends, take care!
XO
Comments
comments