How much do you love an extremely easy and super delicious meal? Hope it's as much as I do! This marinated chicken and zucchini dish is a one pan meal that can be made in little to no time at all and is something everyone in your house will enjoy…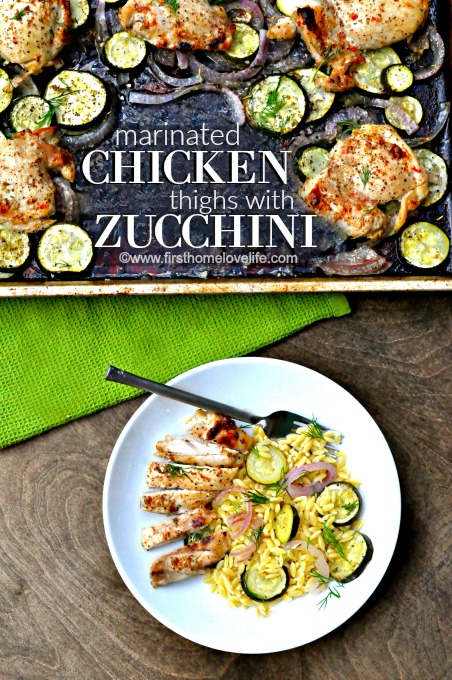 Who doesn't love a fantastic and easy meal that,
Can be all made in one pan, and
Is tasty, and
Because it's all in one pan, clean up is a breeze.
I can tell you…I love those kind of meals!
I love sharing all kinds of recipes with you guys, but the one pot/pan dishes I make on the regular around here are my real life go-to's. I love being able to throw everything onto a sheet pan and let it cook in the oven while I do whatever else I need to do, and in about 30-45 minutes a delicious dinner is ready to be served up! Easy, breezy, and tasty…what can be better than that? 🙂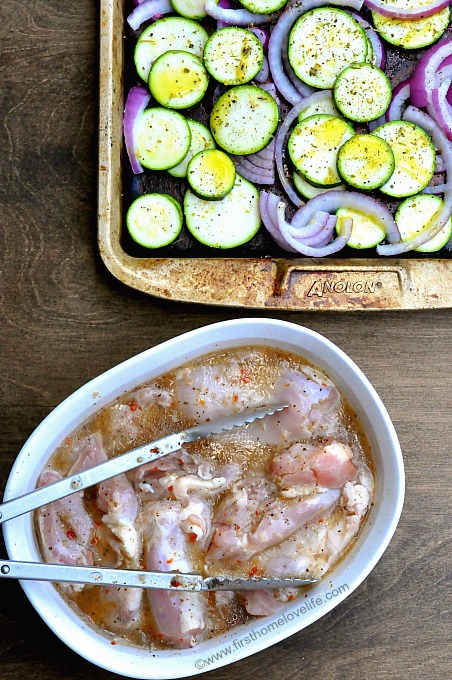 I really love using chicken thighs when baking in the oven because they stay really moist and delicious. It's so easy to dry out chicken breasts if they're boneless and skinless, so I go with the thighs instead, not to mention they are so much cheaper so you can get a bigger bang for your buck. You can definitely use this recipe for boneless skinless chicken breasts if that's what you prefer, just adjust the cooking time since most likely they will be thicker than a boneless skinless chicken thigh and will need a little more time to cook through.
I marinate my chicken in the fridge for as long as possible in a simple marinade of…
1/2 cup italian dressing
1/4 cup lemon juice
1/4 cup olive oil
2-3 tablespoons dried italian herbs
salt and pepper to taste
*tip: I always keep italian dressing stocked in my pantry. It's a great base for so many marinades since there's so much seasonings and herbs already in there.
While your oven is heating up (preheat to 375) go ahead and chop up your vegetables. The beauty of this dish is you can get as simple or wild as you want! I chose the more simple route with just zucchini and sliced red onion, but by all means…get creative with it and use things you know your family will love to eat.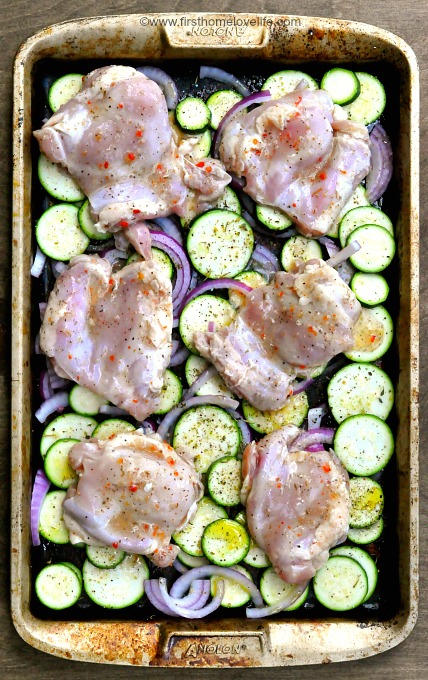 Lay your veg in a single layer on your baking sheet and toss everything with a little olive oil, salt and pepper. Then lay your chicken on it. The vegetables will act as a bed for the chicken and will also absorb the flavor of the chicken as it cooks and releases it's juices. So much flavor with so little ingredients! You have got to love that! 🙂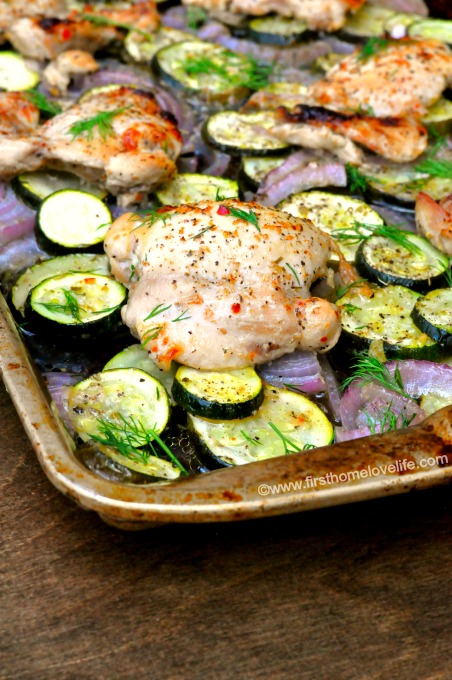 Bake at 375 for about 30-40 minutes until chicken is completely cooked through, and has a nice golden color on top. I sprinkled some fresh dill all over top when I pulled it out of the oven since I love the flavor of dill with zucchini but this is completely optional. Serve up with a side of orzo, rice, or even potatoes…this one pan dish is super versatile!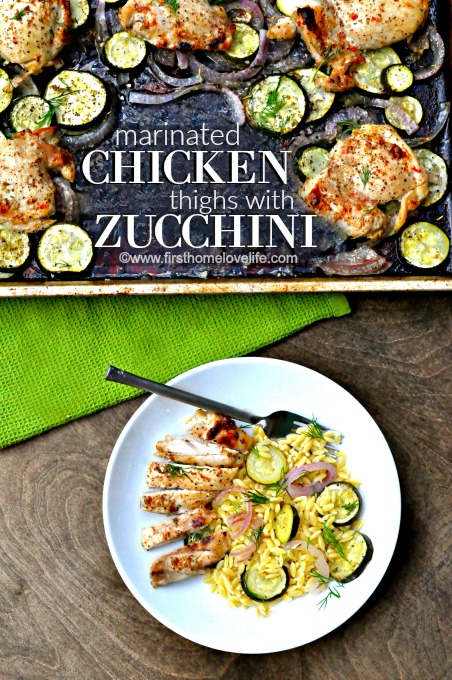 I hope you love this one pan recipe as much as I do. 🙂
Talk to you soon, friends!
Take care!
XO
Comments
comments