"Say what?! I'm supposed to clean those things?!"
Yes. Yes you are, and if you're reading this, chances are you haven't done it in a while, but that's okay! I'm going to show you the easiest way I've found to make sure my HE washer get's squeaky clean, and ready for the next load of laundry!
Now if only I could figure out how to make the laundry do itself…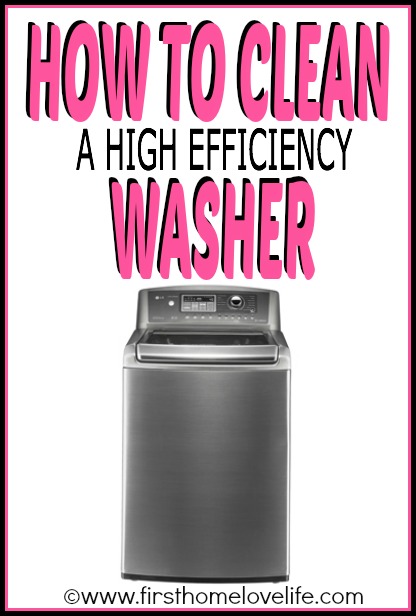 I have it marked in my home maintenance binder to give our washing machine a thorough cleaning every 3 months. Any longer than that is pushing it and the machine will begin to develop that mildew smell everyone associates with HE machines.
For regular once a month cleanings in between those more thorough cleanings, I like to use these Tide Washing Machine Cleaners.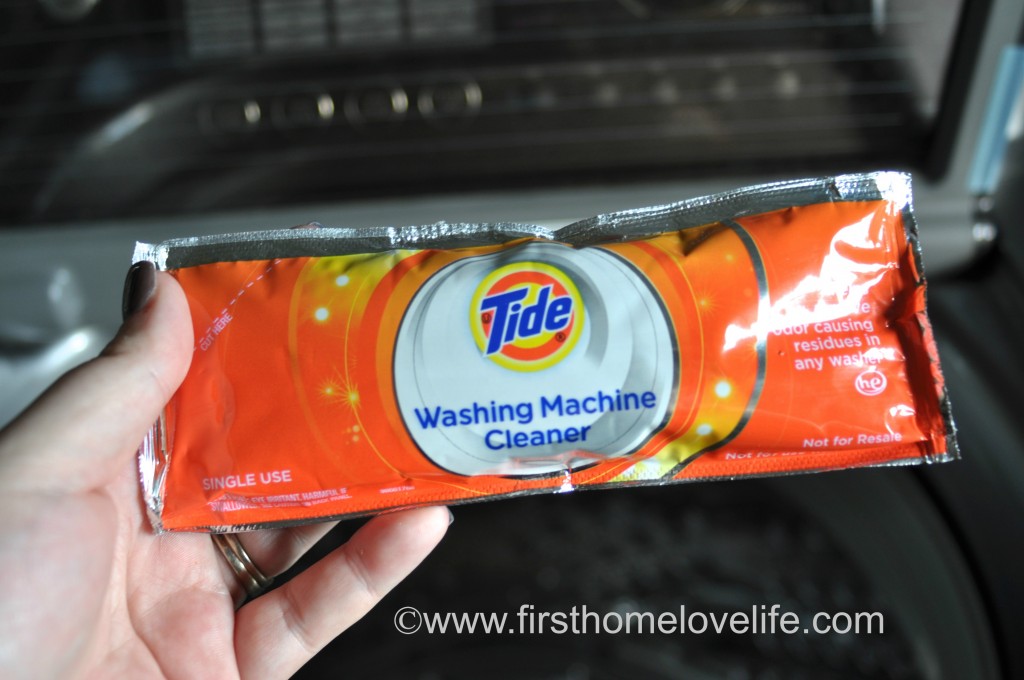 I've bought them from a few different places like Target, or Walmart where they come in a 3 pack, but I found the best price here
on Amazon is where you can get a pack of 7 with free shipping if you're a Prime member.
So after dumping in one of those little packets into the tub of your washing machine, you set your machine to run on its "machine cleaning cycle."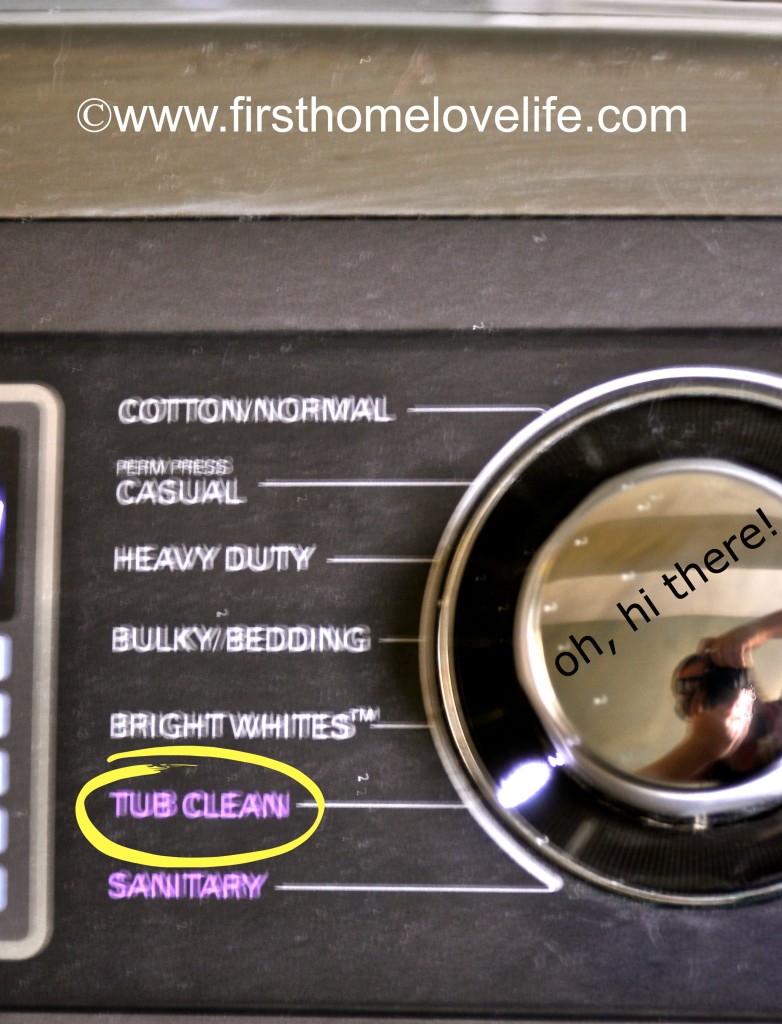 Let it do it's thing (usually about an hour) and then open the door when it's finished to let it air dry.
Okay, so that's your basic once a month cleaning, but that's not enough…oh no…you absolutely have to scrub the washing machine down as well at least a few times per year.
Why?
Well…think of it this way…Even though you take a shower where technically you're using soap once a day, why would you need to clean your shower?
Exactly! Because your body is dirty and your shower builds up with gunk, grime, soap scum, and all that lovely stuff. Now think about if you only cleaned your shower once every 3 months. Uh huhh…See why I don't let it go any longer than that? It's not pretty! In a perfect world everyone would throughly clean their washing machines like this monthly, but I'm a realist. 20 minutes, one time, every 3 months! That's all it takes.
First things first…
Fill an empty spray bottle with 50% white distilled vinegar and 50% hot water. Hot out of the faucet, not boiled. This will help loosen up the stuck on dirt in and around your machine. Cold water won't work as well, trust me.
So open up the door and take a look around…
Step 1. Clean the inside of the tub: Wipe out the entire washer drum using the white vinegar spray and a cloth. If you see mold, you may need to follow up with bleach to be safe.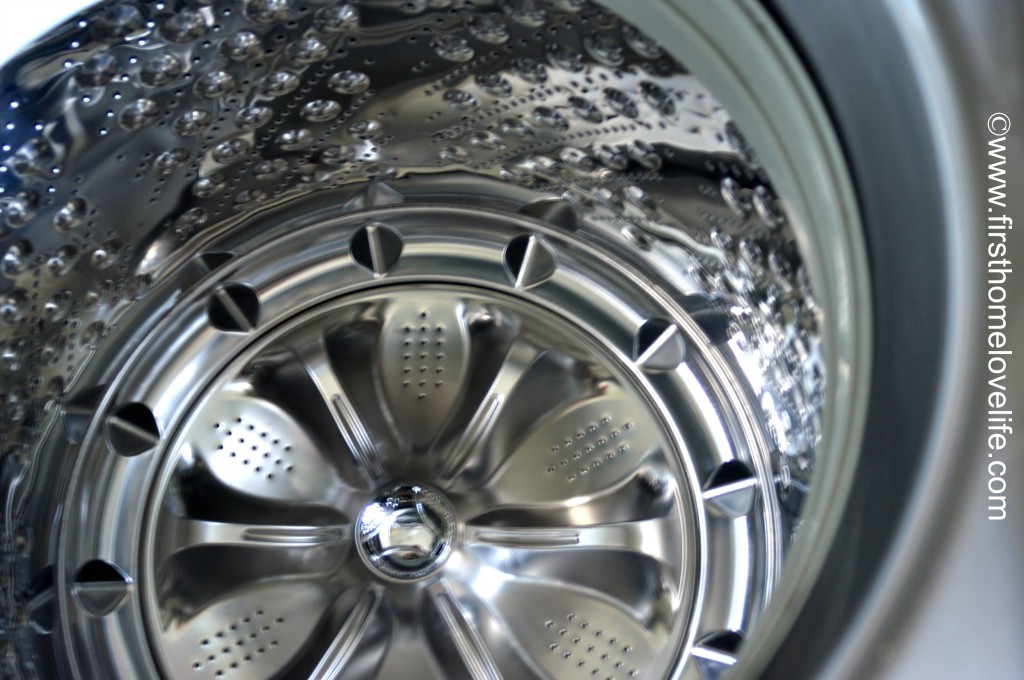 Step 2. Clean around the tub (or rubber seal if you have a front loader): My HE washer is top loading so I simply move the basin around to spray my vinegar spray, let it sit on there for a good 10 minutes and then get in there with a cloth and old tooth brush to clean out the gunk.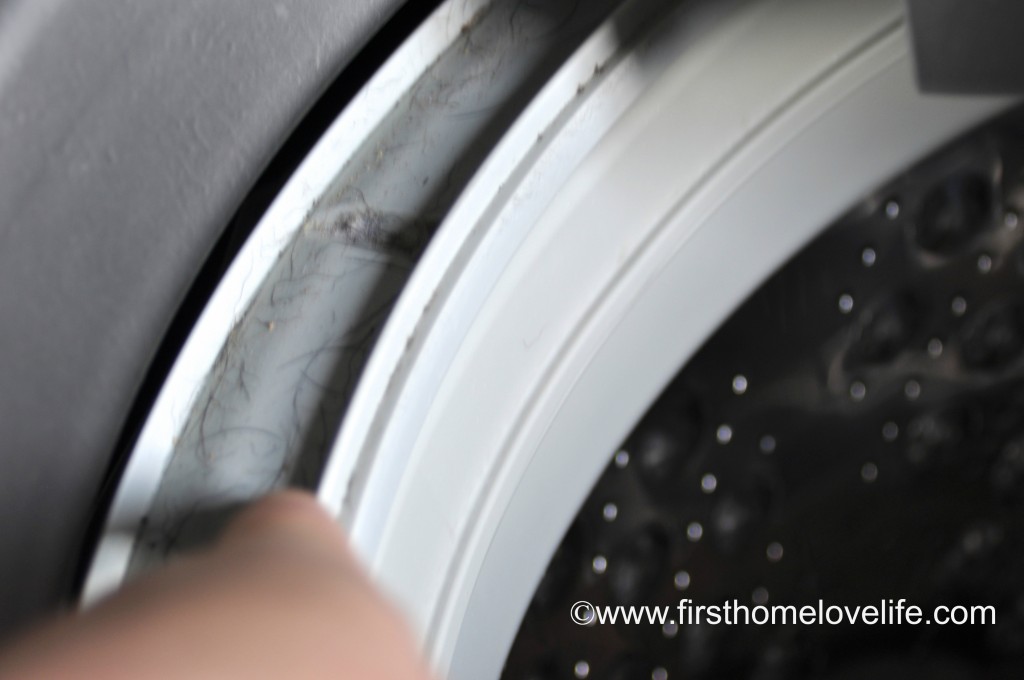 See how gross? Imagine if I let it go any longer than that…bleh!
Step 3. Clean out the detergent tray and bleach compartment: If you have a front loader, I believe you can actually completely remove the tray to clean it out or at least our old machine did. Mine doesn't come out like that, so I just remove the top part and spray the inside with the vinegar spray and give the other piece a scrub in the sink.
UPDATE 11-9-13: Thanks to a reader who has the same machine as me, she told me how to take the tray out! It makes a scary sound and you think you are breaking it, but it does come out! Check your user manual for the step by steps!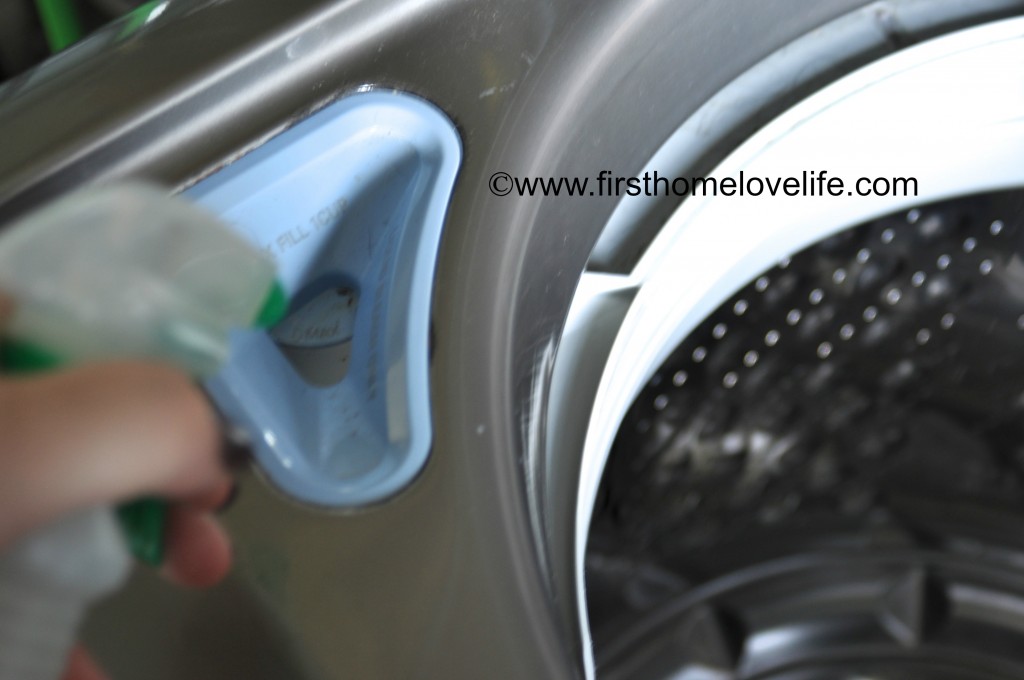 Step 4: Run the clean cycle again: This time just add white vinegar to the detergent tray and run the machine on its tub cleaning cycle. When it's done open the door and take a clean cloth and dry it off the best you can.
Step 5: Wipe down the outside of the machine and clean the under side of the door: Using an all purpose cleaner (or the vinegar spray) spray down the outside of your machine and wipe off any durst or dirt that has accumulated. Also clean the underside of the door, and make sure to get in the cracks! That's why I like using an old toothbrush for this!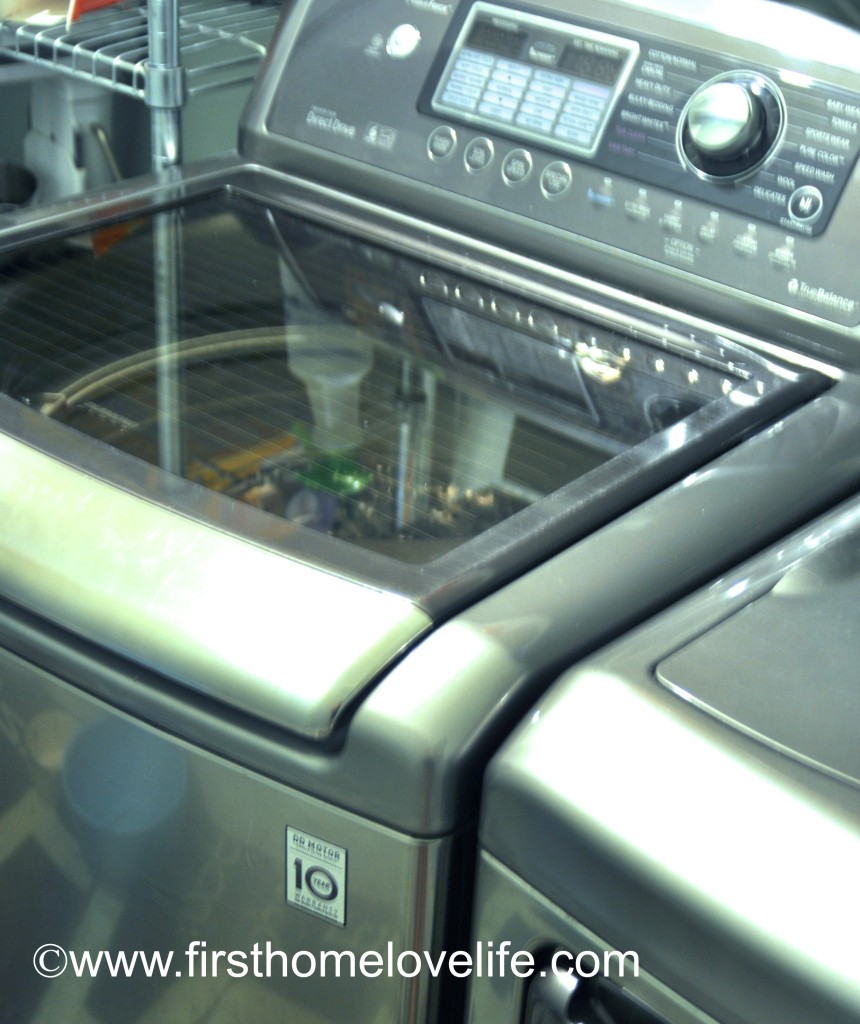 Step 6: Air out the washing machine overnight: Once the washer is clean and dry inside, leave the door and detergent compartment drawer open overnight to let it completely and thoroughly dry out.
And that's it!
See that wasn't so bad, right?
I hope you found this tutorial helpful, and if you'd like more cleaning tips and tricks then check out my organizing tab up above!
Talk to you soon guys, take care!
XO
**This post contains Amazon affiliate links, where if an item is purchased using my link I will receive a very small commission. For more information on First Home Love Life's disclosure policy click here.**
Comments
comments