These DIY wood painted garage doors are a super easy project that can be completed in a weekend for less than $100 and can save you thousands while packing a major punch to your curb appeal!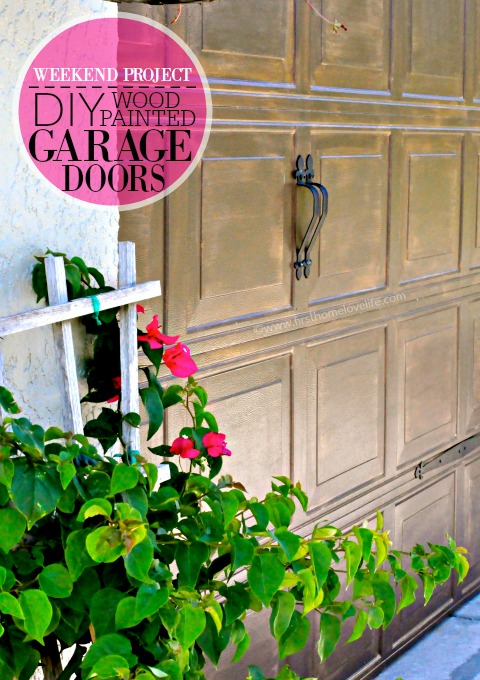 I am SO excited I finally got around to checking off this project that's been on my to-do list for what seems like forever! I've been wanting to paint the garage ever since the exterior got painted, and finally bit the bullet and tackled it this weekend. I'm SO happy I did, because wow, what a difference it made!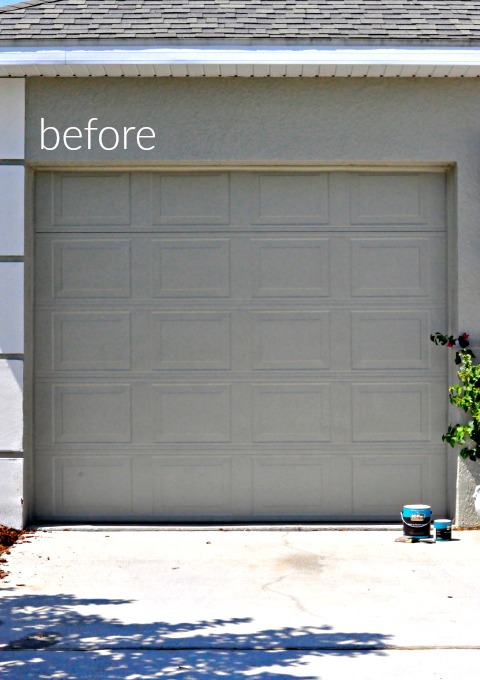 When the house was painted almost two years ago, the painters just mimicked what the previous color scheme was and painted the metal garage doors the same color as the body of the house. It was pretty boring and blended into the walls, and I was dying for some color and personality on that side of the house. I wanted it to be much more warm and inviting.
I've always loved the look of wood carriage style garage doors but knew they were no where near what I could afford, but I'm no stranger to using paint to achieve a desired look, just like I did with my paver stone spray painted walkway by the front door. So when I started seeing ideas for faux painting your garage to give the look of wood, I was instantly sold!
Here's the supplies and paint colors I used for this project…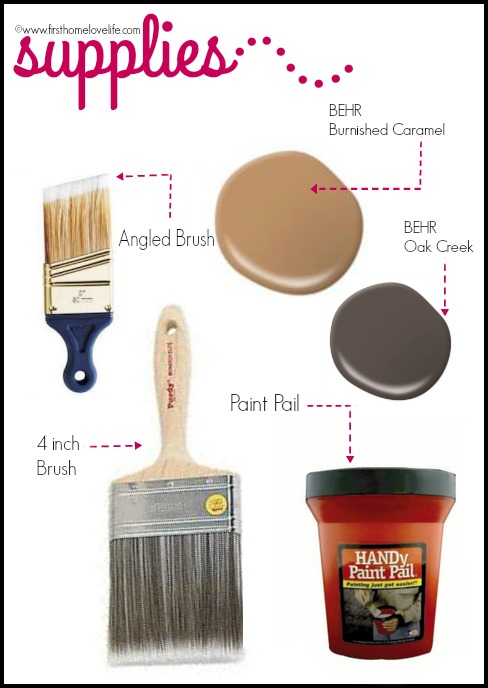 You're also going to need water and newspaper or a drop cloth, this is just to put under the garage door to catch any drips or spills while painting your garage. Or just go at it like a wild child without one…YOLO 😉
I used BEHR premium exterior paint in a satin finish for this. The colors I used were Burnished Caramel and Oak Creek, and both are in the Home Decorators Collection line for BEHR. I have to be honest though, the caramel color, even though it's showing up on the online swatch as a creamy light brown…
…it's really like a yellowy, honey mustardy, color in person…like really really yellow…Pretty sure my neighbors were having a mini heart attack when they saw that going up on the doors. Heh. 😀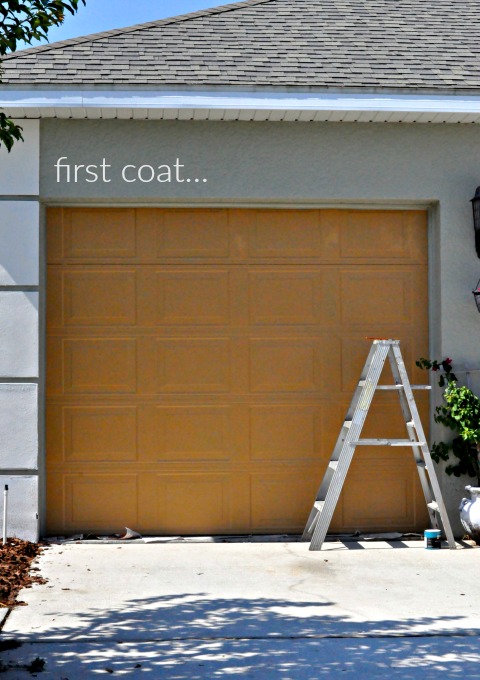 But this is what you want. Depending on the wood tone you're going for, you want a yellow-burnt orange- tan color as your undertone. That's what gives it that real wood look as the end result. I used my 4 inch paint brush to apply it because I wanted the brush strokes to add more texture to the garage doors. Since my garage doors were already painted a greenish gray color, I only did one coat of the caramel. I figured the green would add another tone to the panels once I started applying the darker Oak Creek turned into a glaze.
To create the glaze I used a few tablespoons of water per 2 cups of paint and stirred well until the consistency was similar to milk.
Now…
I read about a few different ways of doing this and tried them but ultimately after some trial and error, I did it this way because I felt it gave the look I was going for, so my advice to you is to play around with it. The beauty of it is it's just paint and you can always paint back over it and start over if you mess up.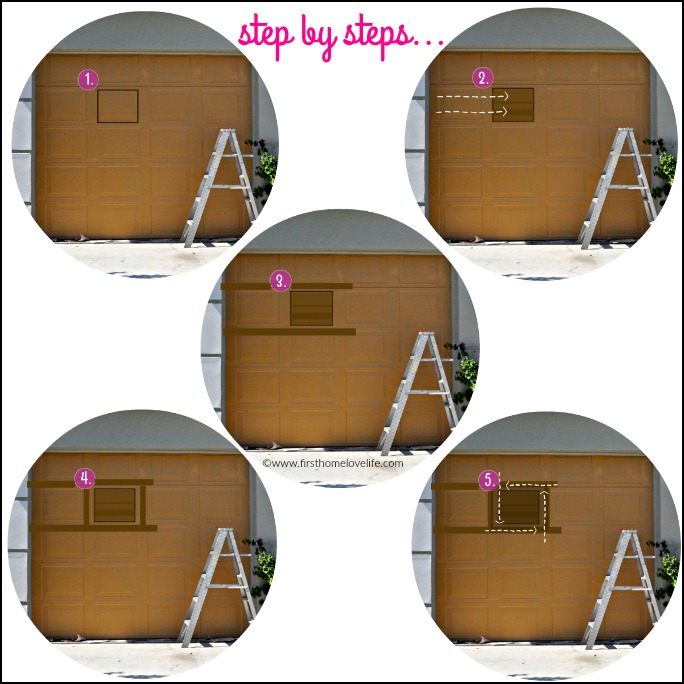 Take your glaze and angled brush and outline the inner raised panel
Drag your glaze across the raised panel back and forth horizontally to leave brush strokes (or aka wood grains)
Glaze the horizontal seams
Glaze vertical seams
In a clockwise or counter clockwise rotation, glaze the inner panel lifting the brush at each corner to create a stopping point for brush strokes
Keep in mind the lighter the paint is, will make it appear to come forward, and the darker will make it look recessed. So have a heavier hand with the glaze on the sunken areas of your garage door.
I also just kept going back with my angled brush over areas until I got the look I was going for. One panel at a time.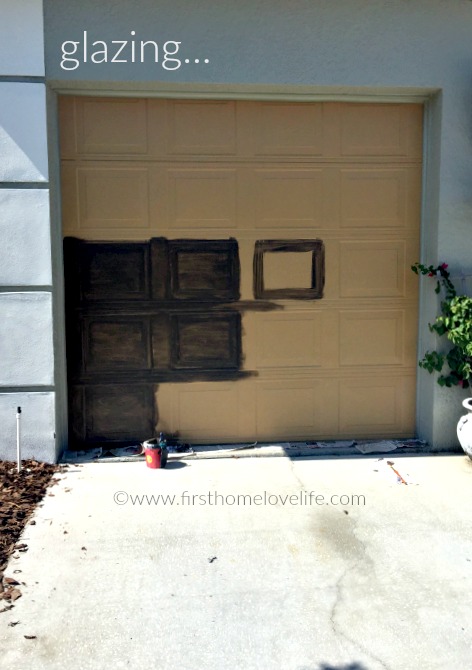 I also worked in a tiered pattern by staggering the panels I was working on. Not sure if that made a difference but I was just trying to make sure I had a very natural looking "wood" garage.
And the result…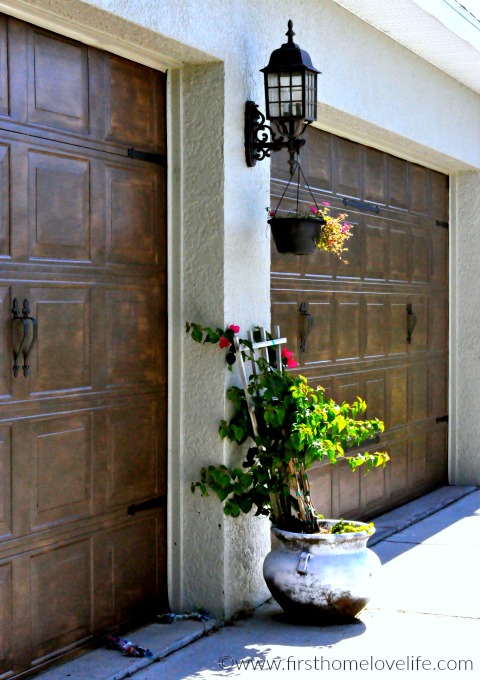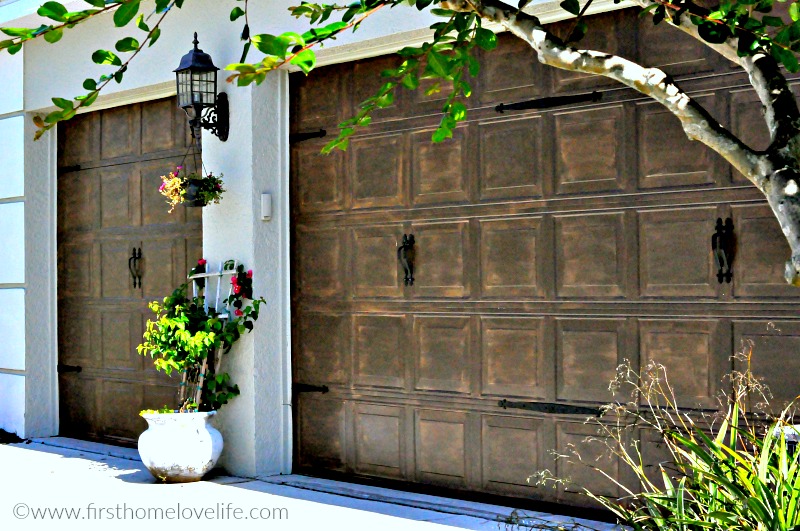 I'm absolutely in love with the way it turned out! It added some serious bang for our buck curb appeal and it's making me wish I had just whipped out the paint brush and tackled it sooner.
Three out of four labradors agree this DIY project was a huge success! 😉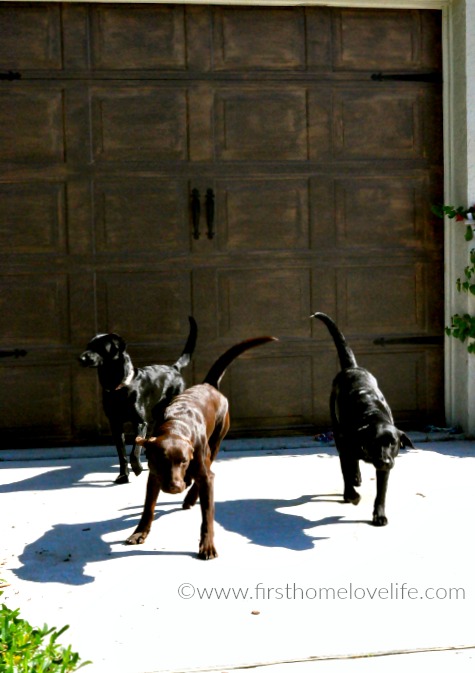 So what do you think? Wood painted garage doors…yay or nay? 🙂
I hope I've inspired you to tackle something you've had on your to-do list for a while.
Talk to you soon friends, take care!
XO
Comments
comments