Today I'm sharing my recipe for the best chicken marsala! A busy weeknight meal that you can feed your family in about 20 minutes! Gotta love that 🙂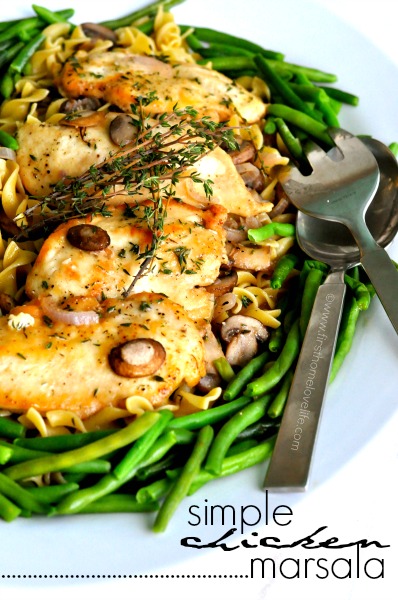 Yesterday was my daughter's first day of school and we made it through alive! But I bet if you ask how we're doing on day 42 and I might be singing a different tune. 😉
The start of a new school year is always so exciting, so new, so fresh. It kind of reminds me of New Years Day. In lieu of treadmills and gym memberships, our kids are toting new bags, notebooks, shoes and fresh haircuts… and us? We, as moms and dads have probably pep talked ourselves silly for the past 2-3 weeks. I know I have at least…
One of the things I've been saying over and over is I want to make a conscious effort this school year to eat more meals at home. Last year I really failed in that department (see: overwhelmed and unprepared for my kid's workload, and extracurricular activities) In other words…I was a HOTT MESS! So dinner always took a back seat, and before I knew it on most days, it was 8:00pm on a school night and a run through the Taco Bell car line was way more appealing than getting out pots and dirtying up the kitchen.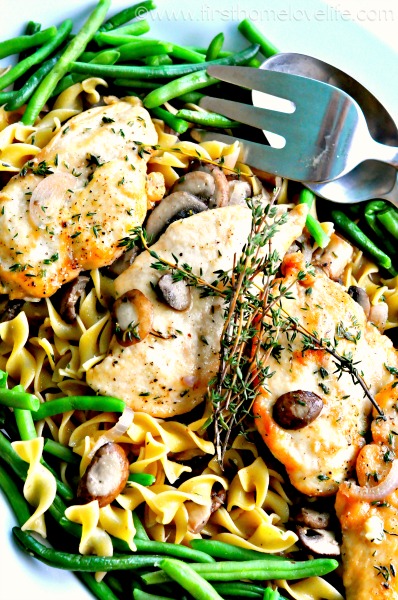 I want EASY. I want DELICIOUS. I want meals that can be whipped up with as little ingredients as possible and preferably done in under 30 minutes. That's why recipes like my Pork Marsala and this recipe for Chicken Marsala are going to be regulars on our monthly menu.
Here's what you'll need…(served with egg noodles and green beans-serves 4)
1 lb. chicken cutlets (thin)
Kosher salt and freshly ground black pepper
about 1/4 cup flour
about a teaspoon of garlic powder
olive oil
about 2 tablespoons butter (I use unsalted)
1 box of pre-sliced baby bella mushrooms
1/2 onion, chopped (yellow preferably)
3 cloves garlic, chopped
½ cup Marsala wine
½ cup low sodium chicken stock
 fresh thyme
On a plate or shallow bowl add flour, garlic powder and salt and pepper-mix. Toss your chicken in the mixture to coat all sides and tap off the excess.
In a saute pan or similar add butter and oil to a medium high heat, when butter is melted, add chicken.
Add chicken to pan and cook, flipping over one time when sides get golden brown.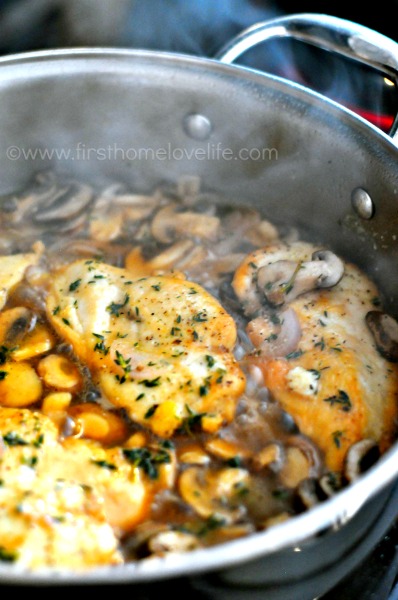 Lower the heat to medium-lowish and add your mushrooms, onions, and garlic to the pan. Use tongs to toss them around so they are touching the pan.
Add in your Marsala wine and chicken broth, and use a wooden spoon to scrape up the bits at the bottom of the pan.
Add in fresh thyme (about a teaspoon-tablespoon)
Cover the pan and let cook for about 10 minutes
It will be ready when the sauce has thickened a bit.
If you serve this over egg noodles, or really any noodle I like to then remove the chicken from the pan and set aside and add my cooked noodles to the pan to get coated in the Marsala sauce.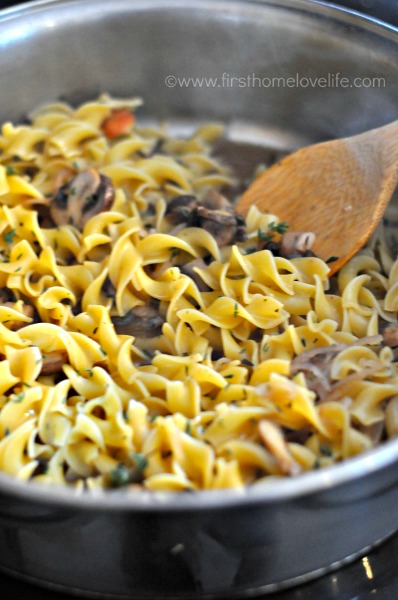 It couldn't be easier to whip this up and meals like this are going to be keeping us out of the fast food drive thru's!
I can't do another year like last…There's only so many Nachos Bell Grande's one should eat in their lifetime, you know?
I think I've hit my quota… 😉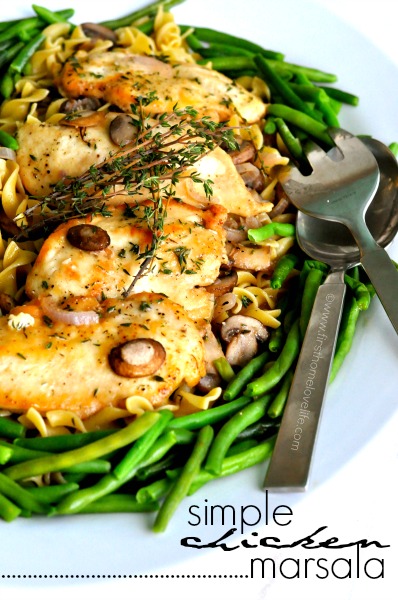 I hope you and your family love this simple and delicious Chicken Marsala recipe!
Talk to you soon friends, take care!
XO
Comments
comments