How to naturally clean cutting boards- A super simple DIY cleaning tip to keep cutting boards looking and smelling fresh!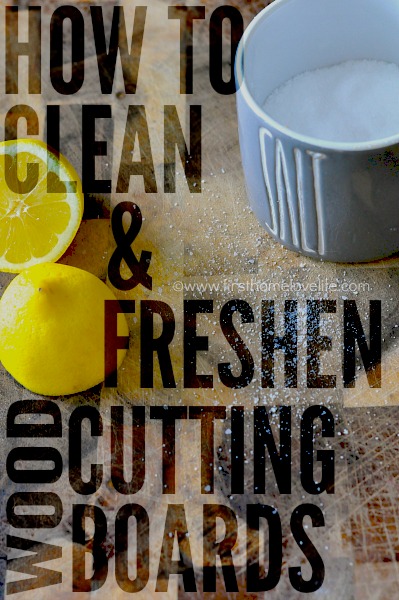 I'm always trying to think of things that I can share with you all that are of some value. As a reader of blogs myself, I try to keep those 'filler-type' posts to a minimum because I don't like to read them, so why would I put those types of posts up on my own site, you know?
I'd rather go a few days without posting something than to just post anything to keep content flowing. I learned this (the hard way) on my own last year when I was struggling with finding my blogging voice in this wide online world.
Was I a DIY blogger? Was I strictly home decor? Did I want to be a food blogger?
Honestly, the idea of having to put a label on myself scared the crud out of me and paralyzed my writing, because I liked it all and wanted to share it all. I wanted to be able to be free to blog about whatever I felt was exciting to me…A new cleaning trick, an organizing tip, a recipe that made me want to scream from the rooftops "THIS IS THE BEST THING, EVER!!" 
Heck, if I can get out of the mommy frump yoga pants and tanks, you may see fashion advice on here someday. Doubtful, but I do like the idea of having that possibility there if I wanted to venture towards it. 🙂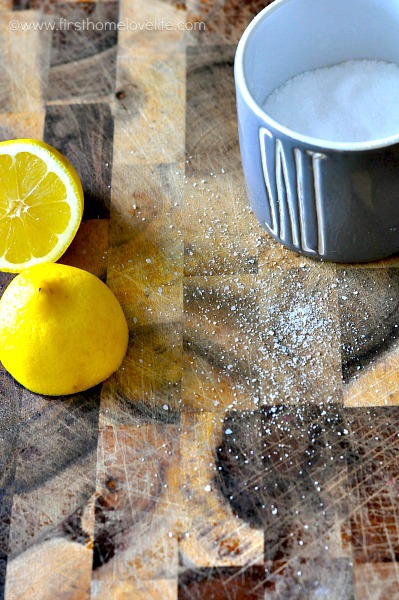 When I blog, it's normally in 'real time.' I tried to be that blogger that scheduled a months worth of posts in advance and wanted to claw my eyeballs out hated it. So a lot of the things you see here usually happened that same day or only a few days past at most.
It might not always be crazy interesting or blow your socks off amazing, but it's real and hopefully helpful to someone. Like today's mind-blowing post… 😉
"How to naturally clean cutting boards" Riveting, I know 😀
Strap on your seat belts…
You'll need-
1 lemon
a few tablespoons course salt (I'm using Kosher)
a damp microfiber cloth
about a tablespoon of coconut oil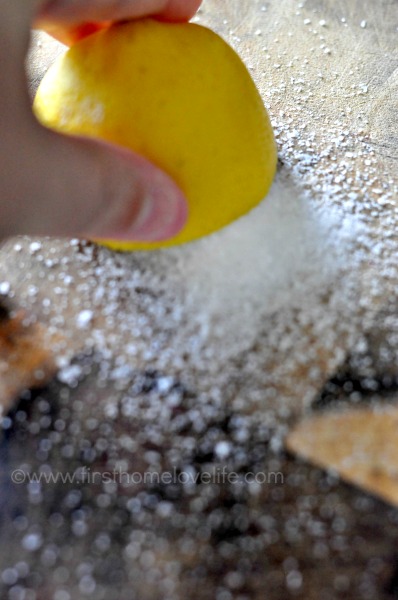 Sprinkle the salt all over the cutting board.
Take your lemon and roll it between your palm and table to get juices flowing, cut in half.
Use cut side to scrub the salt into the board with a bit of pressure to get lemon juicing as you're scrubbing.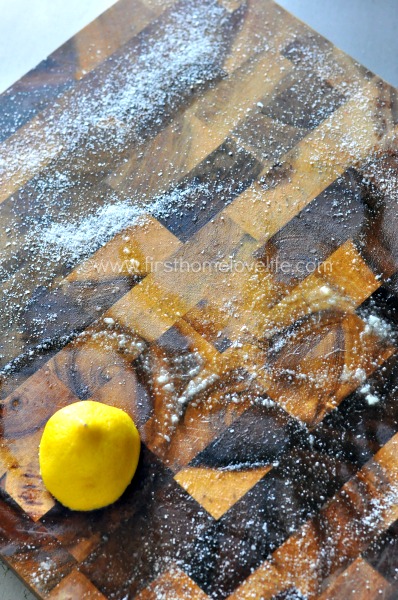 Use the salt and lemon juice to buff out any knife marks and blemishes your board may have.
After entire board is scrubbed, let it sit for 5 minutes.
Then give it a quick rinse in your sink, and dry off.
Then with a damp microfiber towel, rub some coconut oil into the grain of the cutting board to keep it moisturized.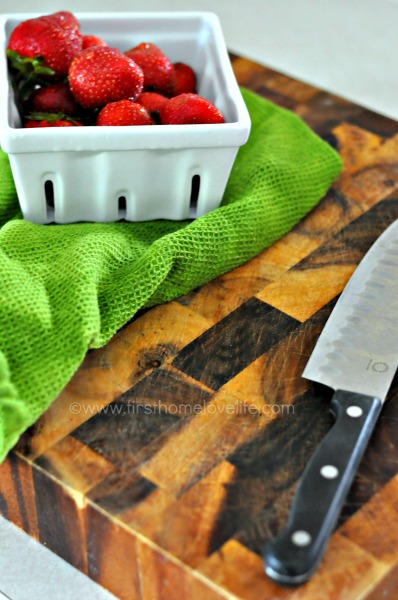 I try to remember to do this about once a month, but I've let it go for as long as 6 months before, so no worries. Giving your wooden cutting board this 'spa treatment' prolongs its life, and keeps it looking fresh and smelling great.
I've had this board for over 10 years, and it looks almost the same as the day I bought it, just a little more 'loved' 🙂
Do you have a different method of cleaning your wooden cutting board? I'd love to hear what you do!
Talk to you soon friends, take care!
XO
Comments
comments