We're in the home stretch here at 'First Home Headquarters.' School starts on Monday- supplies have been bought, uniforms are clean and ready to go, backpack, well…packed, and we survived open house. In my quest to own our mornings this year and redeem ourselves from last year's tardy-fest, I'm doing everything I can think of to make our, no really,  my mornings easier and that includes having outfits picked out, cleaned, pressed (if needed) and ready to go well in advance!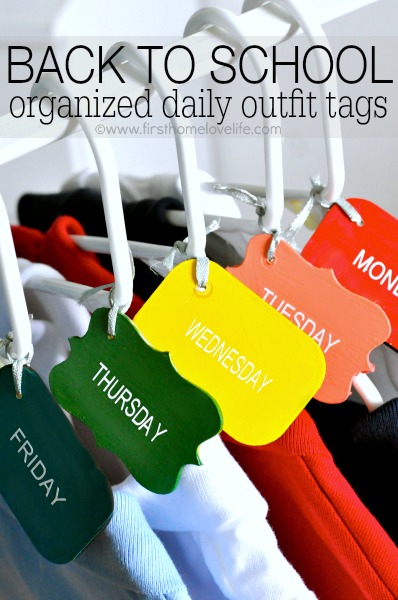 You would think having uniforms would make mornings easier, and it does to an extent, but we still have had problems. Reasons like not being able to find her favorite spirit shirt to wear on Friday, or the dreaded navy on navy ensemble because all of the other colors are in the wash. My 6 1/2 year old fashionista wants to make the most of the limited school clothing choices she has. I respect that, and in all honesty appreciate her desire to want to always look her best.
She's SO not like me in that way. (See: my fashion sense = yoga pants and tank tops with possible holes and/or paint stains on them.)
But… Scrambling at 8 am to find a clean pair of slacks, or a white shirt that doesn't have some kind of stain on it is not my idea of a good time. It's hectic, and frustrating, and just not a good start to the day for anyone involved, so I decided to do something about it. Like I said, this year we are so OWNING our school mornings! Chaos? I eat chaos for breakfast. Not in this house! No more…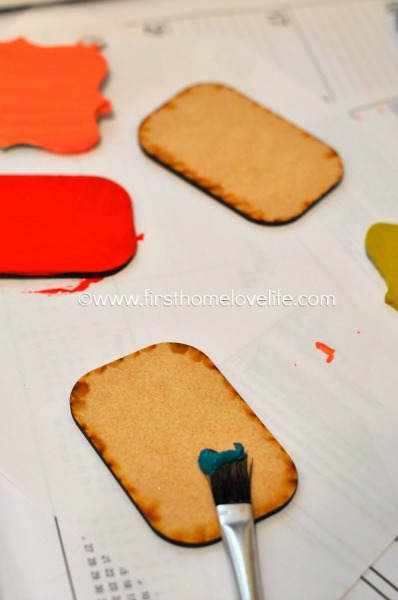 I've had these little wood tag things for a while now not really knowing what to do with them, but I kept them and I'm so happy I did! I knew I wanted to make some kind of labels to hang on my daughter's hangers so she could hang up her outfits for the next week the weekend before. I decided these might work, so I painted them with whatever craft paint I had on hand. Did I mention this cost me nada? I love FREE projects!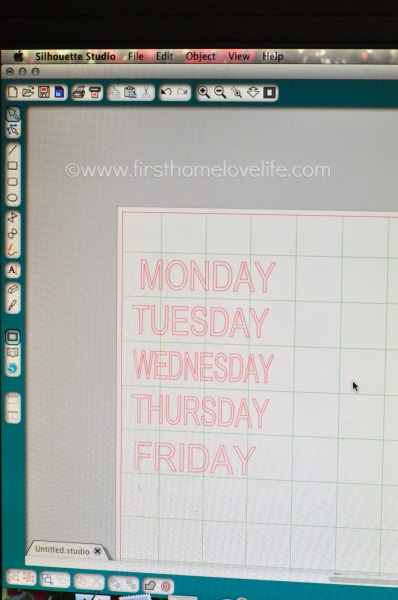 So then using my Silhouette Cameo (LOVE that thing) I cut out the week days I wanted to add to my wood tags onto some white vinyl.
My only frustration when cutting vinyl, especially small like this is having to peel away the inside of certain letters.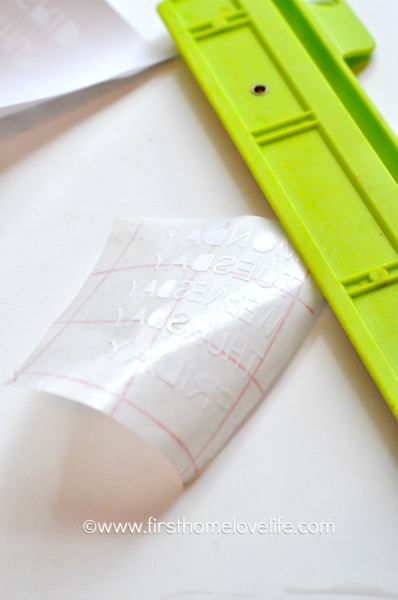 See how certain letters like the 'D' and 'A's are still closed up? They're cut, but you have to get the middle part out so it doesn't transfer onto your project. This was the most time consuming part of this, everything else was a breeze. I just used my little Silhouette hook tool to peel it off the transfer paper, but still wish there was an easier way. Is there? Let me know if I've been doing this wrong all along… 🙂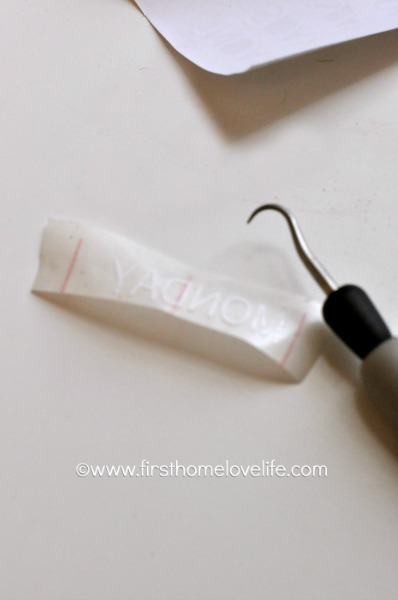 Then I simply centered it best I could onto the tag, and rubbed off the vinyl onto the wood.
Once I had them all done, I used a drill to drill holes through them, and then used some ribbon to tie them to the hangers.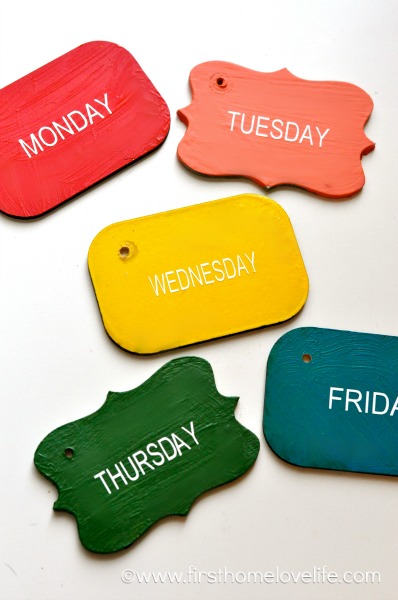 It couldn't be simpler, and if you know me and have been hanging out around here for a while than you know I love me some simple crafts.
Especially when they have a purpose to make life easier…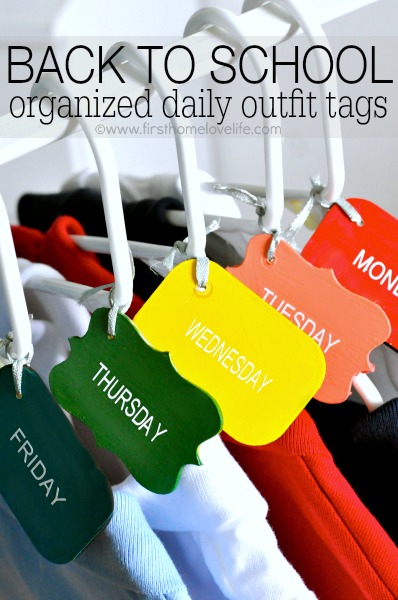 She couldn't wait to put together her outfits for her first week of school when she saw them! The pants and skirts are draped over the straight bar of the hanger and the shirts are hung over them.
Now, all she has to do is grab her day, get dressed and go with these daily school outfit tags!
Take that mornings! 😉
I hope you loved this super simple idea!
Talk to you soon friends, take care!
XO
Comments
comments