Some fun and inexpensive ugly Christmas sweater party ideas…
I know we're four days away from Christmas (holy moly!) but I thought I'd share this anyway instead of waiting for next year, so make sure you pin it to come back to it next year!
Hosting an ugly Christmas sweater party
It's no frills and a lot of fun! 🙂
It's also a great way to see everyone's sense of humor and creativity, which if you know me, you know I have a sick sense of humor so the completely inappropriate Christmas sweaters are always my favorite! 🙂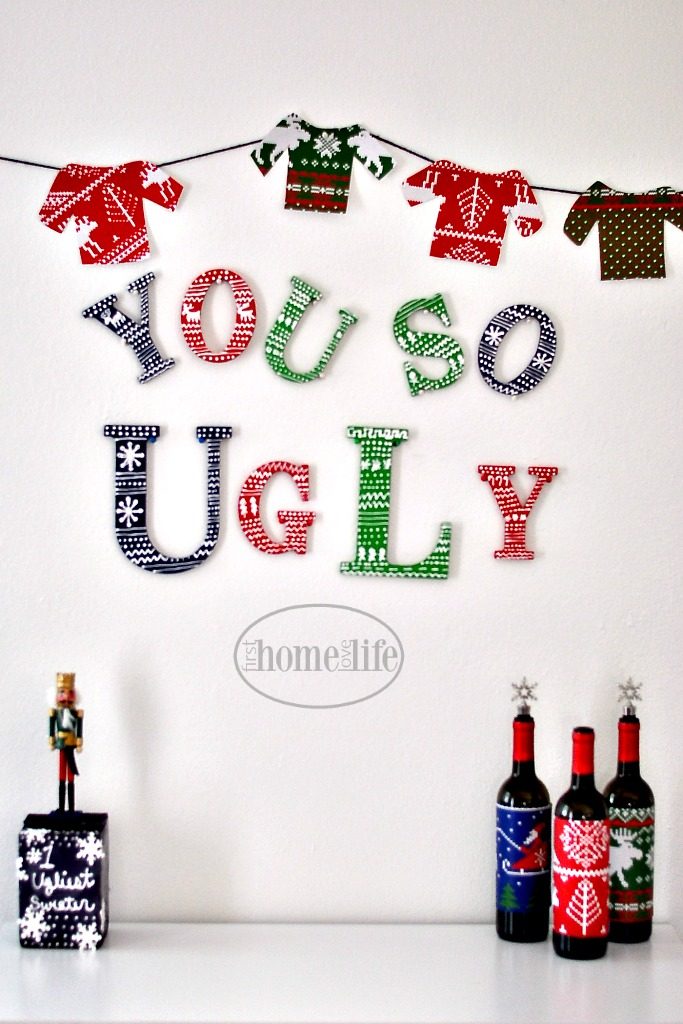 Hang a sign on the wall
It was really easy to do and my friend helped me paint the wooden letters over a glass of wine one night so many hands made light work. 🙂
Once the letters were dry I used puffy paint to embellish them with some classic ugly sweater designs. 🙂
I think they turned out super cute!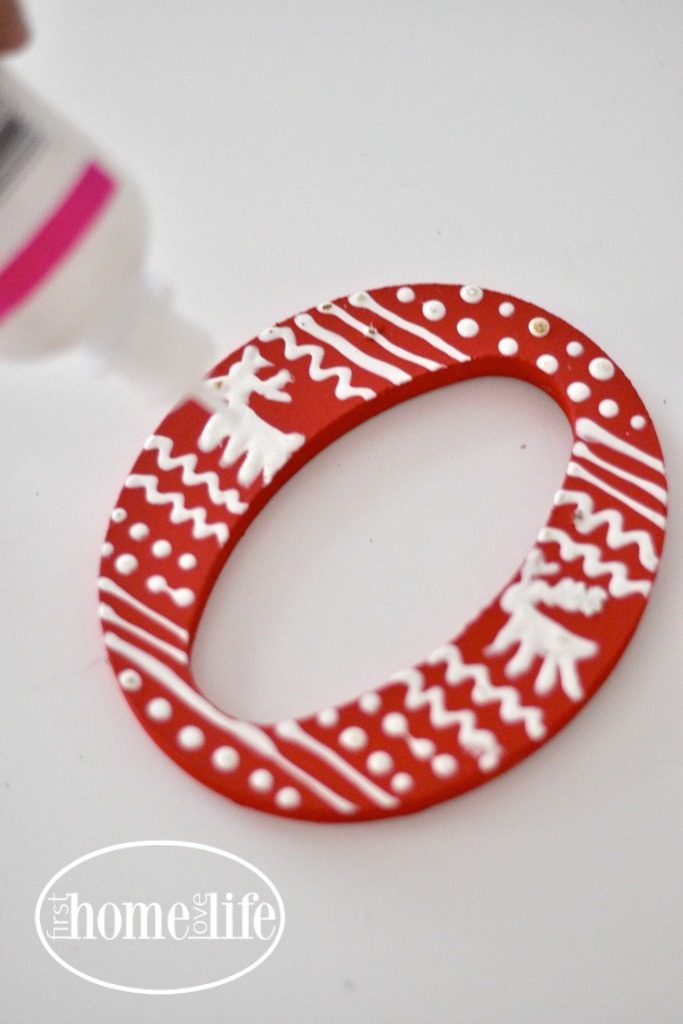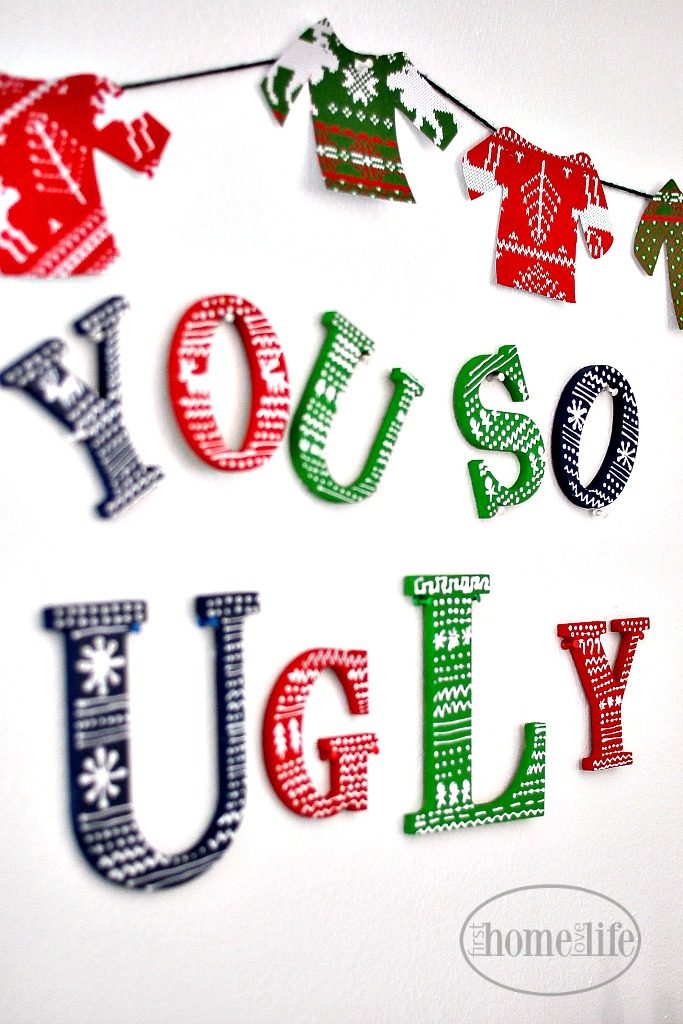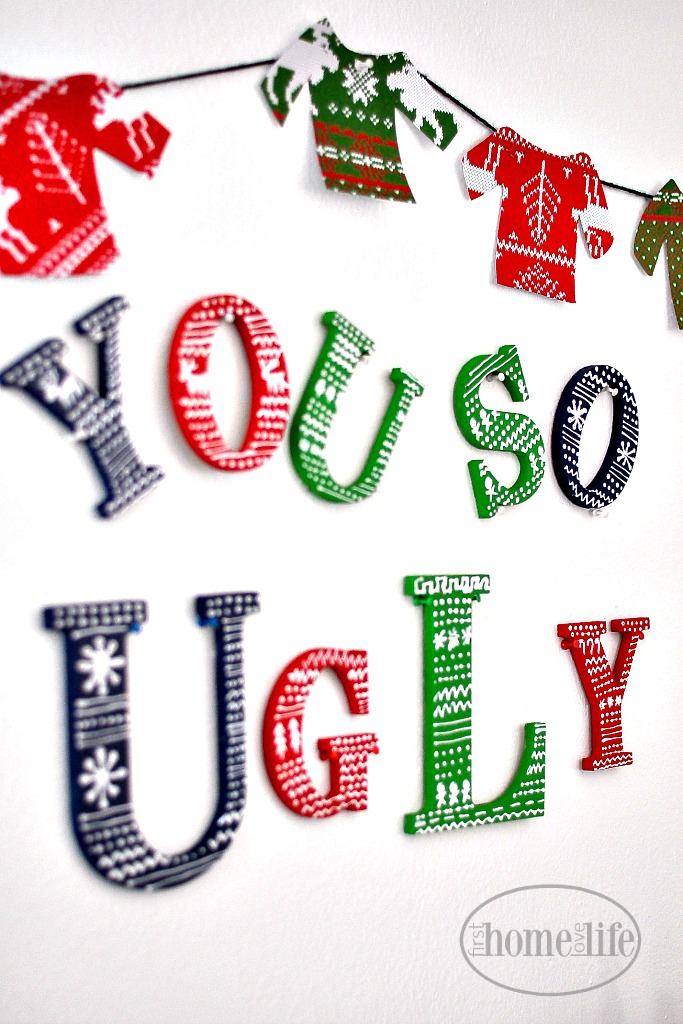 Ugly Sweater Banner
The banner is made from ugly Christmas sweater gift bags that I found at the dollar store this year! I have to tell you, I was loving the selection of products they had for the holidays and at a dollar a pop you can't beat it!
All I did was cut little sweaters out of the bags and stapled them to some yarn! Instant, festive ugly sweater party decor 🙂
I also used the same gift bags to wrap label covers around some bottles of wine…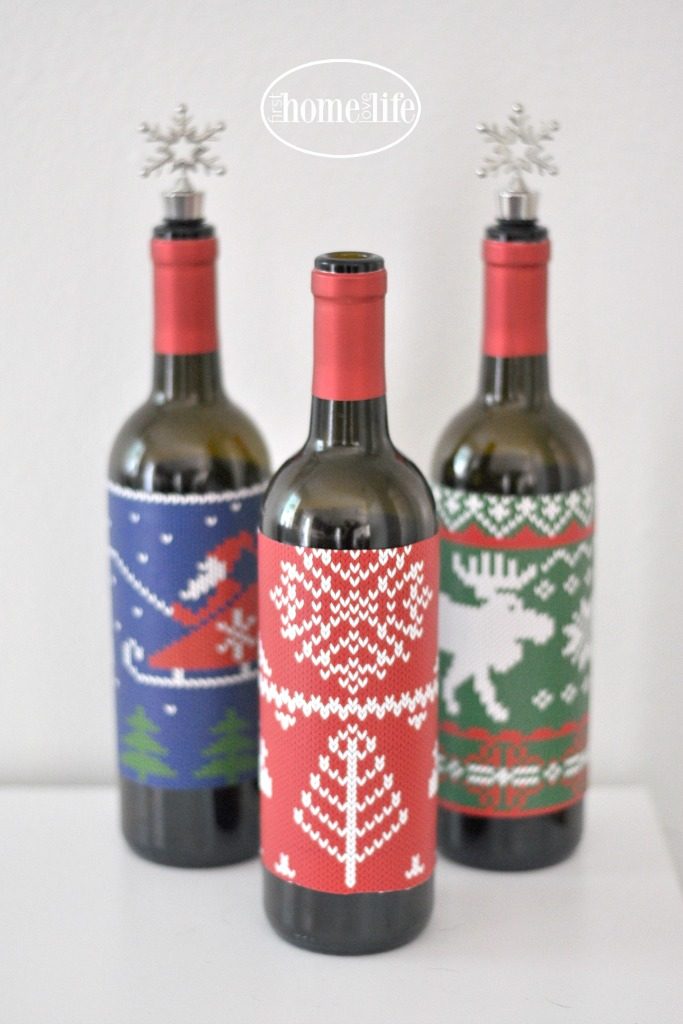 For other drinks…
I used some clear plastic ornaments. Just remove the tops and insert a straw! Instant party glasses 😉 I grabbed a ton of those clear balls at the dollar store this year and found so many uses for them. My favorite was turning them into marble with nail polish though!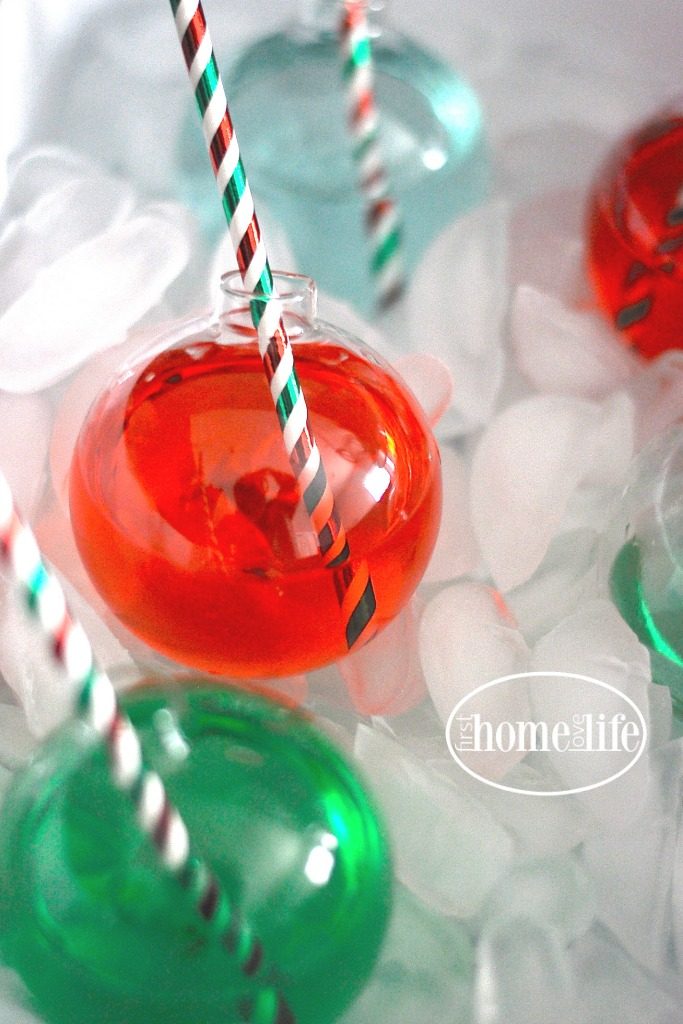 I also used them to make my ugly Christmas sweater 😉 I told you I had a sick sense of humor, so don't just me…
Using two clear bulbs, a floral styrofoam mold cut it half, a small tree skirt, and some stickers I made snow globes that would lay on my…ahem… own globes. 😉 Again, found everything I needed at the dollar store and picked up my incredibly ugly tinselized sweater at Goodwill.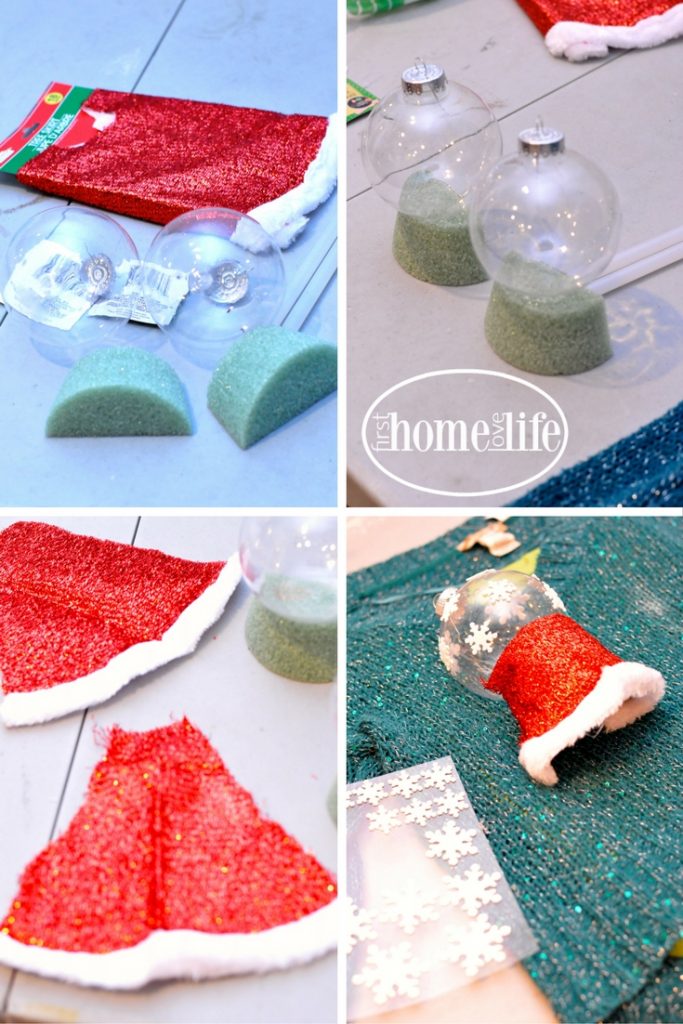 With so much ugliness going on, you're definitely going to need an…
Ugly Christmas sweater trophy…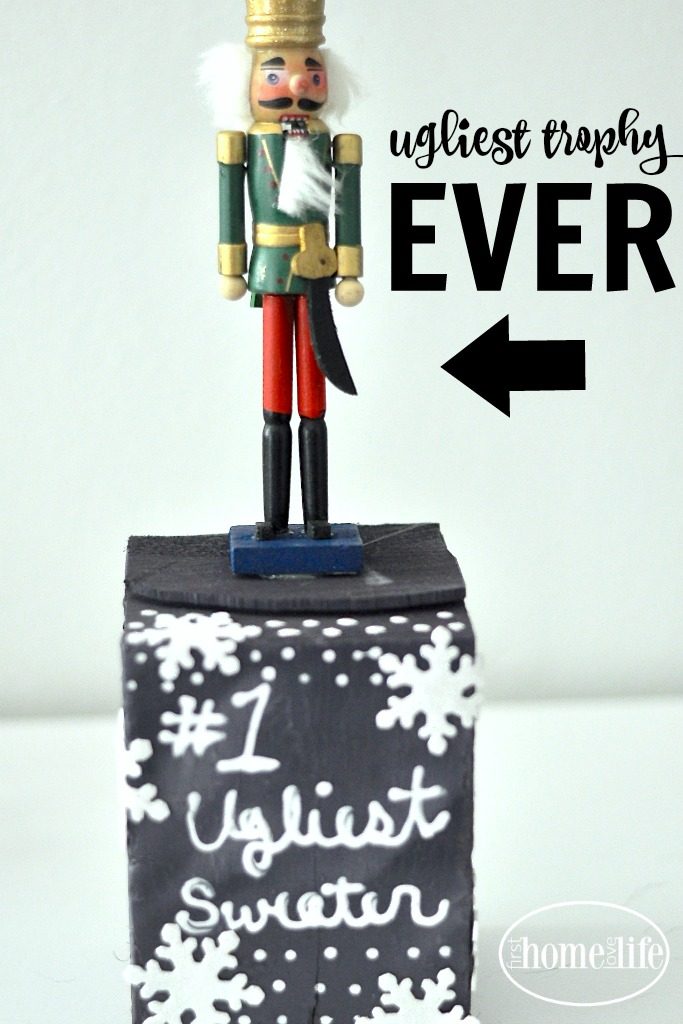 I just hot glued a nutcracker onto a block of wood, and boom instant trophy…
I'll admit it was kind of an after thought, but thats the beautiful thing about this type of party.
The uglier the better, and I love the no fancy stuff and frills approach!
I know it's late in the season, but I hope you're inspired to throw your own ugly Christmas sweater party next year, 🙂
Talk to you soon friends, take care!
XO
Comments
comments