Customizing your own turkey brine is the best way to get the flavors you want. Here's my recipe for the best Thanksgiving turkey brine.
If you have never brined your turkey for Thanksgiving, I HIGHLY RECOMMEND TRYING IT! It's very fast to put together a brine mix and today I wanted to share my mix recipe with you so you have plenty of time to gather the ingredients for your own!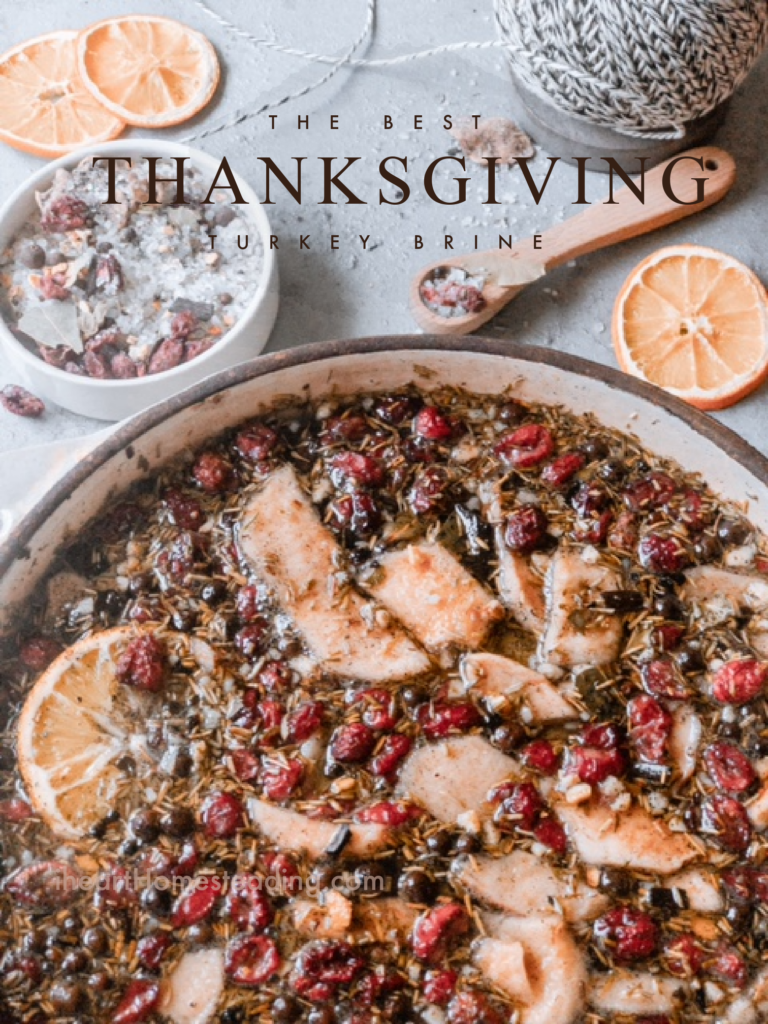 You'll need:
sea salt
raw sugar
sage
mixed green,white, black and pink peppercorns
oregano
thyme
rosemary
bay leaves
sage
dehydrated orange and apple
scroll down for measurements and recipe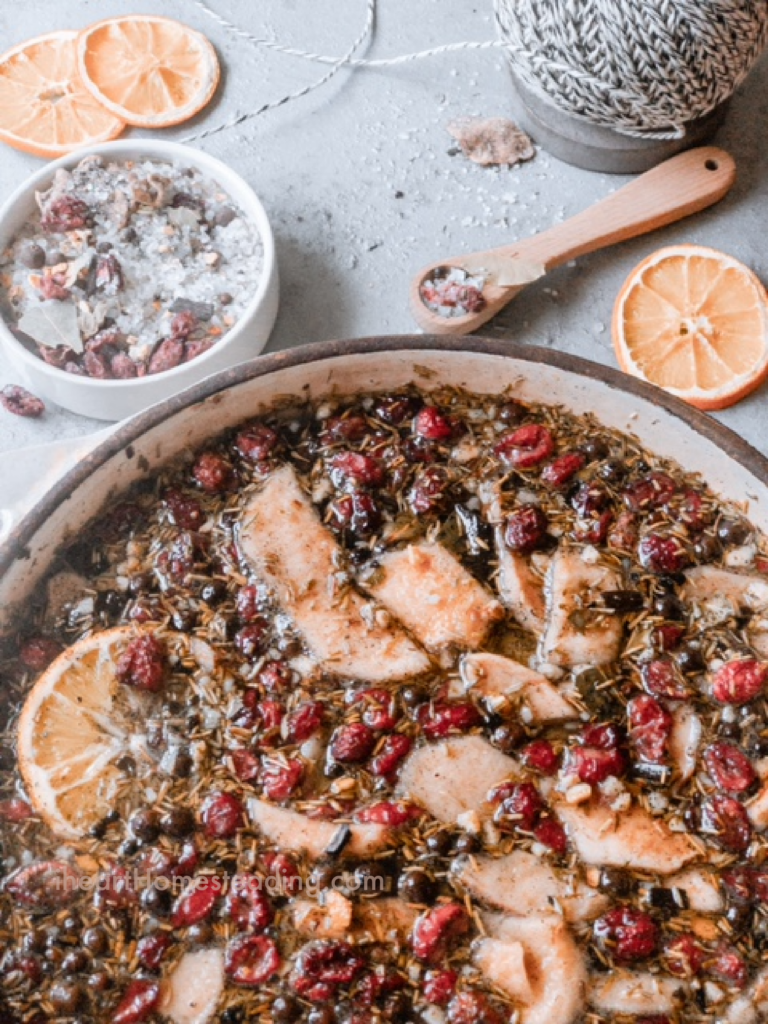 In a big bowl mix everything together and store it in your pantry until ready to use. I usually put mine in a mason jar labeled "turkey brine."
The day before Thanksgiving, bring a quart of water to a boil.
Add your brine mixture to the pot and let it boil for 5 minutes until all the salt and sugar dissolves.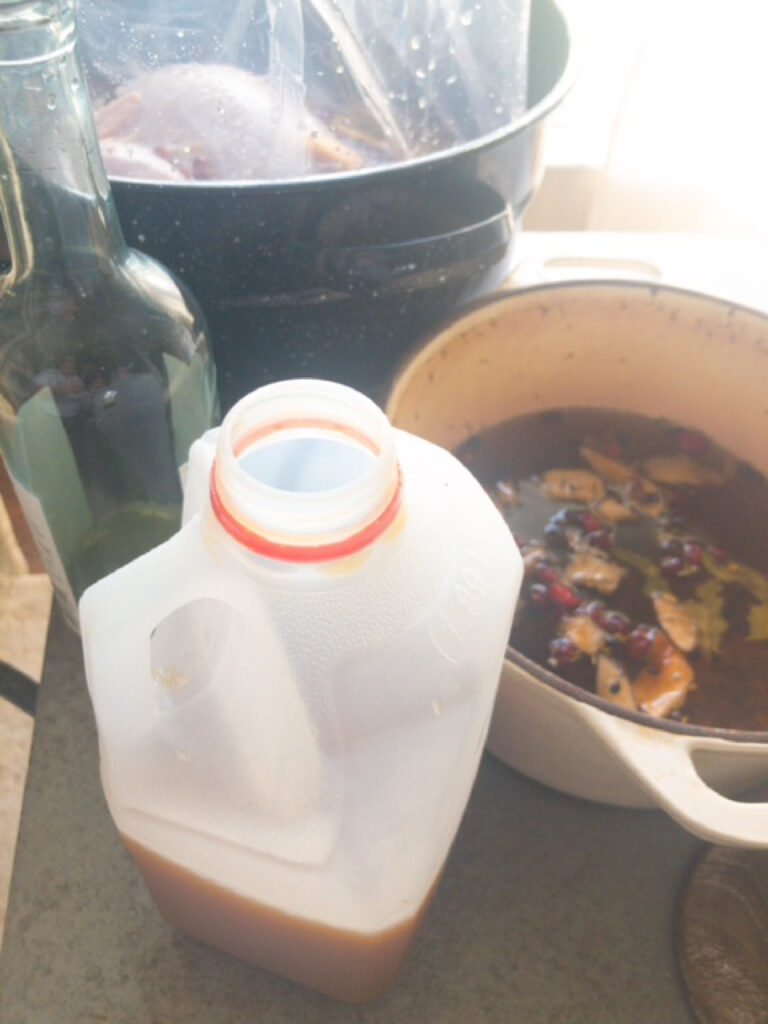 From there, add it to a gallon of iced cold apple juice (you can just use water also), and half a bottle of white wine (whatever I have on hand that I drink).
Toss in a mixture of fresh herbs, fresh citrus, and apple slices and pour the whole brine over my turkey which is cleaned out and waiting in a brining bag that I keep in a 5 gallon bucket to make sure it doesn't leak.
The turkey should be completely submerged in the brine. If it's not, just add enough cold water until it is.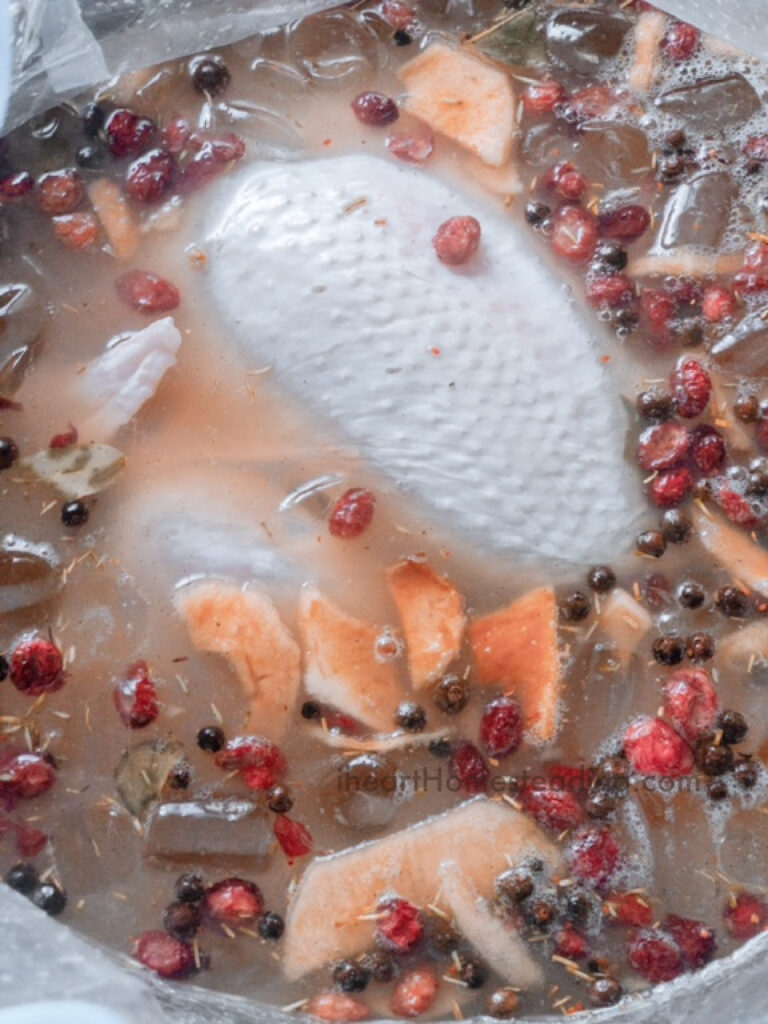 Refrigerate it overnight and let the brine do it's thing.
You will never not brine a turkey again! Something magical happens when that bird is steeped in all the herby-salty-sweet goodness and that's what takes your turkey from being just okay to spectacular!
I'm actually planning to walk you through my step-by-step instructions on how to prepare THE PERFECT TURKEY (find that post here), where a bunch of my friends and myself are throwing an online Thanksgiving dinner, so make sure you stick around for that! It's going to be a great time 🙂
Do you brine your turkey for Thanksgiving, or have I persuaded you to give it a go?! I'd love to hear your thoughts and turkey tips in the comments below or on my Facebook page!
Talk to you soon friends, take care!
XO
Print
The Best Thanksgiving Turkey Brine
---
Author:

Prep Time:

15

Cook Time:

10 min

Total Time:

25 minutes
Description
The best Thanksgiving turkey brine is the most flavorful way to give your turkey lots of sweet and savory notes! You'll never have a dry turkey again!
---
1 cup

sea salt

1/2 cup

raw sugar

2 tablespoons

dried sage

2 tablespoons

mixed green, white, black and pink peppercorns

2 tablespoons

dried oregano

2 tablespoons

dried thyme

2 tablespoons

dried rosemary

2 tablespoons

dried bay leaves

2 tablespoons

dried sage

2 tablespoons

dehydrated orange and apple
---
Instructions
Mix everything together and store in a sealed jar in the pantry for up to 6 months.
When ready to use for Thanksgiving, add it to a quart of boiling water until salt and sugar dissolve.
Mix the brine with cold water, wine, apple juice etc to cool down before submerging turkey in it.
You can add fresh garlic, onions, citrus, herbs etc. to add more fresh flavor to your turkey.
Category:

Thanksgiving

Cuisine:

Holiday
Keywords: Best Thanksgiving Turkey Brine, turkey brine, how to brine a turkey, moist turkey, flavorful turkey
Comments
comments