T-minus five days and counting until my mother-in-law gets into town and I'm finishing up last minute details for the guest room. I know I personally don't like to feel like I'm intruding when I'm staying with someone, so I always try to think ahead when we have guests. What does this person like? What could they need? What would make them feel most at home while they're staying with us? I really don't think that there's a cookie cutter explanation or example since everyone's guests will differ and have different needs, but I thought it would be fun to show you what I stocked in our guest room to give you a few ideas for when you have guests staying with you! I guess you could call it the guest room essentials, at least for now…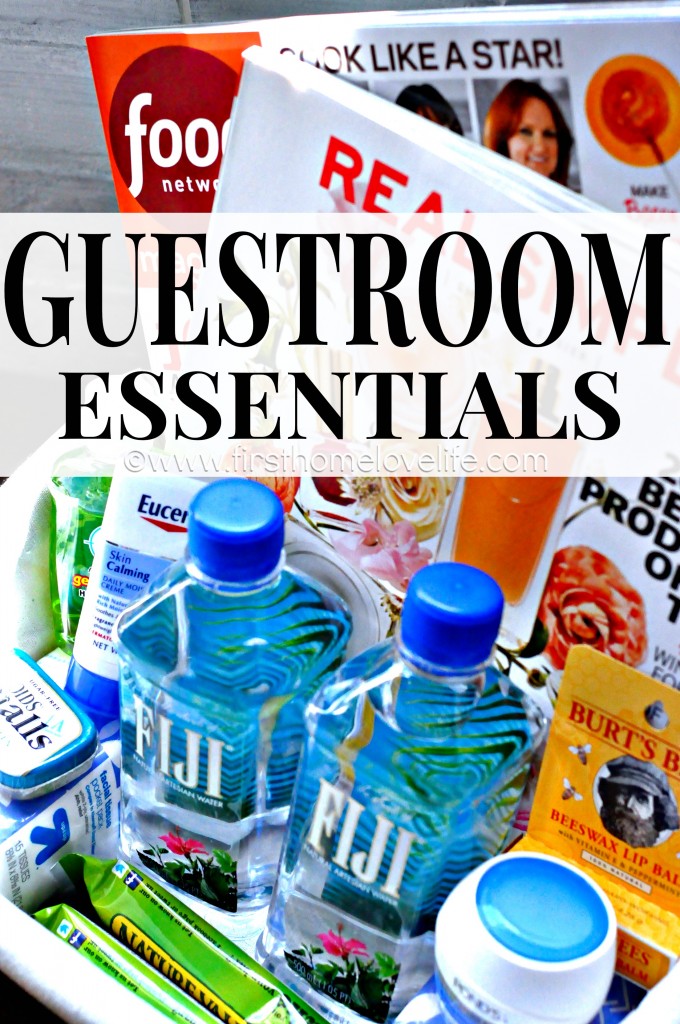 Let's start with what I'm calling the "comfort basket."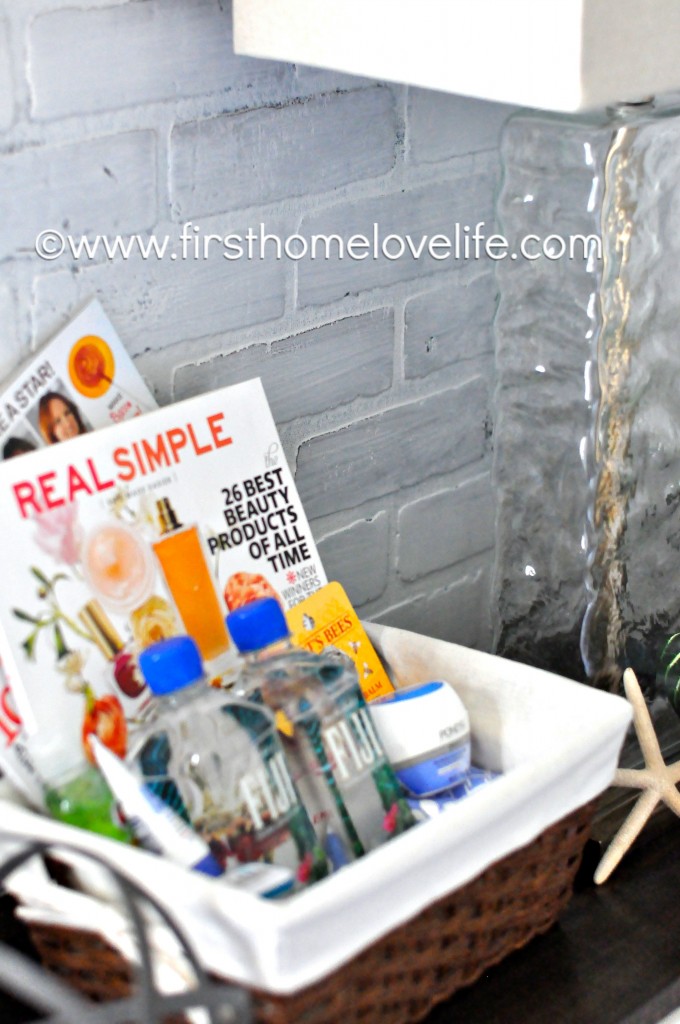 I have this basket right on top of the built in on the side closest to the bed. It's in plain view so my mother in law knows this is for her, and to help herself! Some things I put in there are…
magazines
bottles of water
little snacks for those night time munchies
moisturizer
lip balm
hand sanitizer
hand cream
mints
tissues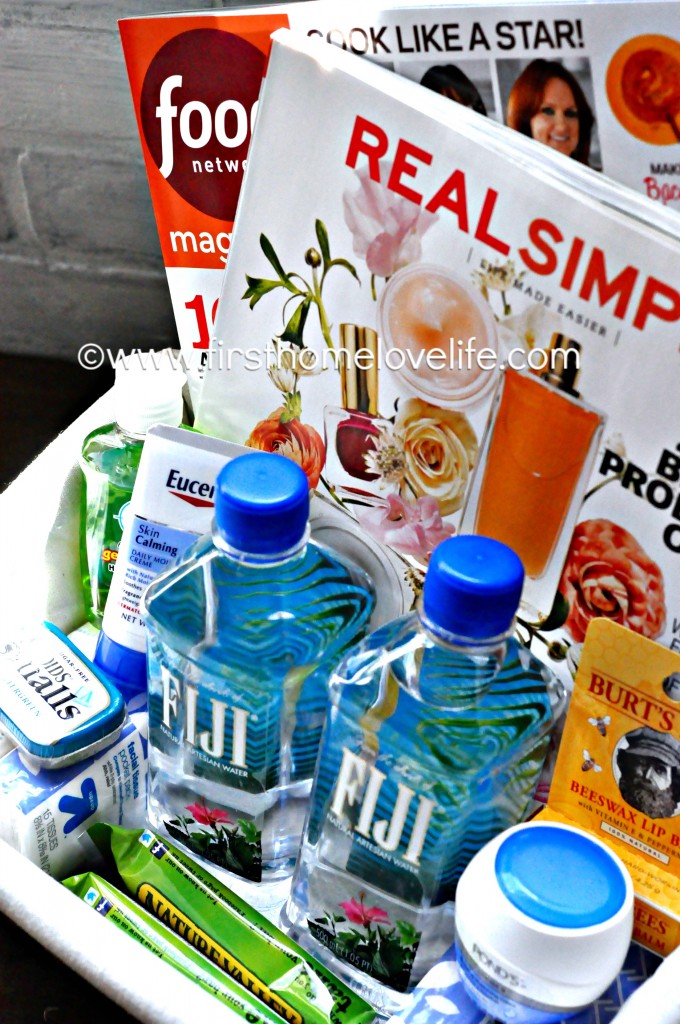 It doesn't have to be fancy. Just a few little things that can be picked up anywhere that sells travel size things. That brings me to the next part…toiletries. Air travel is my least favorite thing to do! Not only am I deathly afraid of flying, but the whole process of going through security gives me anxiety like you wouldn't believe! I'm always afraid I'm going to get stopped for having "too much liquid" or "something suspicious looking" in my bag, so most times I will severely under pack what I really do need and don't realize it until I go looking for it when I get to my destination. I never want to have my guests feel like they need to go and spend money at a pharmacy after they already spent so much to travel to see us.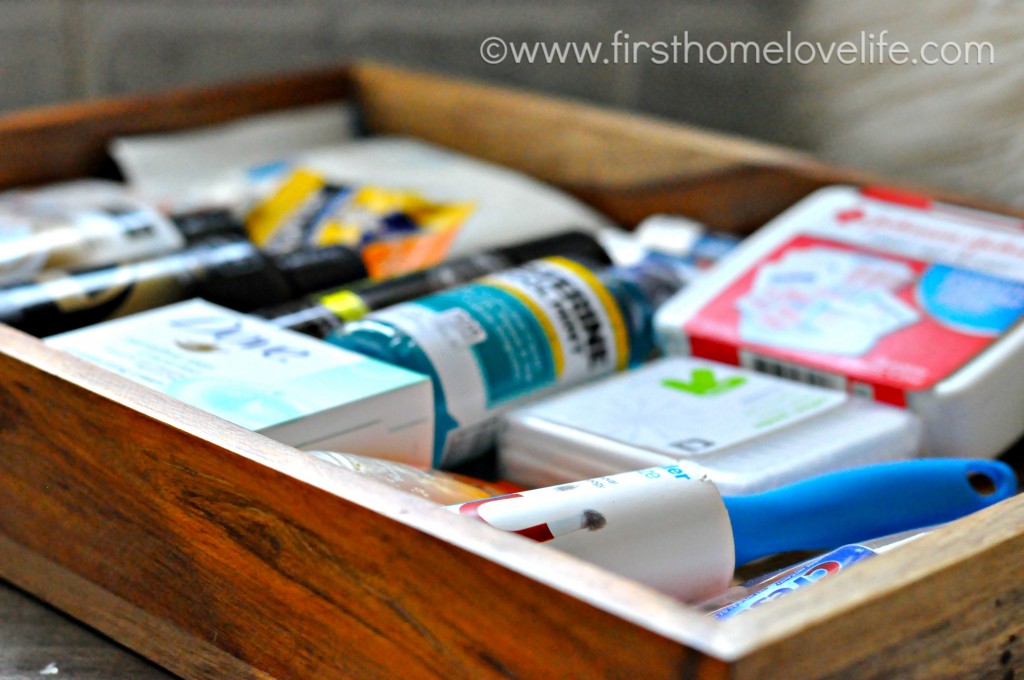 So keeping a stocked "guest pharmacy" is something I decided to do to lessen the stress for them. Forgot your toothbrush? No worries…I've got you covered! Need a painkiller? That's there too…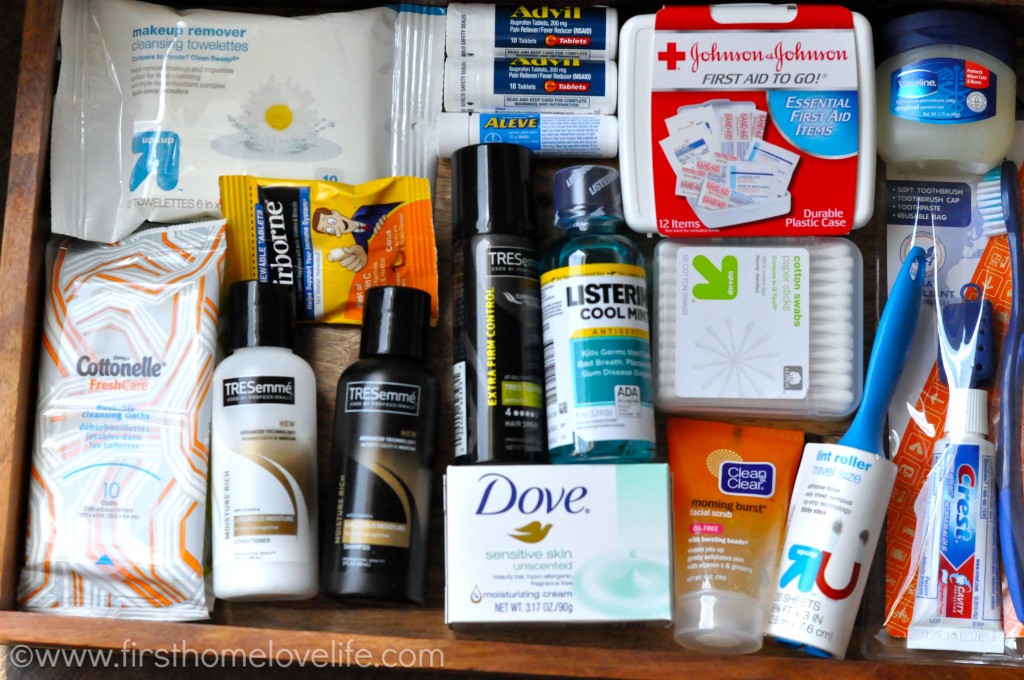 Some items to include in your guest pharmacy are…
shampoo and conditioner
hairspray
toothbrush, toothpaste, floss
mouthwash
facial cleanser
makeup remover
soap
wet wipes
variety of over the counter meds and vitamins
feminine products
deodorant
qtips
lint roller
sunscreen
first aid supplies
razors for shaving and creams
hair brushes
anything else your guest may need
I decided to keep all of these things tucked away in the cabinet, but once my mother in law gets here I'll just show her where everything is, that way she won't feel like she's bothering me to ask for anything and can discreetly use what she needs without asking for it.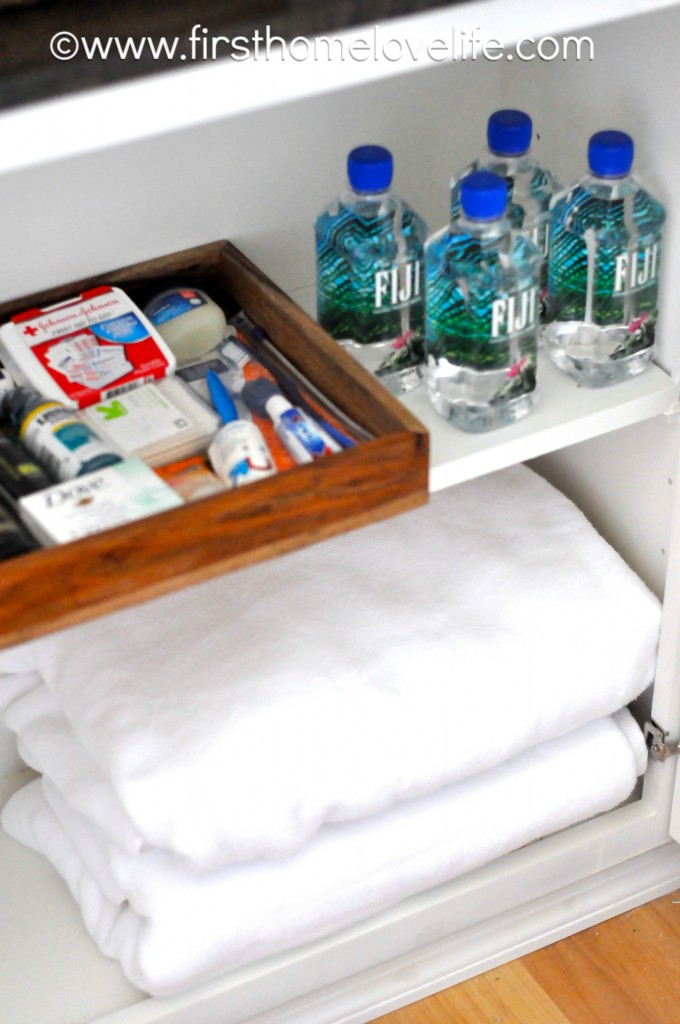 In the cabinet along with the pharmacy items I have nice quality, clean white towels. Your personal towels may have been through 100+ washes and are starting to see better days (I know mine are) so it's nice to have towels designated just for your guests that look and feel great. I also have a small basket to the side of those that house the feminine care products, along with small facecloths and a few different loofahs and sponges that are disposable so that way when she or anyone leaves they can be tossed out and replaced with new ones for new guests, same goes for the toothbrushes, hair brushes, and razors.
Last but not least, and this is certainly optional 🙂
I know personally for us we have big time tea drinkers in our family and friends circle. So when we built the builtins, I wanted to utilize the outlet that was potentially going to be covered up. We cut out the back of the cabinet so we could still access the outlet, but I didn't want to see the cords, so we also cut out a small hole (just big enough for a plug to fit through) on top of the wood counter and top of the cabinet so we could fish cords through. I haven't gotten around to staining it yet. That's one of those "finishing touches things" I talked about in this post.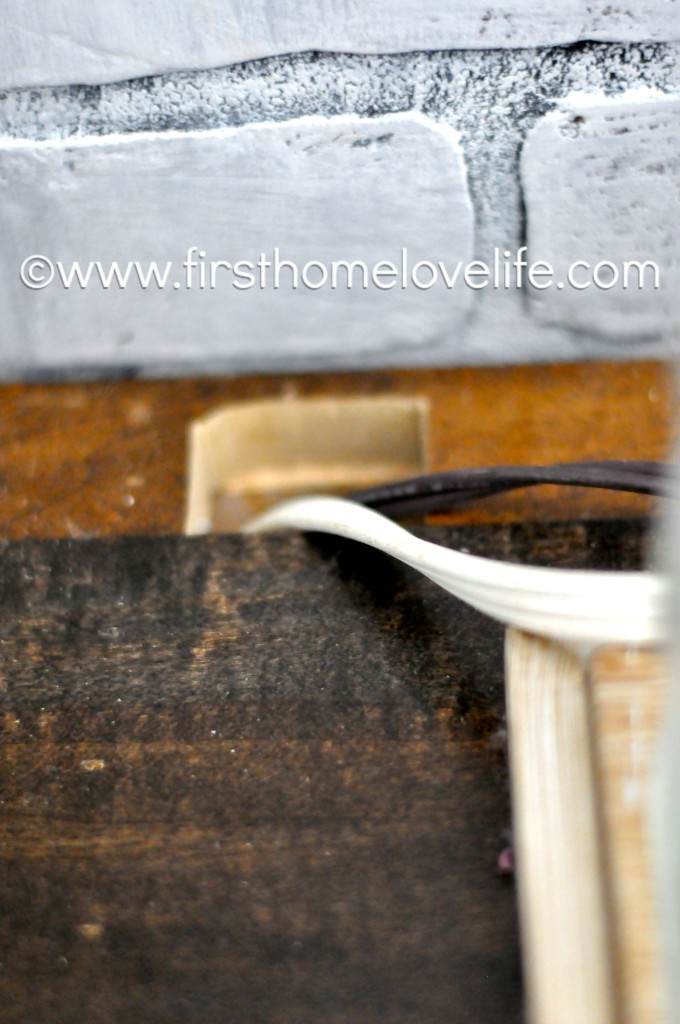 But the whole purpose of doing this really besides the obvious lamp cord, was to be able to set up a coffee/tea station in the room for them 🙂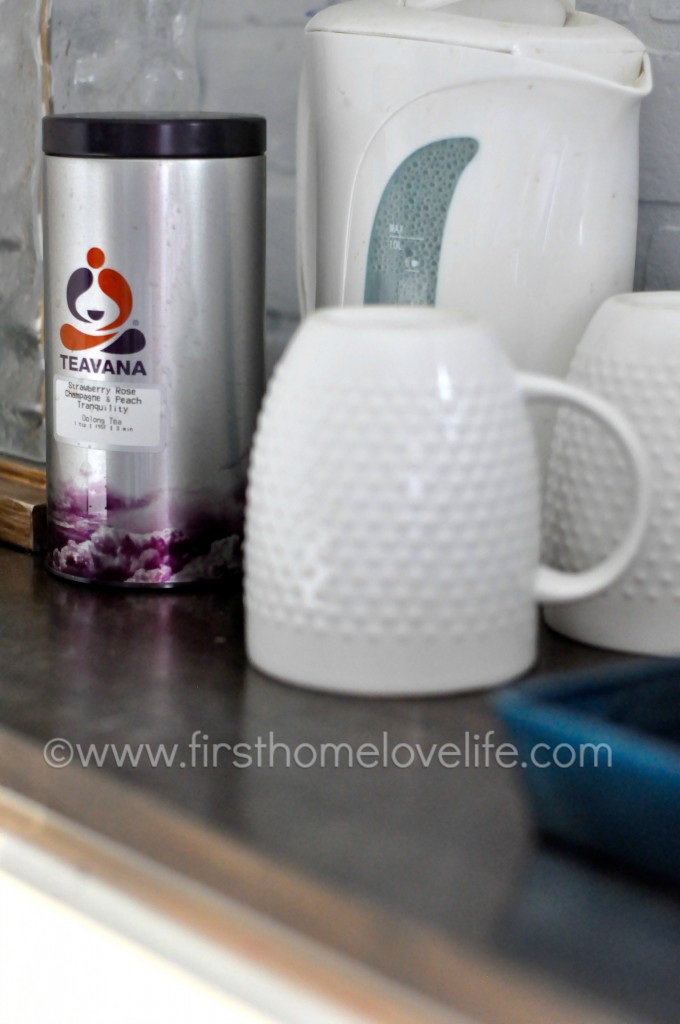 Eventually I'd like to set up a small Keurig in there (I ran out of time) but for now and electric kettle, some nice assortments of tea, and a few pretty cups will have to do. 😉 I just think it's the perfect little touch to say "welcome, my home is your home," ya know?
I know our guests will appreciate that little touch, maybe your's would prefer a small mini bar though…Actually, we have a few of those kinds of guests too 😉 haha!
A few other things that are often over looked when creating a guest space are…
a small alarm clock/radio combo
a tv with cable or netflix, or some form of night time entertainment
a hamper
hooks on the back of the door for coats, robes, wet towels
extra hangers in the closet for them to hang their items
a seat of some sort so they can sit down to tie their shoes, or just a place to put their bags
extra blankets, sheets, pillows
These are all other "extra items" I have in our guest room.
I feel like I'm prepared, but maybe I'm forgetting something so I'd love for you to chime in! I have five more days until we pick her up from the airport so I have plenty of time for a last minute trip to the store 🙂
I hope you found some inspiration here for the next time you're hosting house guests! Just remember that it's the little things that mean the most, so you don't have to go all crazy and buy everything in sight. Your guests really are coming to spend time with you anyway!
Talk to you soon friends, take care!
XO
Comments
comments