Today I'm sharing a few ways you can easily keep your fridge smelling fresh!
You all may remember a few weeks ago when I was on an organizing kick how I organized my fridge. Ever since then I've received quite a few responses, and some that I found kind of interesting! Comments like "Wow! Your fridge looks like it smells so good!" "I bet it smells so fresh and clean in there!" or "I can't even open mine, I might fall over from the funk…" I had no idea just how many of you struggle with keeping your fridge smelling good, but I'm here today to share with you my tips on how I keep my fridge somewhat clean and smelling fresh 99% of the time…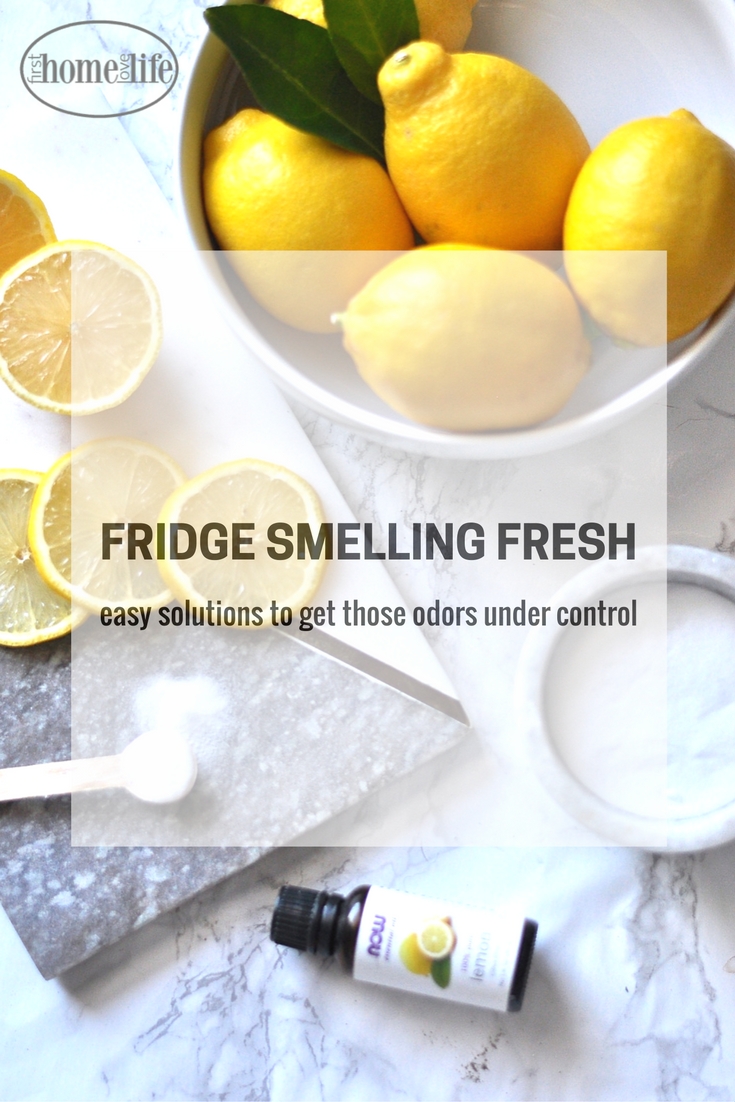 The reason I say 99% is because we've all been there. I remember this one time I bought calamari (squid) to make but then ended up getting sick and being stuck in bed for a couple of days. The calamari turned in the fridge, and TALK ABOUT FUNK! It was so bad that I almost considered throwing out the refrigerator! Eventually though I got the smell to completely go away so don't get discouraged and think your doomed to live with a stinky fridge forever! Here's my tips…
Here's a reminder of my fridge, and for the most part it looks pretty much the same except the contents are a bit different and I have a few leftovers in there from when my mother in law was in town 🙂 Mmmm…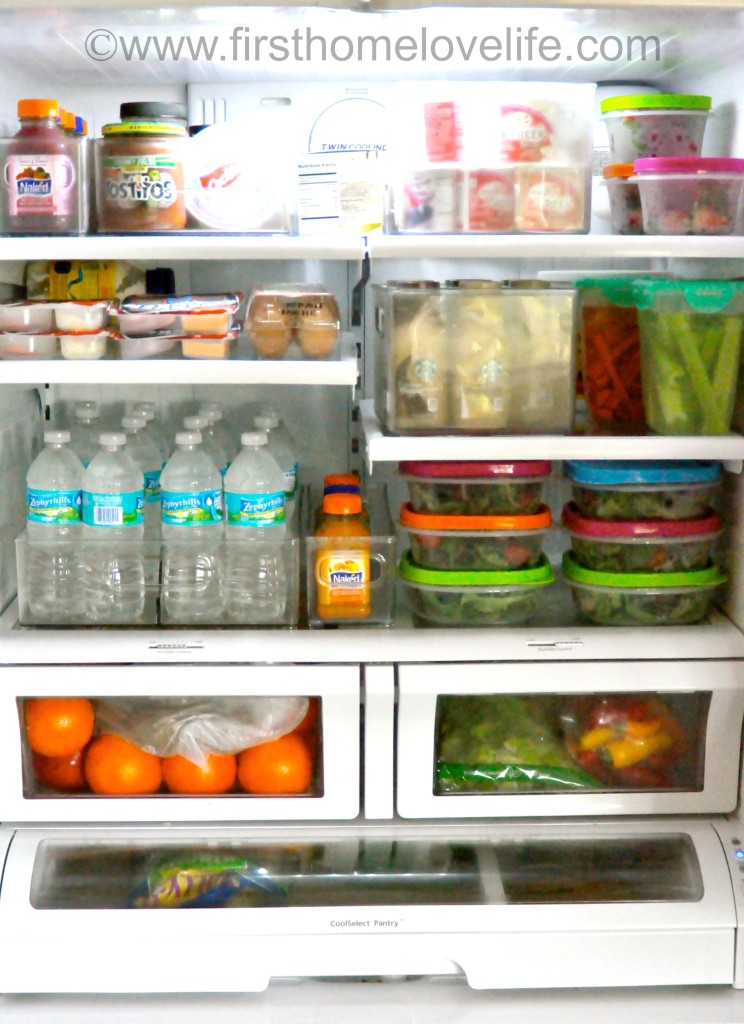 When dealing with a funky smelling fridge step number 1 will always be CLEAN IT OUT! Discard any expired food that is developing into a science project, and clean the heck out of every square inch! I do a super thorough cleaning to my fridge two-three times a year, so that way it doesn't get out of control. Every week, before I do my grocery shopping and the contents are sparse I give the inside of the fridge a quick wipe down (I alternate between using Mrs. Meyers dish soap and warm water or my homemade almost all purpose spray for this) but if you want to you can use baking soda dissolved in warm water or 50/50 vinagar-water especially if your fridge is super stinky.
If your fridge is EXTRA funky, you may need to clean out the drip tray too! The drip tray is located beneath the fridge, just be careful though because it contains dirty water! Remove the grill from beneath the doors, carefully pull it out and dump the contents, then wipe it down with the baking soda water or 50/50 vinegar water. Either one will work great because both of those cleaning methods have odor eliminating qualities, so you can't go wrong.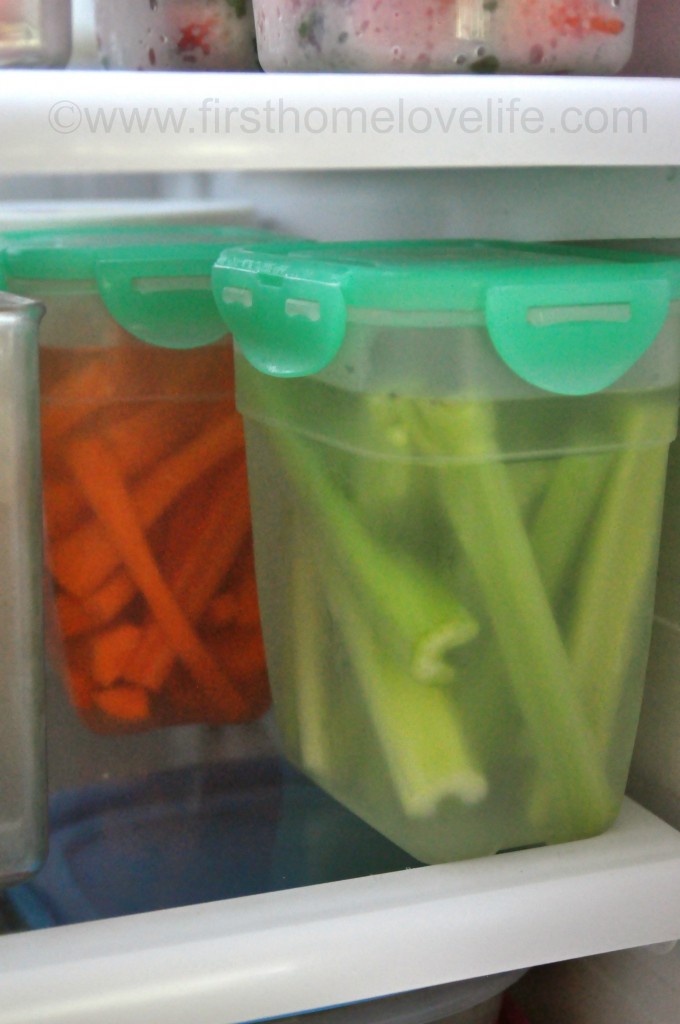 When you put your items back into the fridge give them all a wipe with a clean towel and warm water. Sometimes things leaked, or spilled out without you knowing and wiping them down will prevent those from starting to stink. Also, try to put as much as you can in airtight containers. It honestly keeps items like produce fresher way longer than keeping them in their market packaging.
After putting your contents back in the fridge, if there is still a lingering odor you may need to use an absorbent for a few days up to a week if it's really bad. Here's some of my favorite methods…
a damp bunched up newspaper that is soaked in 50/50 vinegar water then wrung out until just damp
a cup of white vinegar in a bowl uncovered
plain oats in a bowl uncovered
coffee grounds spread over a few baking sheets and put on ever shelf at different levels
charcoal, just don't get the ones with flammable additives because those are poisonous
CLEAN kitty litter
and of course baking soda
Speaking of baking soda…Once you've gotten the stink out of your fridge, a great way to keep it fresh is by keeping a bowl of baking soda uncovered hidden on a shelf (I keep mine on the door). I go the extra step of adding a few drops of lemon essential oil to it, and it's like a fresh but subtle breeze of lemon hitting you in the face every time the fridge gets opened. I love it!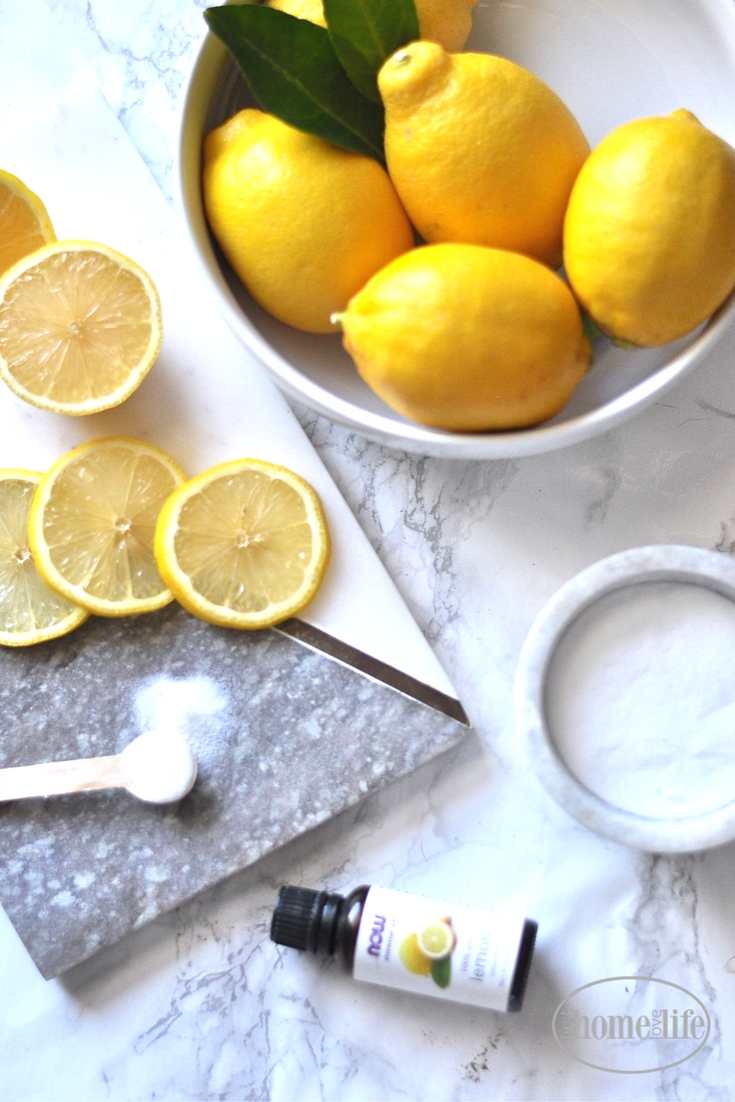 Also, once the stench is gone…Really make it a point to go through your fridge once a week and give it a quick toss and clean. This will help you keep inventory of what you have and keep you on top of not letting things spoil in there in the future.
I hope you've found this helpful! Here's to un-funkified, fresh and clean fridges for everyone!
For more cleaning and organizing tips, check out my page dedicated to it right here! You'll find tons of great solutions to lots of household problems!
Talk to you soon friends, take care!
XO
**this post contains affiliate links
Comments
comments