Creamy, delicious and chockfull of clams, this homemade clam chowder recipe is easier to make than you think!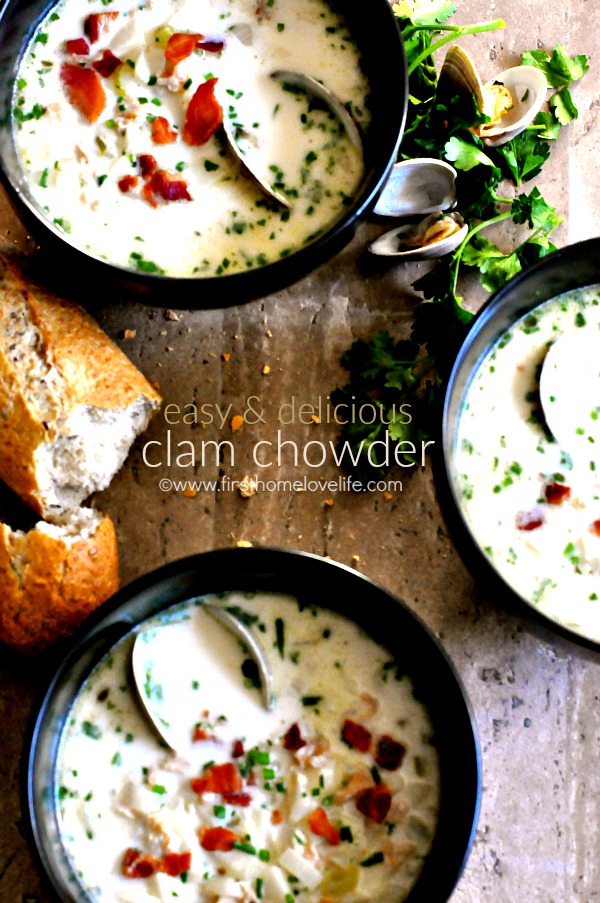 I spent many childhood summers in the beautiful Cape, and one of the greatest memories I have from that is picking clams and mussels out of the bay behind my grandpa's little cottage. Visiting there is also where my love for good New England clam chowder came from, and it's been challenging to come up with a good recipe until now. A friend of mine said he had a great version that was pretty spot on and he wasn't kidding. One spoonful in and I felt like I was right back on my grandfathers deck watching the sailboats go by. This recipe is definitely a keeper! 🙂
If you've been used to heating it up out of can , or only ordering it out at restaurants because you thought it was too difficult to make then I have a treat for you! Not only is it simple to do, it's very economical to make a big batch that could easily serve 4-6 people. Here's what you'll need…
4 cans minced clams
4 cans chopped clams
2 bottles clam juice
8-10 pieces of bacon (freeze for 10 minutes to make it easier to dice up)
3 tbsp unsalted butter
1 large yellow onion (chopping finely)
1 cup celery (chopped finely)
2 tspn minced garlic
6-8 sprigs fresh thyme
2 bay leaves
2 lbs. peeled and cubed potatoes*
2 cups heavy cream**
fresh parsley and chives
salt and pepper to taste
*Time saver tip: use a bag of frozen diced potatoes if you don't want to peel and chop that many potatoes
** Can substitute 1 cup of cream for milk to make a lighter version or just use 2 cups half and half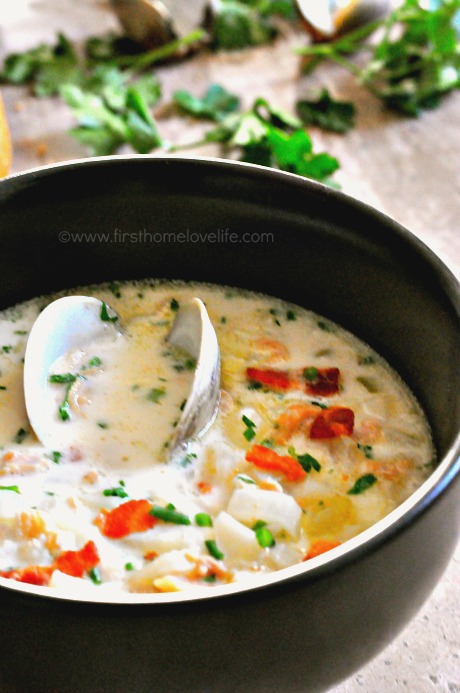 Drain the liquid from the clams into a large measuring cup and add the bottled clam juice. You will need 6 cups total liquid for this so just add water until you get there.
In a large soup pot (preferably cast iron) cook the diced bacon until crispy, remove and set aside. Drain all the fat from the pot except for about 2 tbsp worth.
Lower the heat to about a medium temp. Add in your butter, onions and celery and cook for about 5 mins until soft. Season with salt and pepper.
Add in the garlic, thyme and bay leaves. Cook for about another 3 minutes (stir often to not burn the garlic)
Add in your chopped potatoes, and pour in your 6 cups of broth and water mixture. Let it simmer for 20-30 minutes until potatoes are tender.
Remove the pot from the heat and stir in your clams and cream. Taste it and adjust seasonings if needed.
Cover and set aside for an hour to let the flavors marry.
Reheat on low before ready to serve and garnish with finely chopped parsley, chives, and the crispy bacon bits.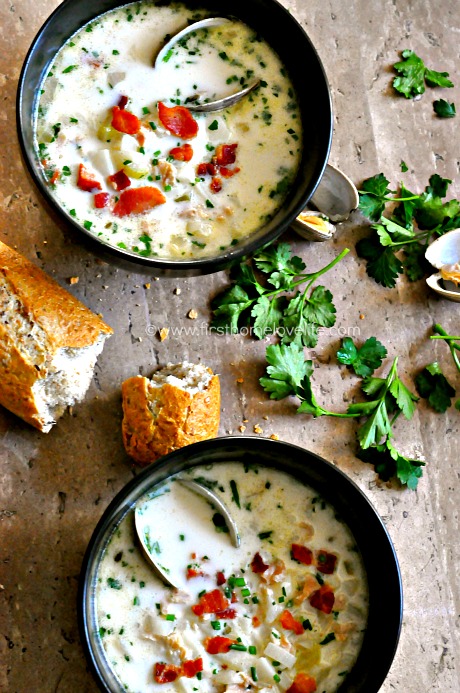 So incredibly tasty, and so simple to make. This clam chowder recipe is something your entire family will enjoy!
Talk to you soon friends, take care.
XO
Comments
comments