Simply delicious, pretty nutritious, and incredibly easy to make! This super easy Crockpot Taco Chili is a winner, winner cold weather dinner!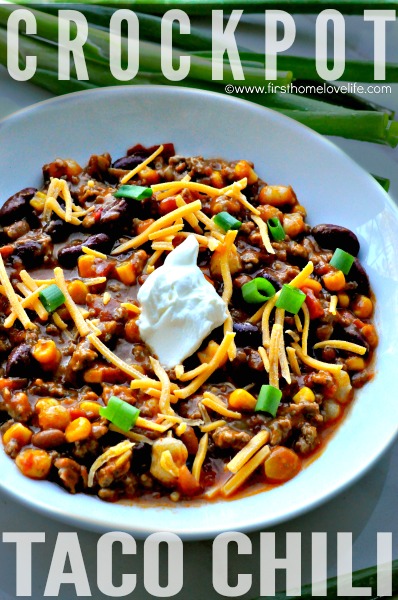 This past week has been insane.
I started out with a brutal 24 hour stomach virus that nearly killed me, threw my back out thanks to said virus, hosted a small trick or treat party for Halloween, celebrated 6 years of happily ever after, and then hosted another backyard get together with some neighbors that involved breaking in our new outdoor fireplace, pulled pork sandwiches, fishing, Fireball Whiskey, and s'more's…Possibly in that order, but I can't remember. (See: Fireball Whiskey) 😉
It was such a great week, well minus the nasty virus and the fact that I still can't sit down for more than 20 minutes thanks to my compressed spine, but I missed you all so I wanted to pop in and share a super easy recipe until my Chiro can fix me back up. 🙂
This crockpot taco chili could not be easier to make! It's tasty, filling, fairly inexpensive and could easily feed a crowd! Here's how to make it…
Serves about 8 comfortably.
You'll need-
1.5- 2 lbs. ground beef
1 medium yellow onion (diced)
1 green bell pepper (diced)
1 packet of taco seasoning mix
2 10oz. cans diced tomatoes with chiles (undrained)
1 15oz. can chili beans (undrained)
1 15oz. can black beans (undrained)
1 15oz. can kidney beans (undrained)
1 150z. can of hominy (drained)–can omit this if you can't find it.
1 10oz can of enchilada sauce
1 15oz can of corn with peppers and spices(drained)
1/2 cup fresh cilantro (chopped)
salt and pepper to taste
*Optional toppings- fritos, sliced green onions, sliced cheddar cheese, sour cream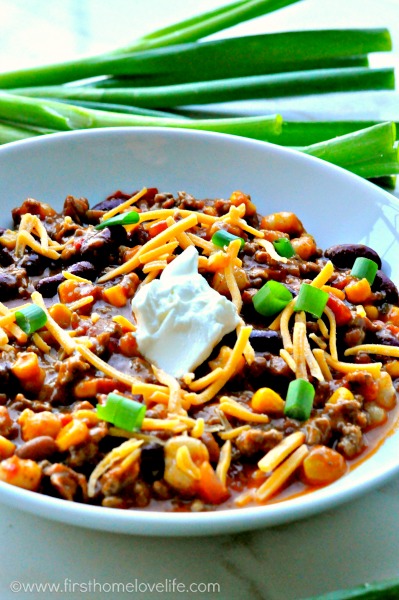 Easy directions…ready?
Brown your ground beef in a sauté pan with some oil, and add in your onions and green peppers. When the meat is fully cooked sprinkle in your taco seasoning packet and stir everything together.
Dump the meat mixture and everything else into a crockpot, stir to combine, cover and set to cook on low for 6 hours.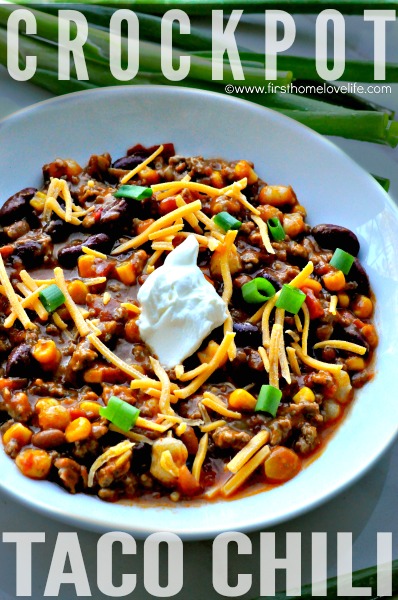 Top it with your favorite taco toppings and dinner is served!
I hope you loved this super easy crockpot recipe! 🙂
Talk to you soon friends (hopefully with a better feeling back)
Take care, XO!
Comments
comments