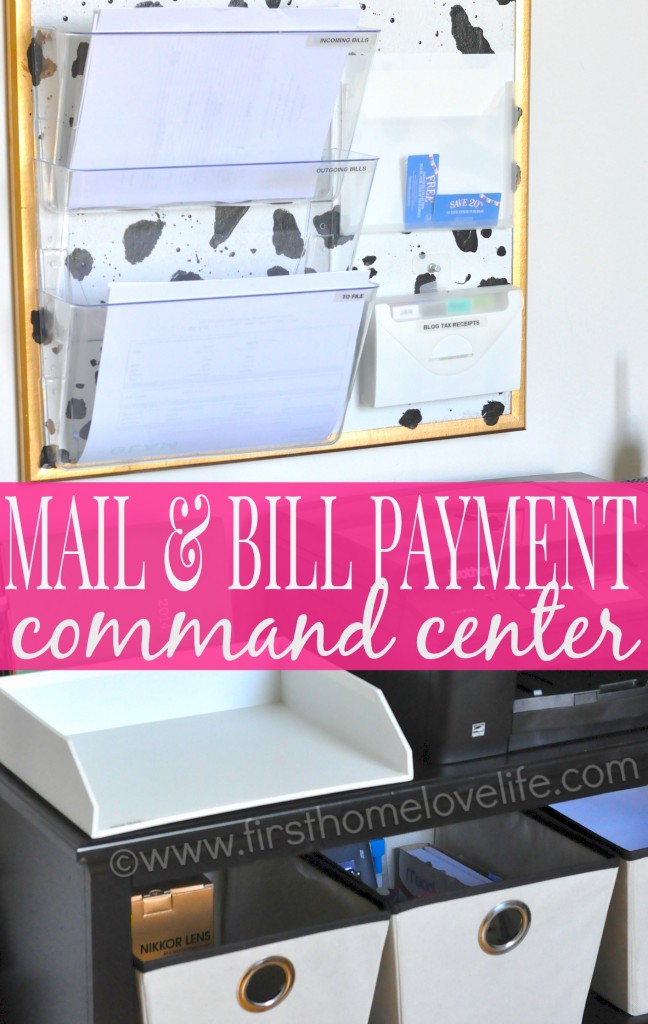 Happy weekend friends! As some of you know I've been working on making my home office more organized, and functional, not only for me (since I'm in here the most) but for the family as well. One of the most problematic areas in most people's houses is the "mail drop zone." For many, it can be an entry way table, a kitchen counter, or a dining room table, for us it was the kitchen table and while we're pretty good at sorting it on the spot, and tossing junk, I was always finding bills or store coupons thrown about because we never put them in a designated place.
So about 6 months ago I came in on my white horse, waving my sword in the air and declared my kitchen a "NO PAPER ZONE!" It worked….for about a week…The problem was that I failed at creating a great functioning mail and bill payment center in our house, and because we found it more of a hassle to use my system (which really just consisted of a bulletin board and a few folders) we reverted back to our kitchen table mail tossing ways…
::sigh::
So I really started to think about what I wanted and needed in a mail and bill payment center… SIMPLIFIED. I sketched ideas, I walked around Staples, Ikea, Target and The Container Store looking for inspiration, and finally after a few weeks I put together something that is super practical and dare I say…fun? 😉 So, I'm ready to share what I've done, and psst…we're going on two weeks with no problems keeping the paper clutter out of the kitchen! (happy, happy, happy dance!)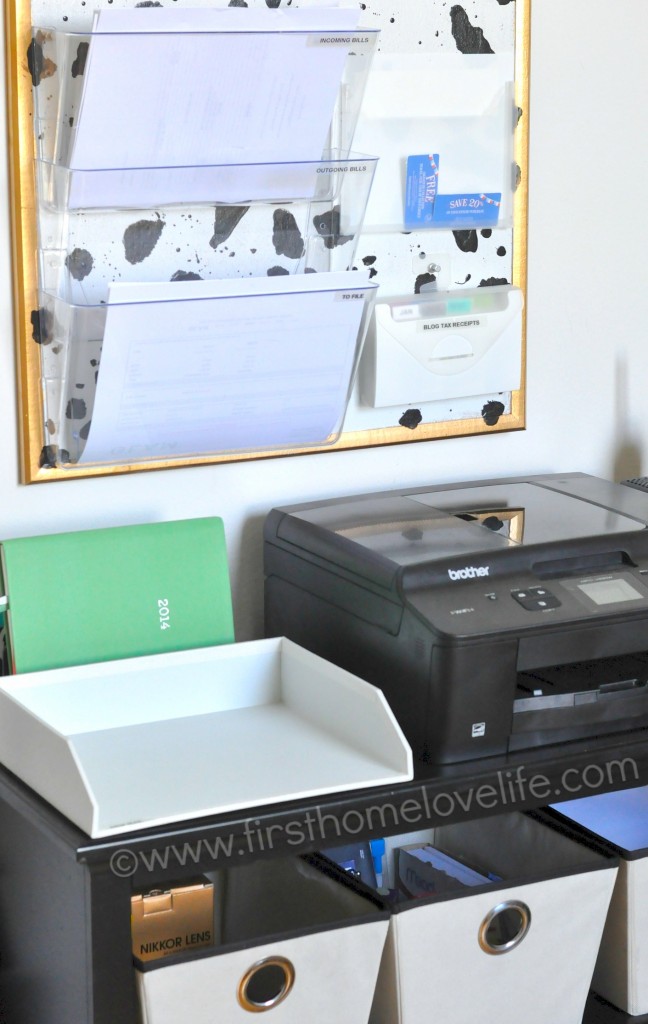 It all started with my bulletin board that I made over with black and white paint, and gold gilding. I love how it adds a pop of art to the room all while being as functional as it can be!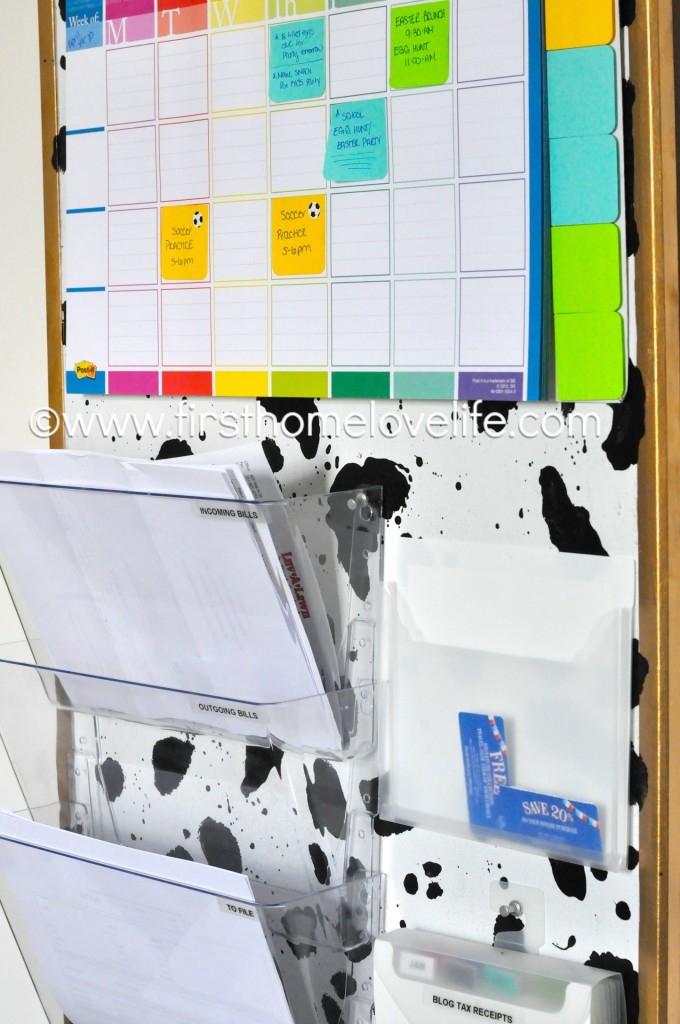 I also love this week at a glance calendar that I found at Staples a few months ago. I use this one mainly for school notes, and my daughter's activities. I also remind myself of bill payments when those weeks come up. 🙂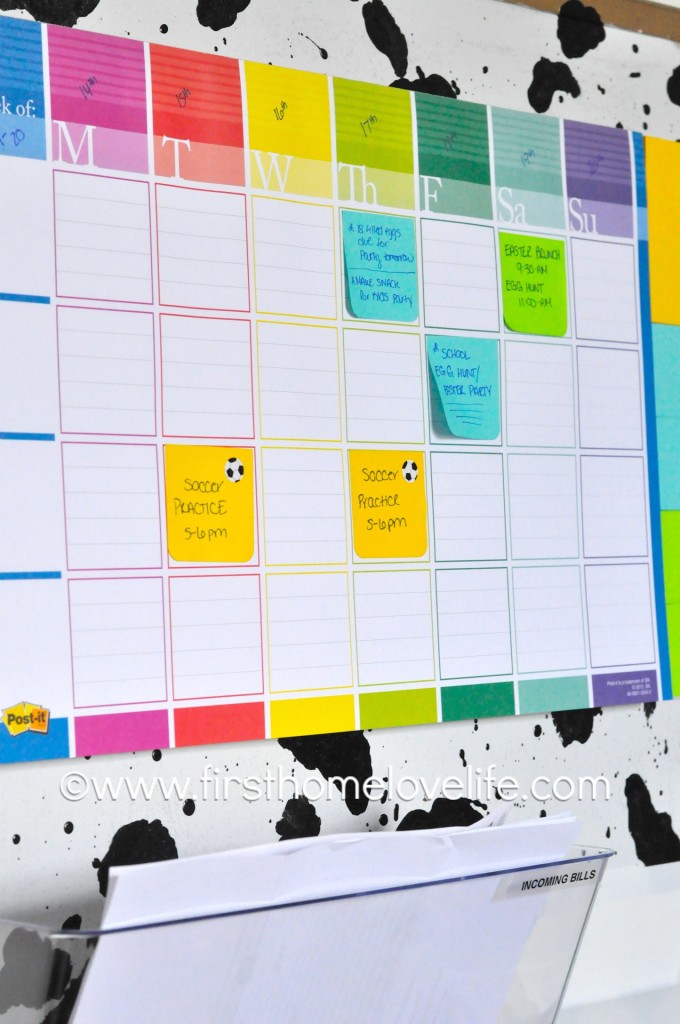 The clear plastic wall bins are also from Staples from a few months ago when I was in the planning stage of my office. I saw Toni's bill payment center and knew that was a great solution to sort incoming, outgoing, and bills that needed to be filed away. It's working beautifully so far!
The way we've been handling our mail since setting this command center up is we bring the mail to this little white paper sorter (what do you call this thing?) This is also from Staples, from a few months ago and I believe it was part of the Martha Stewart collection. I honestly can't remember…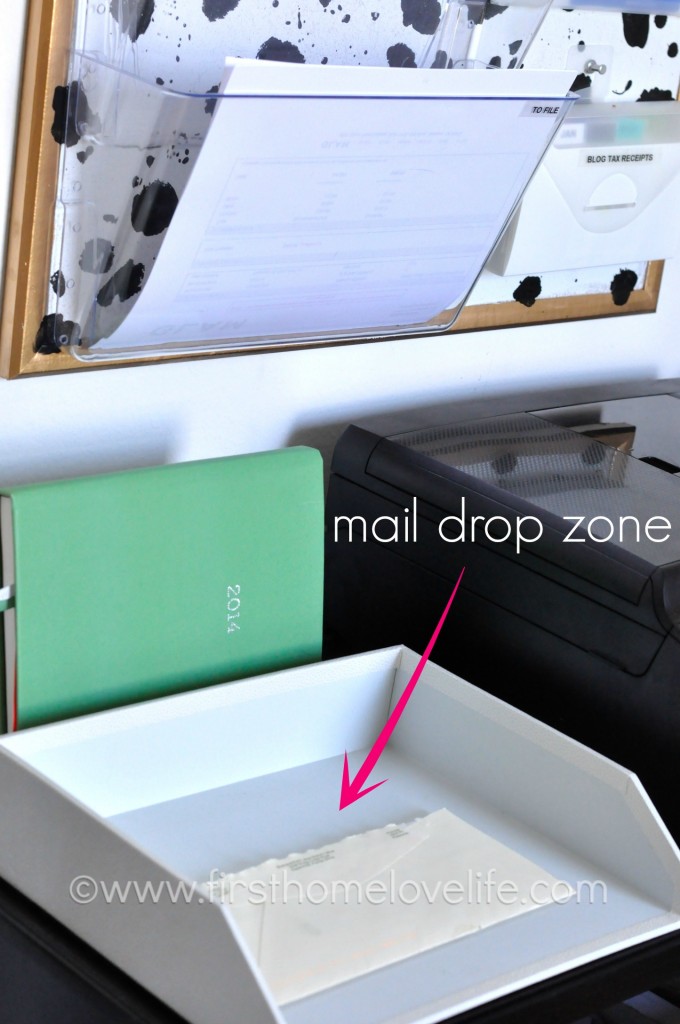 Creating a designated space to drop the mail was a biggie! Sometimes we don't have the time to sit there and sort it right away, but at least this way it's corralled, easily accessible and we know where to find it later when we have some extra time. Oh yeah…and I labeled it 😉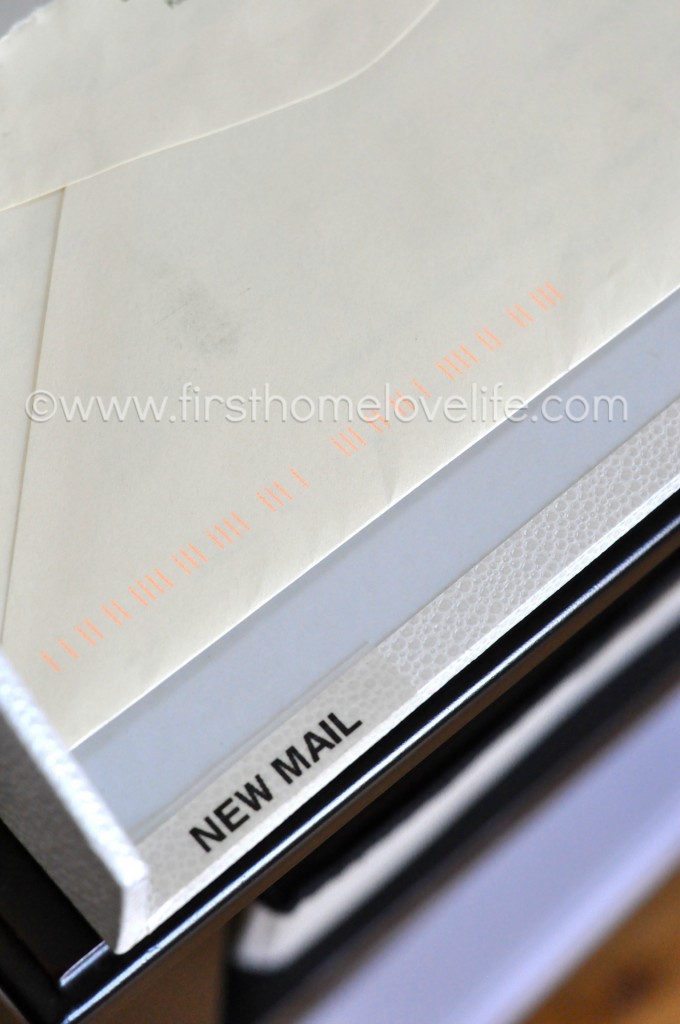 When mail gets opened, bills go right into the "incoming bill" plastic folder (above) and junk gets shredded, but what happens when you receive those store coupons or a sale flyer you want to keep for later on? My solution was to hang a small pocket to put those things in. I rarely keep a whole flyer unless it's during the holidays (which I would put into my holiday binder anyway) but sometimes I clip out a small ad or coupon and need to put it somewhere so I remember to use it.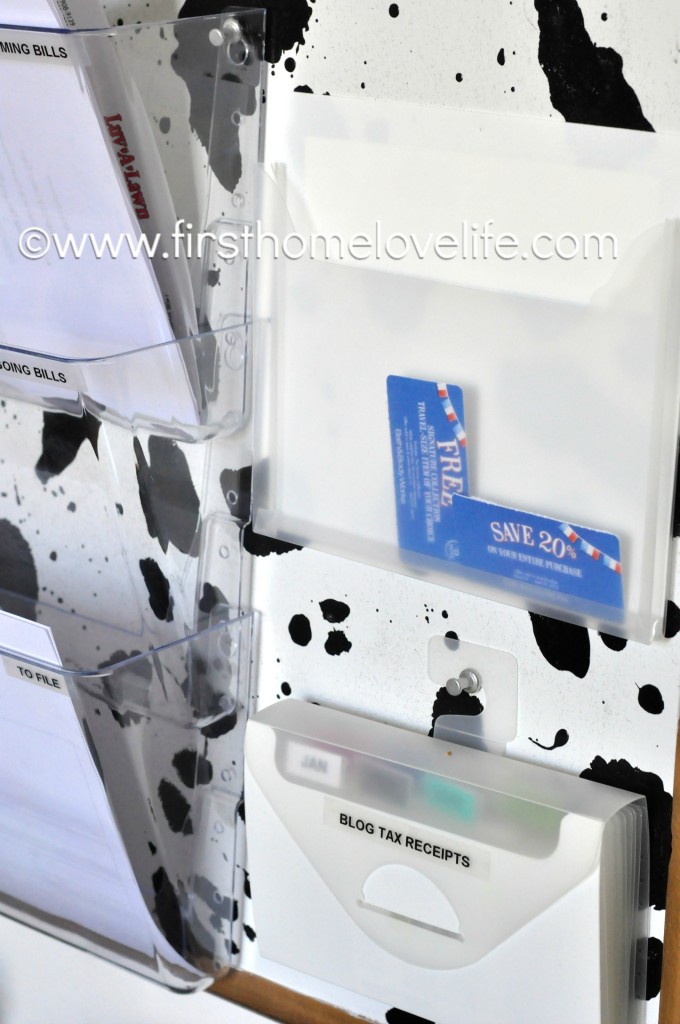 I keep my tax receipts below the pocket in one of those small accordion folders. The receipts are separated my month so they're easy to find.
To keep things all in one space (see: simplified) I reused a small bookshelf we've had for a good 5 years to act as my one stop shop for all things mail and printing/scanning/faxing related. This is also where I keep the shredder, plugged in and ready to go to shred up the junk mail so paper clutter is kept to a minimum!
I guess I should empty that, huhh? 😉
Under the printer/scanner/fax in the tote is where I keep extra ink and paper.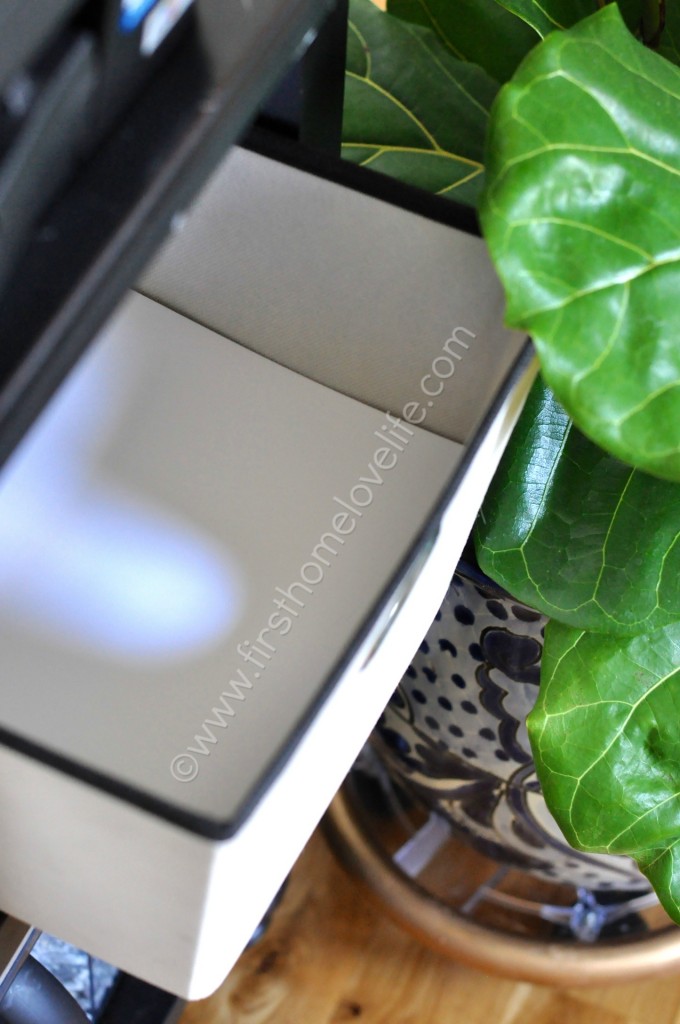 The middle tote holds physical mail supplies. Most of my bill paying is done online, but there are a few things I prefer to pay by the good old USPS, so keeping everything right there and easy to access is super important for me!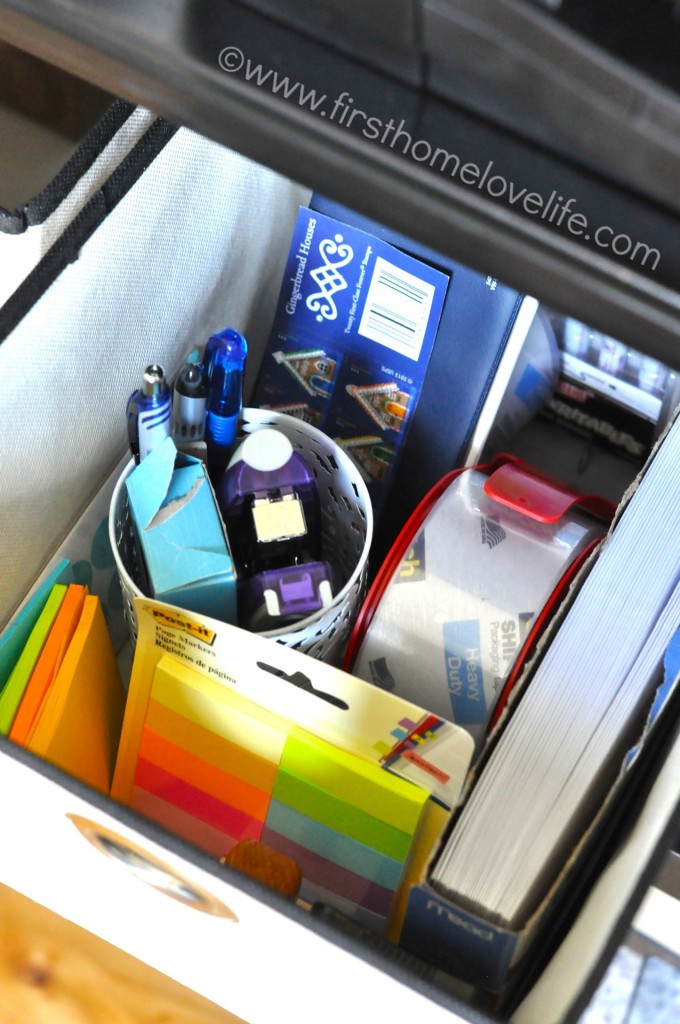 The last tote just holds a camera lens and tripod for now, not mail or bill related but easy for me to grab on a daily basis. 😉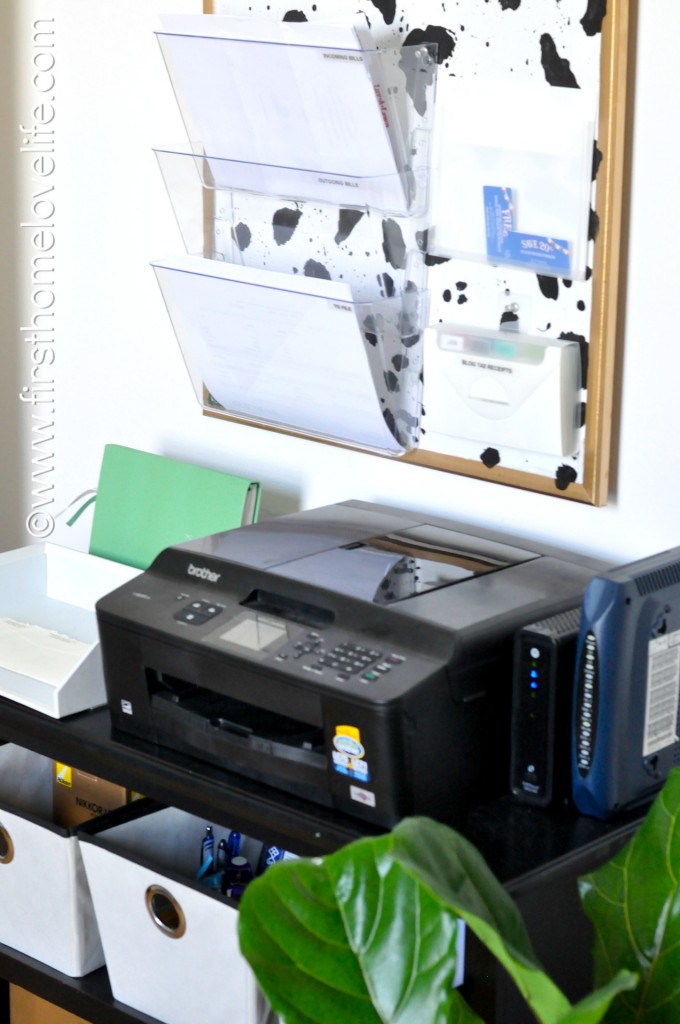 You guys. You have no idea how much this little area has changed the way my day to day chores of dealing with mail, bills and well…life. I just want to wrap my arms around it and give it a smooch, but I won't because I'm not that weird…most of the time.;)
I hope you're feeling inspired to tackle the paper clutter and never ending mail trail. It's liberating to not have it scattered all over the place anymore! I want you to feel what I'm feeling, because it rocks! 🙂
Do you already have a mail and bill payment center or space in your home? I'd love to hear how you handle the never ending mail stream…
Talk to you soon friends, take care!
XO
Comments
comments