Tender chicken, earthy mushrooms, and crisp asparagus are the shining stars when tossed in this lighter lemon version cream sauce and pasta. Put this creamy lemon chicken pasta on the menu this week and your family will thank you for it!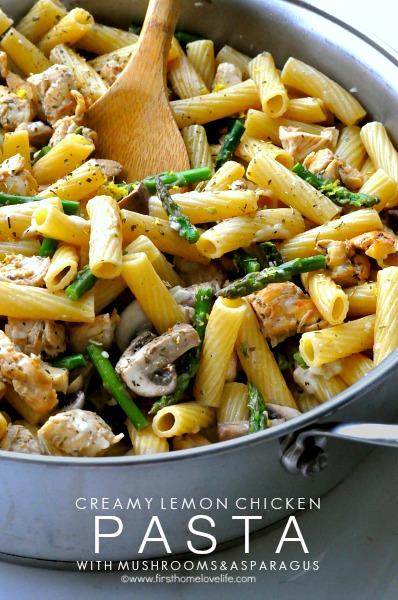 You guys are such bad influences. 😉
I get a lot of requests for more 'creamy pasta dishes' probably more than anything else in my email box, and for someone who is trying oh so hard to drop a few pounds that just spells disaster. I start thinking about thick and hearty pasta dishes like my Bacon, Mushroom, Chicken Pasta or my mother-in-laws Greek Pastitsio and I know my healthier habits are doomed if I don't get a little something to satisfy the craving.
It's all about moderation, right? 😀
So I tried to come up with a semi-light lemon cream sauce that would slightly coat the pasta, yet still give me that luscious feeling on the tongue and I think I succeeded! It was super tasty! Here's how to make it…
You'll need…For about 6-8 servings…
1 lb. pasta (ziti, rigatoni, etc…)
1 lb. boneless skinless chicken breasts, cubed
1 bunch fresh asparagus cut into 1 inch tips
1 box fresh baby bella mushrooms, quartered
3 cloves garlic, minced
1 lemon (juice and zest)
1 teaspoon cornstarch
1/3 cup half&half cream
about a tablespoon of dried italian seasoning
Kosher salt and ground black pepper to taste
**optional: Parmesan cheese to top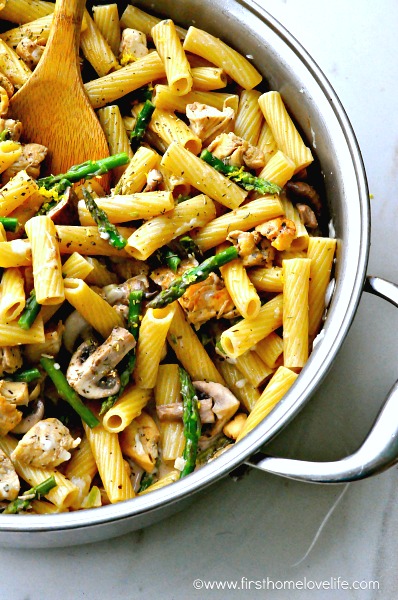 Cook your pasta according to package directions, drain, set aside. (reserve 1 cup starchy pasta water for sauce)
Dice up your chicken breasts, coat them in olive oil, salt and pepper and italian seasoning, and add them into a hot sauté pan.
While the chicken is cooking, cut your asparagus into 1 inch pieces, and quarter your mushrooms. Add them into the pan when the chicken is almost fully cooked and add a bit more salt and pepper over the veg.
Mince your garlic, and add that into the pan as well.
Zest your lemon, and add the juice and zest of the lemon into the pan, add in your reserved pasta water and let everything cook together until the water almost completely evaporates.
In a small bowl add your half and half and cornstarch, mix together until combined and pour the mixture into the pan.
Turn down the heat to medium-low and cook the cornstarch cream mixture until a thick sauce begins to form, add your pasta and toss everything together, taste and adjust for salt and pepper if needed.
Optional- shave parmesan over top, serve hot-warm.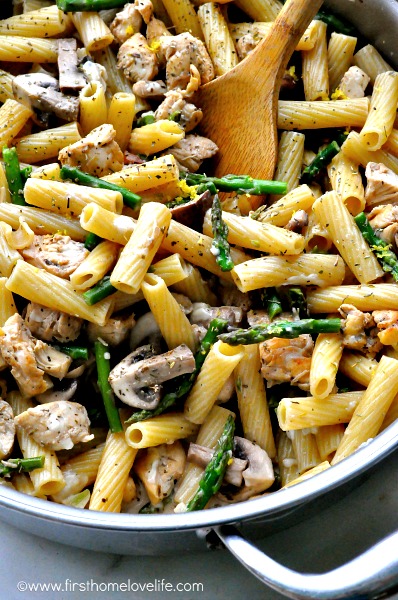 Super delicious, and super easy. I love meals like that, don't you?
Pssst… Don't forget to enter my giveaway for a $100 Bahama Breeze gift card while you're here!
Talk to you soon, friends. Take care!
XO
Comments
comments