Can we talk about a creamy garlic ricotta sauce smothering hearty rigatoni pasta, with a hefty helping of mushrooms and chicken…oh and crispy bacon…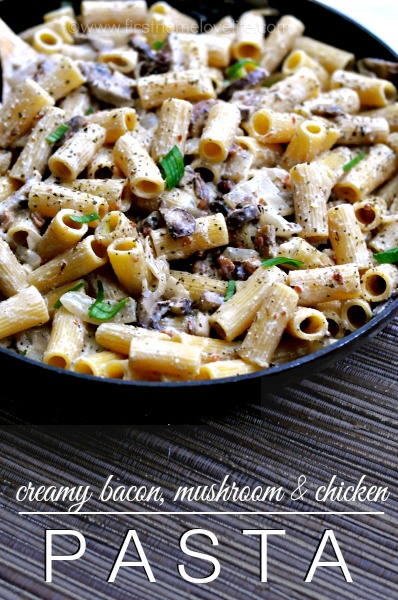 I want to talk about it. This pasta deserves a little praise, because this dinner came together in a little under 15 minutes and the flavors….
Oh.Em.Gee.
I made this on the night before we went grocery shopping for the week. You know those types of dinners that require you to get creative and throw whatever you have on hand in the pot and hope for the best? Yeah…This was that kind of franken-dinner, but as soon as I was done shoveling forkful after forkful into my mouth I ran to the computer to document what I did.
This is one recipe I do NOT want to forget!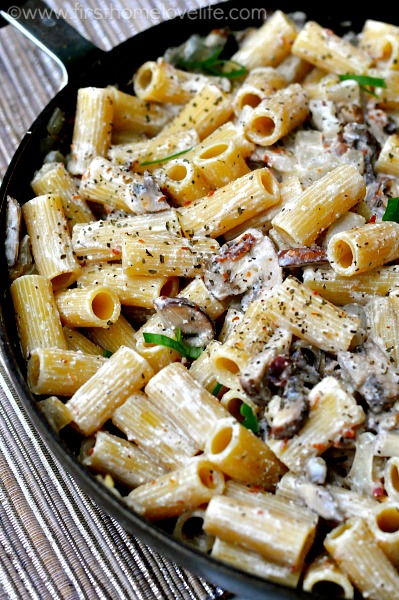 Here's what you'll need…
1 box rigatoni pasta or similar
2-3 pieces of bacon, chopped
1/2 yellow onion finely diced
about 3 tablespoons garlic, minced
1 chicken bouillon cube
1 cup half and half
1 cup ricotta cheese
1 package fresh sliced baby bella mushrooms (about 4 cups)
2 cups diced cooked chicken (I used leftover rotisserie chicken)
1/2 cup grated parmesan cheese
salt, pepper, dried thyme, dried italian herbs
*optional – sliced green onion to garnish
I know this is probably a little heavy for summer for most of you, it was for us too, but I didn't want to waste all those little delicious tidbits in the fridge!  But between you and me I'm probably going to be eating this all fall and winter and gain like six hundred and thirty pounds, but I don't care…Gimme more! 🙂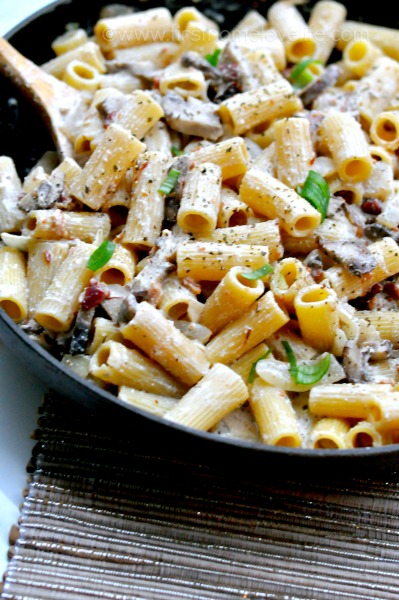 Get out a large skillet/saute pan and fry your bacon bits and render as much fat as possible from them
Scoop out the bacon pieces onto a paper towel to drain, and add your chopped onion and garlic to the bacon fat
While those are sweating, get a pot of salted water ready to boil for your pasta
Add your pasta to the boiling water and cook per box instructions
When the onions and garlic have softened, add in your mushrooms and season with thyme and salt and pepper
When mushrooms have softened a bit add your ricotta cheese, half and half, the bouillon cube- stir everything together
If sauce seems to thick ladle in some of the pastas cooking water to thin it out a bit before draining the pasta
Add cooked pasta, chicken, and bacon bits to the sauce and toss together parmesan and italian herbs
Garnish with something fresh and green like spring onions or fresh parsley and serve hot.
YOU. GUYS.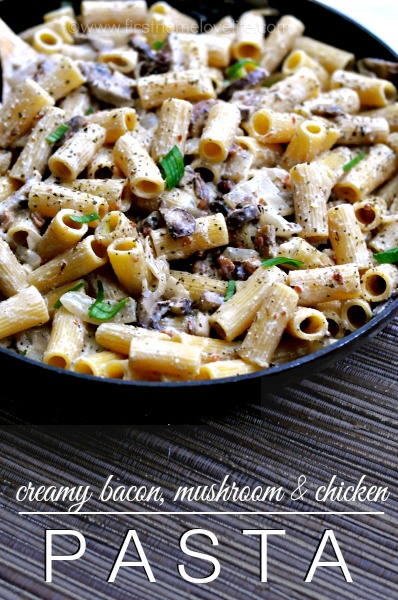 If this pasta is wrong, I don't want to be right…
Each forkful is the perfect creamy, earthy, salty bite and honestly…It just doesn't get any better than this…
Well, okay…Maybe it does with a glass of chilled white wine.
Creamy bacon, mushroom & chicken pasta= Perfection, and comfort food at it's finest.
psst…Loving what you see? Check out my other pasta dishes right here. Especially this one…Creamy Chicken Marsala Mushroom Pasta…YES PLEASE!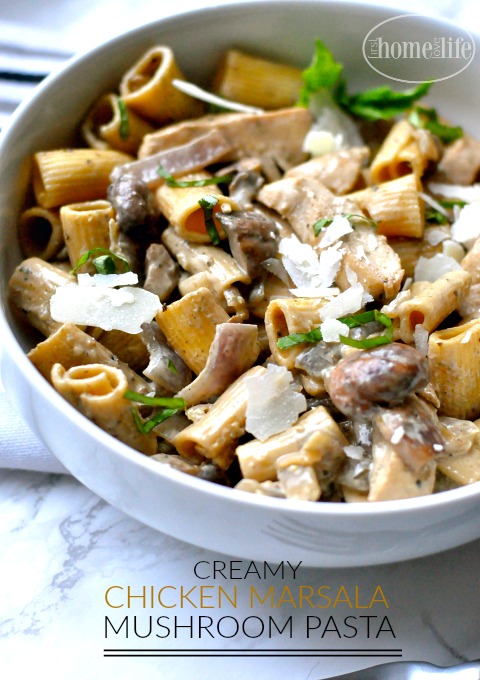 Talk to you soon friends, take care!
XO
Comments
comments