This post brought to you by ZzzQuil. All opinions are 100% mine.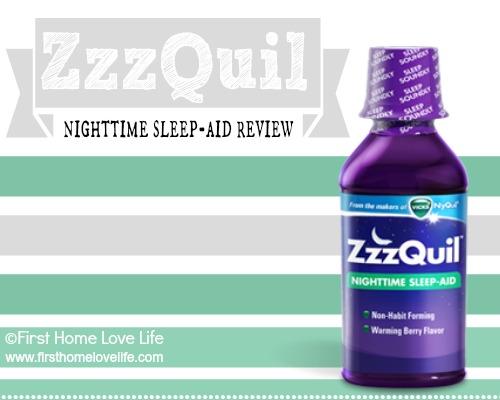 I've always been a night owl, and at age 19 when I would go and hang out with friends till all hours of the morning it was great to have that "problem."
Fast forward to today…married, young child, responsibilities…it's not that great.
So when I was offered a chance to try out ZzzQuil, I jumped on the opportunity because who doesn't want a better nights sleep every now and then?!
I have seen the commercials for ZzzQuil for a while now, and was intrigued but never actually went out to buy it. If you're not familiar with it, or haven't heard of it, let me explain…
ZzzQuil is made by Vicks. The same makers of DayQuil and NyQuil, but ZzzQuil is specifically formulated to be a sleep-aid, that is just for helping you sleep. It is intended only for adults and children over the age of 12. The sleep-aid comes in easy to swallow liquid gel caps, or in a warming berry flavor liquid (what I tried). It is non-habit forming as well, and when used according to package directions is safe and effective.
I personally probably would have preferred the gels, since I'm a horrible medicine taker, but the liquid's taste was bearable. It definitely did have a warming effect down my throat as I swallowed it which was nice, and the taste was comparable to over the counter cough syrup.
So the million dollar question….Did it work?
Yes. 
Overall, I'd say this is a pretty effective over the counter sleep-aid. I took it about a half hour before bed and definitely noticed a positive difference in my sleep quality, and did wake up feeling well rested compared to the nights I didn't take it. ZzzQuil nighttime sleep-aid is something I'm definitely keeping in my medicine cabinet from now on for those nights I need some extra help falling to sleep. So I would definitely recommend it.
If you're looking for more information on ZzzQuil, you can find it at www.ZzzQuil.com.
Have you tried out ZzzQuil yet? Thinking about giving it a try?
If so, then send them a tweet about your experience using hashtag #ZzzQuilNight and "like" ZzzQuil on Facebook to let them know how it's helped you.
Comments
comments