Have you heard of this beauty craze yet? Birchbox is a really great way to try out sample size beauty products of things that you normally might not try out or be able to afford. Every month you receive a box in the mail of five different products to try out and if you love it you'll be able to rack up reward points on their site to purchase a full size! It's ONLY $10 a month! I mean, c'mon how great is that?! I finally received my box in the mail this week, and let me tell you it did NOT disappoint!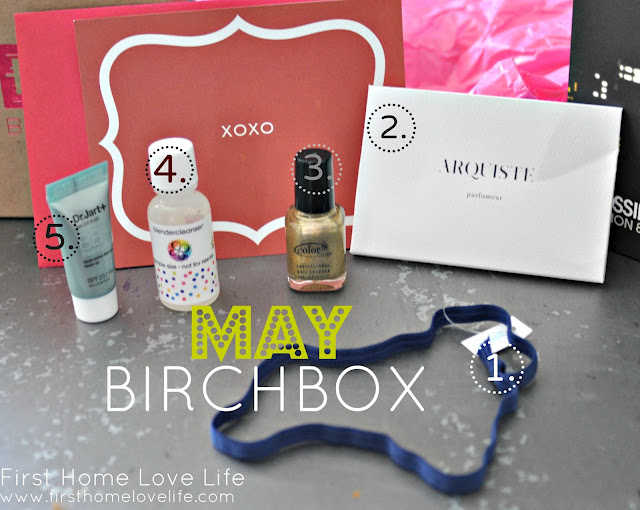 1. *twistband- Skinny Headband: I love it! Do you ever have those little pieces of hair that just wont stay back when you put your hair up (I do) and this little stretchy band helps keep everything in place perfectly!
2. *Arquiste- L'Etrong Perfume: I'm a lover of clean smells and this perfume smells divine. It's not usually something I would think I like, as it is a much warmer scent then what I usually wear, but I will definitely be buying a bigger bottle of this to add to my collection!
3. *Color Club- Nail Polish in Disco Nap: This gold polish is so fun, and with all the nail art floating around on Pinterest I will have no trouble finding some fun new way to wear it!
4. *beautyblender- blendercleanser: Do you clean your brushes and makeup sponges to keep them fresh? You're supposed to if you don't! I'm so glad I got this stuff because my brush cleanser just ran out! I love this because it is soy-based which will remove any built up bacteria and oil easily and keep my makeup brushes in prime condition.
5. *Dr.Jart+ -Waterfuse BB Cream: Did someone say 4in1? This is a moisturizer, serum, sunscreen, and skin perfecting tint all in one! It's FABULOUS and another item I will be buying in full size very soon!
And then as a little *BONUS* They sent me this sweet XOXO Notecard.
So what are you waiting for?! Go sign up! 
Mays box was fantastic! I can't wait to see what June has in store for me!
Have a wonderful weekend!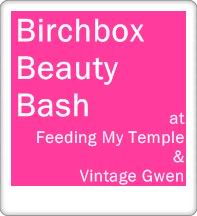 Comments
comments