Do you have a junk drawer? It doesn't necessarily have to be in your kitchen, but is there a drawer somewhere in your home where chaos ensues? I came to the conclusion last week that as long as I was calling it a junk drawer, that's exactly what it would be used for. JUNK! Old receipts, used batteries, more lighters than I could count on 2 hands, beta fish food…
Here's a fun fact, we haven't had a beta fish in this house in over two years. What the what?!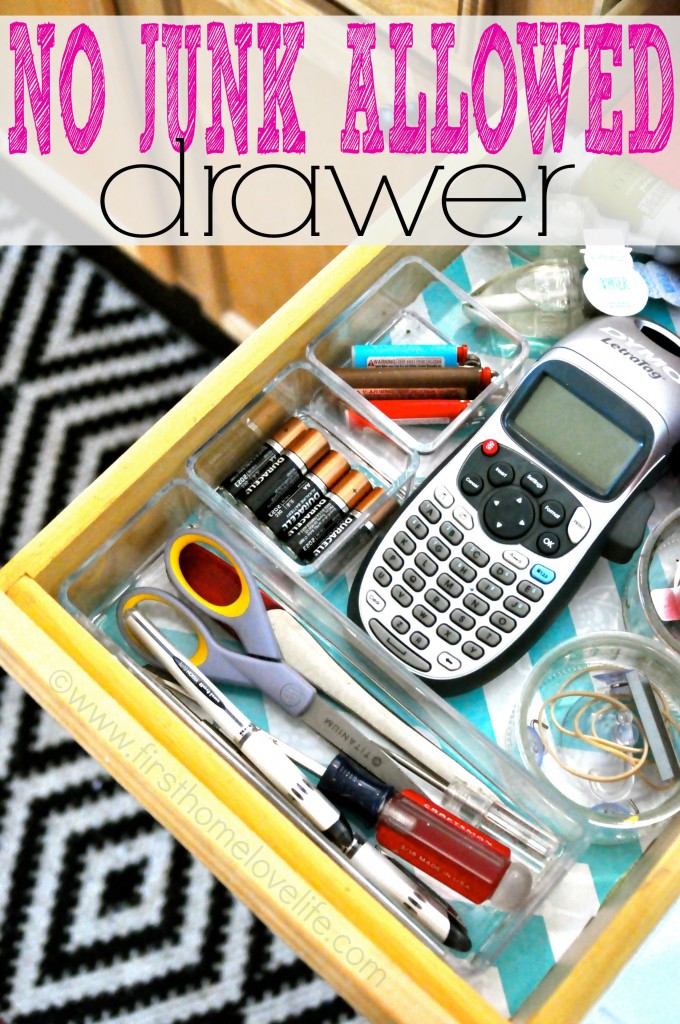 I don't know who decided we name these spaces "junk drawers," but I'm officially undo-ing it. From now on we shall name these drawers the all purpose drawers. Well, at least in my house…
I have this theory…Call something/someone a negative name enough times, and it will become that.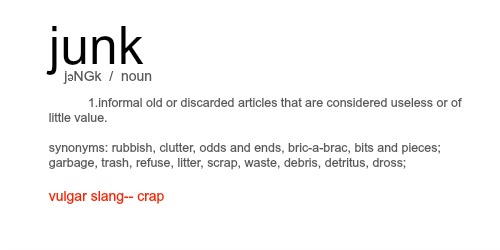 Well that explains how this happened then…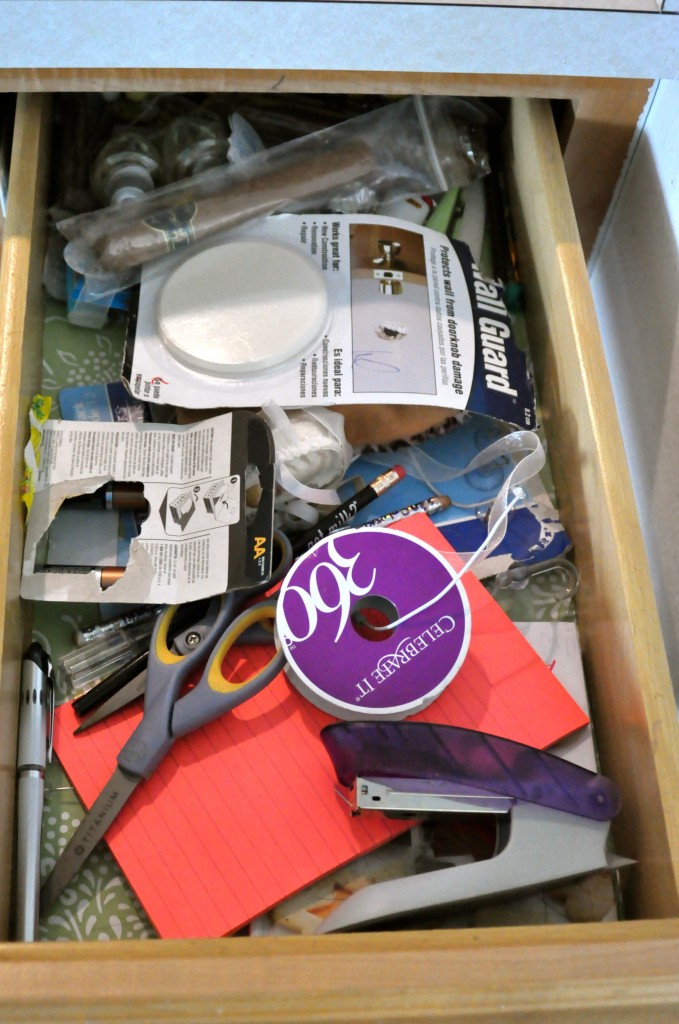 Granted, it might not look bad in comparison to other junk drawer before pictures, but when it takes you (or me) 25 minutes to find a working battery for the remote, you know something has to be done (see: first world problems)
So I emptied it all onto the counter and made piles. KEEP IN DRAWER/THROW AWAY/RELOCATE…It was pathetic the amount of actual garbage that came out that small drawer. Once I had my purposeful items that I needed to keep, I cleaned the drawer and put new contact paper down. It's the same roll I've been using that's also in my spice drawer and under the kitchen sink.
Next, I wanted a way to containerize everything so it was easily accessible. I ended up pulling 2 small glass ramekins from my cabinet that I had kept specifically for organizing something small, and then found a few plastic drawer organizers in our bathroom that would serve a better use in this drawer. I've also seen the idea of using an ice cube tray, which I think is great for organizing small things! Since most of my items were too big for that and the fact I didn't want to spend any money, I just used what I had.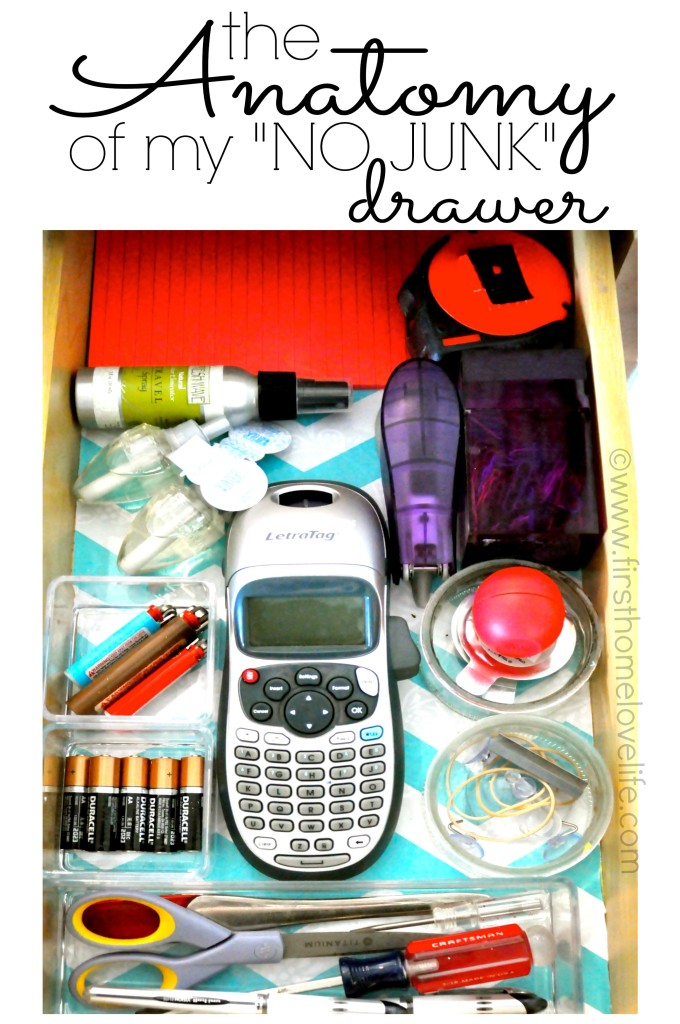 Everyone's drawer will be different and have in it what makes sense for their household. What I need on a very regular basis is…
my label maker (this is my kitchen one, I have another I keep in the office)
sticky notes
scissors
pens
a couple of different sized screw drivers
measuring tape
mail opener
stamps
rubber bands, paper clips, extra staples, wall tacks
stapler
(working) batteries
lighters (I'm a candle-a-holic)
refills for kitchen wall plug-ins
car scent pod refills
room deodorizer
The key to success in keeping this "no junk" drawer a clutter free zone is to stay on top of it. Once a week while you're waiting for water to boil just go over and open it up. Did hubs throw a business card in there all willy nilly. Put it where it belongs. That one business card will eventually cause a snowball effect and bring you back to square one, and ain't nobody got time for that, again!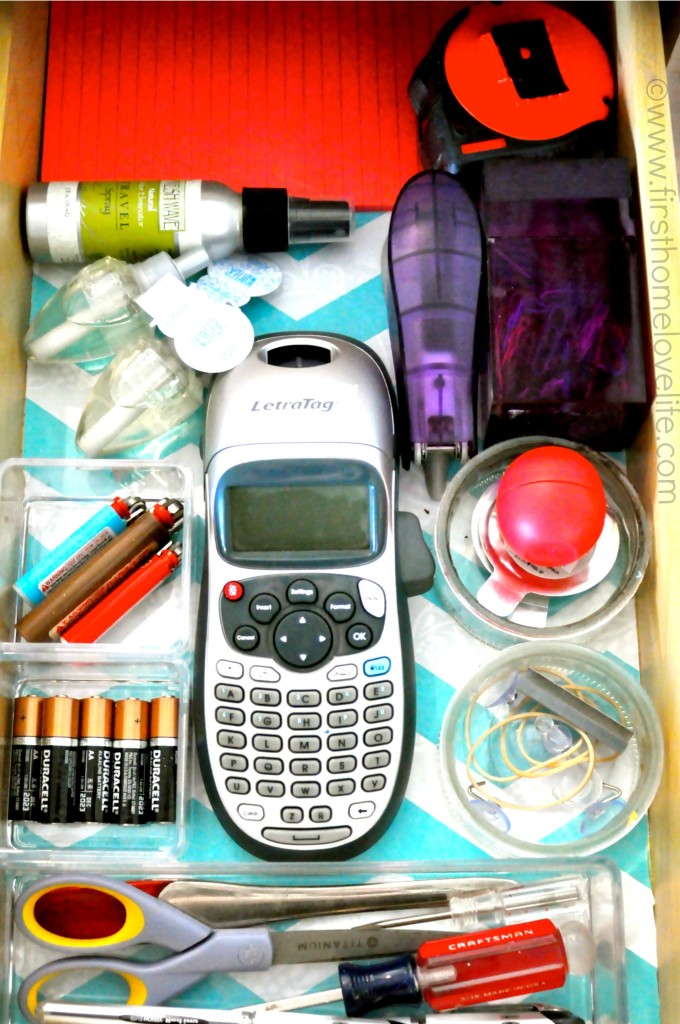 Going through these small spaces this past week and reworking them so they function better for our family has really been therapeutic. Call me crazy, but I love this kind of stuff! I can't wait to dive into the bigger projects next week with you! That's right, …pantry, fridge, and our snack center is getting a face lift too! I sure hope you'll stick around, so make sure you're following along on Facebook that way you won't miss a thing!:)
So who's with me?! Are you going to create a "NO JUNK" drawer in your house? I'd love to see it or hear about it if you do!
Talk to you soon friends, take care!
XO
Comments
comments