Oy…There is nothing I despise more than picking out paint colors! For some reason whenever I enter into a paint store my brain shuts down, and all logic goes out the window. I used to be so so so good at picking out paint too! What happened? I'll tell you what happened…Pinterest.
All these pins floating around about "the best blue" "the top designer grays" "best interior paint colors"- it's enough to make your head explode! So when I was typing up my plans for paint colors in our playroom turned guest room I was so sure I knew exactly what gray I was using. SW Functional Gray, it's a lovely warm gray that is part of their Pottery Barn winter 2013 paint choices. So not only did I see it on a few pins as a beautiful paint color, I also saw it in the PB catalogs.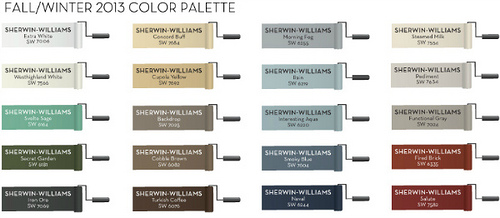 Off to Sherwin Williams I went, and when I saw it in person on a swatch…to my dismay it was totally taupe, which is fine but not at all what I was going for in this room.
Here's a more accurate swatch so you can see just how brown it is in comparison to other grays.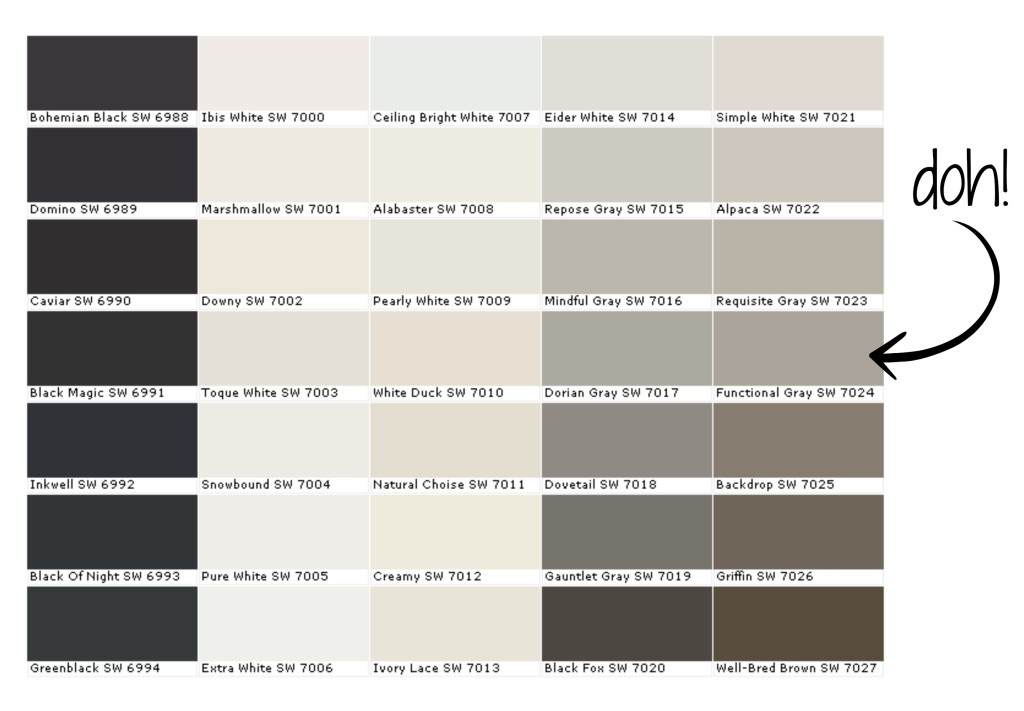 I walked out the door with my tail between my legs feeling completely overwhelmed with the 50+ shades of gray swatches I was holding in my hand, but when I got in my car it was like my brain switched back on…
In our old house I had used a color called Metropolitan from Benjamin Moore. The house was a duplex with only one window in the back so it didn't get a lot of natural light, and I specifically remember hating the color because it looked very cave-like in our narrow and dark house during most times of the day, but the playroom/guest room gets great natural light, and my gut (and brain) was telling me to go for it-something that rarely happens now when it comes to picking out paint.
Since I don't have a Benjamin Moore near me, and since I was already at Sherwin Williams I decided to just have them custom match it.
Here's the formula in case you're interested…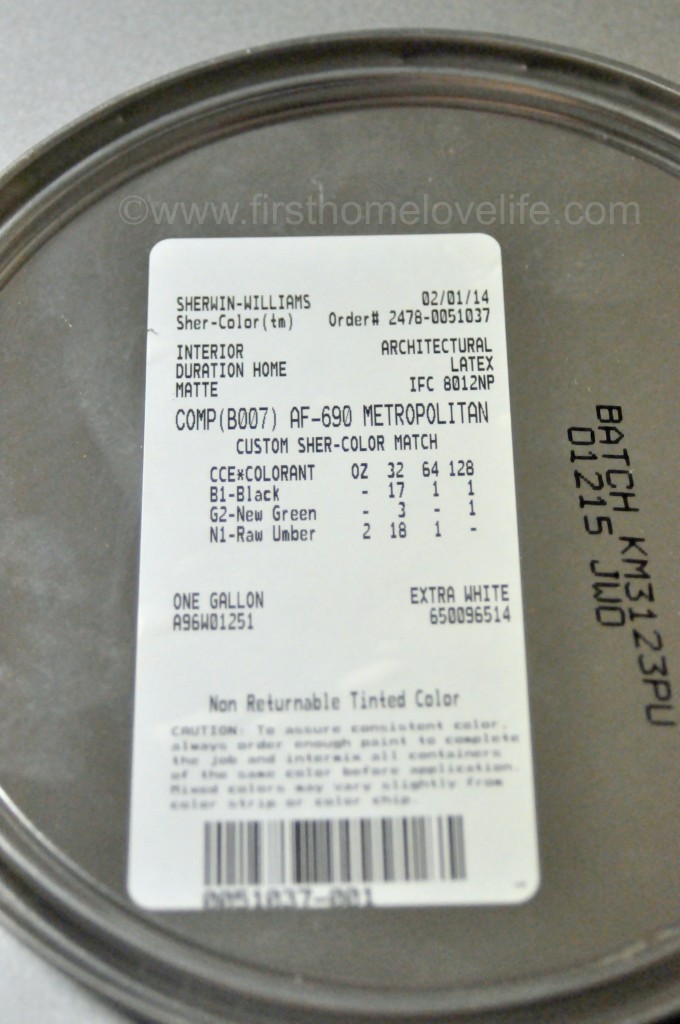 I'm a big believer that your sheen is just as important as the color when it comes to paint. Usually I'm all about flat paint or eggshell/satin in some cases, but I have been wanting to try out the SW "matte" finish for a while now and as far as I know they are the only ones that offer it. Long story short, friends…it's my new favorite! It gives the paint life that a flat sheen just can't do. It has an unexplainable glow to it, almost like it's coming from within the paint, and doesn't have that glossy look to it like an eggshell or satin would. It's stunning! Here's the can…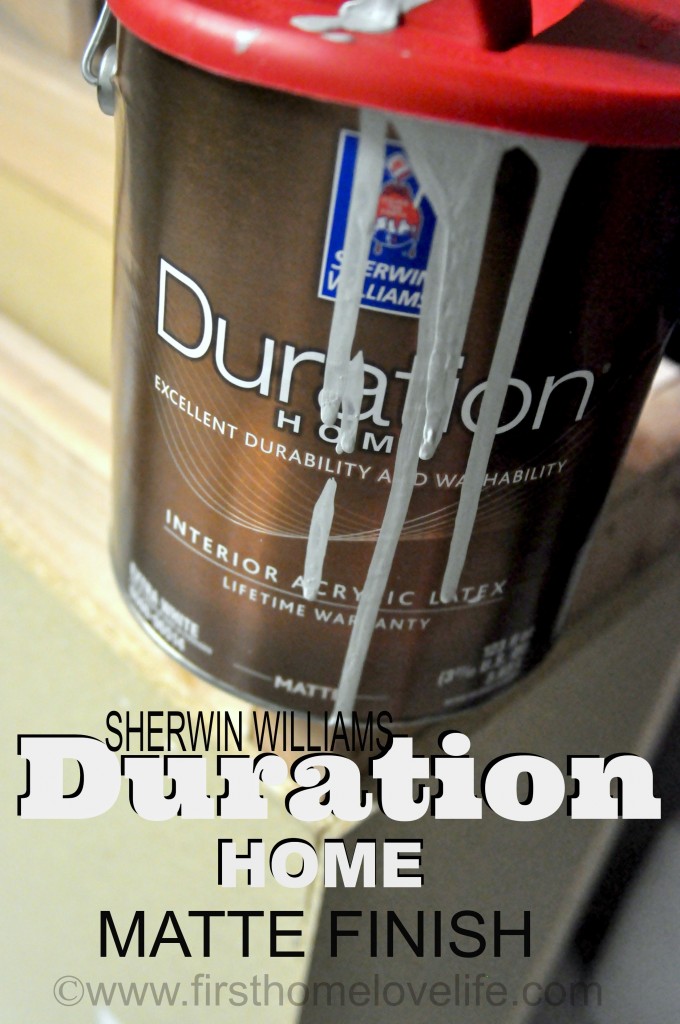 And just to refresh your memory…before…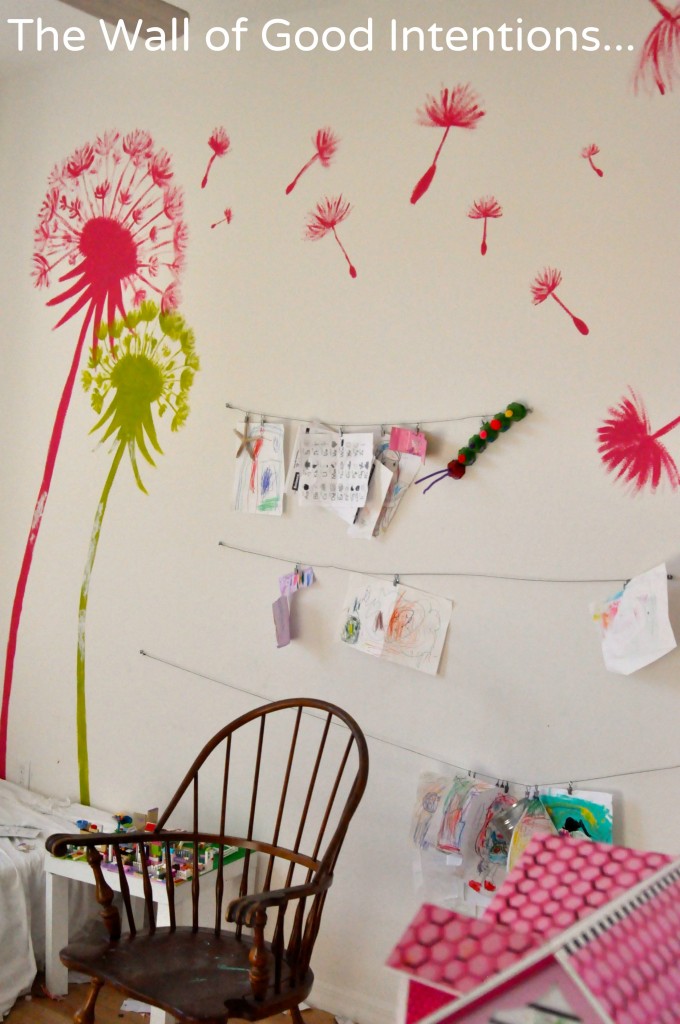 …and now…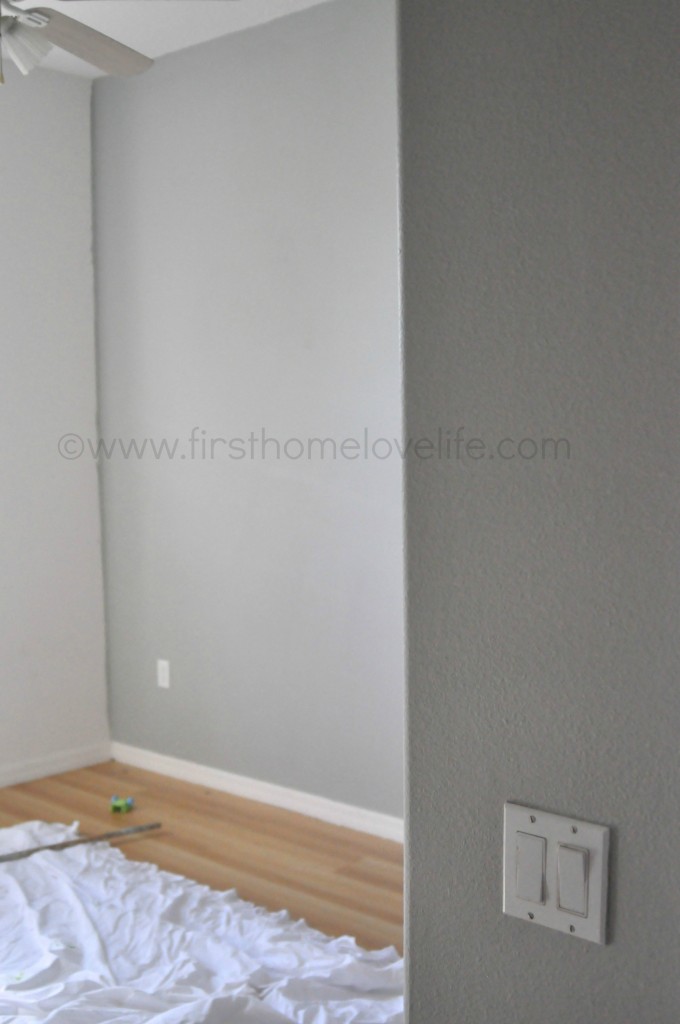 Before we painted the over the wall mural we used two coats of this primer by KILZ. We already had it on hand, but it's not my favorite to work with. I actually had a mini panic attack when I started painting because the mural was coming through the gray as a lighter gray, and you could see every detail of the big dandelions. Luckily once it completely dried there was no sign of it but it was touch and go there for a while.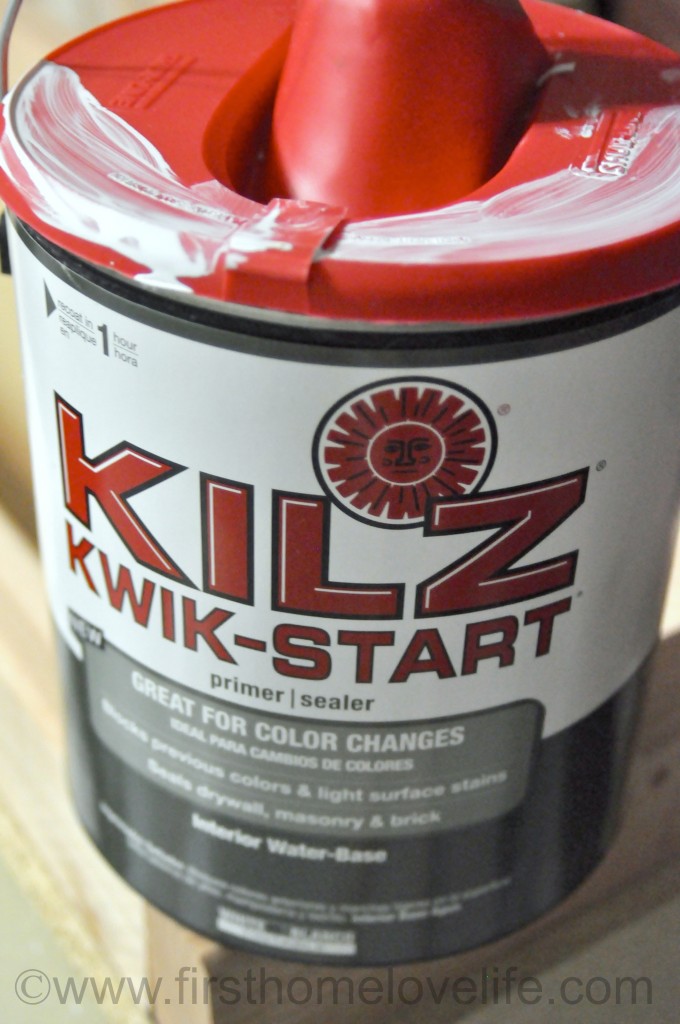 So now the room is painted, and we started working on the built in cabinets, AND I can't wait to show you the focal wall. I'll give you a hint though…you're looking right at it 😉 Guesses?
Talk to you soon friends, take care!
XO
Comments
comments