Thank you Martha! I'm talking about thee Martha! Her new organization line at Staples is awesome!
Today this post is dedicated to her, because without her perfect little stick on labels, this pantry would not have been nearly as pretty! 🙂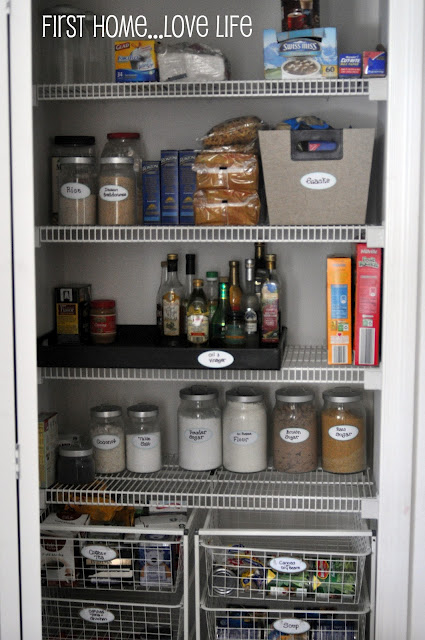 Here is what my pantry looked like when I opened it this morning. Yes, I know what you're thinking…where's the food? I haven't gone grocery shopping in like two weeks, because I knew this day was coming and needed to use up as much as possible.
Quite honestly though, I don't keep a stocked pantry usually. I know. GASP! I do not have a stock pile like some bloggers out there, and if you're reading this and you're on that show "Doomsday Preppers" I know. We're screwed! Anyways…
Before…
I had these wire shelf thingys from IKEA. I don't remember the name of them (sorry) but I think you can find them in the laundry section. I love them because they have easily doubled the size of our pantry without having to completely redo it. Those labels…They are the sticker labels I have on the jars. All I did was stick them on some cardboard, and zip tied them to the front of the baskets.
Same labels. Jars are from IKEA as well.
The burlap bin I found for $7.50 at Staples on clearance! I wish they had more! It now houses all those loose snacks that get thrown around all the time. The brown leather tray was in my garage, and it matched perfect with the new bin. Plus it keeps my bottles from being knocked over now.
So there it is! My newly organized pantry! Functional, clean, and puuuuuuurty ;o)
I hope I've inspired you to organize your pantry for Spring, errr…or at least head to Staples for those great labels! ;o)
Comments
comments