The other day I mentioned that I'm all over the savory appetizers that come along with the holidays and entertaining. I shared with you a super simple yet delicious variation on the classic Deviled Egg, but today I thought I'd share my absolute FAVORITE finger food- stuffed mushrooms! I know you're going to absolutely go crazy for these!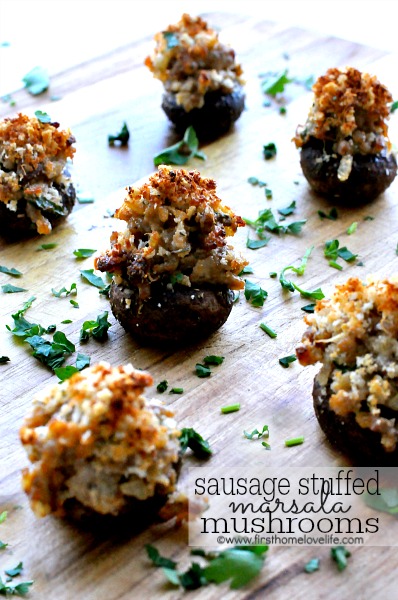 Whether it's a casual football Sunday get together or a dressy New Years Eve party, I make these sausage stuffed marsala mushrooms every chance I get! They're so flavorful and super easy to prepare! I usually make the stuffing a day in advance and then assemble them and pop them in the over right before being devoured, and they never ever disappoint! Even my 7 year old loves them, but then again she loves mushrooms, so stuffing them full of a creamy sausage mixture is just the icing on the cake. 🙂
I've tried so many different kinds of stuffed mushrooms over the years, and one of the things I pay most attention to is how the mushroom itself is treated. A lot of people that make stuffed mushrooms just use the cap as a vessel to carry the 'star of the show'-the stuffing. What makes my stuffed mushrooms so delicious is both the stuffing and mushroom are treated and dressed making them equal stars shining bright on the dish. Here's what you'll need to make them…
Ingredient list: Serves about 8-10 people (2-3 caps per person)
24 whole baby bella mushrooms (you can use white button too)
1 lb. ground Italian sausage
1/2 sweet yellow onion (grated)
3 garlic cloves (grated)
about 1/4 cup Marsala wine
1 tablespoon dried italian seasonings
a few tablespoons olive oil
4-5 ounces softened cream cheese
about 1/3 cup + a few tablespoons grated Parmesan cheese
about 1/3 cup + a few tablespoons Panko breadcrumbs
a few tablespoons fresh parsley (roughly chopped)
salt and pepper to taste

Here's how you make it:
Pre-Heat oven to 350 degrees
Remove the stems from mushroom caps and set aside. In a small mixing bowl, add your mushrooms caps and drizzle with marsala wine and dried italian herbs. Give them a toss together and set aside to marinate.
Get out a small sauté pan and set your stove temp to medium high, add a few drizzles of olive oil and add your ground sausage to pan. Using a wooden spoon, break apart your sausage into small crumbles.
While it's browning, chop your mushrooms stems finely, grate your garlic and onion, and chop your parsley. Add all ingredients to skillet, season with salt and pepper, mix together and cook for about 5 minutes.
Turn off heat, add sausage mixture to a mixing bowl. Add in your softened cream cheese, 1/3 cup bread crumbs and 1/3 cup Parmesan cheese. Mix everything together until well combined.
Place a generous scoop of filling into each marinated mushroom cap and place on baking sheet. Mix together the remaining parmesan cheese and bread crumbs and top each mushroom with a pinch.
Place in oven for about 10-15 minutes until topping is brown, cheese is melted and mushrooms are cooked. Garnish with fresh chopped parsley. Serve warm or at room temperature.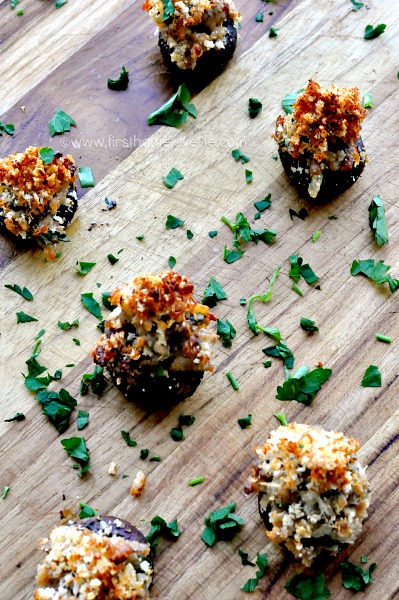 Just a quick note- If you plan to make the filling ahead of time and refrigerate you will need to cook the mushrooms for a longer period of time. Usually 325 for 45-50 minutes, and only topping them with breadcrumbs and Parm 10 minutes before pulling out of the oven. If you add the topping before then it will burn.
I hope you love this recipe and give it a try sometime during this holiday season!
And don't forget to pin them to your recipe board on Pinterest to come back to them again and again. (I know you will want to!) 😉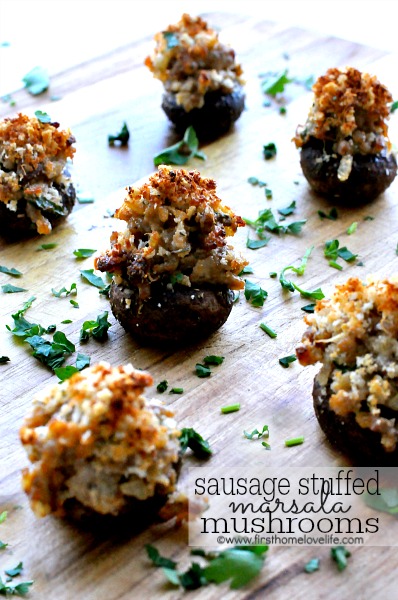 Talk to you soon friends, take care!
XO
Comments
comments