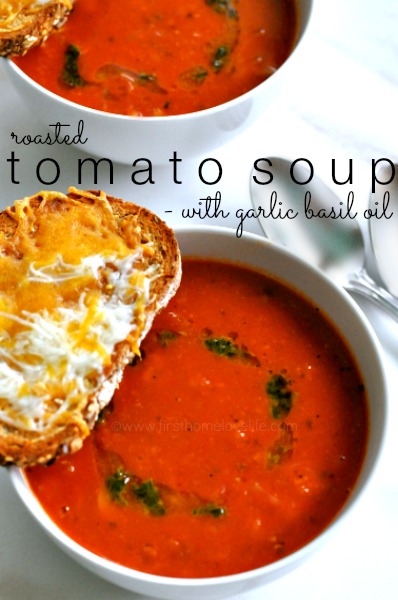 I know you're probably thinking it's way too hot to be eating soup right now, and you're so right! I was sweating while eating this the other night for dinner, but man was it good! 🙂
I love stocking up on tomatoes this time of year. I don't grow them myself (maybe someday!) but I know that right around now is when they're at the peak of juicy, red, sweet deliciousness. The beauty of this soup is that it freezes great! So make a ton, and pop it in there for when the weather begins to turn a bit chillier…You'll be super happy you did!
Here's what you'll need…serves 6-8
3 pounds ripe plum tomatoes- quarterd or halved (all should be roughly the same size)
1 large yellow onion- peeled, cut in half, then sliced
8 cloves of garlic
2 tablespoons unsalted butter
1/2 teaspoon crushed red pepper flakes
1 tablespoon dry italian herbs
about 1 cup fresh basil leaves
1 teaspoon fresh thyme leaves
1 quart low sodium chicken stock
1 28oz can of crushed tomatoes
about a teaspoon-tablespoon of raw sugar
olive oil
kosher salt and pepper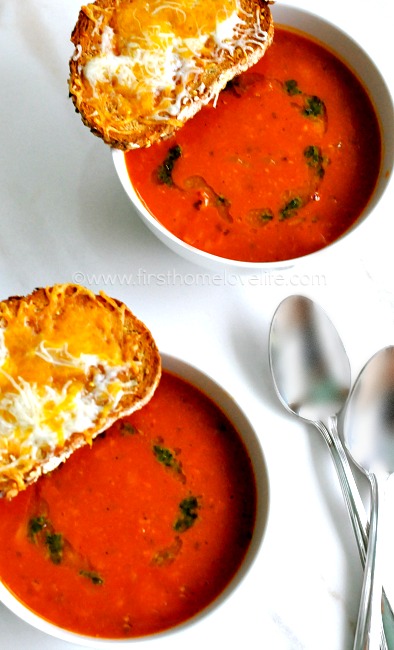 Preheat the oven to 375 degrees. On a baking sheet, toss together the tomatoes, onions, olive oil, dry italian herbs, and salt and pepper. Spread everything evenly in a single layer on a baking sheet and roast for about 30-45 minutes.
On your stove set to medium with a large soup pot, add in your butter and 6 cloves of the garlic (chopped). When you begin to smell the garlic, add in your roasted tomato and onions, can of tomatoes, and chicken stock, bring to a simmer.
Add in some sugar, thyme, crushed red pepper, and check to see if it needs more salt and pepper. You can add in any other spices you'd like as well…I've even thrown in a cheese rind before (so delish!)
Let it cook uncovered for about 20 minutes, and then use an immersion blender to puree the soup to the consistency you like. I like I little texture to mine, but this is personal preference.
*Optional* In a blender, add in 1 cup of fresh basil and 2 garlic cloves with about 1/3 cup of olive oil. It makes a yummy garlic basil oil to drizzle on top of the soup!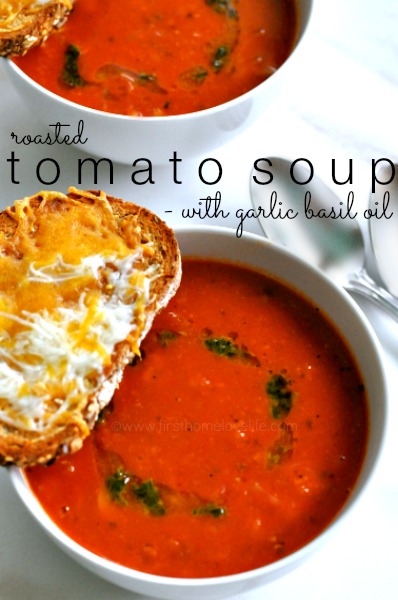 Serve it up with some cheesy garlic crostini's to dip and you have a super tasty meal on your hands! Is there anything better than tomato soup and grilled cheese? Comfort food at it's best and this 'grown up' version is just as good! 😉
I hope you love this recipe as much as we do, now run and stock up on those spectacular summer tomatoes!
Talk to you soon friends, take care!
XO
Comments
comments