Happy Monday friends!
Last week I showed you all some small spaces in our kitchen that I was reworking to make more organized. Spaces like under the kitchen sink, our spice drawer, and our NO junk allowed drawer all got mini facelifts. These small spaces are really working out great for us so far, but I'm a big believer that organizing is a process. One that takes time, and tweaking here and there until you figure out what works best for your household.
This week I'm revisiting two areas that I organized a couple of years ago when we moved into this house and when I first started this blog. After living here for a while, and getting a feel for our routine and lifestyle….things have changed. They always do, right?! 🙂 So I'm going to go over and share what stopped working for me and how I reworked these spaces to make them not only pretty and organized but FUNCTIONAL. First up….my organized fridge…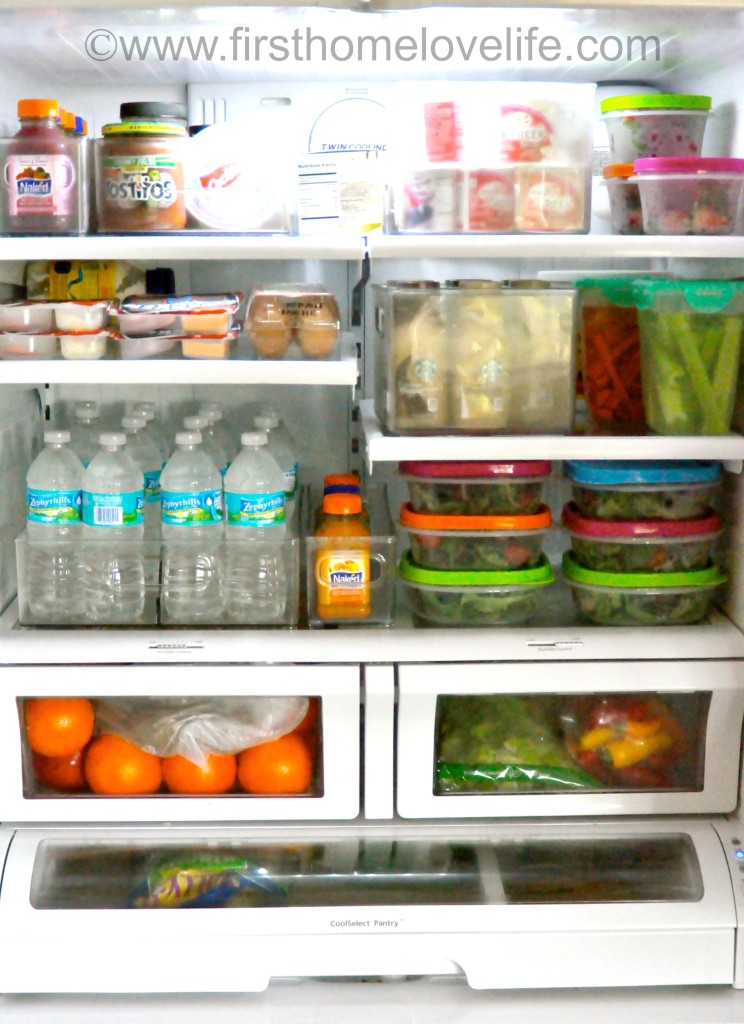 I've always used containers/baskets in the fridge for sorting things. Two years ago my fridge looked like this…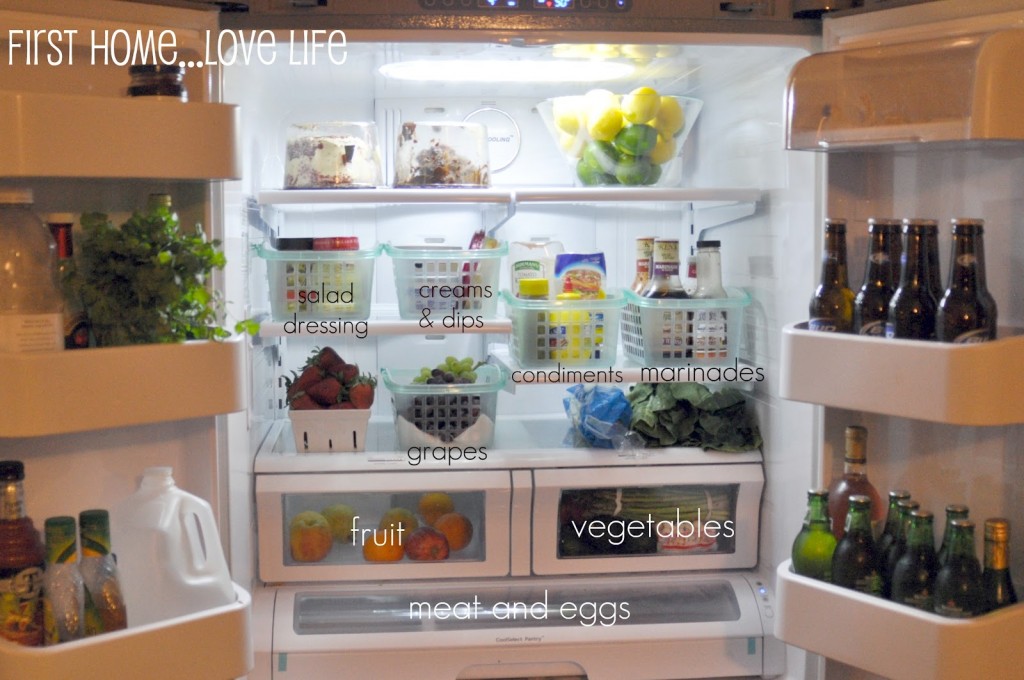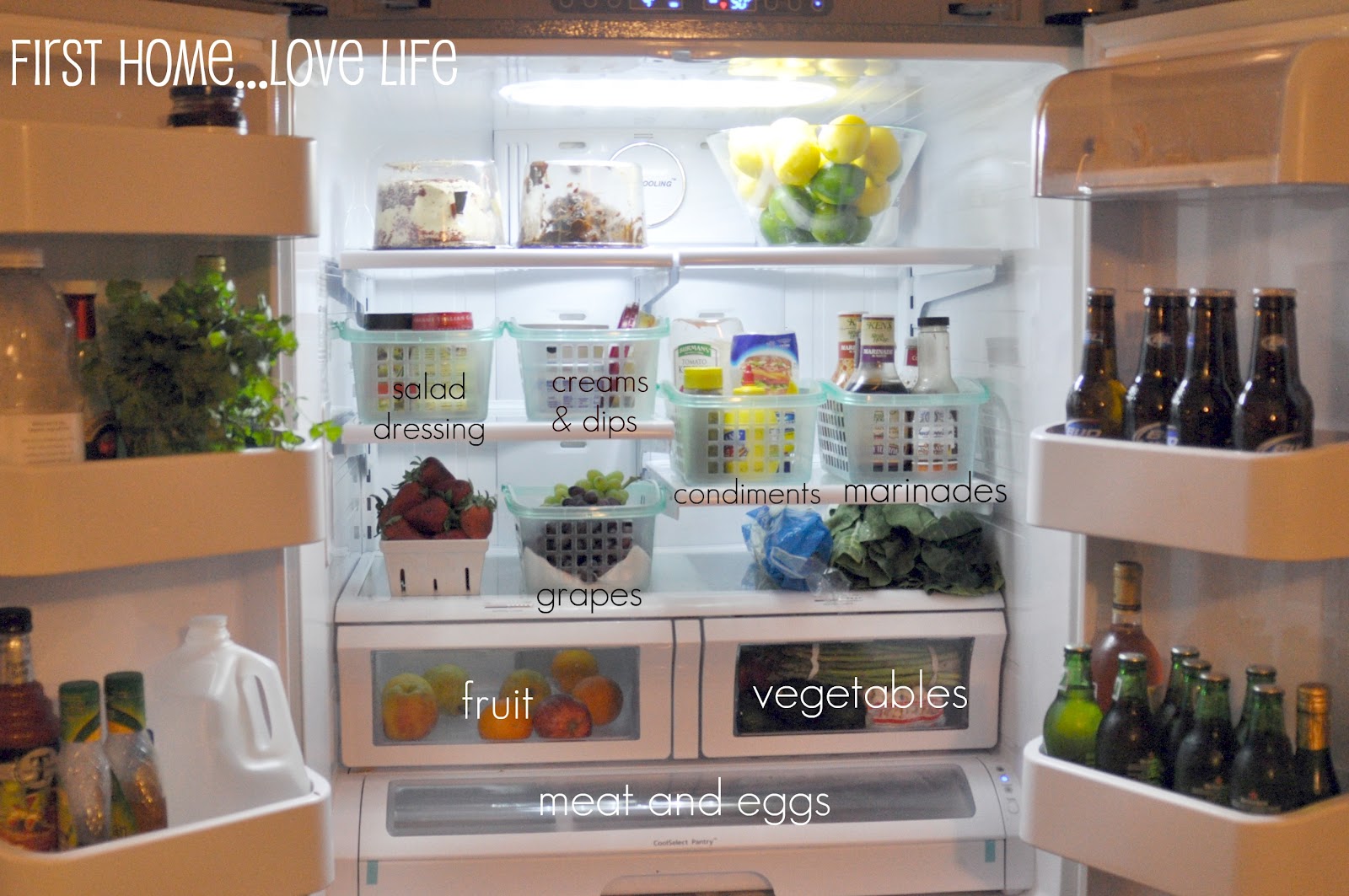 So obviously the contents are different, and not much has changed but here's what stopped working and why this space stopped functioning well for us…
The original baskets I was using were too small. There was tons of unused space behind them and as time went on we started places things outside of the baskets. It became cluttered inside and the baskets because a nuisance to move around looking for things so we ended up tossing them after about a year.
We started buying more items in bulk. This goes back to the baskets being too small and not being able to hold a lot of the same things.
My daughter started school…This is a big reason why I needed to do an overhaul on our fridge. My daughter mostly brings her lunch to school and I was prepping more items ahead of time to make mornings easier so I needed better use of space for food storage.
Taking better care of myself…Ugh. I hate to admit this but since I began blogging I've put on weight. Sitting behind a computer for so many hours and forgetting to eat most days until I'm famished which then leads me to binge eating at night. It's been a vicious cycle that I'm finally breaking. I've never been thin…and this isn't about dieting. I just want to feel better and in the process I know I will lose the weight if I go back to the healthier eating habits I had. So I've begun prepping and portioning out my meals ahead of time so now there is absolutely no excuse to not eat during the day. I just grab and go…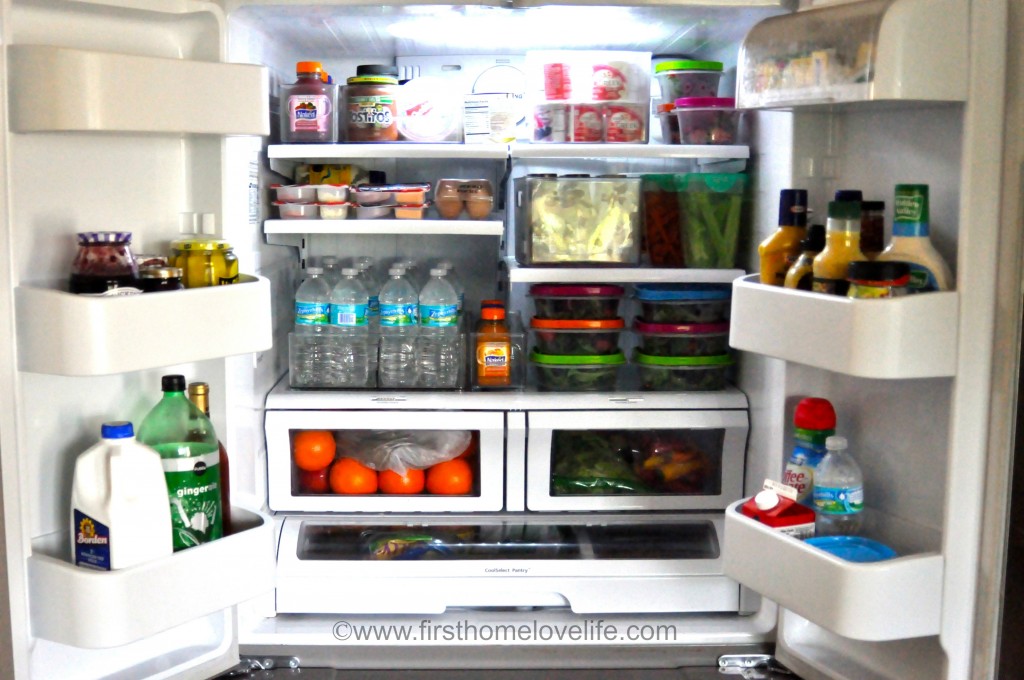 So here's my advice on how to achieve an organized and functional fridge…
CONTAINERIZE– I know this seems to be a theme among my blog posts lately, but it's the key to being able to find any and everything you need when working within a space.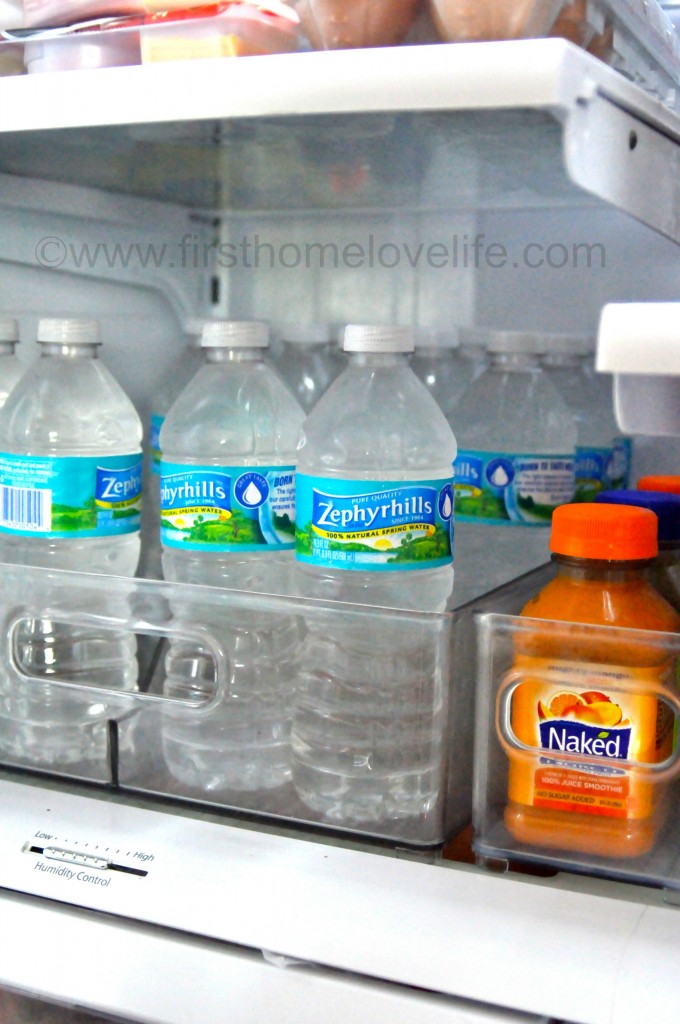 I've had my eyes on these Fridge Binz forever, and finally bit the bullet and bought them. They aren't exactly cheap in comparison to my Dollar Tree baskets…ranging in price from $9.99-19.99 but I feel they're so worth the investment because they are the perfect shapes and sizes to corral items that normally would be rolling around loose in your fridge and keep everything within easy to see and grab reach.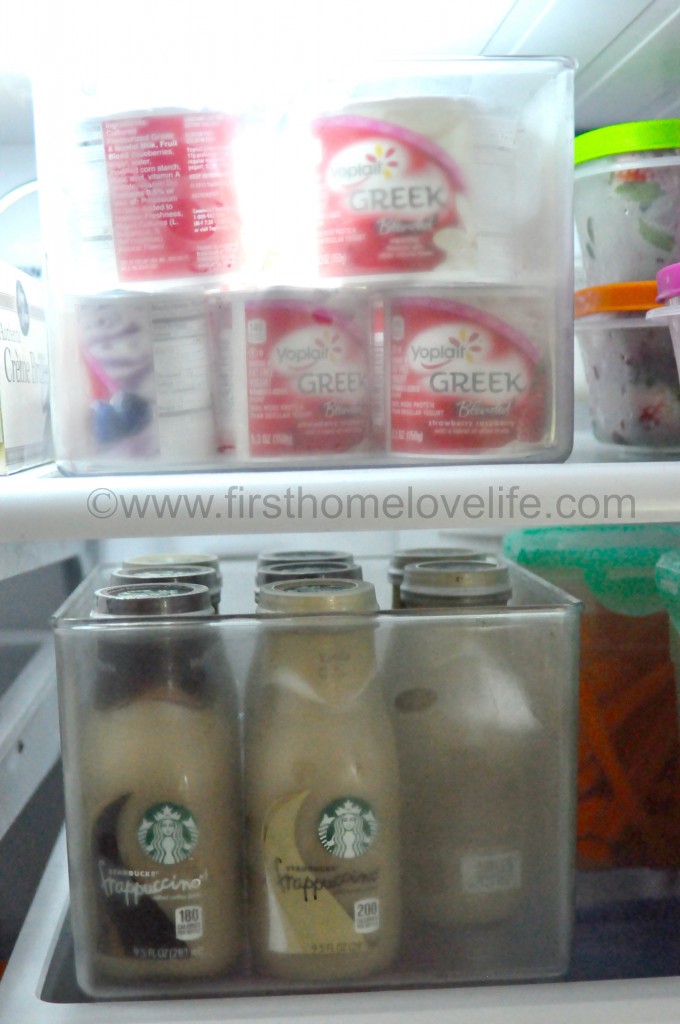 KEEP EVERYTHING CONVENIENT– How many of you buy baby carrots? Did you know you can make carrot sticks yourself within minutes and they'll last just as long if not longer then those you buy in a bag? I love keeping ready to eat carrots and celery sticks submerged in water in containers. Not only are they easy for me, but my 6 year old as well. Keeping everything convenient, prepped and ready to eat means more time for you to do other things.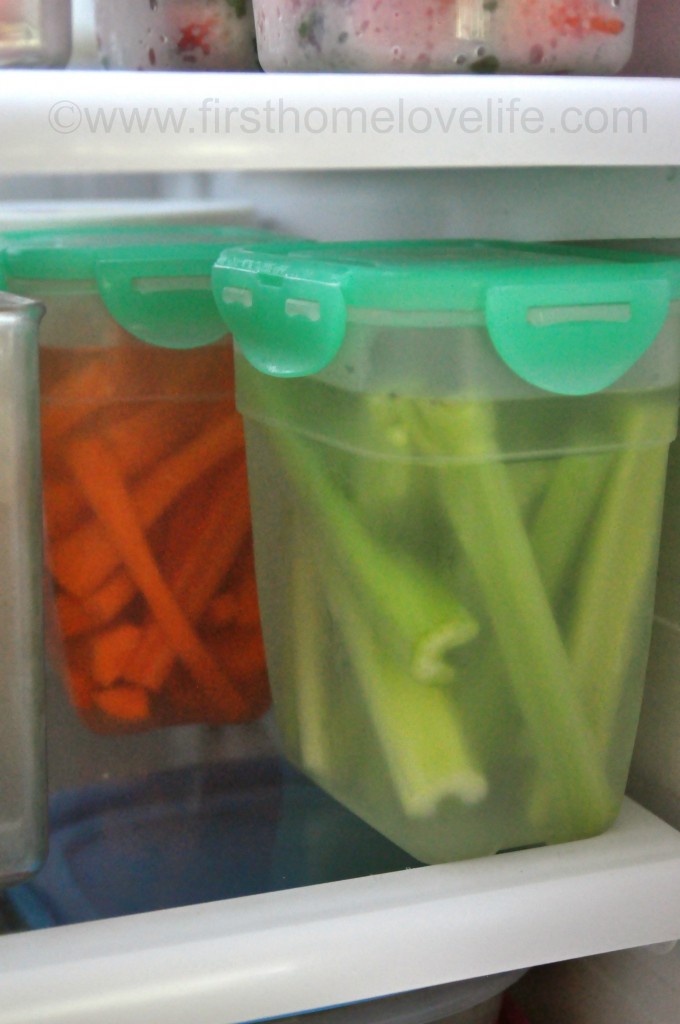 Once a week, I prep fruit ahead of time and I've been making pre-made single serving salads as well. All I do is buy a package of organic mixed greens, sliced red onion, chopped carrots, black olives, and cherry tomatoes and split everything up into individual containers. This way anyone who wants a salad has it ready and they just need to add a bit of dressing.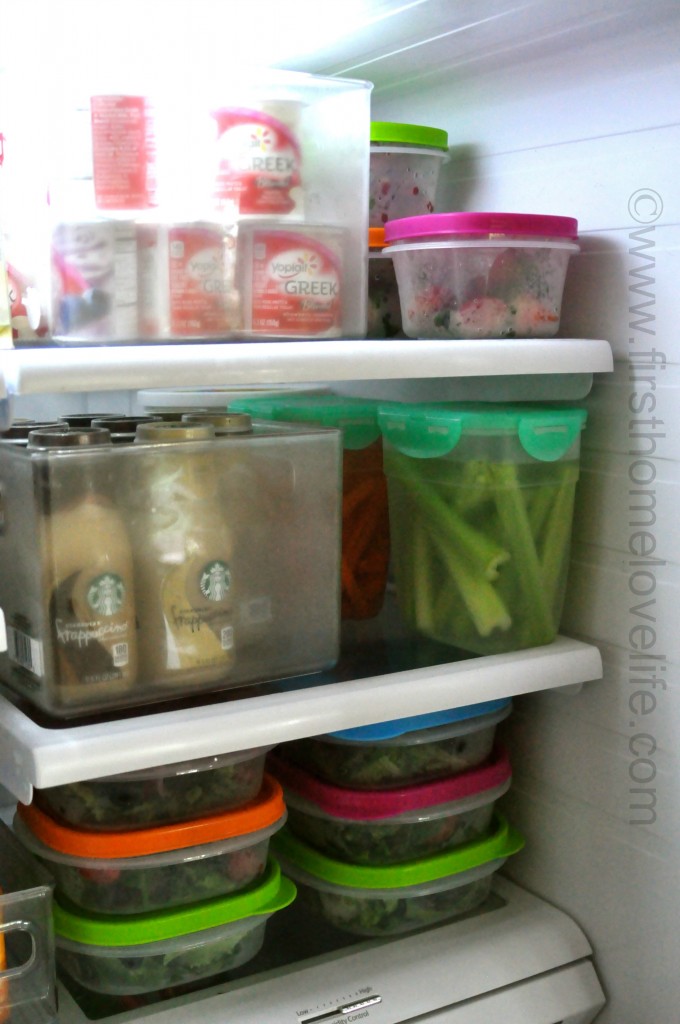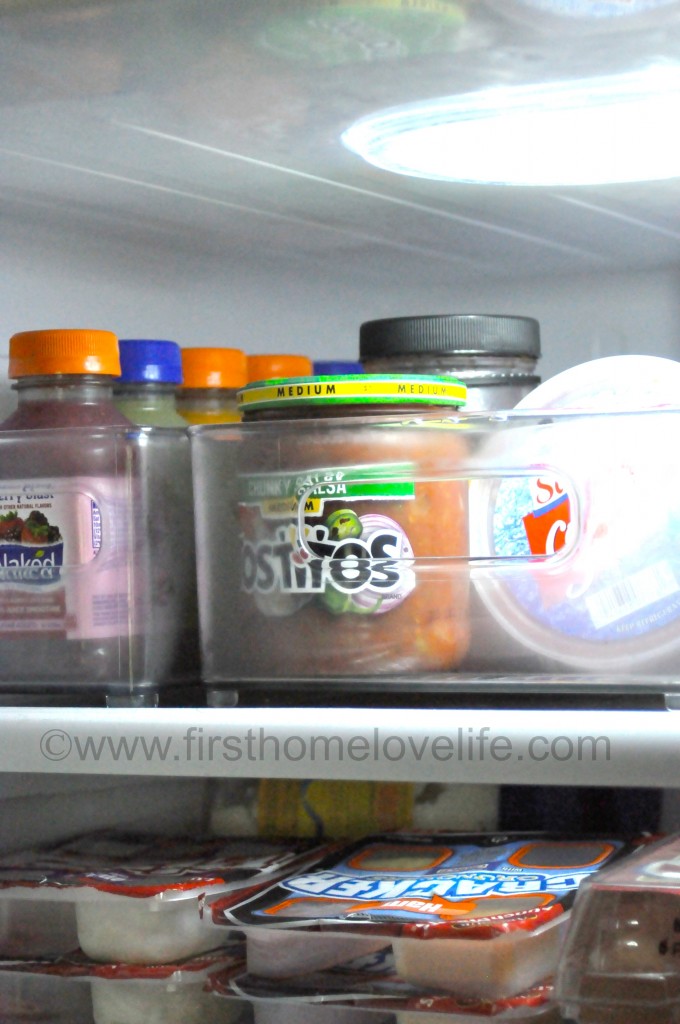 FRIDGE REAL ESTATE– Keep normally used items in direct eyesight and easily accessible, and items that aren't used quite as much toward the top or bottom. Think about when you open your fridge…pay attention to where you're looking. Usually its directly in front of you, so keep the items you use the most right within eyesight and reach. Items like dips, sauces, marinades etc…can be corralled in a bin towards the top or bottom. Use your fridge real estate wisely so it functions the best it can.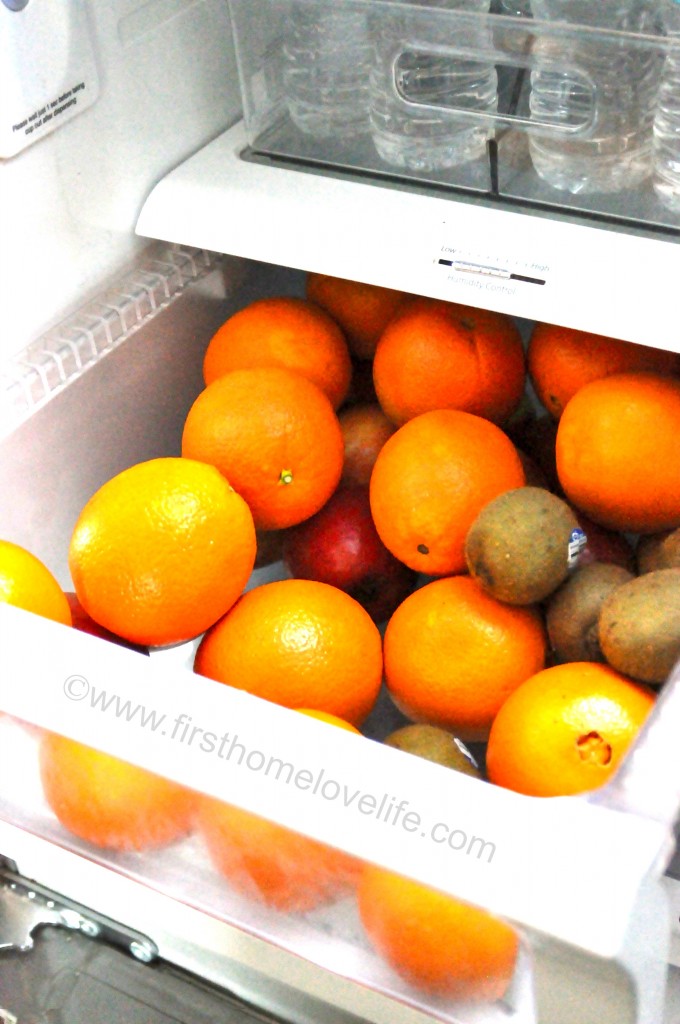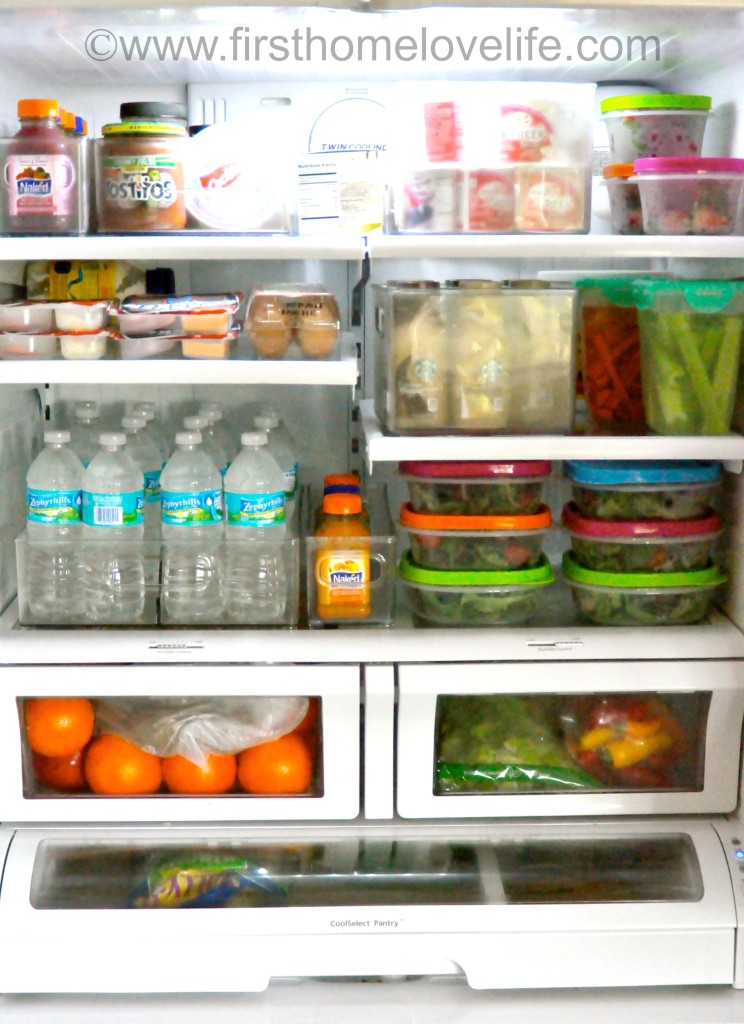 Organizing a space is really never done. You will constantly tweak it until it's just right. I know that this is a major improvement for us and the way we utilize our fridge storage compared to what we had before, but only time will tell how it holds up.:)
I hope I've inspired you to organize your fridge. An organized and great functioning fridge will save you time and money, so open up those doors! Is there something you can improve on in there? I'd love to know!
Talk to you soon friends, take care!
XO
Comments
comments