How I quadrupled my blog traffic in 3 months!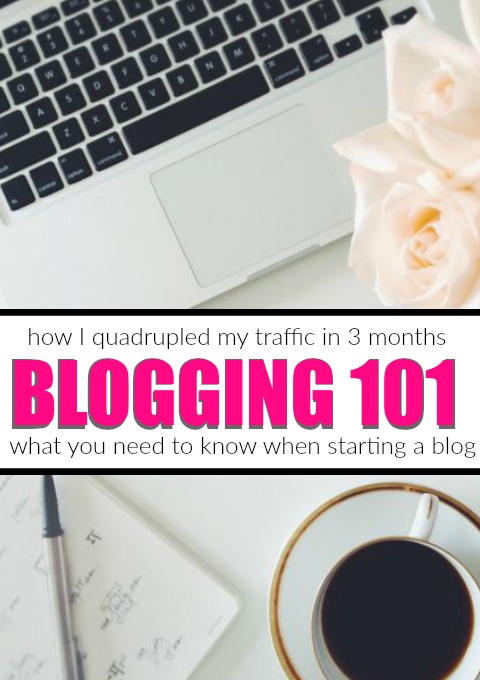 I've read a ton of fantastic ideas from seasoned bloggers on how to generate traffic to your blog and make money blogging. It's always great to hear their tips and tricks especially when you're a 'newbie.' I'm in no way a pro! I'm still learning every day and figuring out how to do things better, more creative, more inspiring or more efficient. It's a learning experience, and it's been a BLAST so far! I've been asked recently by a few of my friends (some are already bloggers, and others are looking to start one) on how to generate traffic to your site. So I thought it would be a great post to do here, to share the information I've learned thus far, and for you to get a perspective from a NEW(ER) bloggers point of view.
I'll be honest with you and tell you that I've had quite a bit of LUCK that has helped me generate not only pageviews and followers, but income as well. Even though I started this page in June of 2011, I only started
really blogging a few months ago.
What does really blogging mean? It means being an active participant in the 'blogisphere.' I.E. Following, participating and communicating with lots of other blogs via Facebook, Twitter, GFC, Linky Followers, Google, Pinterest etc…
So here are some tips that I find to be THE MOST important when it comes to generating traffic and building your blog.
TAKE PRETTY PICTURES: I know you probably hear/see this a lot, but it matters! I've always had the same camera (Nikon D90) but it's not about the camera really…If you scroll through my archives you can see a drastic difference in pictures when I finally learned to EDIT them. EDIT EDIT EDIT…It doesn't matter if you have the most expensive DSLR, a little point and shoot, or even if you're using a camera phone. Editing your pictures makes a HUGE difference! I don't have Photoshop (yet) so I use free editing software like Pixlr or PicMonkey. Sure it takes more time but the end result is worth it, and if you want to get serious about your blog and the possibilities/doors it could open for you then it NEEDS to be done.
BE ACTIVE: I get it, you're super busy, and this is a fun hobby for you. You don't have time to sit at the computer for a few hours and comment on everyone's blog. You don't have to! Being active just means to acknowledge them every once in a while. Drop an email, participate in their link up parties, leave a comment on an inspiring post, 'like' their status update on Facebook. It just let's them (and me) know you're there and you're reading.
BE CONSISTENT: When I first started out I was writing a post maybe once every two weeks. I felt like I didn't ever do anything interesting enough to post about (which happens to all of us sometimes) But, why would anyone want to 'follow' you if you aren't around much? People who follow you, or save your page in their favorites want to come check out what you've been doing OFTEN. So post OFTEN, and don't worry about being so perfect all the time. Which brings me to my next tip…
"SMOKE AND MIRRORS"
: Okay… what? This is a term used
to describe what magicians use to get their "tricks" to work out. When I started out blogging I was under the misconception that

all bloggers were perfect

. I needed to be too! That's why I didn't post my mistakes, or embarrassing mishaps. I only would post the perfect stuff because that's what we all do,

right

?

WRONG!

So not true! In fact, since I've become more involved with blogging I find myself drawn to the people that make me laugh with their silly mistakes or outtakes. Be imperfect! We are human! We don't always succeed at everything we try, and nobody wants to read a 

fairy-tale. Blogging is like reality T.V.- We watch it for the train wrecks

 that are bound to happen from time to time.
DON'T BE INCOGNITO

: Do you ever write a comment on someone's blog and get hurt feelings because they haven't replied? Well guess what…9 out of 10 times it's because you're a "No-Reply Blogger." Chances are you didn't even know this. I didn't when I was starting out, but don't worry it's an easy fix.
Go to your DASHBOARD
Click on EDIT PROFILE
See where it says 'SHOW MY EMAIL ADDRESS'
It should be CHECKED OFF
If it's not, DO IT
If no email address is there, ADD IT
DONE!
STAND OUT FROM THE CROWD:
 Be original! Unless your blog is solely about copying other peoples stuff, then don't do it. Of course we all pull inspiration from each other, and now with Pinterest giving us so many ways to copycat things it gets hard to come up with original ideas. Don't worry, don't think so much, go with your gut. If you found a new way to use chalk paint, or even how to re-purpose an old shoe. (I kid) But seriously, if you had an idea that you thought was silly…try it out, post about it…you never know which of your posts are going to get you the attention you deserve!
For instance…
This is a recent statistical chart that you can find in your own BLOGGER STATS. You can see that I didn't get that much action until this past March (4 months ago) When I made this…
It was featured in quite a few places, and was pinned quite a few times. (still is) But when I posted something in May that I thought was the silliest, dumbest thing anyone has ever put on their blog (not to mention embarrassing for me) My blog stats went through the roof, and continue to do so every day! What was the post that finally me put me on the map? HOMEMADE PET ODOR ELIMINATOR That's right, it wasn't any spectacular room makeover, or super creative craft…It was the 'crappy' concoction that I made on a whim and decided to post at the last minute.Oh…and P.S. That stuff really does work!Case and point? Post it. Even if you think it's stupid, it might be incredibly helpful to TENS OF THOUSANDS of people.
I hope these tips have helped you out. Whether you're the new kid on the "blog" or still on the fence about starting one…these tips have helped me tremendously at becoming the little ol' blogger I am today.
Linking Up to…
http://www.onsuttonplace.com
http://savvysouthernstyle.blogspot.com
www.vintagegwen.com
Happy Blogging Friends!
Comments
comments