How to make your own organized home maintenance binder to keep track of household services, important appointments and cleaning schedules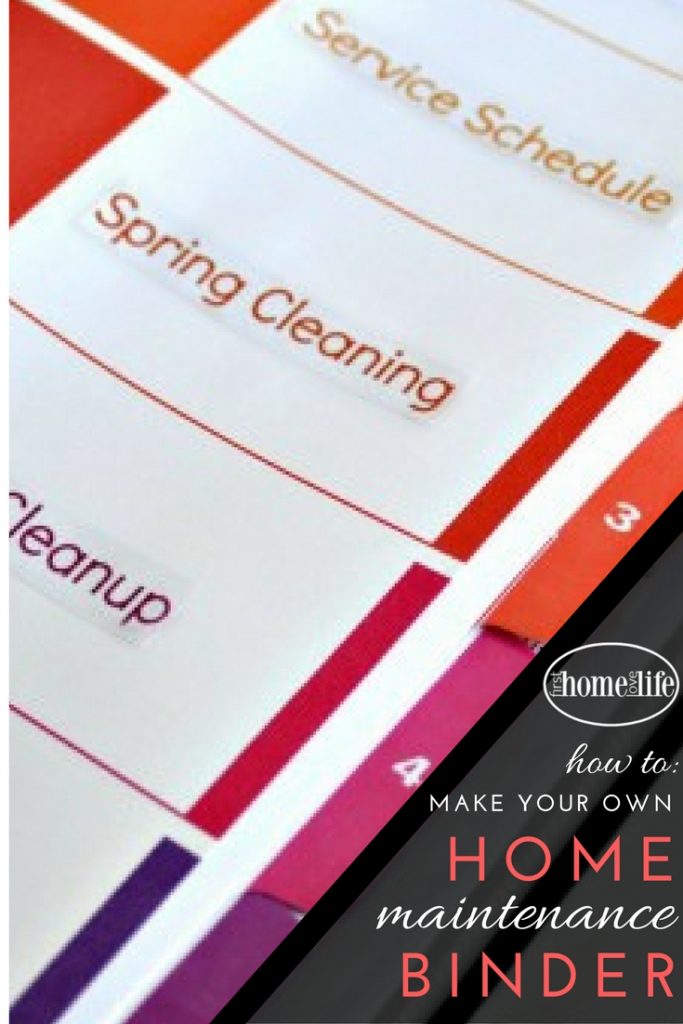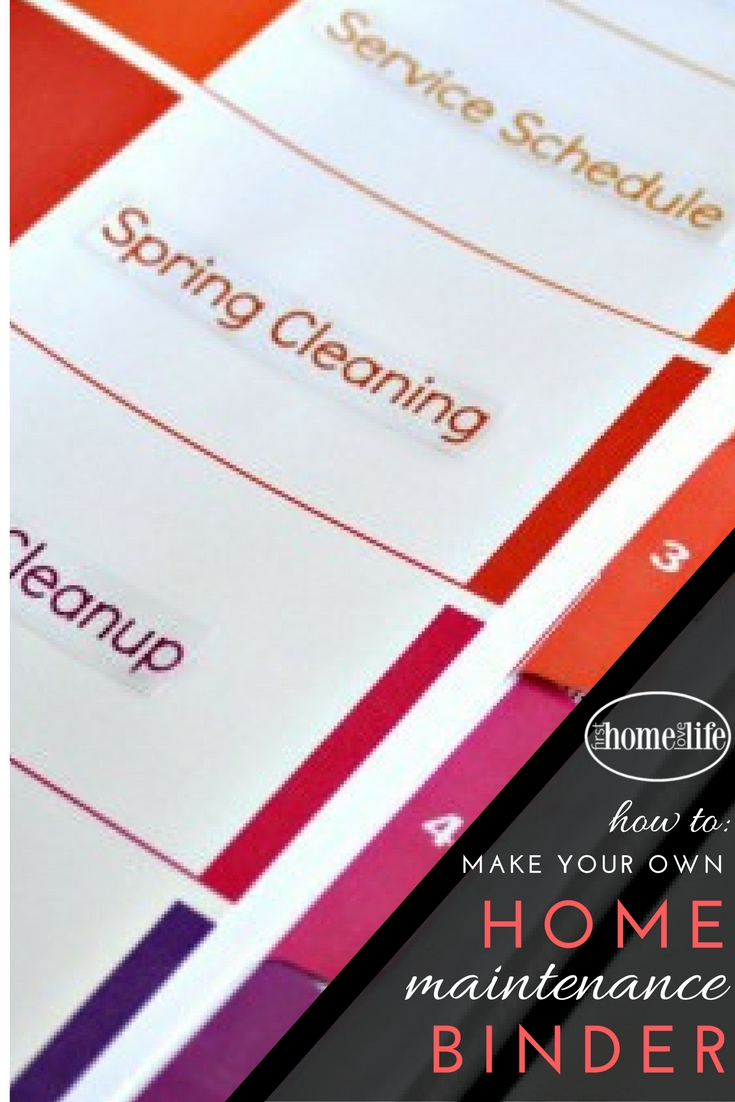 I'm not going to sit here and pretend to tell you how organized I am, because quite frankly, I'm not that organized.
Come to think of it as I sit here and type, I'm pretty sure there are art supplies on my dining room table that have been collecting dust for 3 weeks, shoes all over the house and God help me trying to find a matching pair, and a laundry pile that puts Everest to shame.
So I refuse to make you believe that I have an everything is perfect and in its place home when in reality if you come over on any given day, you will find stuff thrown around and not where it's supposed to be.
But…
I have been working on becoming more organized, and I'm working on it every day.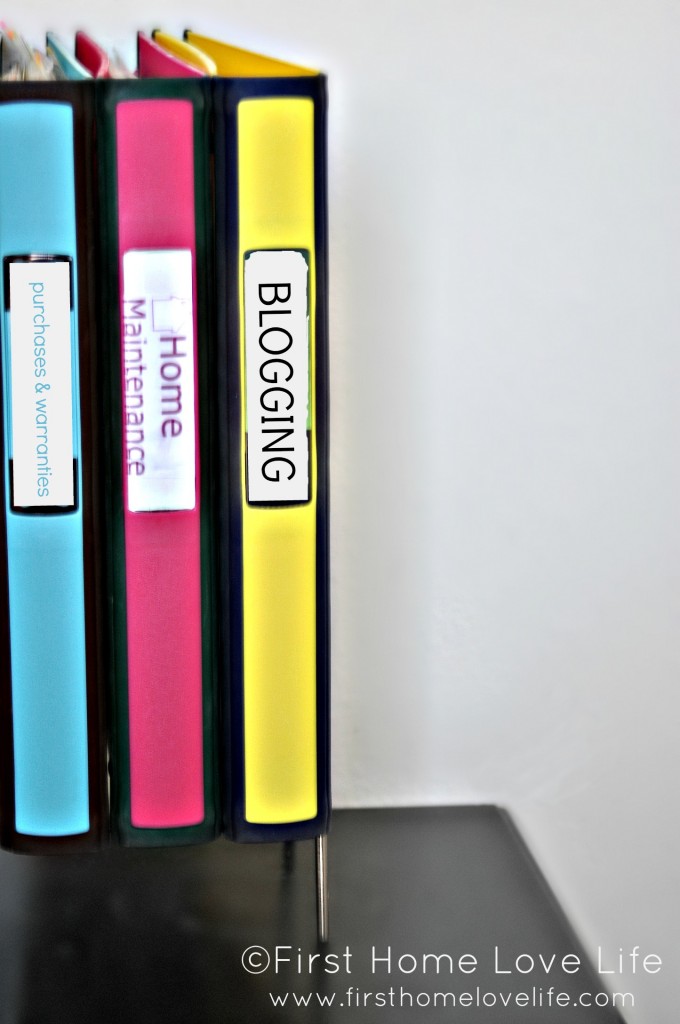 Now this isn't going to be a post about my office, because it is a work in progress just like so many other things in our home.
This is a post to hopefully encourage and inspire you. You can become more organized. Not everyone is born with the trait naturally (I definitely wasn't), but you can learn the behavior.
Backstory:
I kind of grew up in a messy and unorganized house (and my mom would turn in her grave if I spilled every detail, but it's true.) She liked stuff. She also had a hard time throwing things away. It wasn't because she was a slob, because she wasn't. There were circumstances that she lived with that caused her to be the way that she was, you know? So growing up, that's all I knew. I was a messy child, and an even messier teen. I didn't clean up after myself. I would leave things all over the place because quite frankly I didn't care, and didn't see why I had to do something if no one else was.
All that changed when I became pregnant, got married and moved out.
I realized that I needed to change, heck I wanted to change! I wanted to have a beautiful home, and I didn't want my daughter to be as irresponsible as I was growing up. I wanted her to learn through example.
So I turned to the web (as I always do) where I found videos, blogs, tips and tutorials from experts on organizing. One of my favorite organizing experts is Alejandra from Home Organizing on YouTube. Her videos are so inspiring, and she has really opened my eyes that organizing can be fun.
I remember right before we purchased our home seeing a video of her putting things into binders, and that's when the lightbulb went on for me.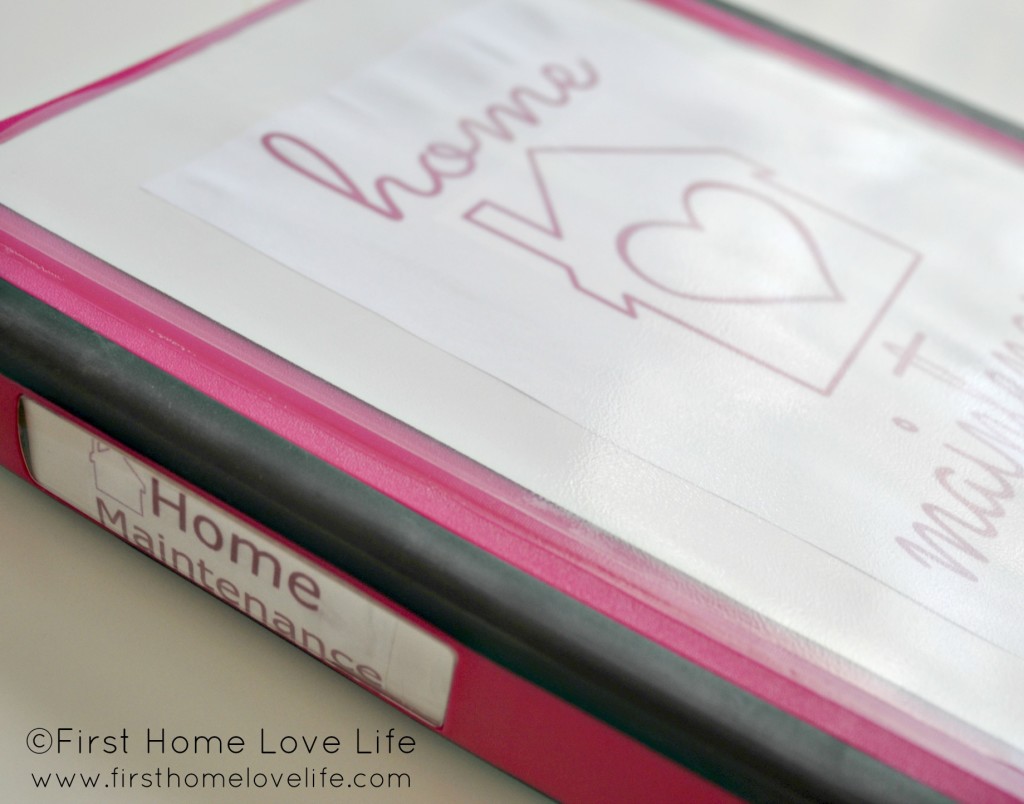 I wanted to move into our first home and have a binder that I could turn to that housed whatever repairs we had done, a calendar list of when our lawn guy comes, what time of year I needed to fertilize the grass, and I wanted to have a schedule of what days I should do laundry or top off the chlorine in our pool.
I wanted to make a 'home maintenance binder.'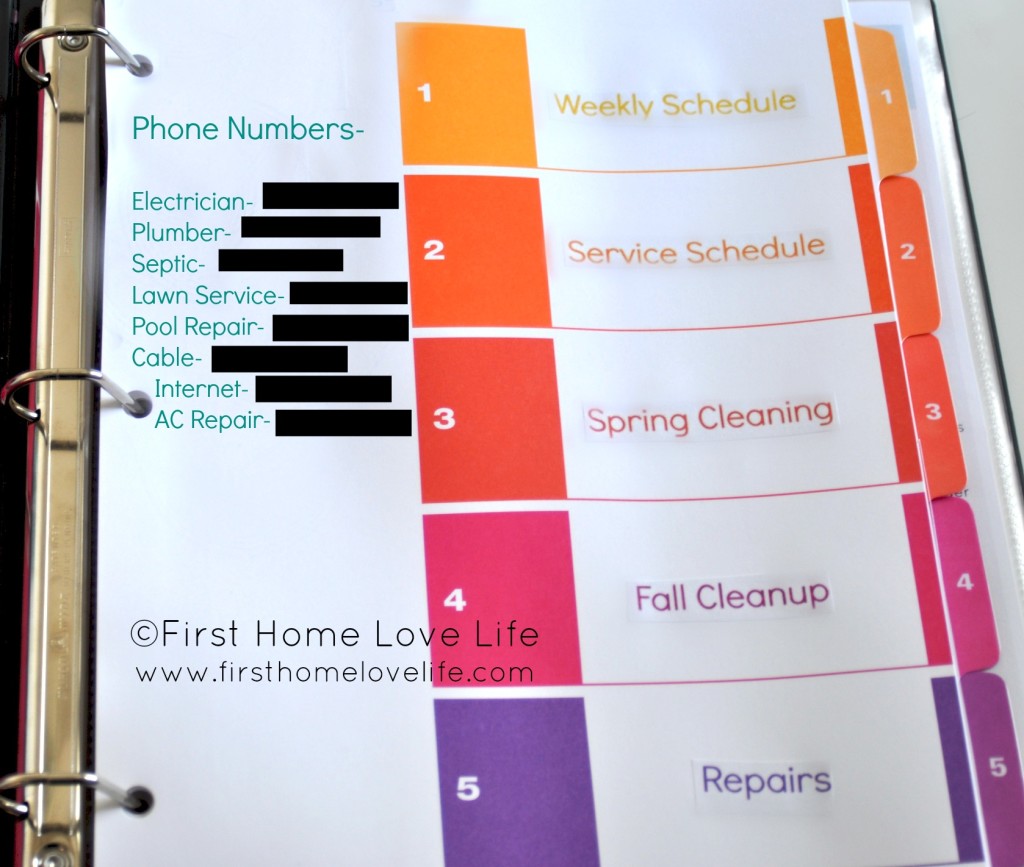 This little binder has saved us so much time and money in the short time it has existed, and I wanted to show you how you can make your very own…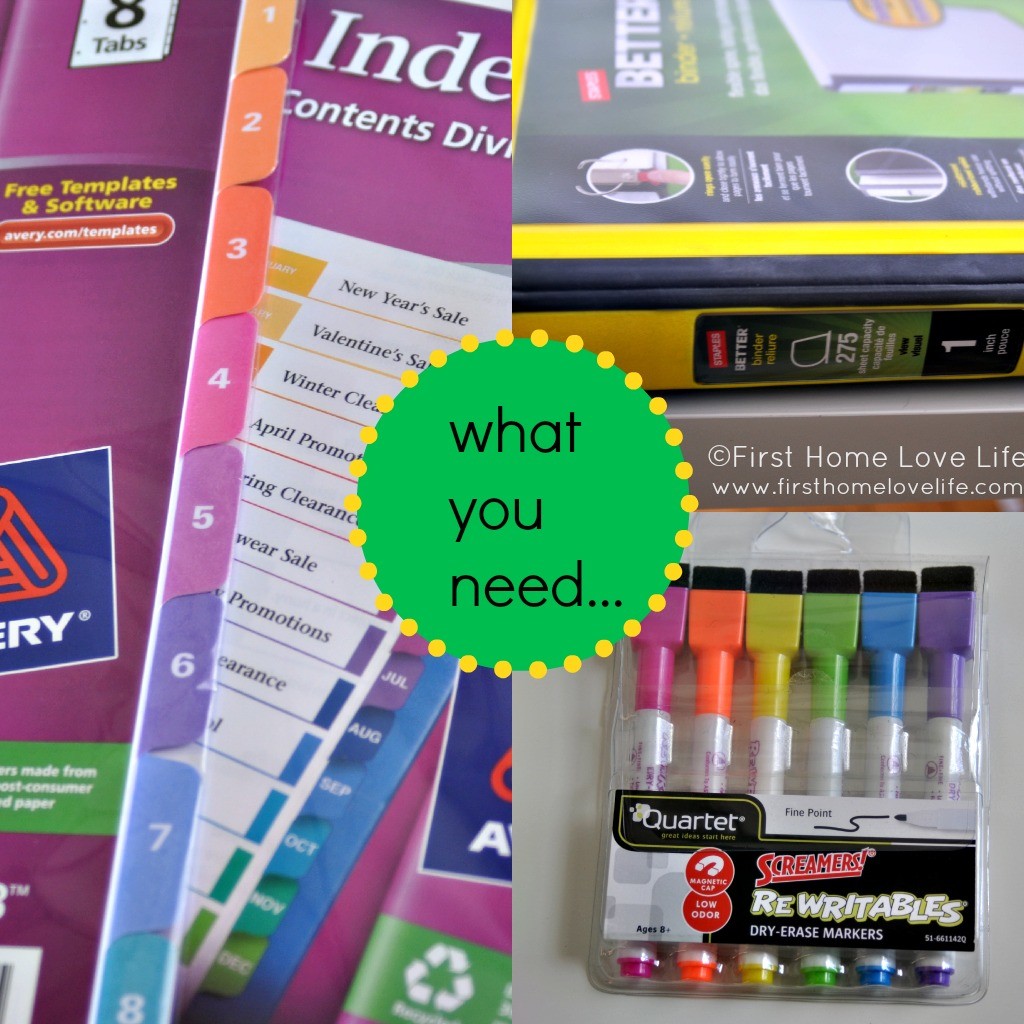 Now obviously you might do yours differently and have different contents, but the way I have my folder divided is like this…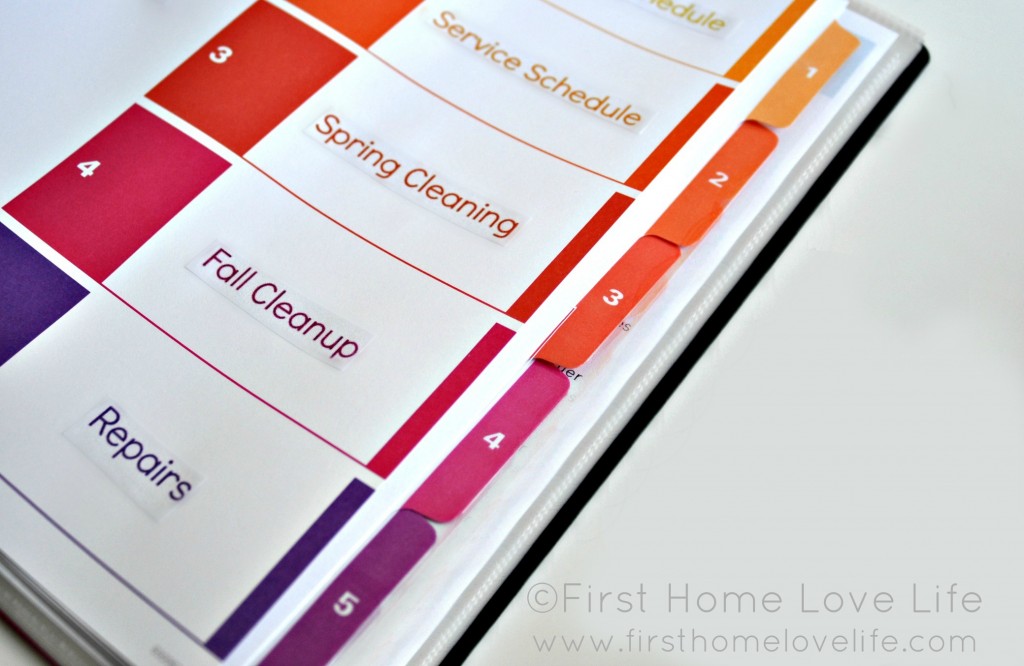 1. Weekly Schedule- this is where I keep my every day cleaning list. Find it here.
2. Service Schedule- this is a yearly calendar print out that I mark when services such as our lawn maintenance/pest control etc… come out and when they get paid- You can get that here
3. Spring Cleaning- You can get the print out here.
4. Fall Cleanup- This is similar to Spring cleaning-You can print it out here.
5. Repairs- This is where I keep receipts and reports of any repairs or service calls we had done for anything in the house.
I would love to know how you keep track of your home maintenance and repairs. Leave me a comment and let me know how you do it, or if I've inspired you to start!
XO
**This post contains affiliate links for your online shopping convenience 🙂
Comments
comments