Soup. Is there anything better? I think the past 3-4 recipes I've shared with you have been soups, I hope you don't mind 😉 We are BIG soup and stew eaters in this house, because they're easy to put together. You usually have leftovers for another night, and let's face it…it's super tasty! One of our family favorites is lasagna soup with herbed ricotta and today I'm sharing that recipe with you!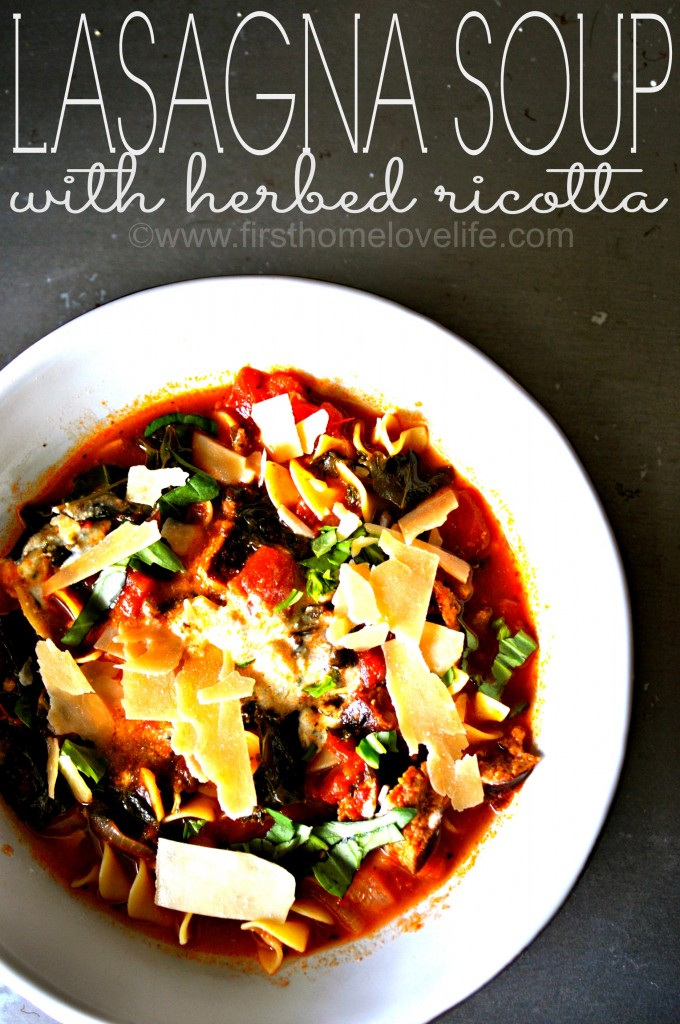 Oooh how I wish you could smell this!
Here's what you'll need to make it…
FOR THE SOUP
1lb. Italian sausage (I use the spicy kind, but whichever you prefer)
1 large yellow onion
3 big of cloves garlic
2 tbspn tomato paste
1 28oz can crushed tomatoes with basil
1 28oz can italian seasoned diced tomatoes
1 32 oz box low sodium chicken broth
wide egg noodles
fresh basil, oregano, parsley
2 bay leaves
pinch of red pepper flakes
salt and pepper
olive oil
**optional** fresh kale (I'm always looking for ways to sneak add in leafy greens to my kid's diet.)
FOR THE TOPPING
Ricotta cheese
fresh basil,oregano,parsley
fresh shaved Parmesan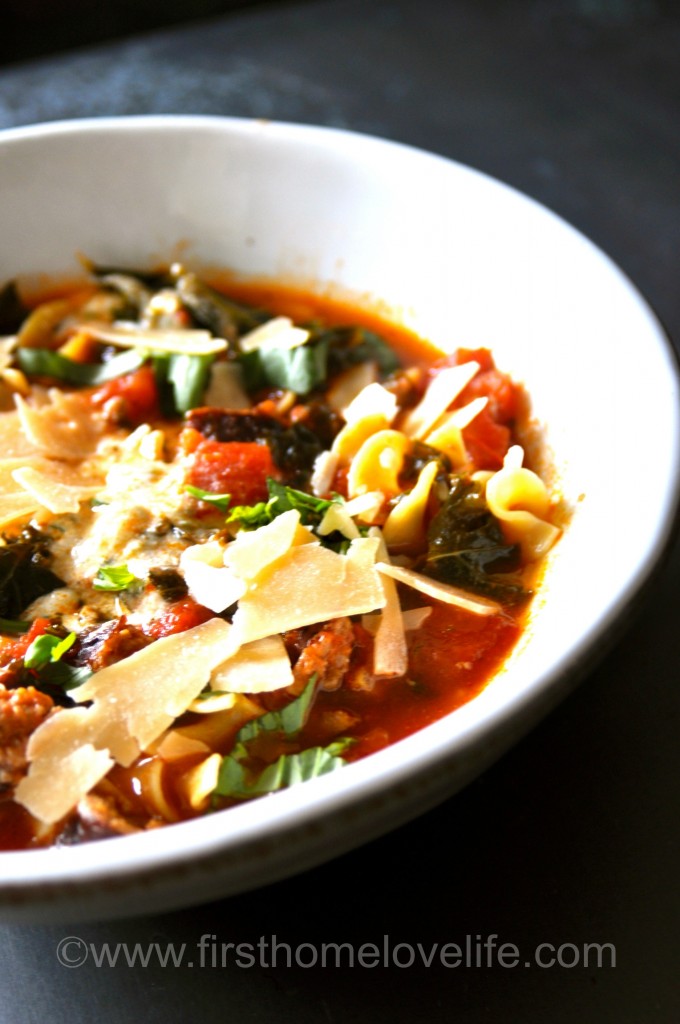 1. Get out your soup pot and heat it up on medium-high. Drizzle olive oil, and add in your whole sausage links to brown on all sides.
2. While the sausages are cooking, chop up your onion, garlic and fresh herbs.
3. Once sausages are browned on all sides remove them from the pot and place them on your cutting board.
4. Lower the heat to medium low, drizzle a bit more olive oil into the pot and add in your chopped onion and garlic. Sprinkle with salt and pepper.
5. Chop up sausages into bite size pieces and re-add them to the pot with the garlic and onions. Stirring every once in a while until onions begin to soften. **If you're adding kale to yours, this is when you add it in stirring until it begins to wilt**
6. Add in your two cans of tomatoes, tomato paste, chicken stock, and fill one of the 28oz cans with water and pour that in too.
7. Give everything a good stir, and let it cook on med-low for about 20 minutes.
8. Cook egg noodles and set aside (I cook them separate so they don't turn mushy in the soup, but If you would prefer to cook them in the soup, go ahead)
9. In a small mixing bowl scoop out some ricotta and add a tablespoon of your fresh chopped herbs to it and salt and pepper. Mix. Add the rest of your herbs and the noodles to the soup and mix in. Turn off heat.
Serve by scooping a good spoonful of the herbed ricotta into a bowl…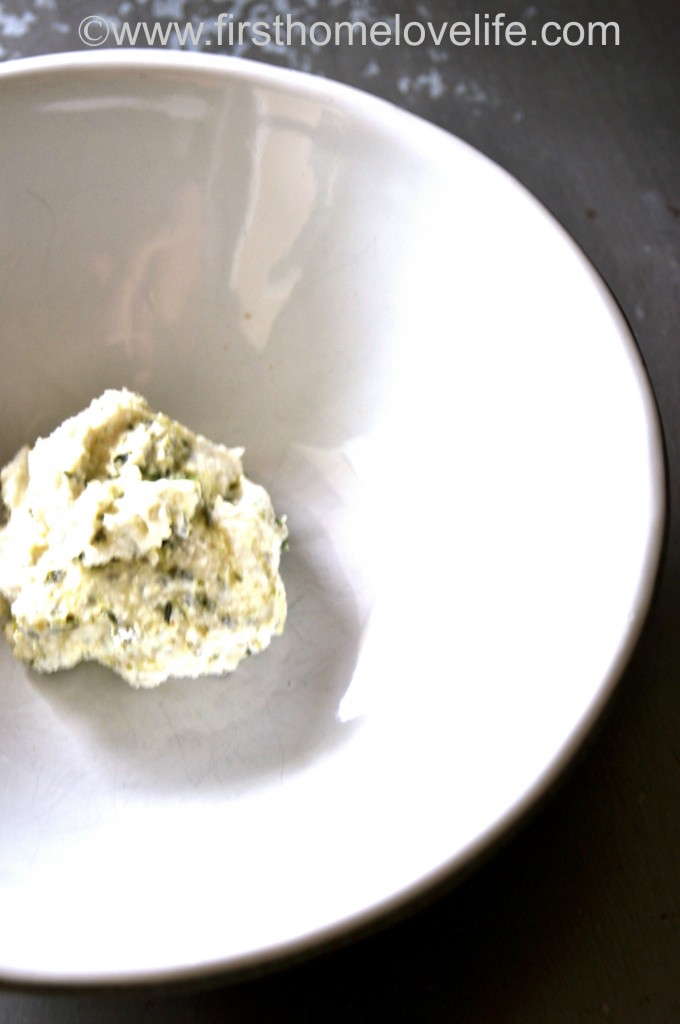 And then ladling the hot soup over it. Yummmmmmmm…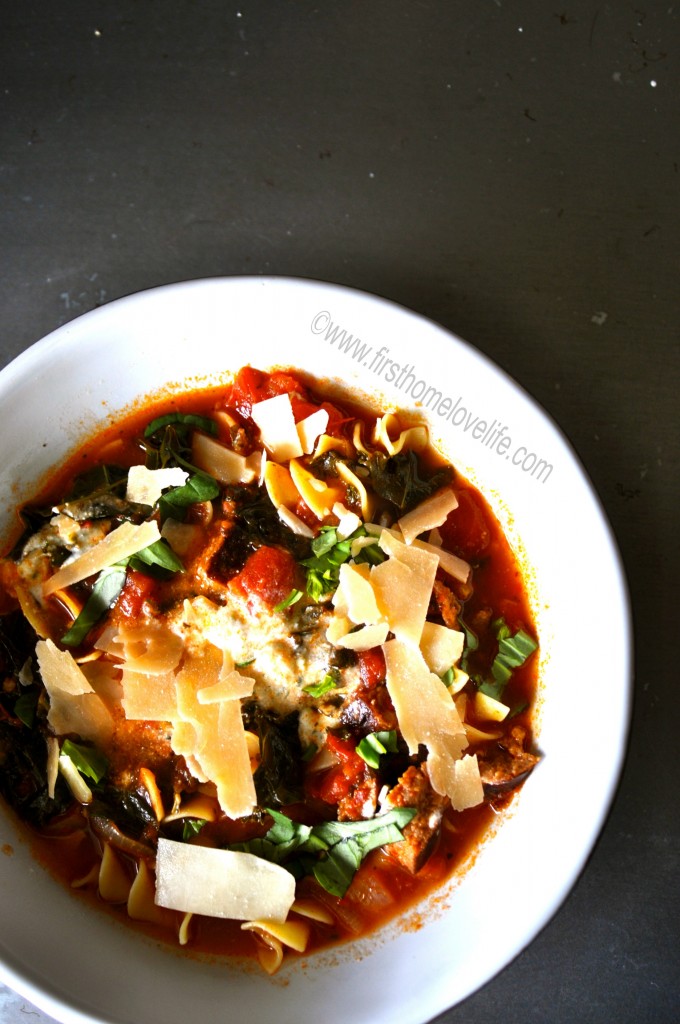 This lasagna soup will VERY COMFORTABLY serve 6-8 people especially when served with crusty garlic bread and a salad!
I hope you'll give it a try, and if you do…I'd love for you to let me know how you liked it!
Want more soup recipes? Check out my Soups/Stews page up above and don't forget to follow on Facebook so you don't miss a thing!
Talk to you soon friends, take care!
XO
Comments
comments