This DIY Kitchen chalkboard wall is an inexpensive update to do in your kitchen with chalkboard paint!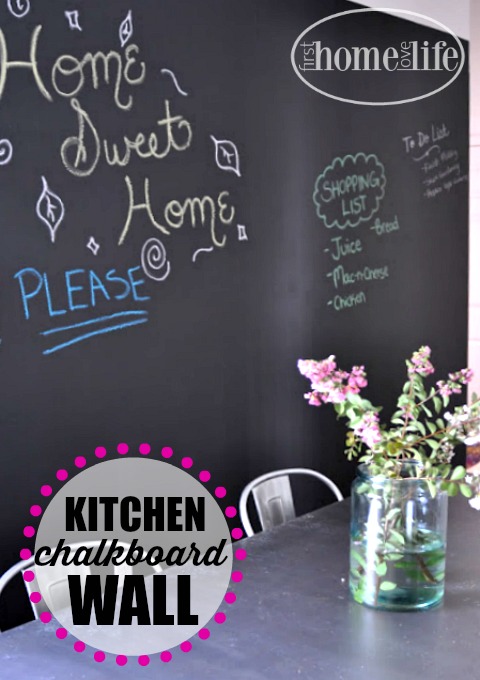 Hey there! Thanks for stopping by…We just finished painting our kitchen nook wall (1 wall down…7627836 to go)
Well significantly less, but it feels like we have that much to paint! With what did we use to paint you ask? THIS…
I love the whole idea of having a "chalkboard" wall!
Whoever thought to put this in a can was an absolute genius!
It takes only one wall, and it will help keep you organized…example…you know when your on the phone and need to write down something important, and you're searching for a pen while the person on the other end is spitting out numbers, letters, etc……..
Well if your lucky enough to find the pen (or paper) to write the message on, then you still have to get over the "misplacing" it hurdle…I don't know about you, but I always seem to forget where I left my keys, let alone a small note.
Ready for it??? Ok here is the before….
Blah
OK….Wait for it….okay! AFTER…..
Who knew the color black could be so peaceful, right??Oh and p.s. The light fixture is going bye bye in a few days!It's been so much fun beginning to add special touches to this house to make it more "ours." I can't wait to start tackling other rooms soon!
How do you like that kitchen chalkboard wall? Is it too much or something you'd do in your own house?
Talk to you guys soon!
XO
Comments
comments