Celebrate the season with your closest girlfriends by throwing a Kate Spade inspired holiday party! So chic! 🙂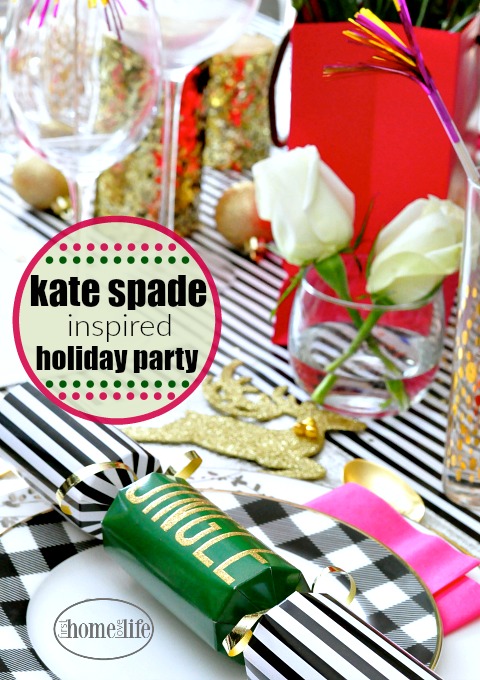 I absolutely adore hosting parties and get togethers! It's one of the things that brings me the most joy! Especially this time of year…
My girlfriends and I did some holiday shopping this weekend and one of the stores we stopped into was Kate Spade. Swoon 🙂
The colors! The bling! Everything was so perfect and modern and chic, and I left there not only with a new pair of earrings but totally inspired to host a fabulous holiday lunch for my friends, inspired by our shopping trip. 🙂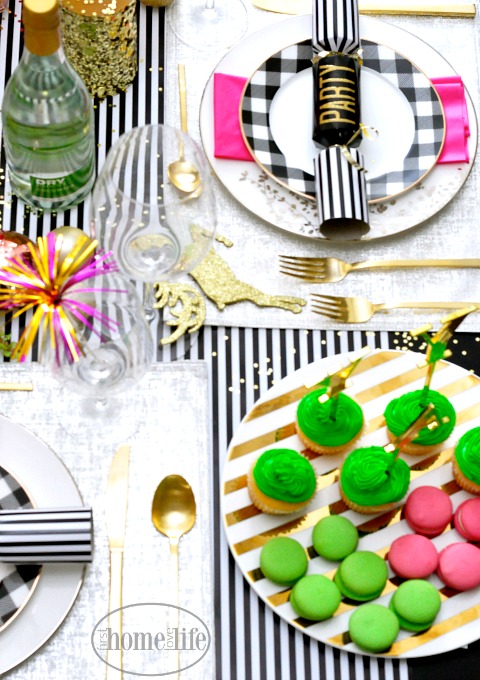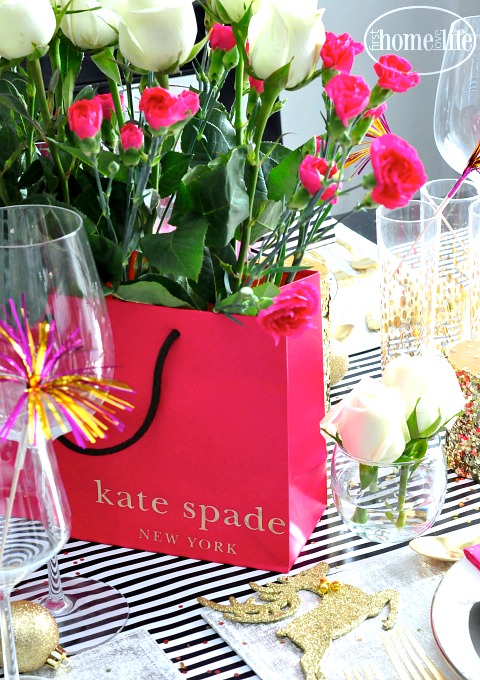 I used my shopping bag that I got from the store as the centerpiece of the table.
Filled it with a big block of floral foam and stuck fresh white roses and hot pink carnations into it. I think it turned out super cute, don't you? 🙂
The table runner is actually black and white striped wrapping paper that I already had on hand. It's perfect and sets the tone for the whole look of the table!
No holiday table is complete without some Christmas crackers, and I found these adorable ones that fit with the theme perfectly at HomeGoods!
If you aren't familiar with Christmas crackers, they're usually filled with small toys or paper hats for children. Now they make adult versions that are filled with all kinds of fun things.
These just have confetti in them, which is perfect! Who doesn't love some confetti? 😉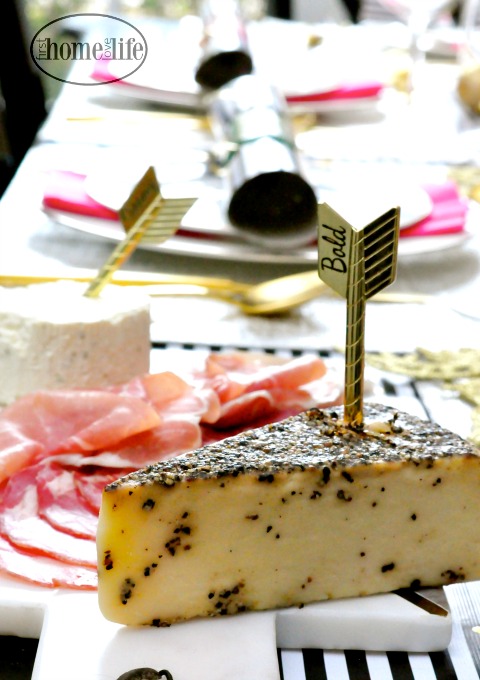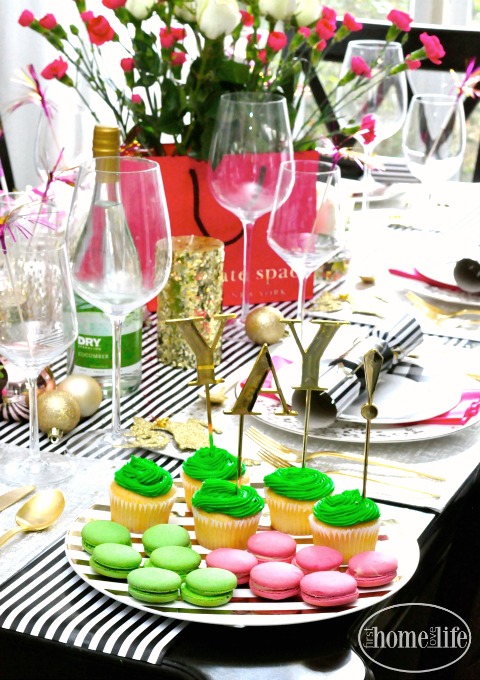 I always try to keep party food simple, but still really cute and festive. An assortment of finger foods, salad and sweets was the perfect holiday lunch for my friends.
I did a few DIYs for the table too…I'll link them when I post the tutorials. They turned out so cute and really made the table special 🙂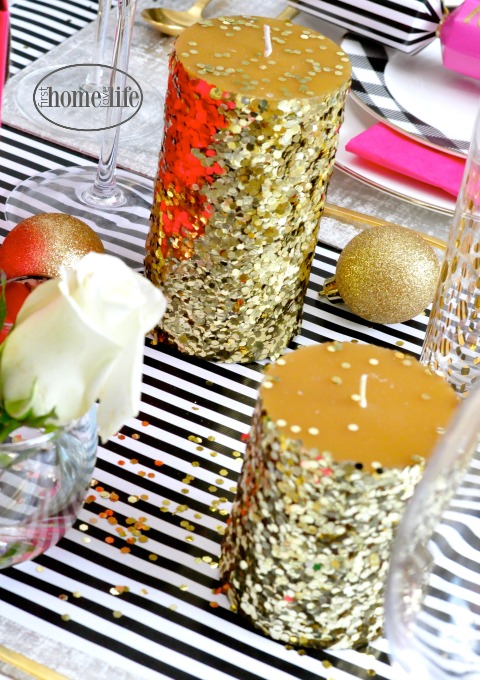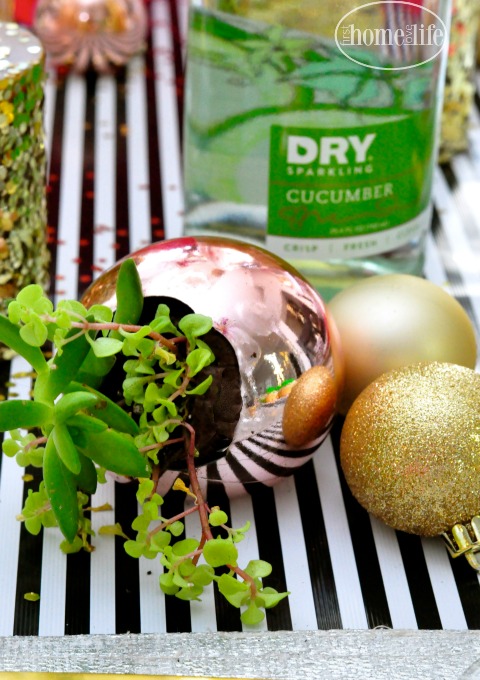 These DIY succulent ornaments are so easy to make. You can be find the tutorial [here]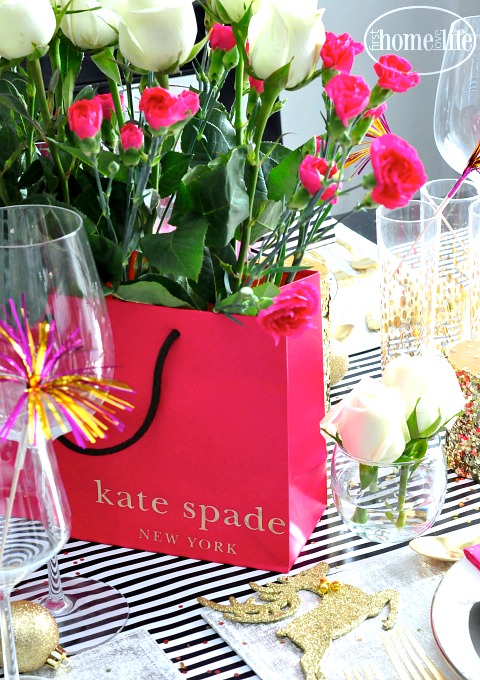 It's fun to think outside of the red, white and green for the holidays and this Kate Spade inspired tablescape was definitely fun to create!
Are you planning any holiday parties this year? I'd love to hear how you plan to decorate!
Talk to you soon friends, take care!
XO
Comments
comments