It's here! It's here! Fall is here!!!
Okay not really, but we're oh so close, and you know what that means…pumpkin crafts!
Every year I add a few new decorated pumpkins to my collection. I've done the usual glittered pumpkins, chalk painted pumpkins, and just plain painted pumpkins, but this year I wanted to add a little funky glam to my decor to tie in with my need to add some bright vibrant colors and fun to our interior!
If you follow trends then you know that jewel tones are hot, hot, hot right now for the season. Usually I stand far away from those colors, but since I'm on a mission to step outside my comfort zone of boring beige, I decided to jump right in and rejoice in the deep, rich hues of fall.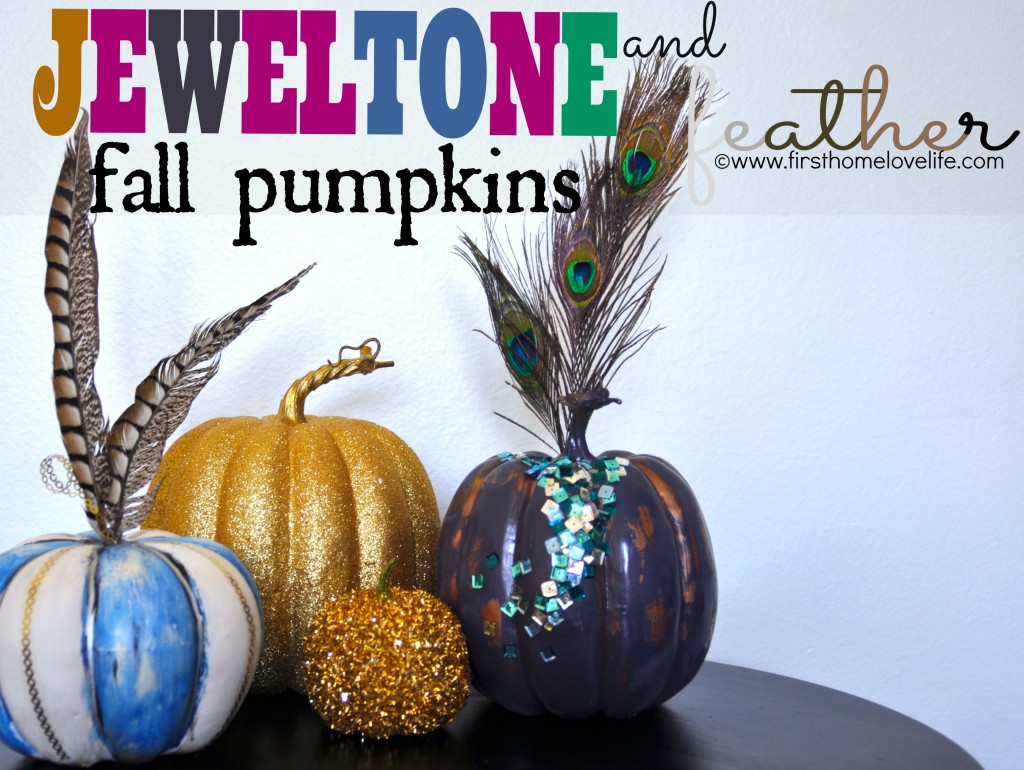 A friend of mine actually called them hipster pumpkins. Say what? What the heck is a hipster, and is that a really cool compliment or an insult? Regardless, I absolutely love the way they turned out, and I may have to make a few more!
Here's what you'll need to make your own hipster jewel-tone pumpkins…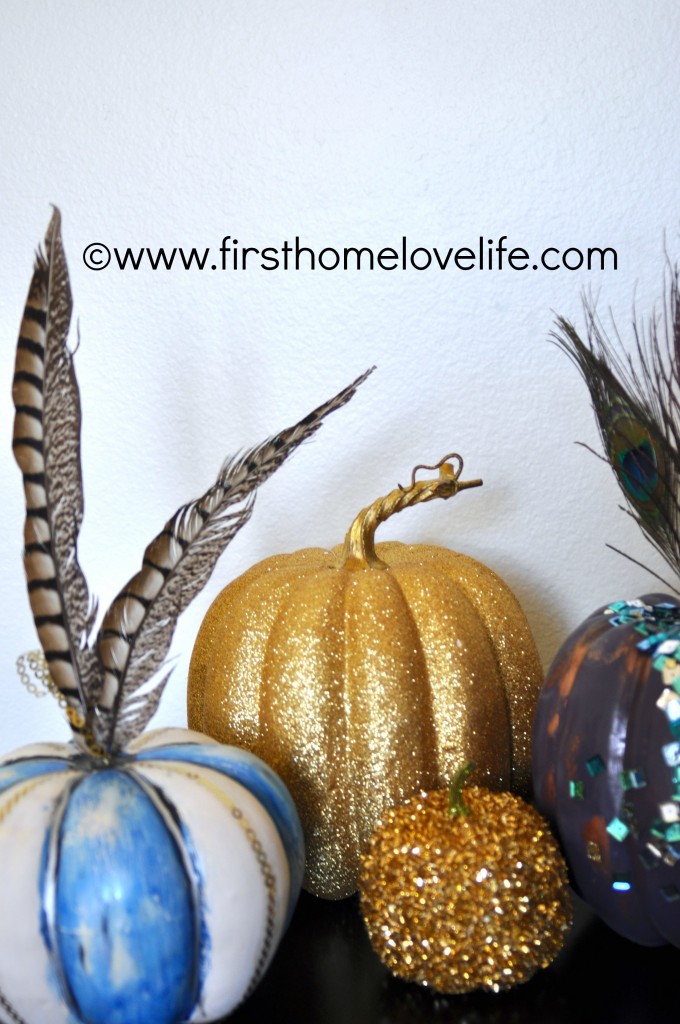 Paint in an assortment of colors (plums, royal blues, emerald green, rich reds, and gold)
feathers
sequins and stick on gems
Mod Podge
paint brushes
paper towels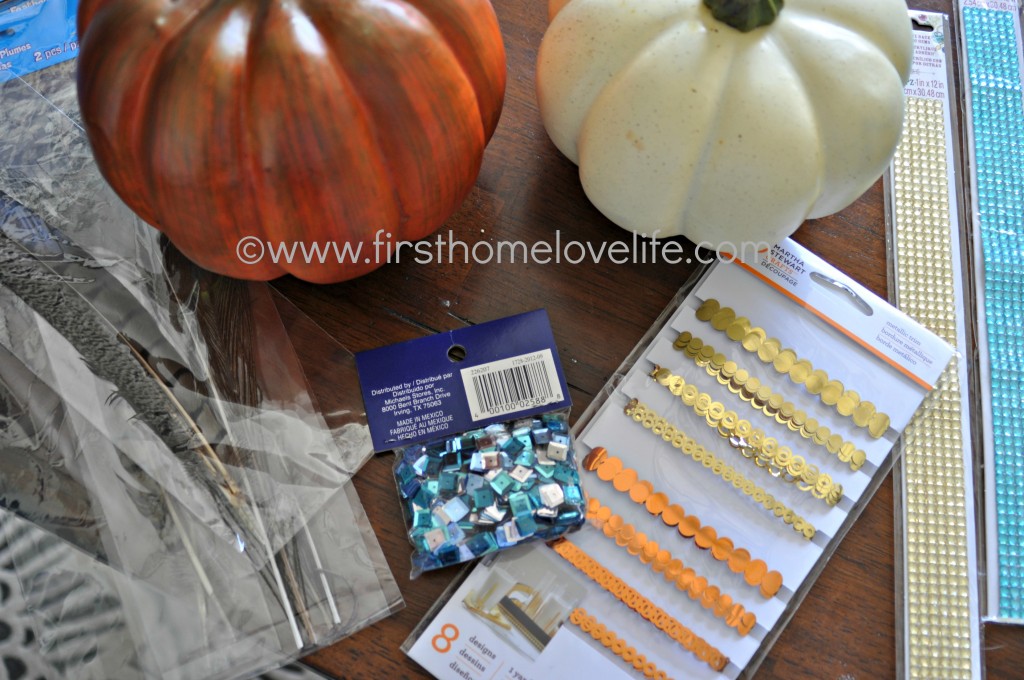 Feel free to grab whatever else you want. There's no incorrect way to decorate a pumpkin in my book. 🙂
First up is the blue and white striped pumpkin…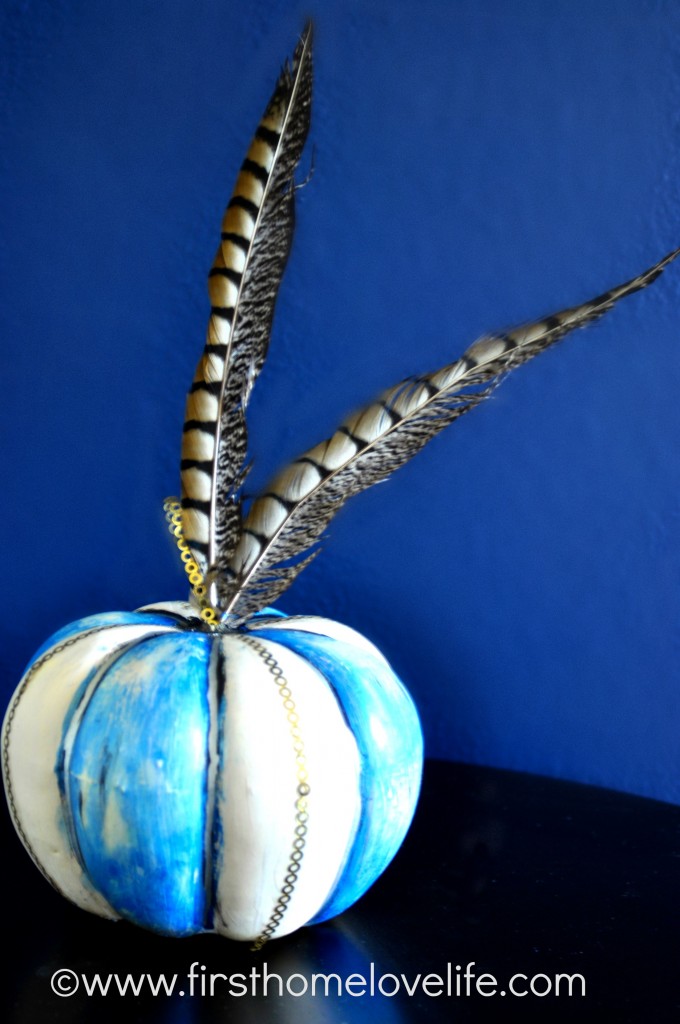 I want to just acknowledge the fact that I really had no plan going into this. I just spread all my craft supplies on the table and kept tweaking until I got the look I wanted (or thought looked cool.) Crafts should always be fun guys, if you're not having fun…you're doing it wrong 😉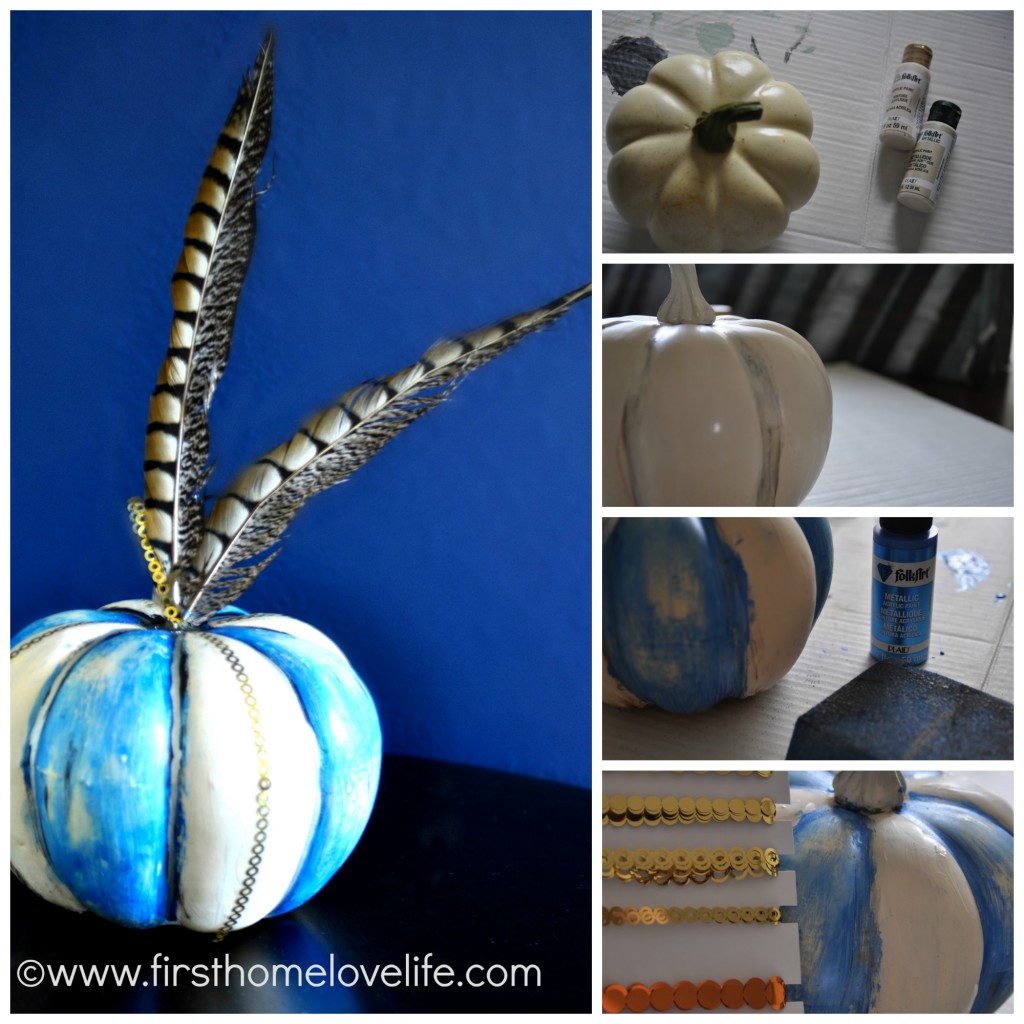 This blue pumpkin started out as a creamy white that I added some silver stripes to… ::yawn::
I know…that's my comfort zone for ya, so I slapped myself out of it and went bold with a royal blue stripe, but it looked like something the Harlem Globetrotters should be doing tricks with…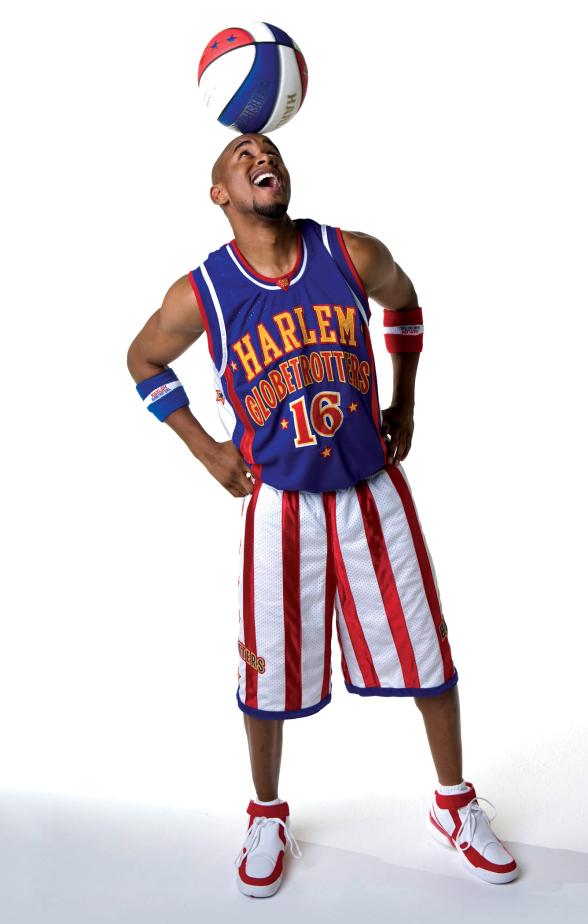 After some distressing, and layering a few more colors it began to look more like I wanted. What finished it off was these fun metallic decoupage strips from Martha Stewart I found. So I added them down the middle of the white with Mod Podge, and voila instant glam.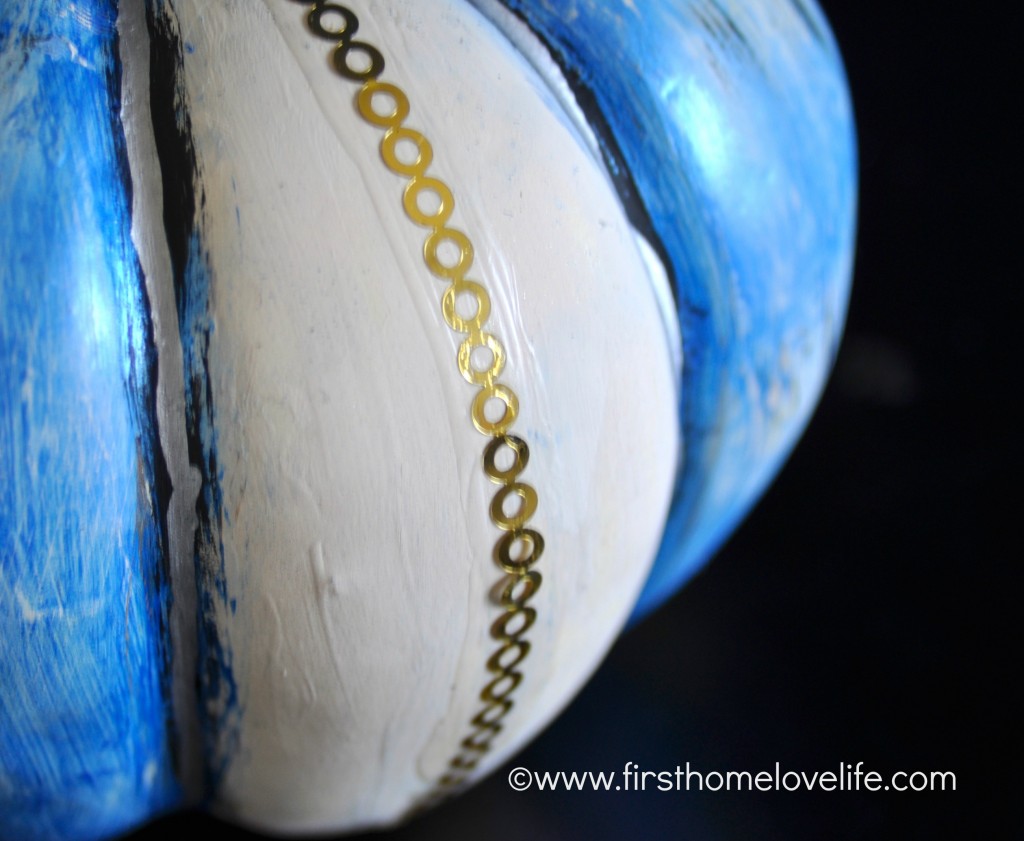 The plum peacock pumpkin was the easiest of the two! Seriously…If it wasn't for having to wait for that darn paint to dry I would have been done in 5 minutes, and this one is my FAVORITE!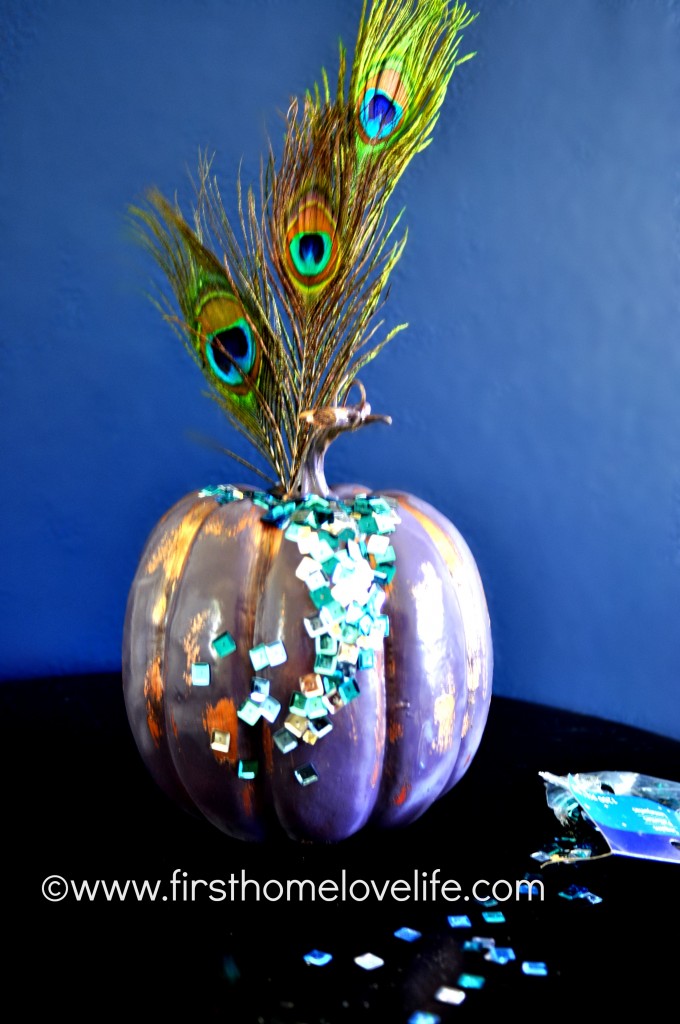 Funny thing is that this all happened by mistake…
I originally thought I wanted it to be copper.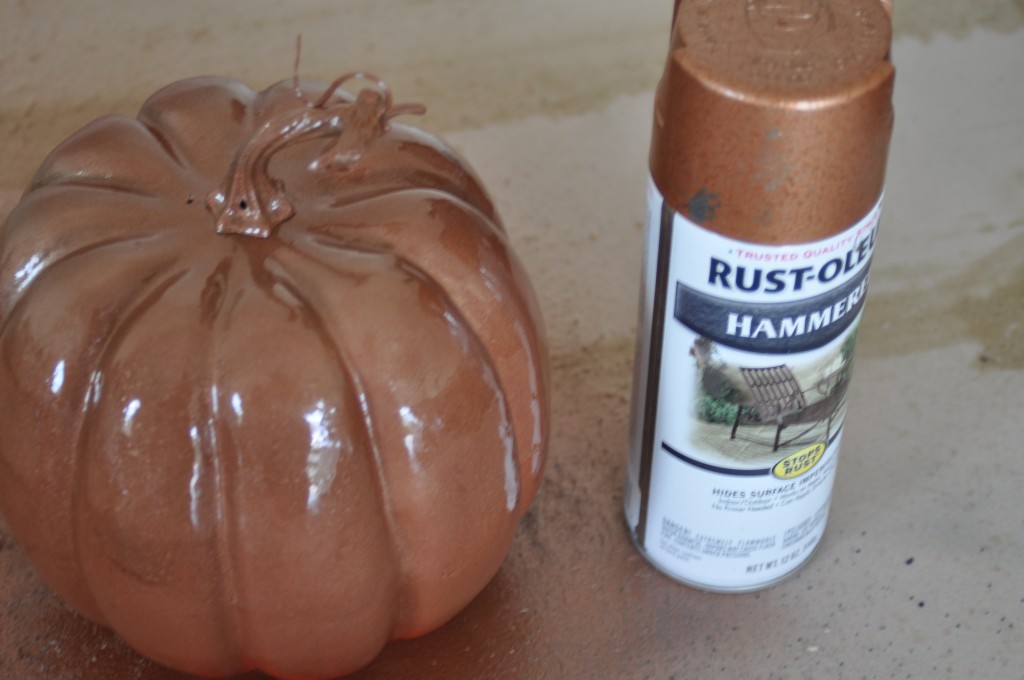 I spray painted it with what I had in the garage, but then realized I didn't care for the textured look as it was drying…so since I had to run to the store anyway I thought I'd pick up a new can of spray paint, and again went bold and completely out of my c-zone when I picked out plum. By the way, did you know my least favorite color is purple? I may need to rethink that after this…
So I spray painted the whole thing dark plum, and this is the one time that my impatience during projects totally paid off, because I touched it after a few minutes to see if it was dry, and I smudged it…The copper poked through and I was in love, so I decided to make smudges all over (this is why I have no pictures of this, because I had paint all over my fingers) and I think it turned out AWESOME!
Once it was completely dry, I brought it inside and painted some glue on it randomly and begin to cover the glue in square sequins.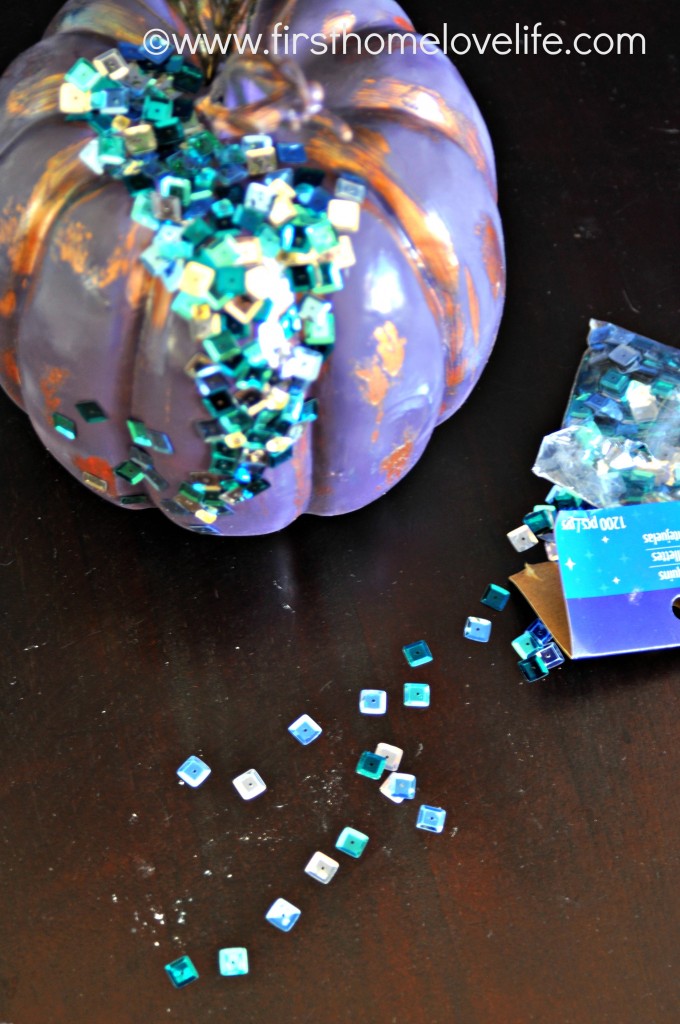 No pattern, just randomly and it's gorgeous! I'm smitten.
The finishing touch was to pierce a few small holes and stick feathers into the pumpkins, and that was it! Finished!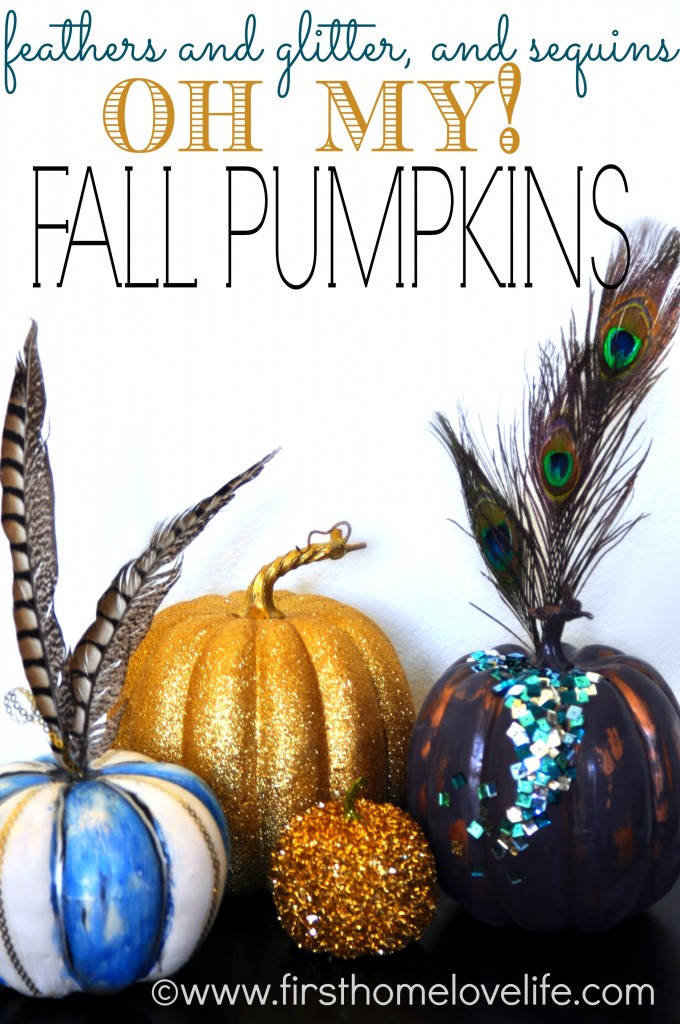 I just love them, and am so proud of myself for venturing outside the perpetual fall box!
Have you begun decorating for fall yet? I'd love to hear what you've done or our planning to do either in the comments below, or on my Facebook page!
Talk to you soon guys, take care!
XO
Linking up to: DIYSHOWOFF
Comments
comments