Implement some spookiness into your home with these ideas for inexpensive interior Halloween decorations.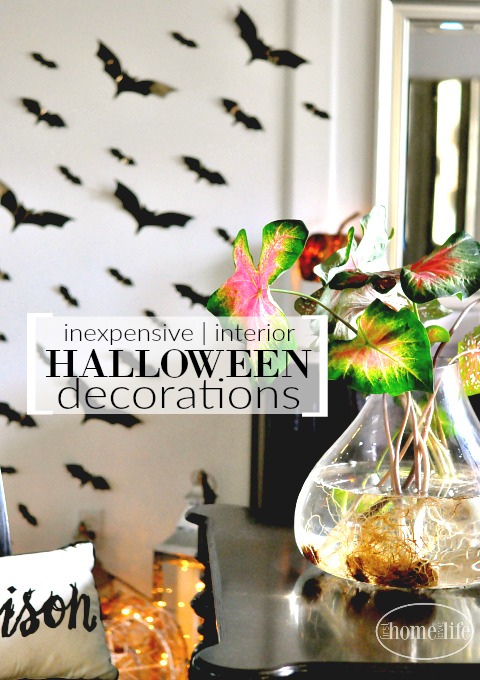 My favorite place to buy Halloween decorations is thrift stores. I love coming up with ways to turn outdated and unwanted stuff into cool and unique decorations to use in my home.
Main reason I choose to go there versus a big box store is because I can find things cheap and that are better quality so they will last a lot longer. Even if you think you're not creative you can easily grab a couple things to add some fright into your home decor for Halloween.
Here's a few ideas that I've used over the years…
ASSORTED CANDLES AND JARS
Thrift stores have tons of these in any shape and size you can imagine!
You can use them just as a vase for a spooky floral arrangement.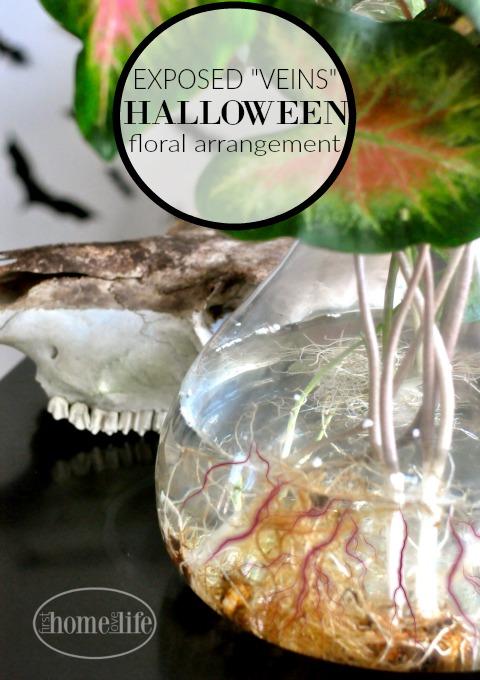 Or you can get super creative by turning a table or mantle into a Mad Scientist Lab!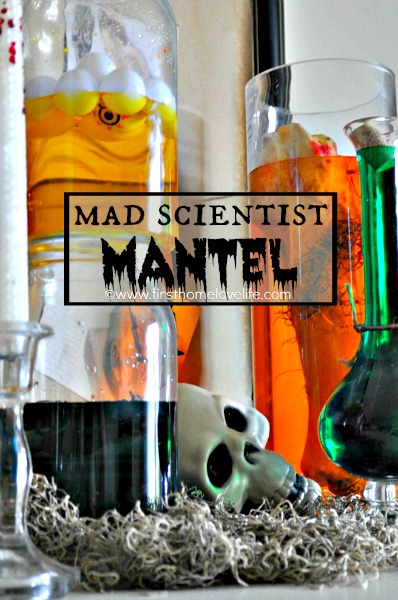 CANDLESTICKS AND OLD BOOKS
Some other great things to pick up at thrift stores are assorted candlesticks and old books for Halloween decorations.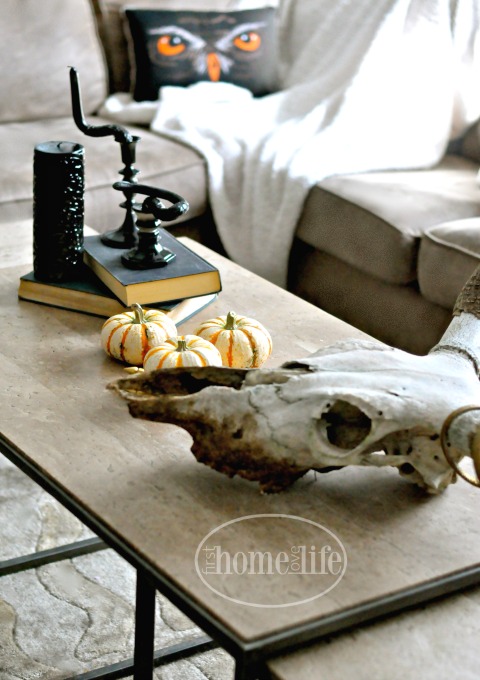 I was able to create this cool Halloween vignette on my coffee table from some items I picked up at the thrift store. I just spray painted the candles and candlesticks black and they instantly turned into creepy decorations.
*About those candles- I left them out in the sun a little too long and they melted into those forms. I think it was a happy mistake because they look really cool for Halloween. You can duplicate that by holding a hairdryer to your own candles until they flop over. 🙂
If you don't want to spray paint your candles, you can do this technique to make them look like they're bleeding for a just as spooky look.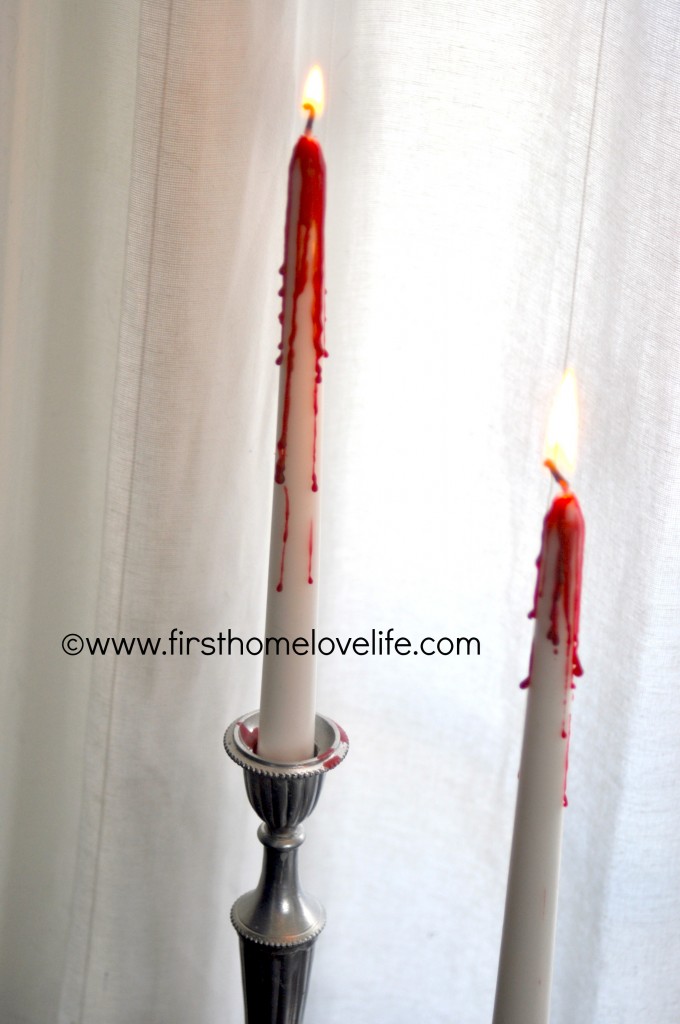 The dollar store is another great spot to pick up some things and make them look more expensive. That's where I got these black paper bats that are in my dining room.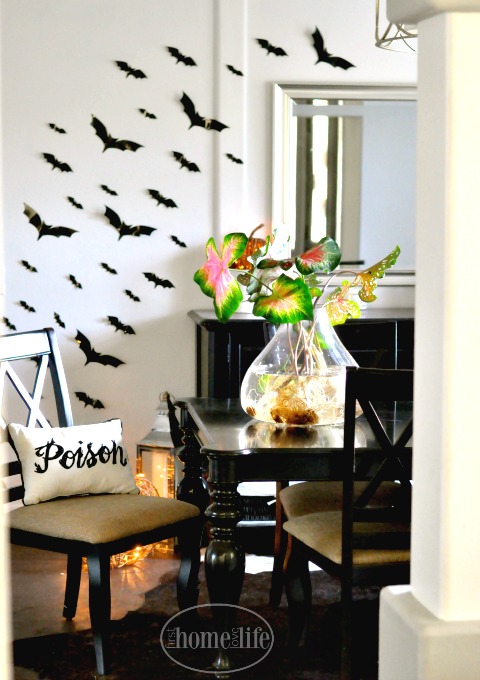 And I also picked up this skeleton hand there. It was super cheap looking, but after spray painting it gold, looks way more expensive and makes a great remote control holder.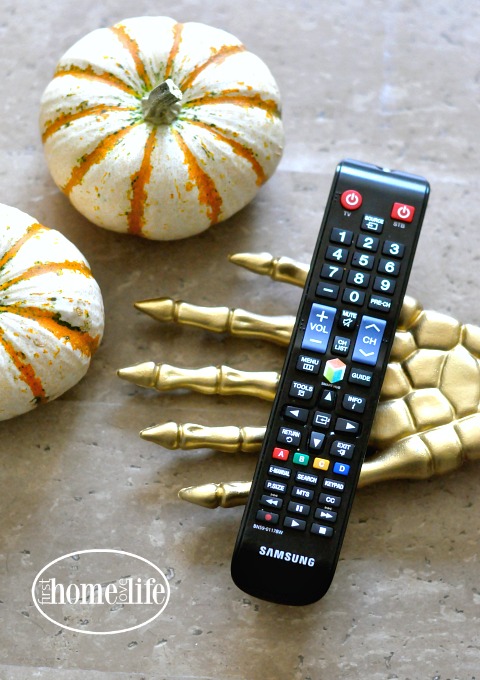 Last but not least, another thing to grab at the thrift store to turn into a cool Halloween decoration is…
PICTURE FRAMES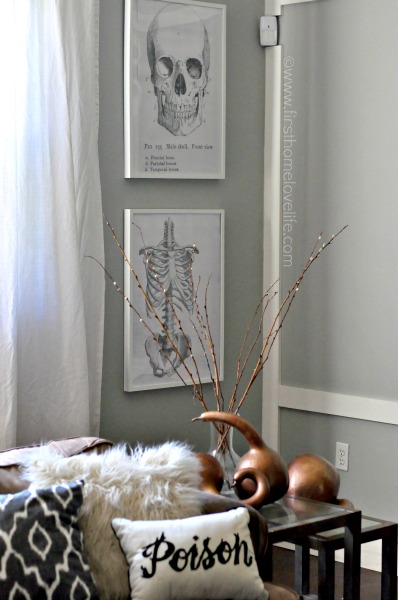 You can spray paint them any color. Then find creepy artwork on the internet and have them printed for cheap as architect prints to display in the frames for really cool Halloween decorations. They'll add a big wow factor for not a lot of money!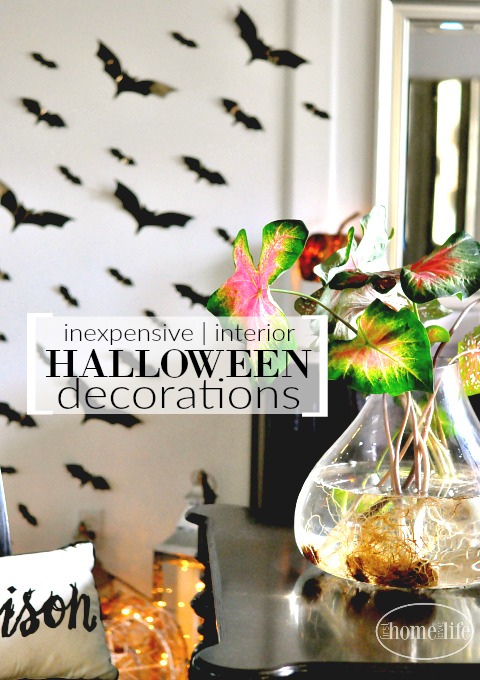 I hope I've inspired you to think outside your big box stores when it comes to decoration for Halloween! You can find more ideas and inspiration on my Halloween page.
Talk to you soon friends, take care!
XO
Comments
comments