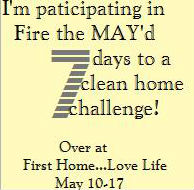 Hey everyone, so yes, I've been MIA for a week I know (slaps wrist) bad blogger! What have I been doing? Well…I've been finishing up my heavy duty Spring Cleaning. Things like washing the windows inside and out, cleaning the ceiling fans and air vents, dusting and washing the baseboards and crown molding, and pressure washing the patio (Shout out to the greatest neighbor in the world for allowing us to borrow it, they know who they are)
 This past weekend another one of my neighbors and I were chit chatting about house cleaners in the area. This neighbor in particular works, as does her husband with two kids 8 and under in after-school. So me and her were talking away when she blurts out "You're so lucky to stay home, your house must always be spotless because you can clean all day." Ha…feeling embarrassed I just felt my face get flush and giggled "yeah…"
Little does she know I have a dirty little secret…a maid…who comes to do the things I should do, but sometimes slack off on because I know she will do it.
So it's time…it's time to fire the maid in May. Hence, "fire the May'd and why not make something not so fun into something really fun, by turning it into a good ol' blog challenge!
I am super excited to start this new challenge and it will be my VERY FIRST LINK PARTY! Starting on May 10th I will be posting a "to do list" for you to complete. PRINT IT OUT, FRAME IT, WRITE IT DOWN ON YOUR CHALK BOARD OR DRY ERASE BOARD. This will be a list you can use every week to make sure you maintain your home on a simple weekly basis. 
I will be adding a Link Up area that you can come back and post on to show us all what you have done (don't you love swapping cleaning tips? I know I do!) and then as an added TREAT…
I will pick one random person at the end of the week to receive a GIFT BASKET filled with ALL MY FAVORITE CLEANING PRODUCTS valued at more then $50!!!
I really hope to see you here!

Comments
comments