Some great ideas on how to easily put away holiday decorations so they're neat and organized every year!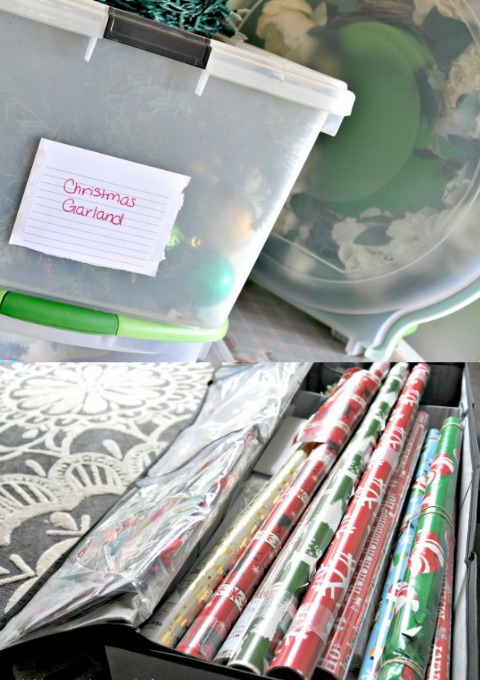 Maybe it's because I'm nosey, or just maybe it's because I'm always on the look out for ways to simplify my life, but I love seeing how other people organize things…Don't you?
Of course you do!
That's why you're here!
If you're looking for some ideas on how to put away holiday decorations, then you've come to the right place because today I'm giving you a glimpse at how we store away our holiday decor.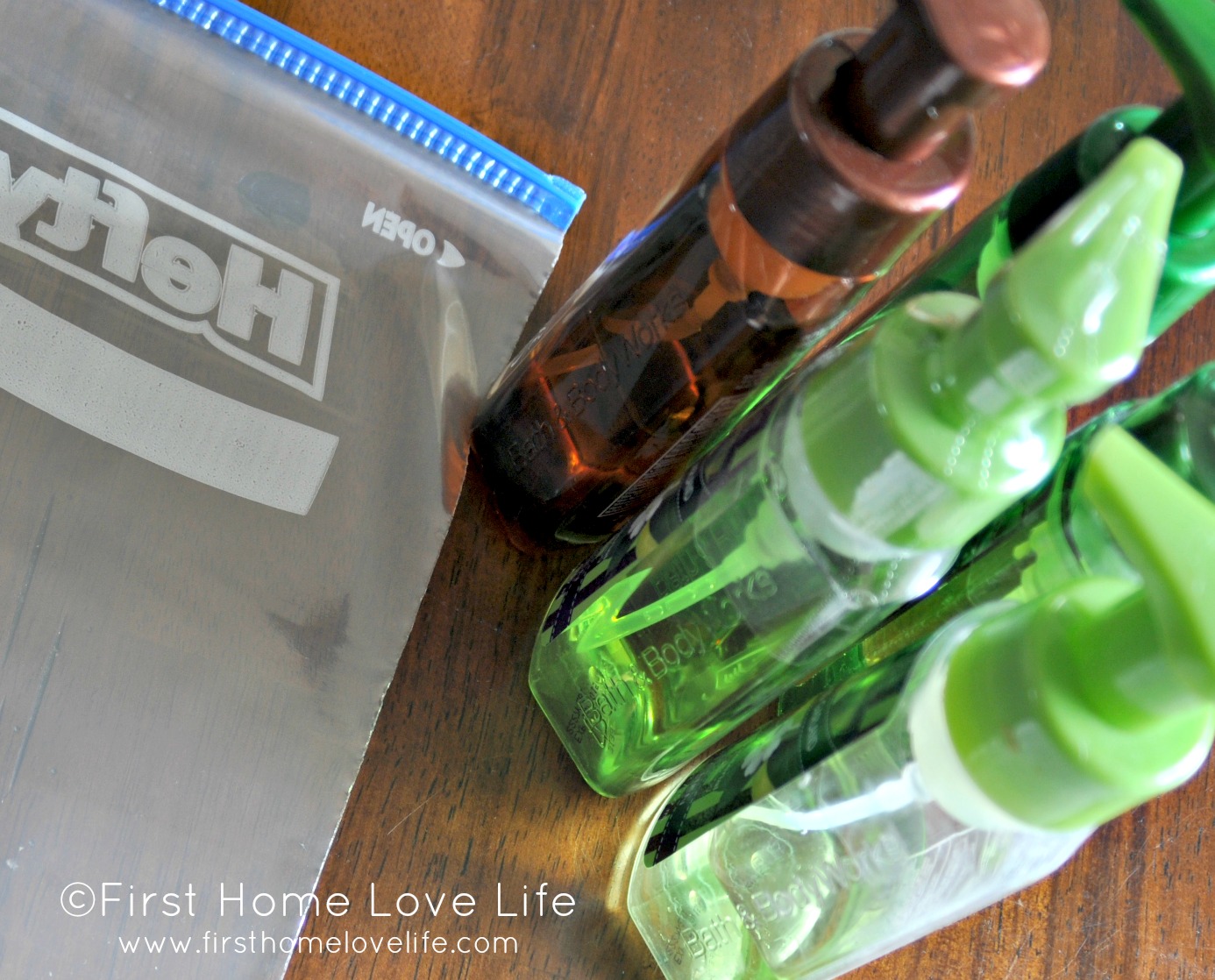 I LOVE holiday candles, and I'm just as equally in love with holiday soaps.
So I usually will change mine out with the season.
I pack my soaps away if we don't use them up, so they'll be ready to go for next year.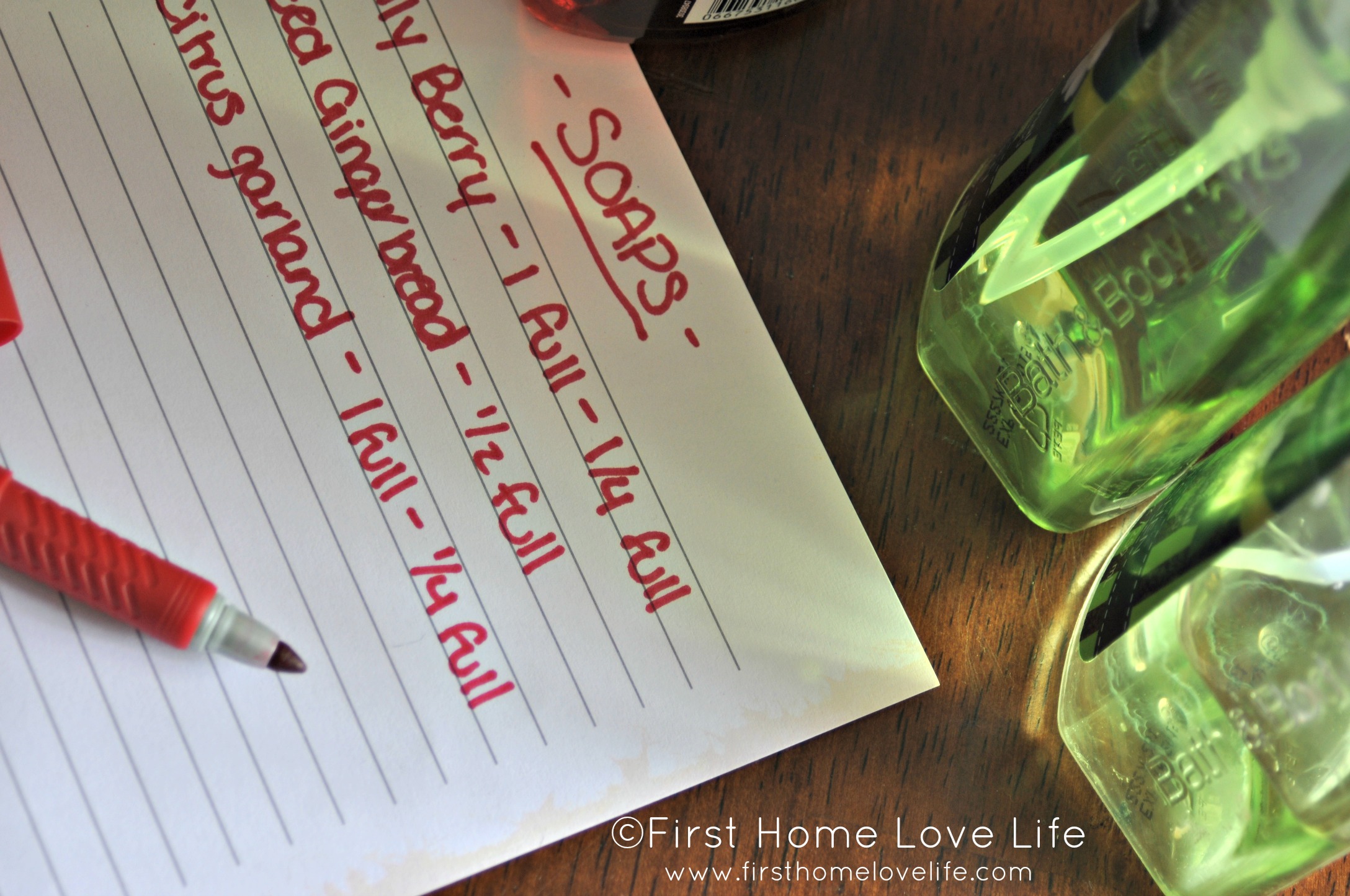 Before I pack them away in a tightly sealed bag, I will write out a list of what I have (scents and amounts).
This way next year I know exactly what I need ahead of time.
I do the same thing with seasonal candles, and this way I can just whip out my list and order what I need when I see them go on sale.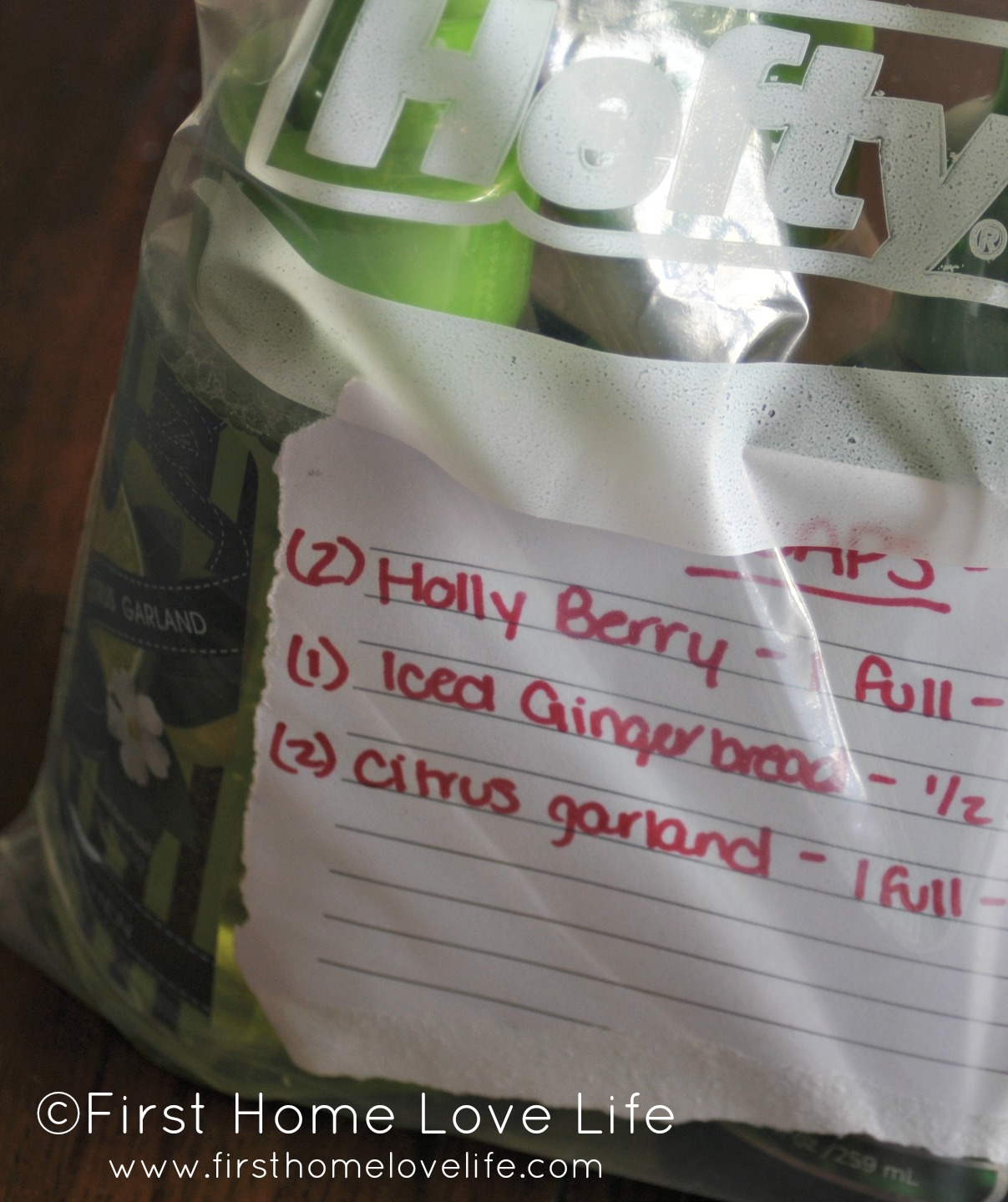 Once everything is written out, I pack everything into a large, zippered bag.
This way if by some chance anything leaks, it wont get all over the other decorations in the same box.
The list goes into the bag with the soaps so it's easy to see.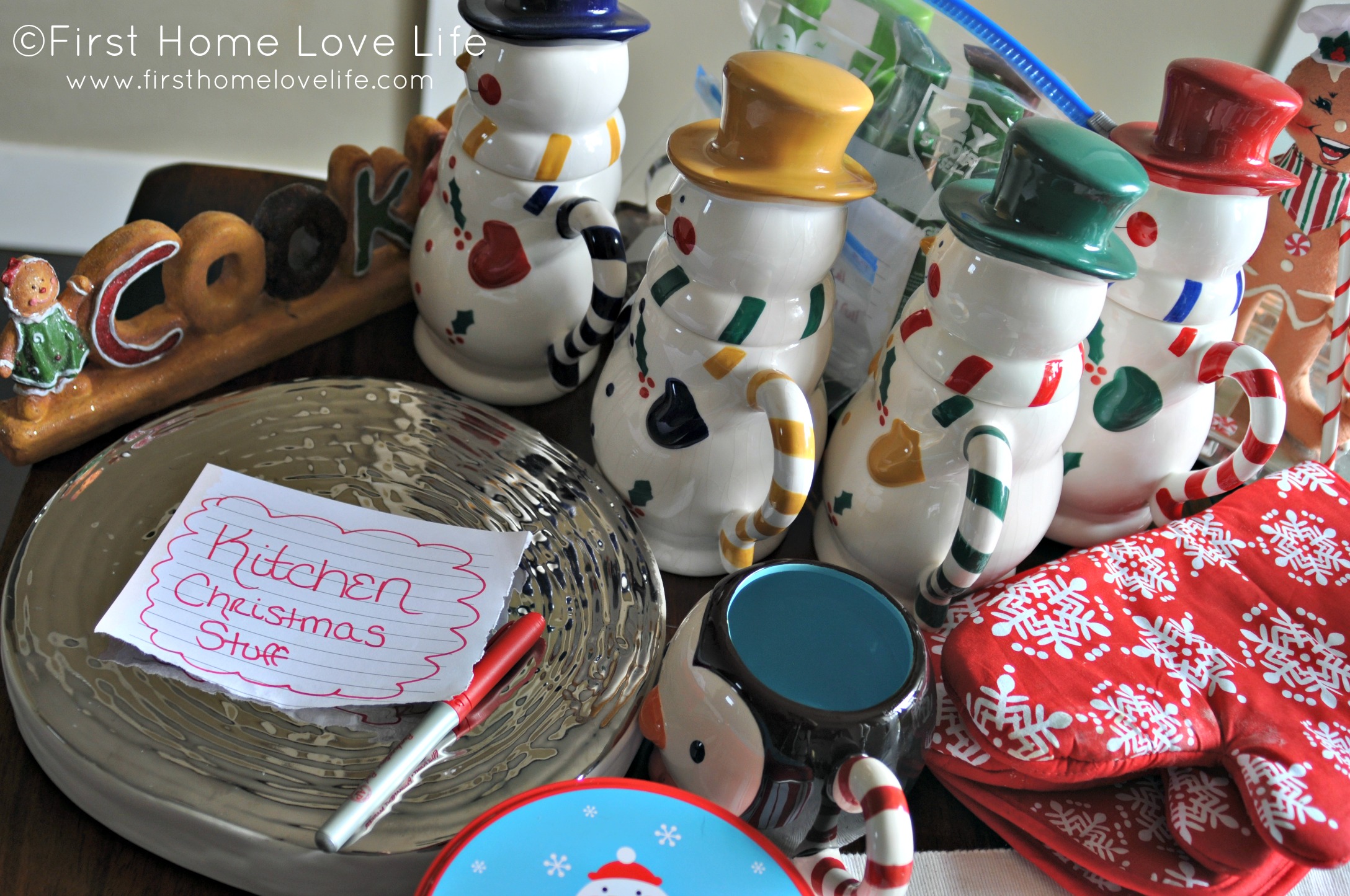 Inside Holiday Decorations
It's easiest to make piles according to room and label it .
If you have any towels, sheets, blankets, pillow cases, or kitchen mitts, now is the time to throw these in the wash so they are freshly laundered.
Put plates, cups, silverware etc. in the dishwasher and use a damp cloth to dust off the holiday decorations before packing them away so you will have less work and more fun decorating next year.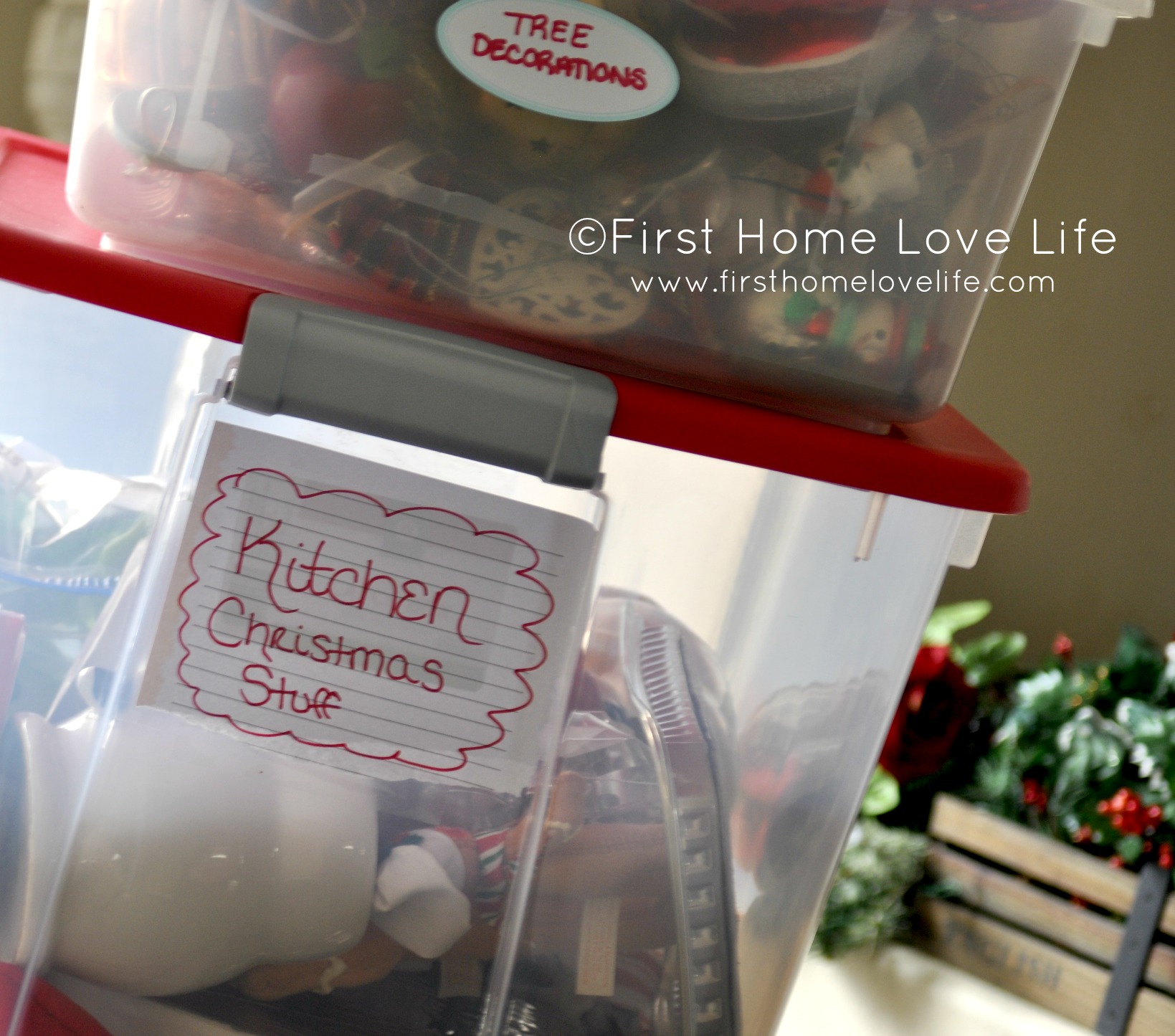 When everything is clean and in piles…
It's time to pack everything away.
Wrapping Paper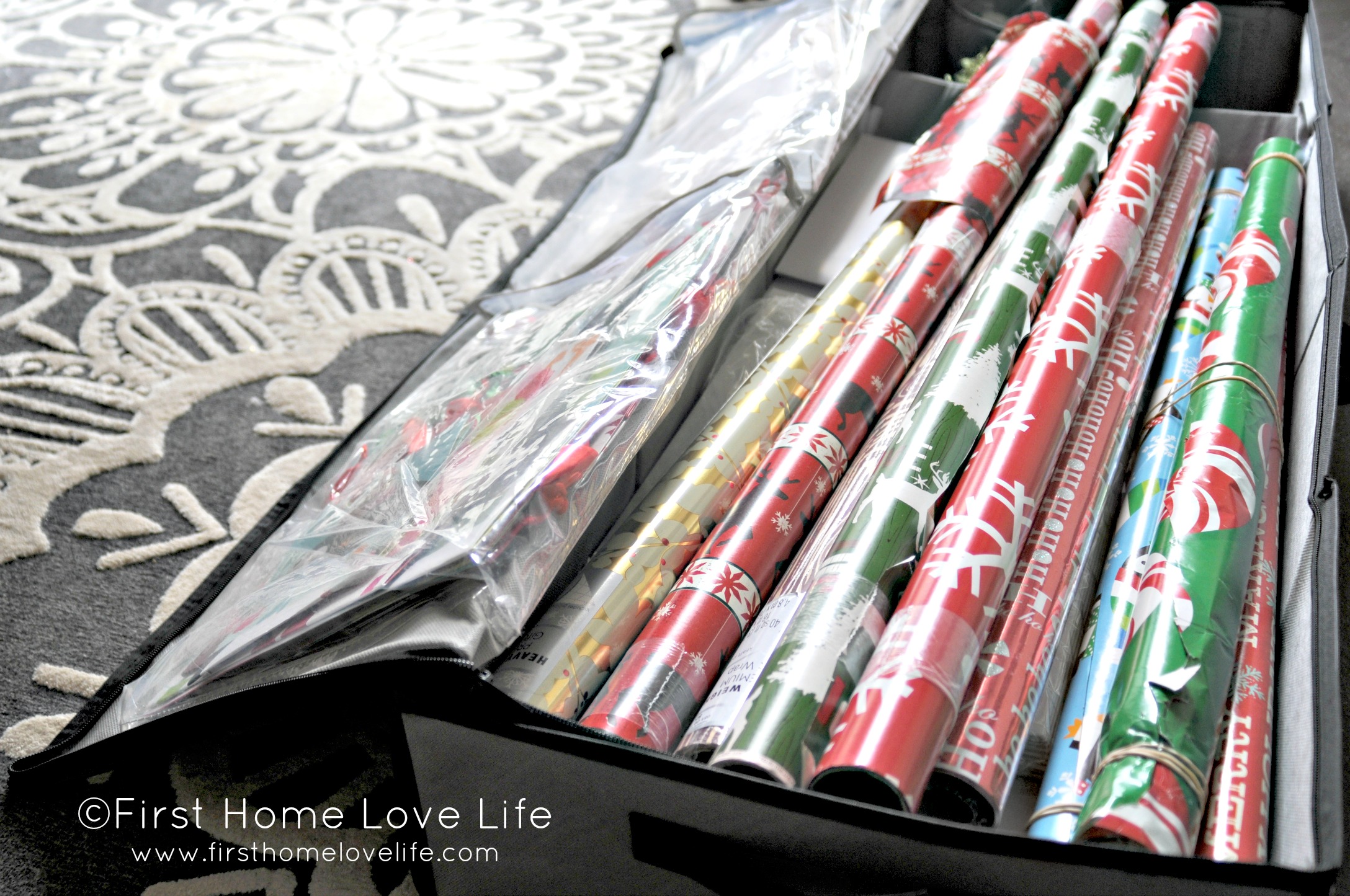 A couple days after Christmas when everything is marked down, I always like to go out and stock up on wrapping paper, bags, cards etc. for the following year.
This wrapping paper storage case is from The Container Store, but I found a similar one on Amazon here.
It has two pockets on the lid that are perfect for holding decorative bags, tissue paper, and clothing boxes.
The main body compartment holds a ton of wrapping paper, and it even has a velcro separator at the top to store smaller things like tape, scissors, and gift tags.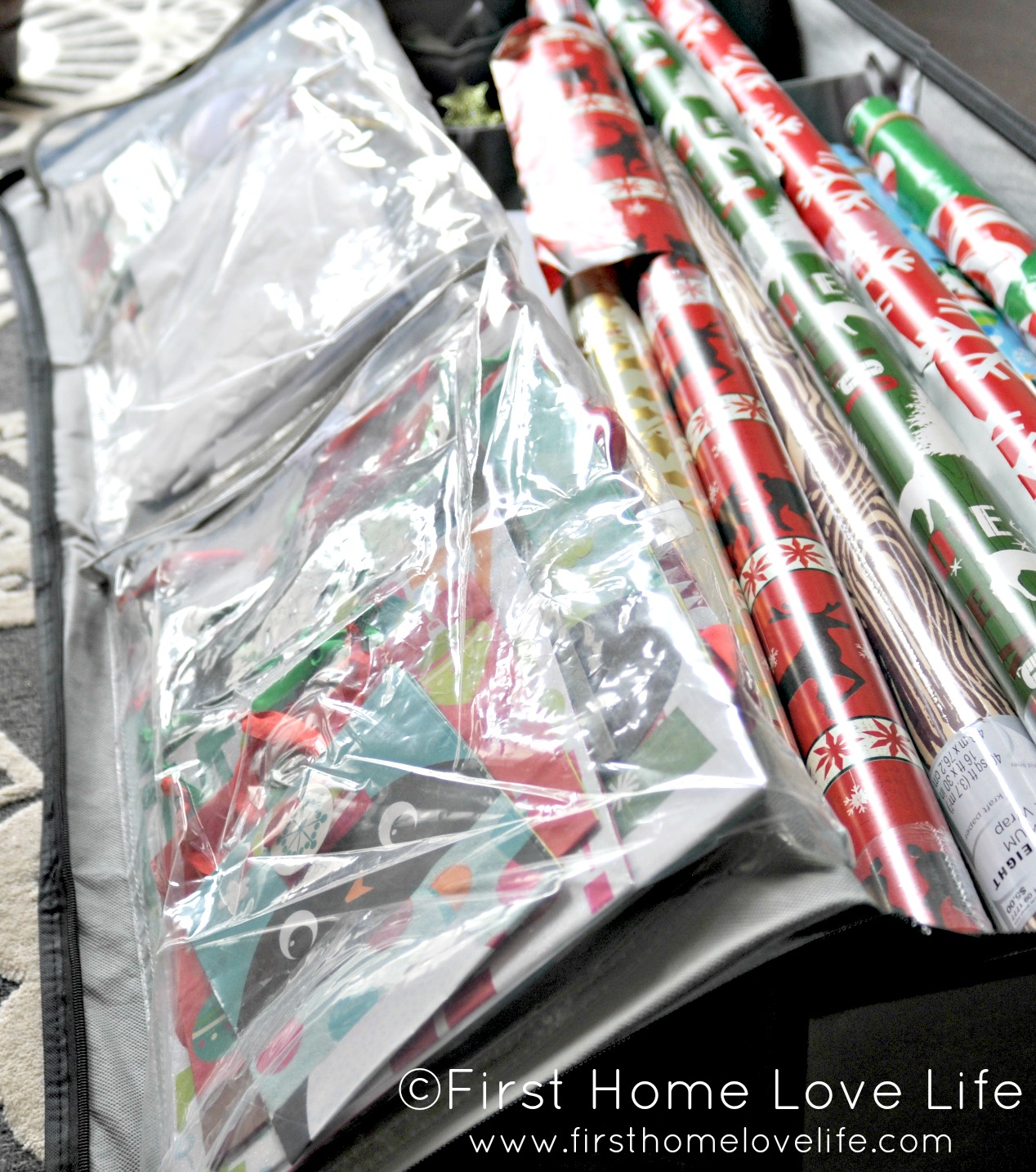 Speaking of tape and scissors…
Throw a designated pair into the wrapping paper storage box.
This way it's ready to go for next year.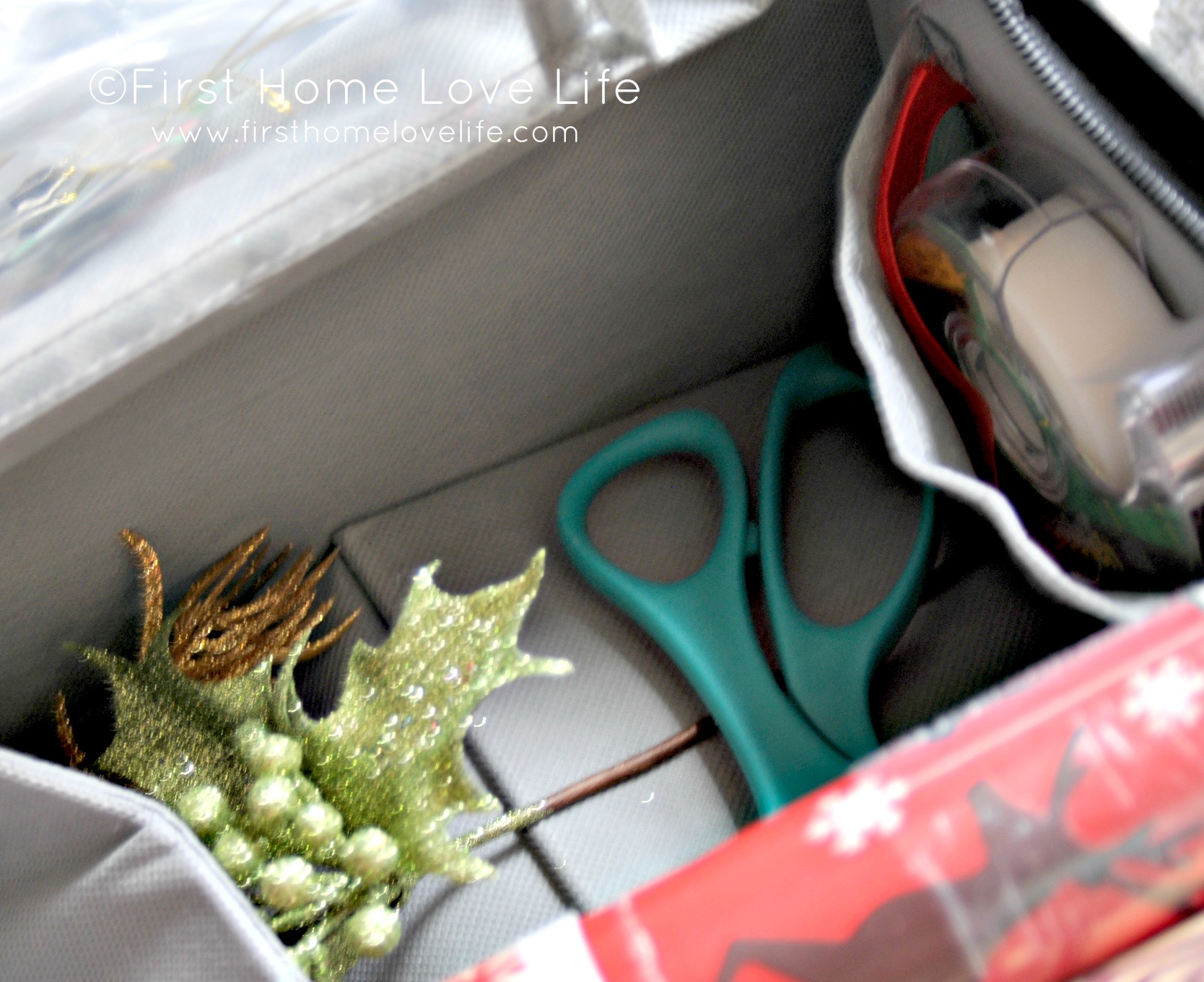 If you do happen to need anything that you weren't able to get after Christmas, then make a list and throw it into the storage container for a quick grab next year.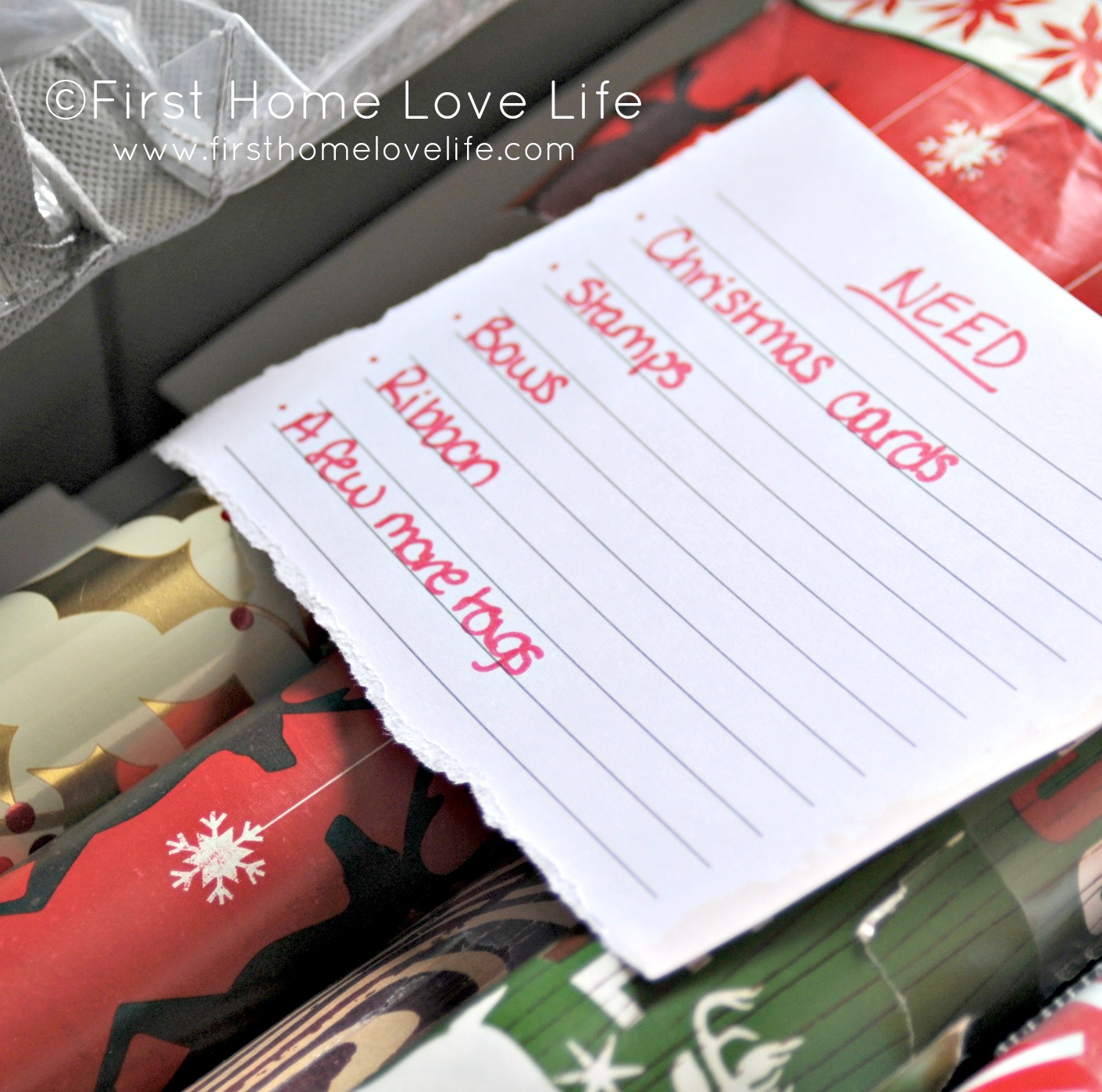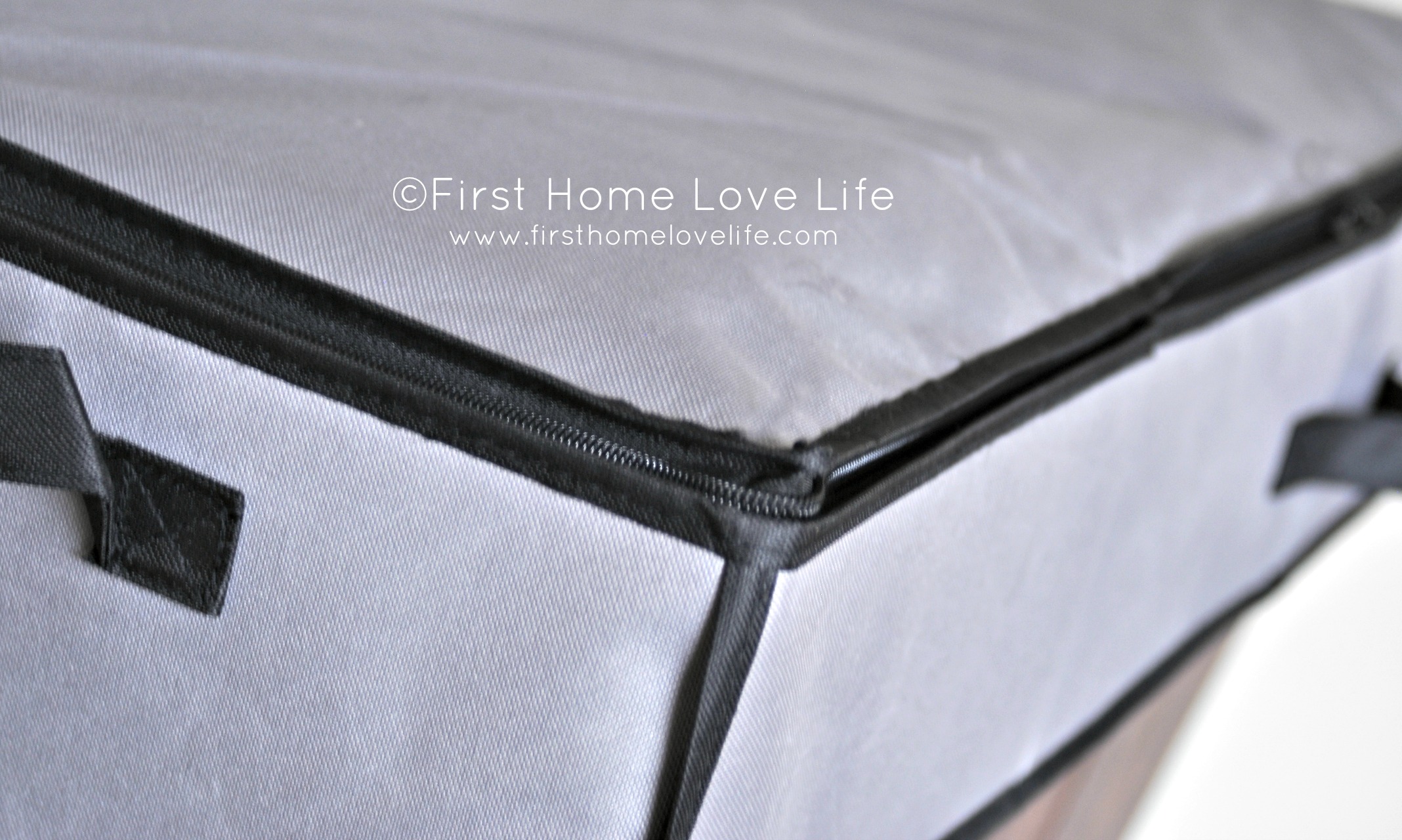 Wrapping paper supplies are the only thing I store in the house.
I keep this container in the office closet along with the other container I have for other occasion wrapping supplies.
Everything else gets put out in the garage.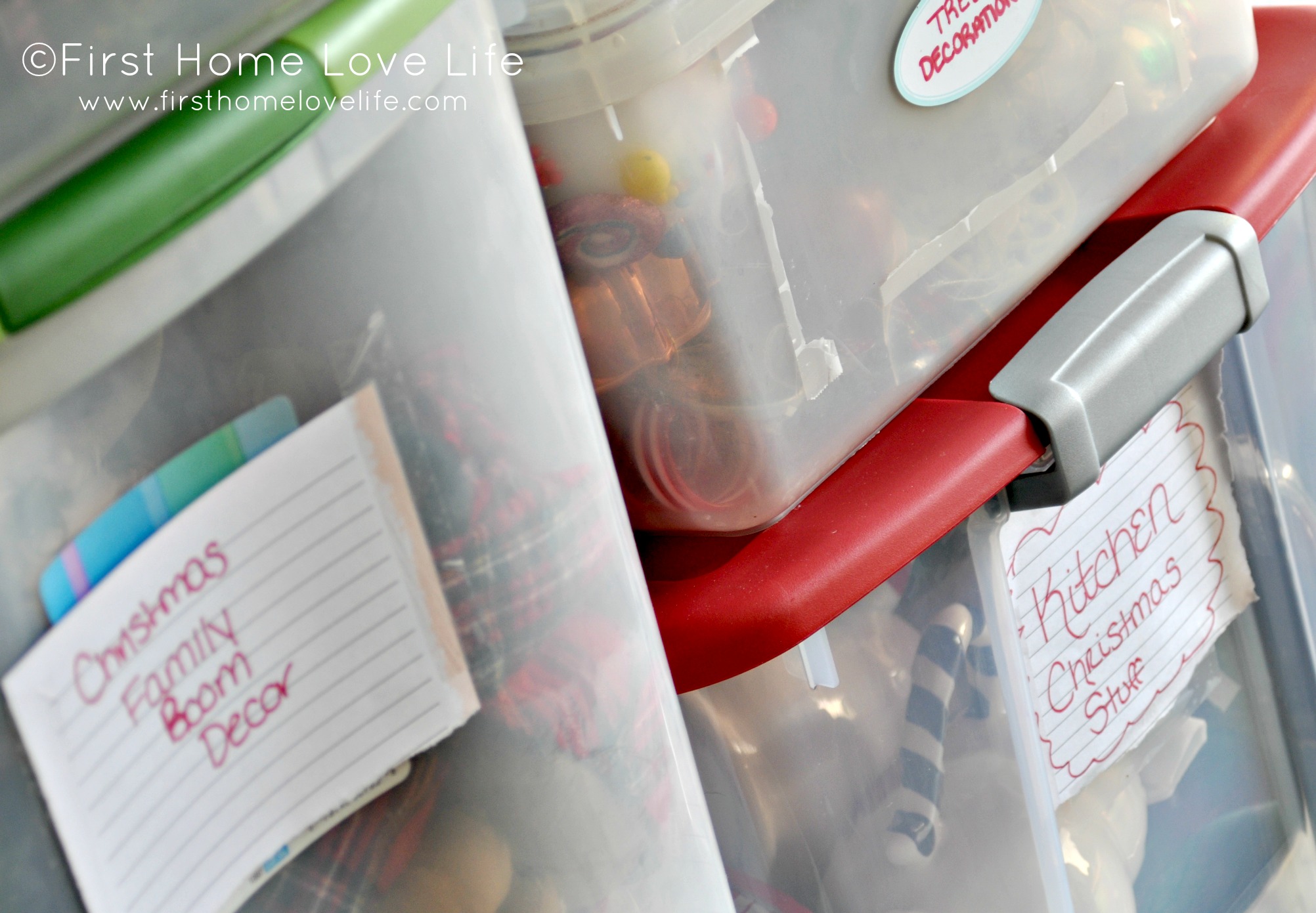 Even though everything is labeled it's nice to be able to see through the boxes and know where everything is.
That way, just in case you want anything in the middle of the year you know exactly where it is and don't have to disrupt all your boxes.
I also really like the containers that have the latched lids. It's definitely more secure and sturdy then just a regular standard lid.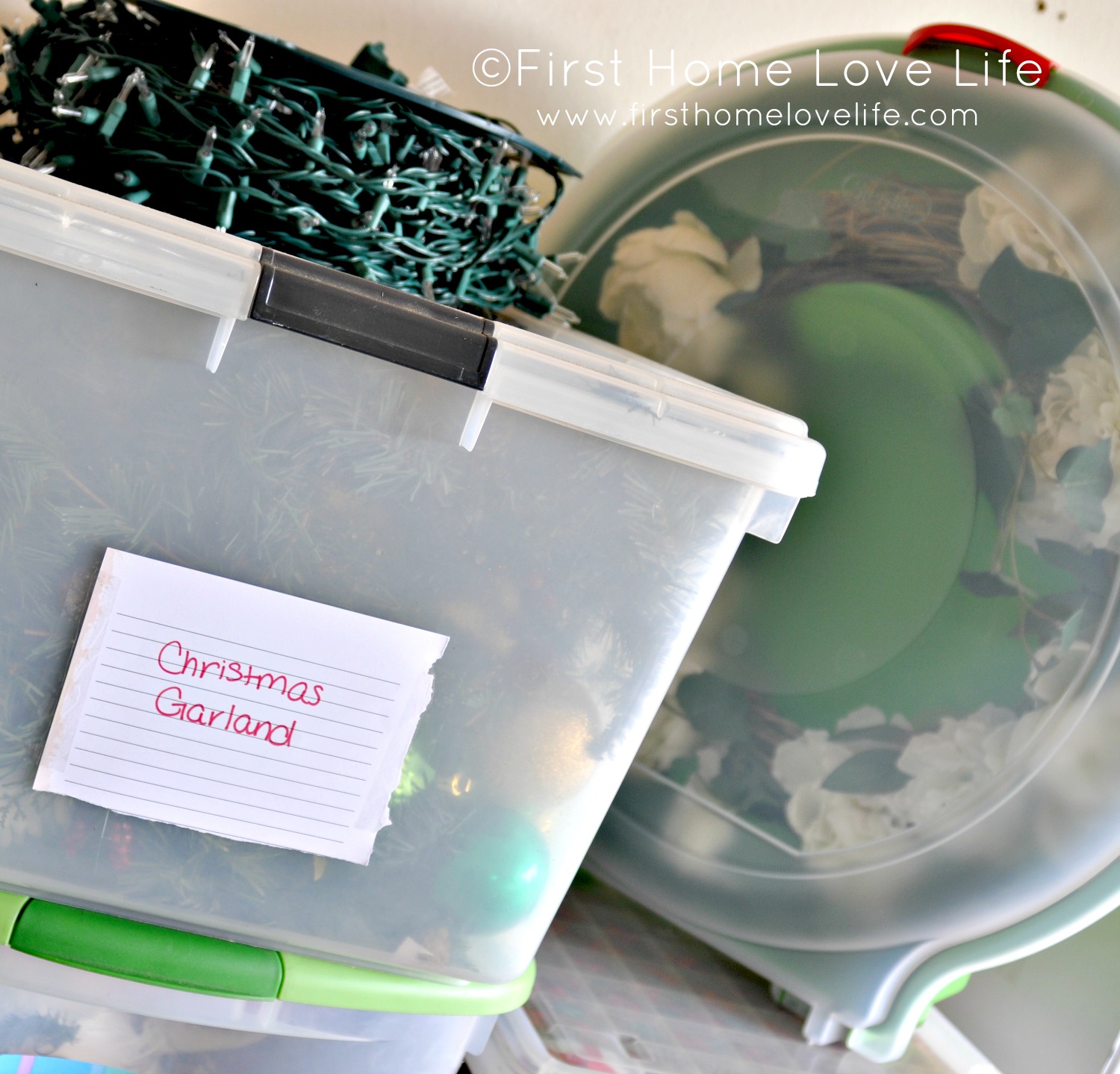 Lights and Wreaths
I definitely recommend getting the 'specialty' storage supplies.
Wreath boxes are a great way to keep your investment looking great for a lot longer.
I have 4 wreath boxes that hold each seasonal wreath I have.
Some of these wreaths are going on 6-7 years old.
Lights can be a real pain to put away and take out every year. Ever since we bought a light wheel it has made the chore of untangling lights every year obsolete, so I totally recommend getting one.
But I discovered a trick that's totally free and easy to do here!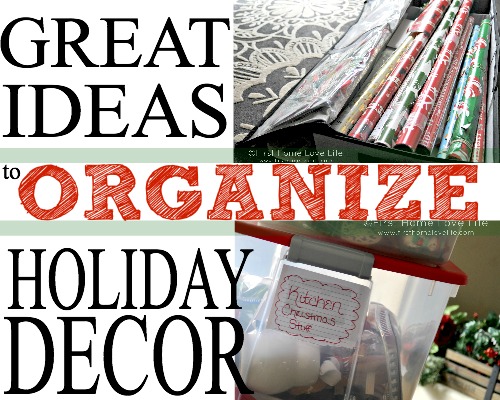 Putting away your holiday decor can seem like a daunting task. I know sometimes you just feel like throwing everything into boxes and being done with it! Taking the time to put away your decorations, organizing them, making lists of what you need for next year will not only save you time the following year, but money as well. The initial cost of buying the organizing supplies you need won't ever compare to the cost of constantly replacing old or worn out decorations, so take your time and really put love into storing away your decorations for next year. Just think, once it's done correctly, you won't have to worry about it for another 365 days!
Talk to you soon, take care!
XO
Comments
comments