My daughter is quickly (too quickly for my liking) approaching the age of FIVE, and with that comes all these new traits and talents that were once hidden under diapers, onesies, and chubby baby thighs. Oh, how I miss those thighs…
My daughter… the drama queen, the diva, the social butterfly, the ARTIST, the fashionista, the comedian, the bubbly firecracker that she is…


Loves to create. Anything and everything. She is at that age where everything must be beautified (including her Barbies that recently received haircuts from La Zoe Salon.) So I knew she needed somewhere besides the side of our fridge to display her heARTwork.
While browsing around IKEA today I spotted these $2.99 curtain clips. Racking my brain, trying to remember what I had seen on Pinterest but didn't pin, I threw them in my big yellow bag and hatched a plan.
The wire and hooks I already had on hand. I believe they came in a picture hanging kit that you could pick up anywhere. You could use string, yarn, rope etc… Take the inspiration and use what you have, because the main focus is on your child's work, not how it's hung.
This project is so easy and fast, so don't blink! You might miss something! Ready?
1. Screw the eye hooks into the wall, and tie the wire securely around and around until it's good and secure.
2. Now pull the wire across the wall to where you want your line to end, screw your other eye hook into the wall, and tie the wire to it just like before.
3. Hang your clips on the wire.
4. Repeat steps 1-3 if you want additional rows.
That's it!
You now have a perfectly functional and pretty gallery style wall to hang all of your child's most precious heARTwork.
What's that you say?
Where
is this? In the kid lounge a.k.a the playroom. It's not quite ready for it's reveal yet.
What the heck?! It's only been 6 months since I started working on it!
You can see the original sneak peak
here
if you likey. What can I say? I get easily sidetracked and keep projects, and room makeovers in limbo for a while. ;o)
Linking up with…
http://savvysouthernstyle.blogspot.com
www.vintagegwen.com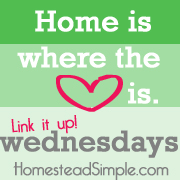 Talk to you soon,
Comments
comments