Hi friends! Today I wanted to show you this fun and FREE Christmas art printable I made for our wall!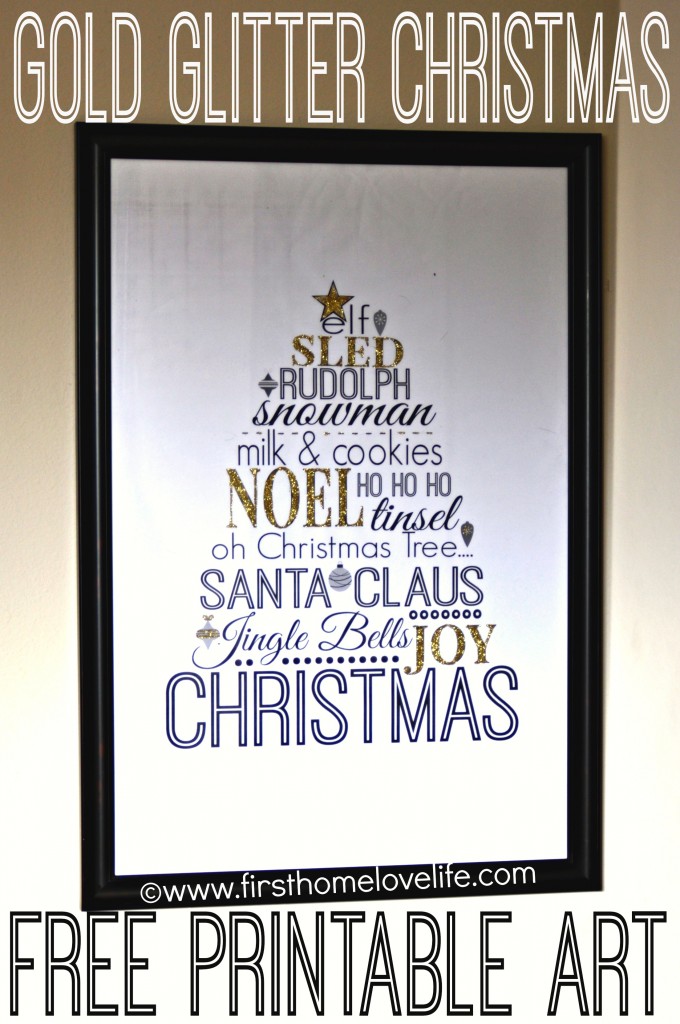 I think a lot of times when we decorate for holidays, specifically Christmas, we tend to over look the simplest details like changing out our existing art.
In our house we have this large 2x3ft frame hanging up in our family room with blue and green art in it. I wanted to switch it out to make it a bit more festive, but not go with the traditional red and green color scheme. So I sat at my computer with my daughter and told her to think of Christmas, and tell me the words the popped in her head. This is what she came up with 🙂
I also made it in the shape of a Christmas tree to add a little more whimsy to it. I love the way it turned out!
So now for a tip…I wanted to have this printed really large, so it would fit perfectly into our frame. So instead of printing out the file on my home computer I sent it to print out at Staples as an 36"x48" engineering print…for…less than $4! How insanely awesome is that?!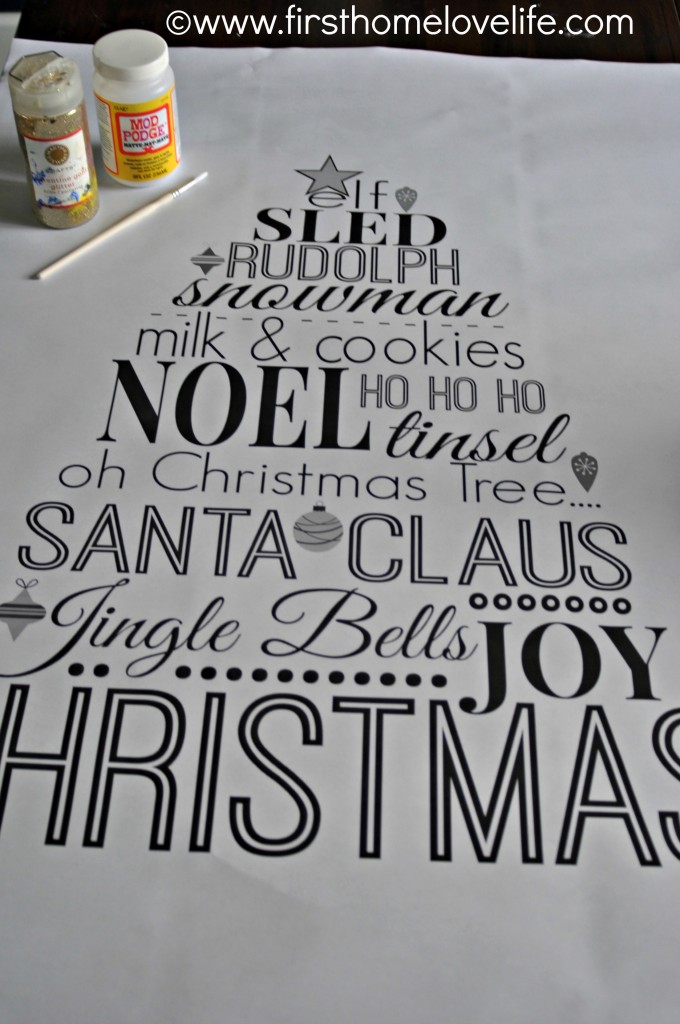 When I picked it up this is how it looked. A little too black, white and gray. So out came the Mod Podge and Martha Stewart fine gold glitter.
I picked which font I wanted to glitter up and began painting with a small paint brush over the letters, working in sections.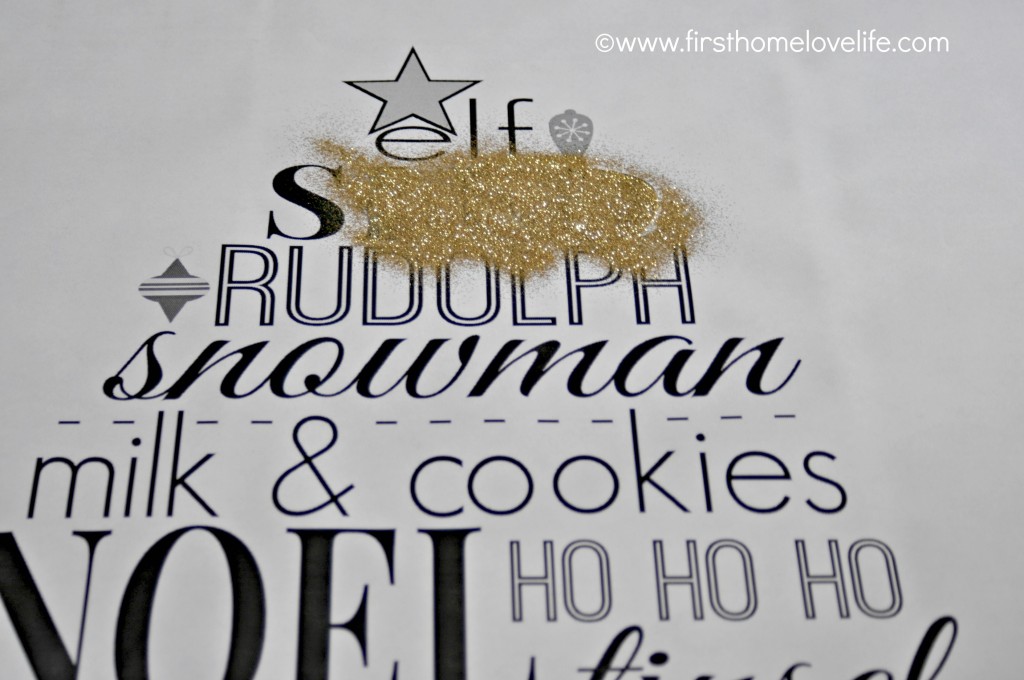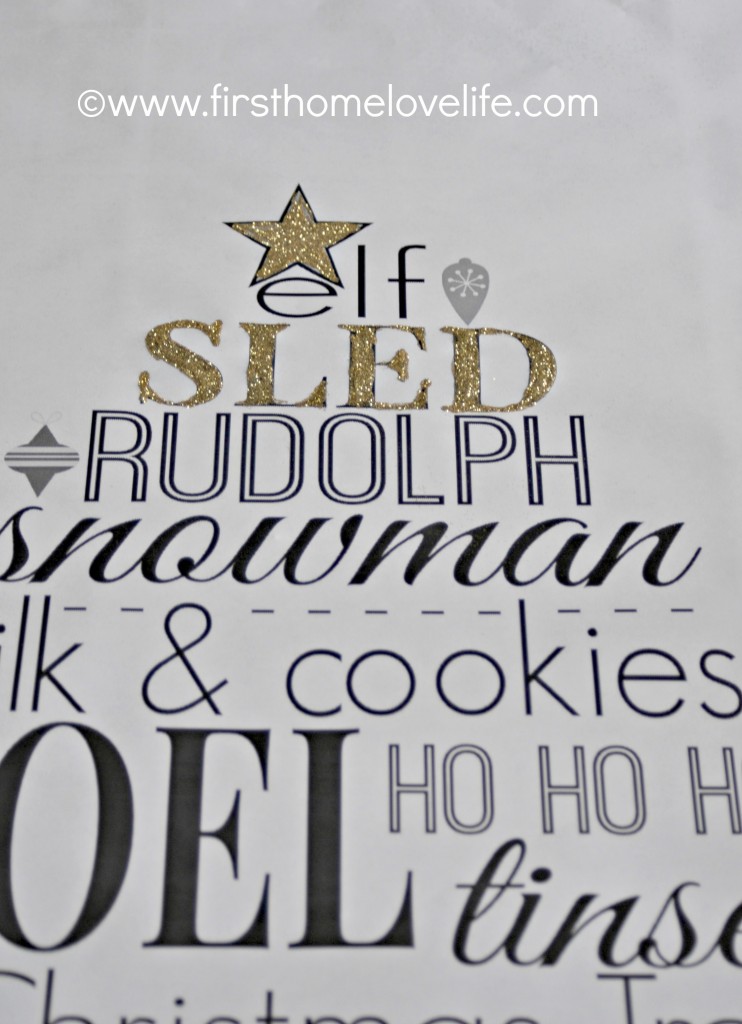 If a few spots came out too clumpy or went outside the lines I came back with a stiff bristle brush (I'm using the Martha Stewart stenciling brushes) and in a small sweeping motion would fix my mistakes.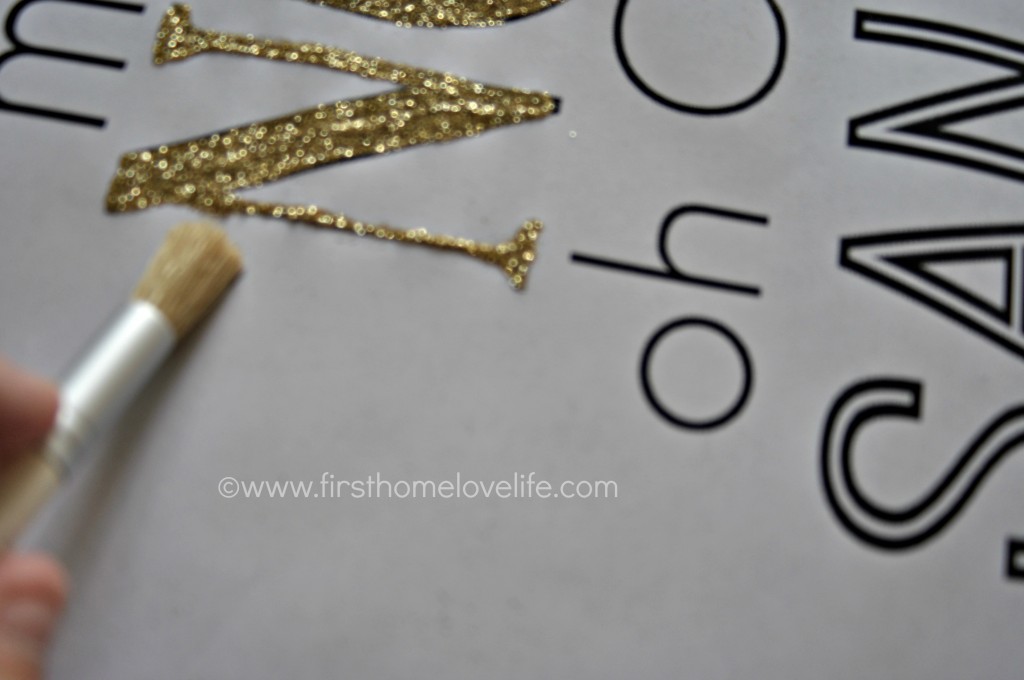 Then when it was all dry and glittered up to my liking, I went back over the glittered words and ornaments with another thin coat of Mod Podge to seal it, and once that was dry hung it up in the frame.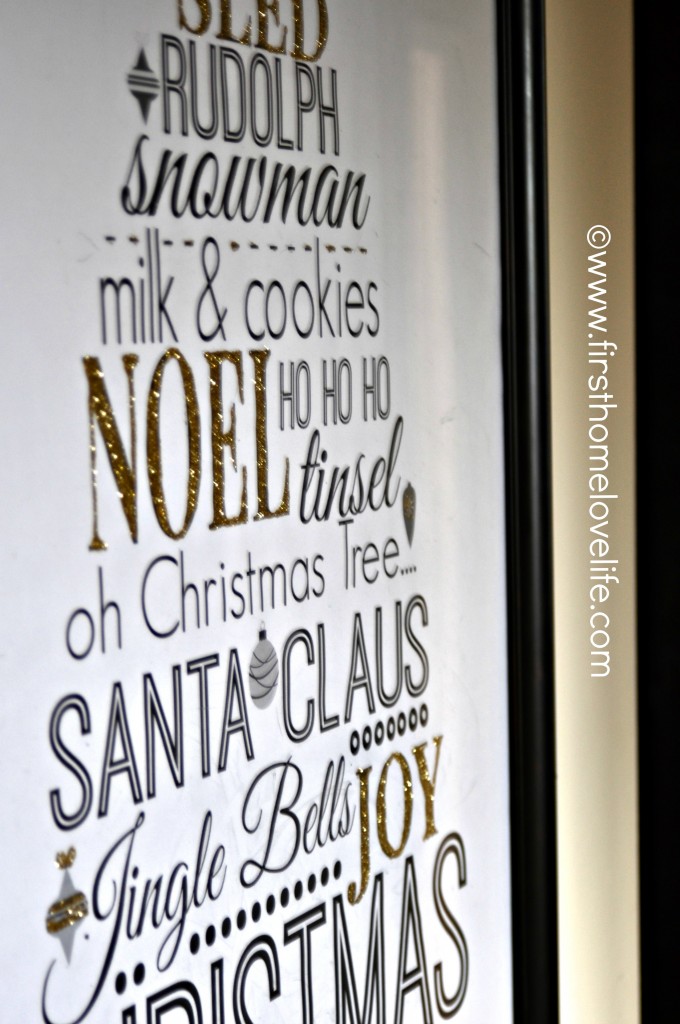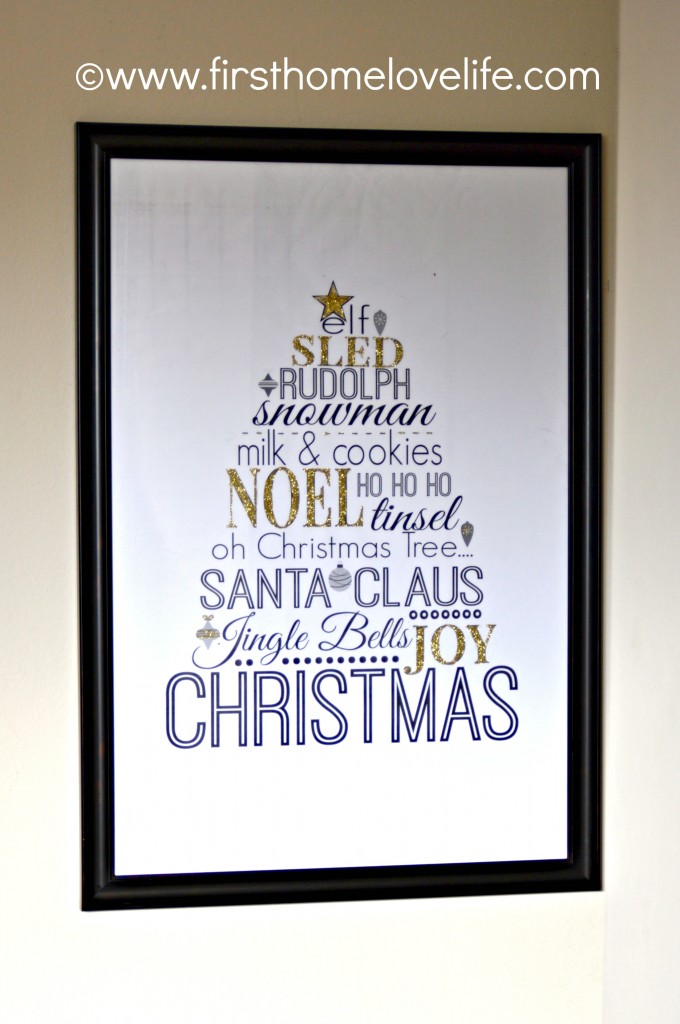 It's simple, but completely festive and fun, and the best part about it is it's customizable, so maybe you want to do red and green glitter, or jewel tones. Anything you like…because I made it into a FREE PRINTABLE FOR YOU!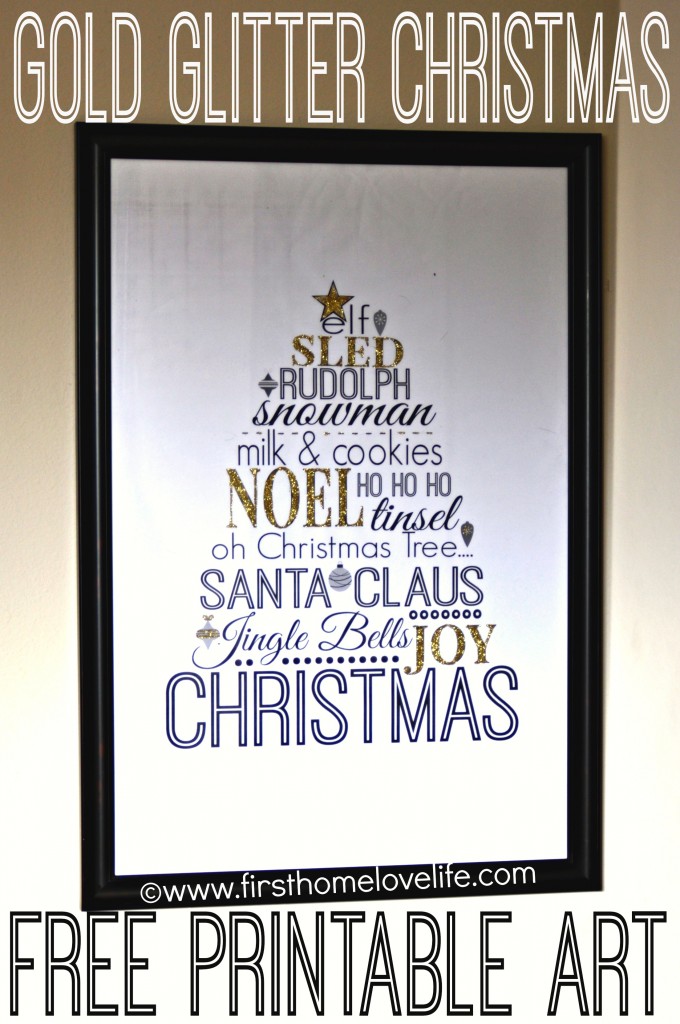 Have you started Christmas decorating yet? Are you almost done, or completely finished? I'd love to hear about it in the comments below or on my Facebook page!
Don't forget to check out my other Christmas projects before you go!
Talk to you soon friends, take care!
XO
Comments
comments