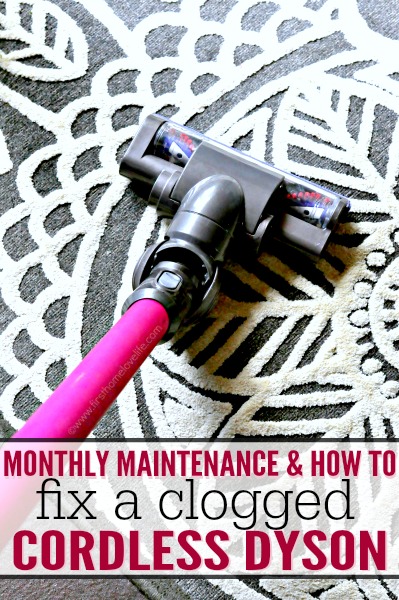 The other night I went to do a quick sweep of the house with my cordless Dyson before we had company only to find it clogged. Let me just start and say I love that little (but powerful) vacuum because it has basically replaced my need to use a broom and dustpan. I keep it fully charged and ready to go in my laundry room and am able to do a quick all over sweep of the floors in about 10 minutes, but clogs are inevitable every now and then, especially if your house is covered in black labrador hair x2. Luckily it's an easy fix most of the time, so today I'm going to show you how I do monthly maintenance and fix a clogged cordless Dyson. Hopefully this will be helpful to some of you that may run into this same problem. 🙂
Let's start with the monthly maintenance…
It's pretty easy to do and ensures your cordless Dyson will keep running properly and efficiently. Vacuums are an investment so you should take the time to take care of them, don't you agree? 🙂
First, open the filter area.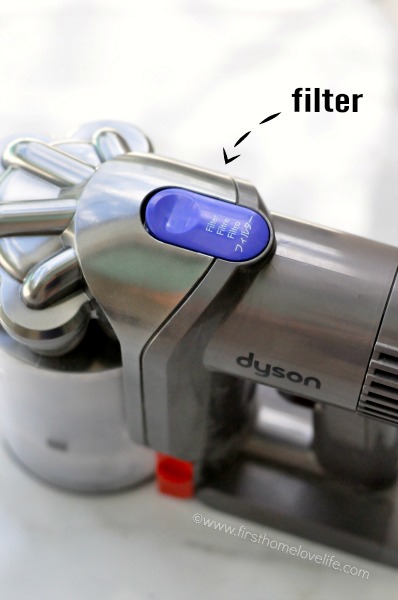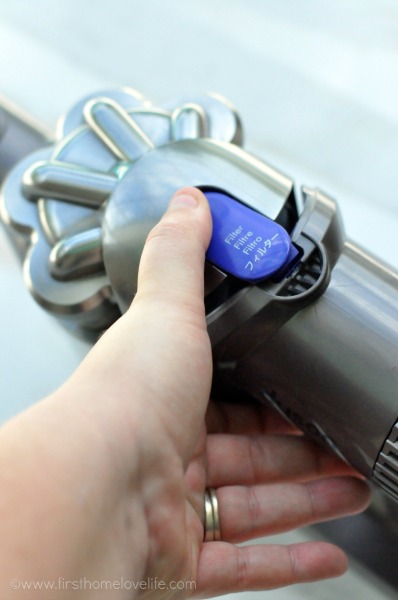 Once it's open, you can remove the filter to shake it over a trash can to remove loose dust and debris and then wash it under cool running water. Let it sit out to completely dry overnight before putting it back into your Dyson.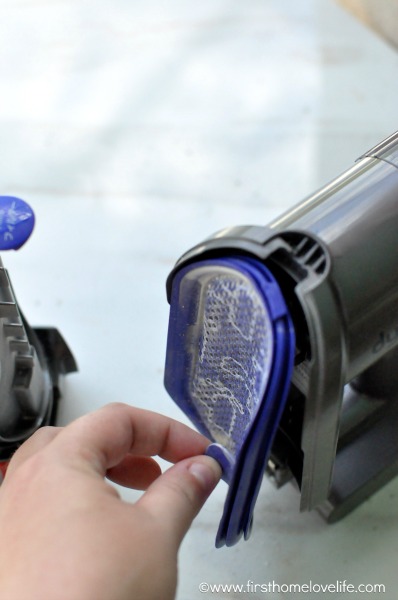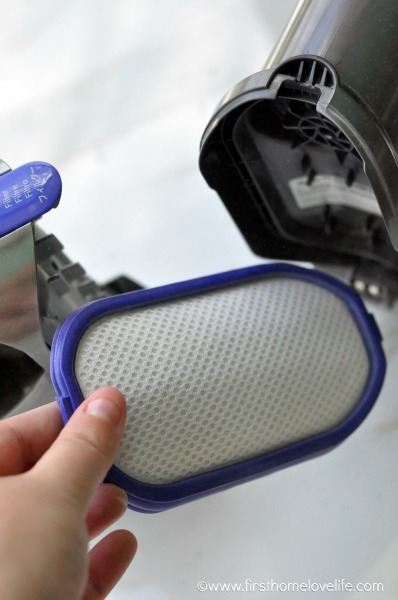 Once a month I'll also take the time to give my attachments a quick one over. The main one I use on my floors is the standard bristle head attachment. Usually after a month of use it's tangled up a bit with hair and other things so I clean it out.
To do this, you'll need a coin and an old tooth brush and/or comb.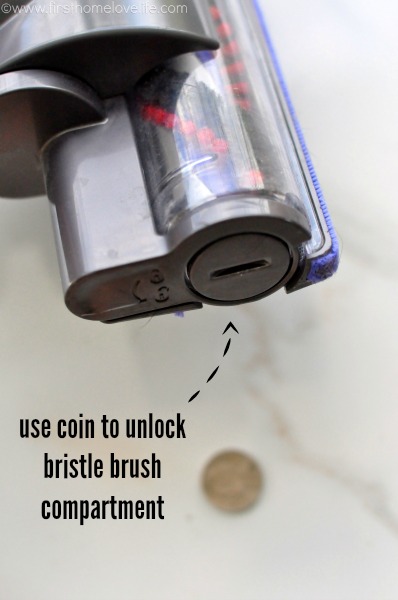 Once you unlock and take off the cap you can pull out the brush.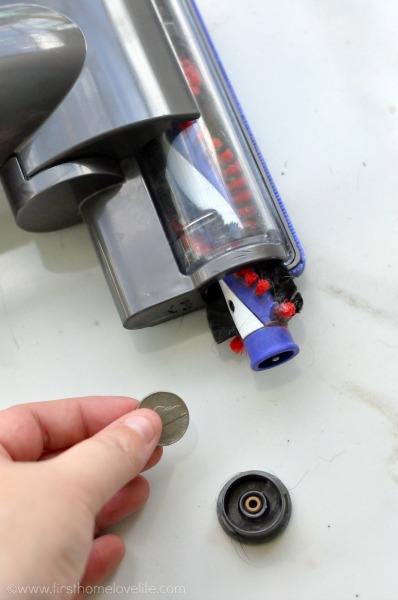 And then using a toothbrush and/or comb, and of course your fingers, clean off any hair or anything that has gotten tangled around the bristles.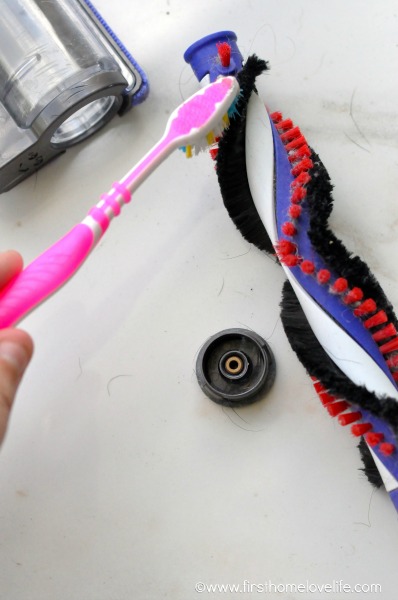 Now is the time to check if it's clogged too. Usually your Dyson will tell you if it's clogged by the sound it makes when you turn it on.
Instead of a steady vroooooooooooooooommmmm…. You'll hear it sputtering like vrooom vrooom vrooom vrooom… until in eventually stalls out and shuts off  after about 30 seconds.
In my experience, 90% of the time the clog is in the attachment head, so here's how to clean it out…
You'll need a flashlight, something long and skinny and preferably pointy. A metal clothes hanger works great, you'll just need to shape it to get the hook thin enough. I personally use a metal kabob skewer though and keep a pair of scissors nearby in case I need to cut anything so it will fit through the opening to unclog.
First shine the flashlight down the neck of the attachment. You can usually see the blockage.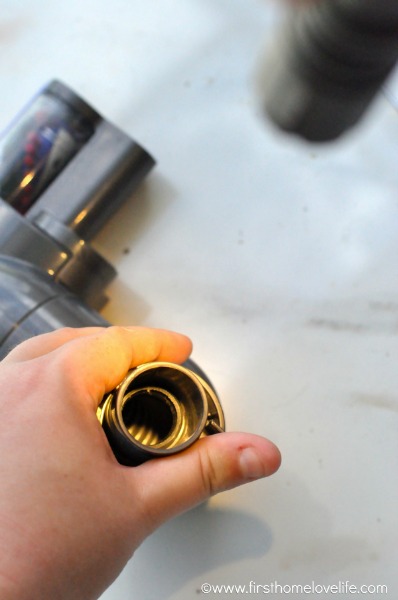 Remove the bristle brush (like shown above) if you haven't already and use your long tool of choice to try and either pull out the clog or push it down further.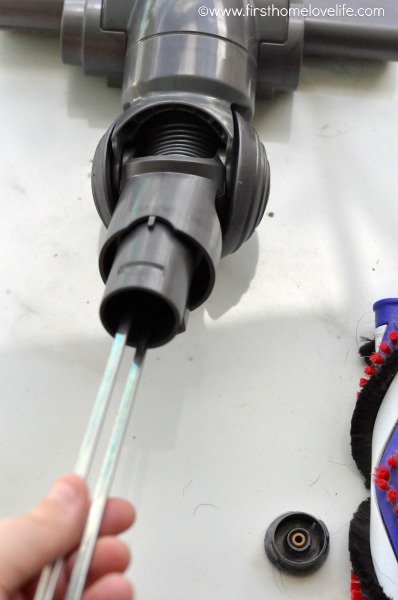 If you push the clog down further you can remove it from the opening in the head where the brush was removed. See the opening?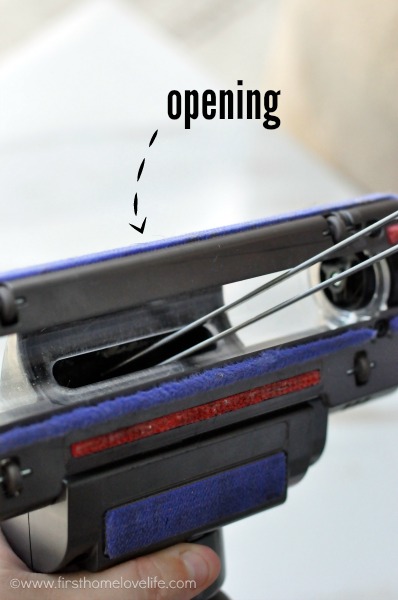 After you've removed the blockage you can use a toothbrush to give the inside of your attachment a dusting, and then put it back together.
Your cordless Dyson will now be good as new!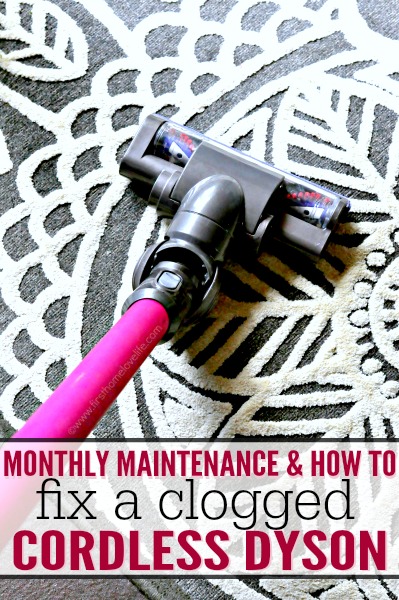 I hope you found this post helpful 🙂
Talk to you soon friends, happy vacuuming!
XO
Comments
comments