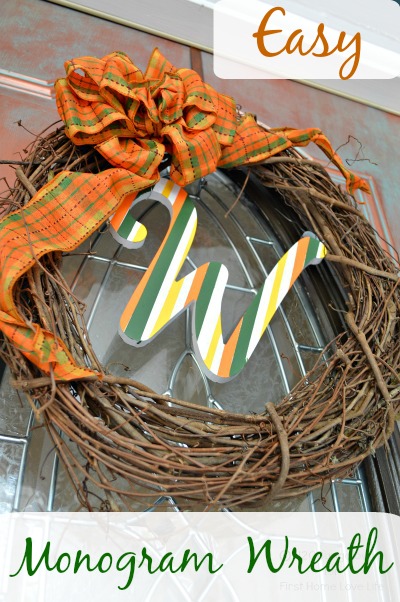 Hi there…It's me, Wendi from H2OBungalow. It's hard to believe a month has passed by already and it's time for me to share another easy DIY craft. Even though it's still really warm here in Fl, fall is fast approaching. Today is a great day to share an easy monogram wreath that you can make in less than 30 minutes.
A pretty fall themed wreath on a front door is great way to welcome in the new season. You'll love this easy fall monogram wreath and it looks great!
Easy monogram wreath supplies:
18″ Grapevine wreath
1 letter, painted or unpainted
5 yards wire edged ribbon or a premade bow
floral wire and wire cutters
Hot glue and glue gun (optional)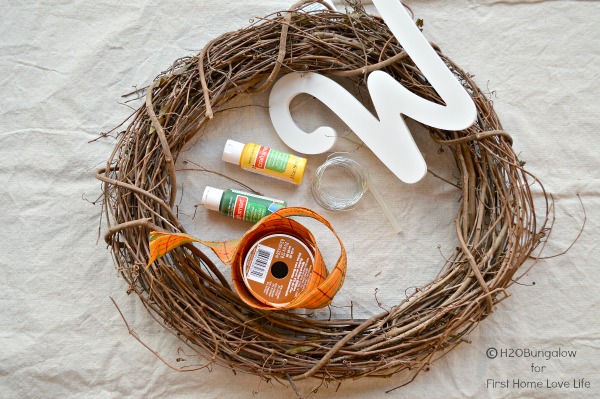 If you do decide to paint your letter, do that first. While your paint is drying, make your bow. If you went for the super easy wreath building version and bout your bow, grab a cup of tea or coffee while your letter is drying 🙂
For the adventourous who opted to make thier own bows, follow my picture tutorial for a simple way to make one.
Fold your ribbon back and forth until you've used up just over 4 yards of ribbon and have 7 folds on each side. The first fold is about 4″ long, the next two are about 6″ long and the last four are about 8″ long. Last you'll take a piece of wire and twist it around the center. Take your remaining section of ribbon and tie it across your sections in the center, so it hides the piece of wire. Let the two long bow "tails" hang down. Fluff and adjust your bow when your done.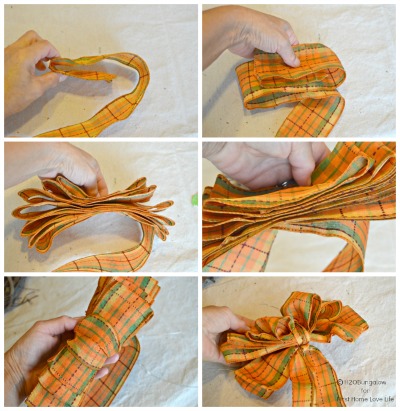 Tie your bow and letter onto your monogram wreath from the back with your floral wire. Add a little hot glue here if you prefer.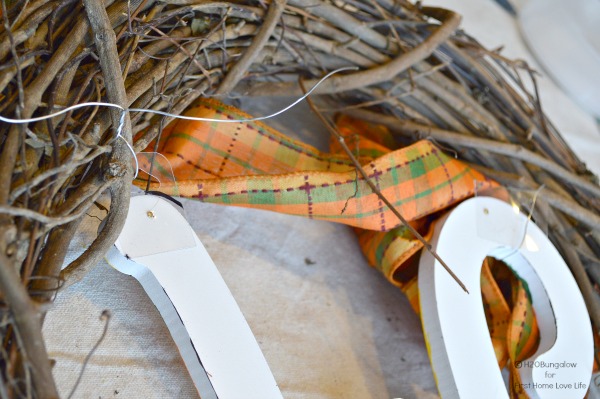 That's it! You've made an easy monogram door wreath. Fluff your bow, hang your wreath.
Stand back and admire your lovely door wreath.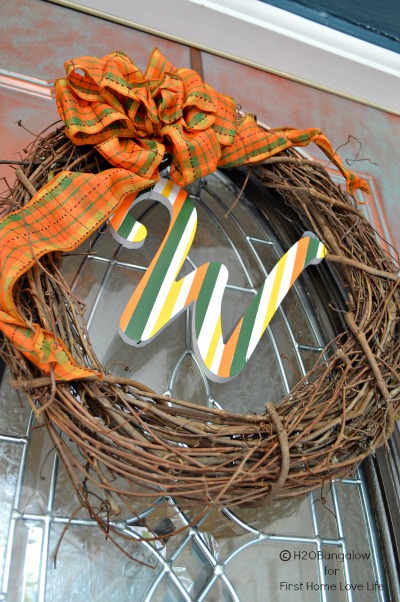 The wreath is beautiful and you don't have to let on it was super easy to make 🙂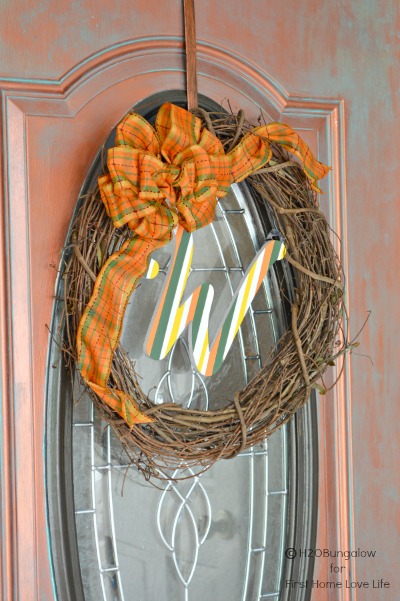 In case you're wondering, yes, my front door is aged copper.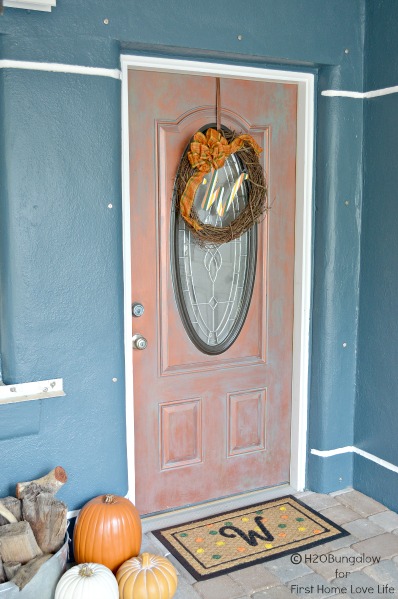 If you liked this easy craft, you'll love my matching fall front door mat shown in the picture. Stop by my blog, H2OBungalow this Thursday for the easy tutorial. One of my other favorite fall tutorials is my No Sew Burlap Table Runner. Here's the tutorial on my faux painted copper front door.
You can find me at H2OBungalow.com or follow me on Facebook , Twitter and Instagram.
Until next month..Happy Crafting!
XO- Wendi

Comments
comments