BIG, HUGE, GINORMOUS THANK YOU TO NATIONAL BUILDER SUPPLY FOR SPONSORING THIS POST!
I'm probably making over this dining room completely backwards…You know…the whole not having chairs thing… but I could care less about decorating faux pas because this room is quickly turning into the room of my dreams! One of my 2013 home goals was to makeover this room. Not only for the purpose of making it look lovely, but because in all seriousness I actually want to use it more than twice a year!
So here is the journey this room has been on to date…

It started out as a freshly primed room. When we moved in I was really afraid to do anything "crazy," so I played it safe and painted the whole house beige. Big mistake! After only a few months in I knew it was all wrong, but because we had just spent so much money on gallons and gallons of beige I lived with it until it started to need touching up.
Commence de-beige-ification!
That's now where we are. Starting in the formal areas, since those are the ones people see first when the enter our front door and since the holidays are coming up fast I'd really like these areas somewhat done before then. I shocked my husband when I told him I wanted to paint the house white. He thought I lost it, but it's the best decision I could have made. It's allowing me to be bolder with my decorating decisions because I don't have to worry about it clashing. It's liberating. I finally feel like I have unlimited decorating paths to venture on. It's exciting and I'm so glad I get to share this journey with you!
Once we painted all the walls white, I looked at our unfinished paneled wall that we had done. Originally…in my beige-y daze I had wanted to put up (surprise, surprise!) BEIGE seagrass wallpaper to add some texture. I'm sure it would have looked lovely had I actually followed through, but I wanted something different…something a little more glam.
See even though I'm a HUGE lover of industrial and that's primarily what I lean towards…there's this part of me that loves gold and brass, deep rich colors, and mirrored furniture. Is there such a thing as industrial glam? If so…that's what I guess my taste has evolved into. I mean you've seen hints of it here and there like my gold faux bois vases, my daughters dresser makeover, and little hints of gold painted accessories throughout my house…
So we painted the paneled wall navy, and bulked up the molding with quarter rounds to give it a finished off look.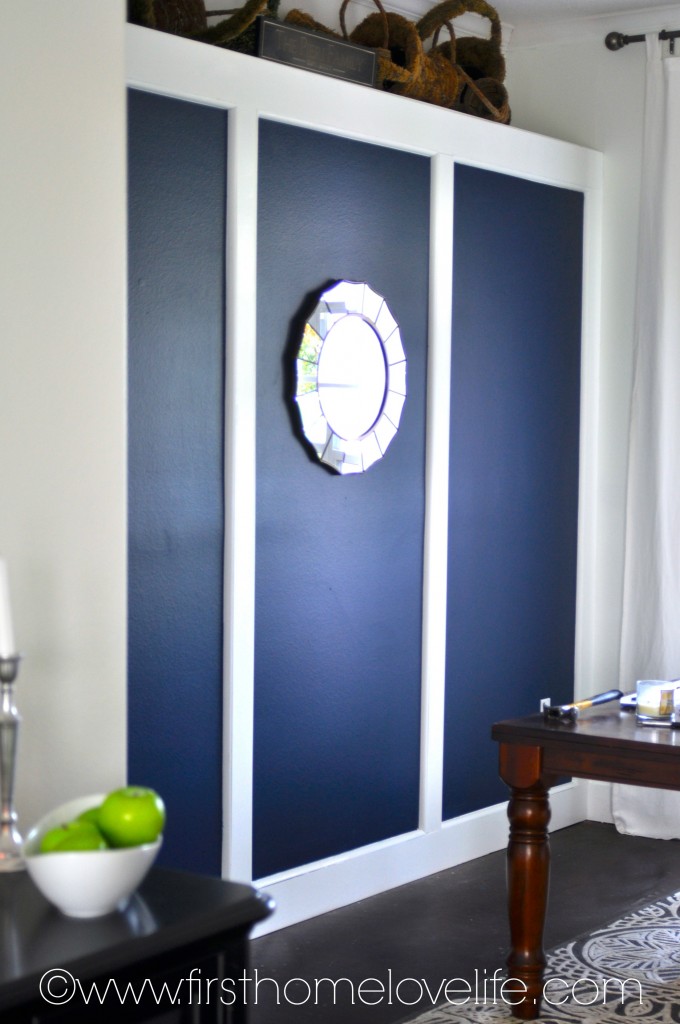 It was starting to come together, but something was and had been throwing it off for a very long time…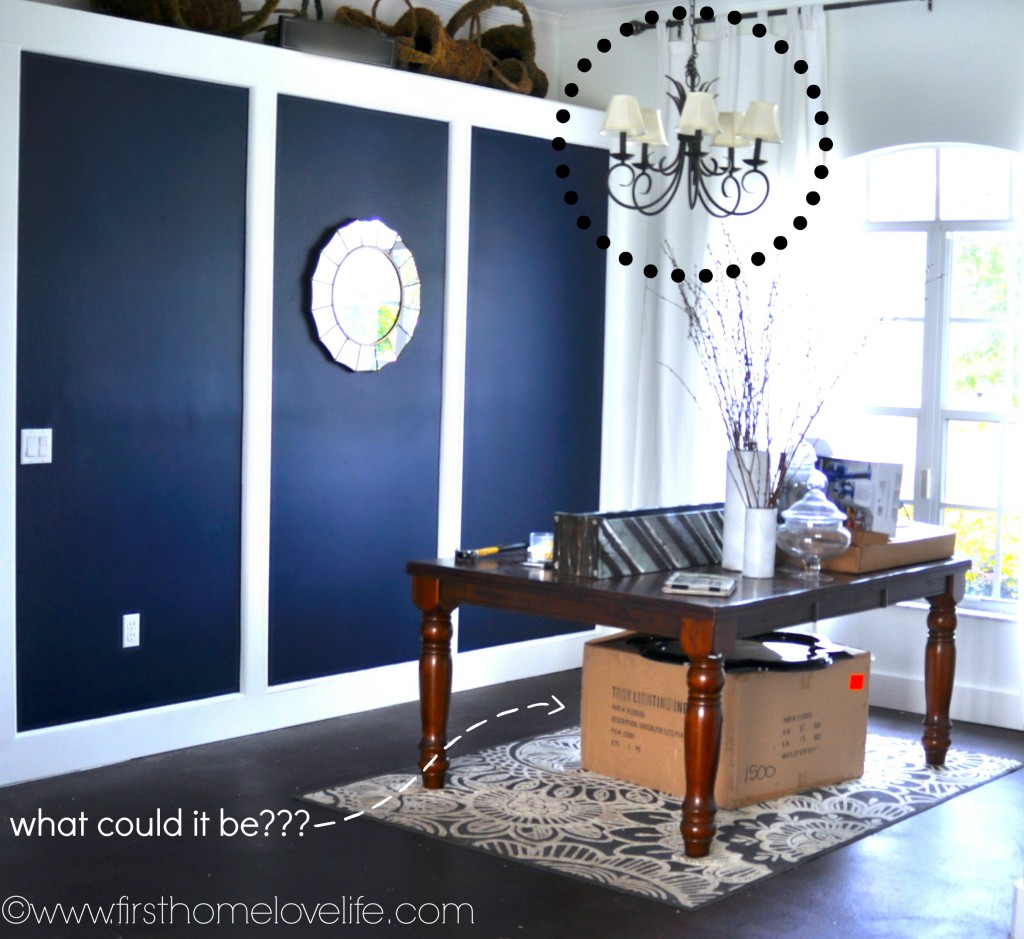 The light.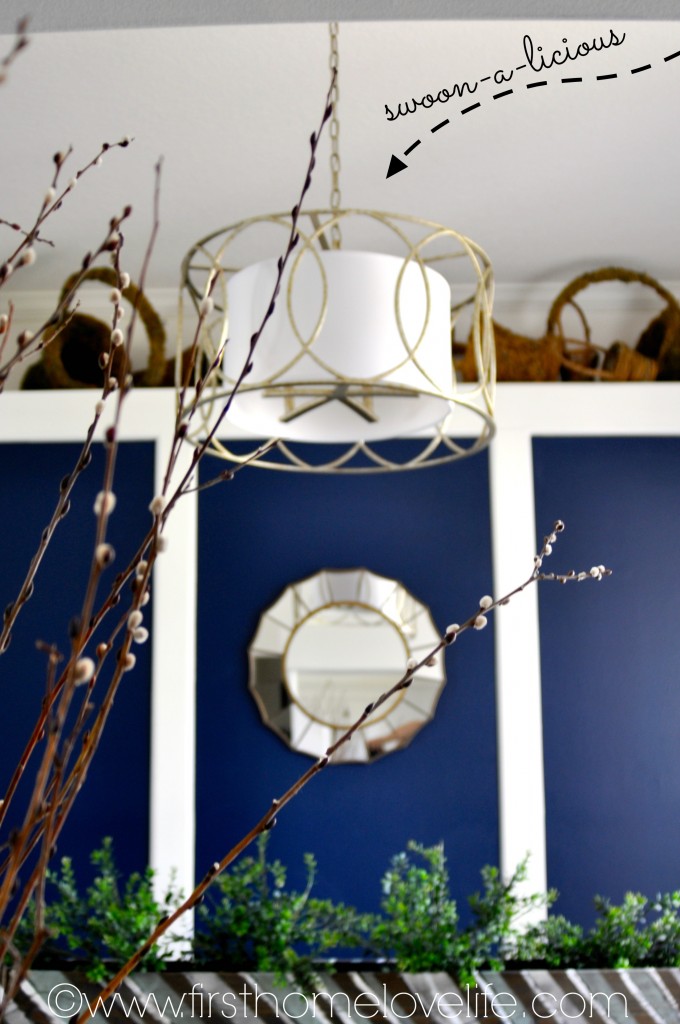 Right before I went to Indianapolis for the Delta Blogging Event, I was approached by an online company- National Builder Supply. You may have noticed their little button over >>> there on my sidebar. That's because they are my newest sponsor, and I adore them! They wanted me to pick out something on their site so I could review it. Blogging totally has it's perks guys…I'm not gonna lie…
I was instantly sucked into their site with options galore. Bathroom fixtures, faucets, showers, tubs, toilets, lights….It was nirvana!
What do I choose?! I wanted one of everything! They carried items for any taste and budget, and I was pretty impressed with how competitive their pricing was compared to big box stores, and other online retailers.
So on a whim I entered into their sites search box, the light that I had been drooling about for months, the Troy Sausalito Pendant Light.
IT POPPED UP!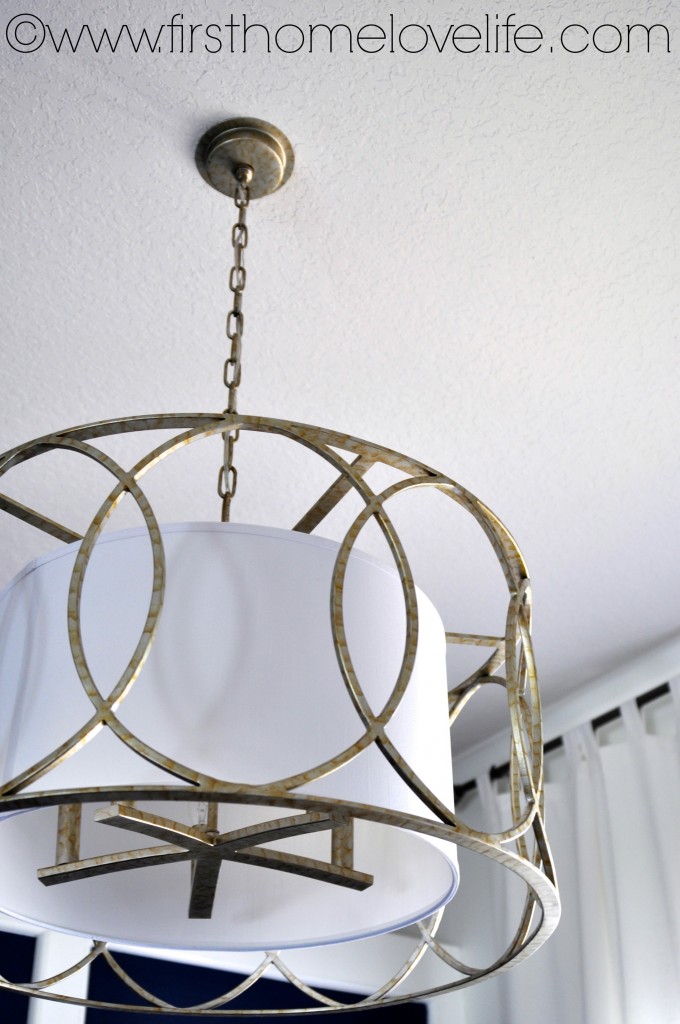 What makes this light so unique and absolutely stunning is the finish. Is it gold? Is it silver? It's both! Its hand-forged iron, and hand applied finishes are what makes this an absolute attention getter! It was super easy to install as well. Nothing major to put together over then fishing the wire through the hanging chain, but that seems to be common with most pendents or chandeliers.
It has completely changed the look and feel of the space…
So yeah…I might not have chairs figured out yet, but I have the jewel of the room and I'm just thrilled with how it's slowly coming together!
It's all about the details anyway, right?!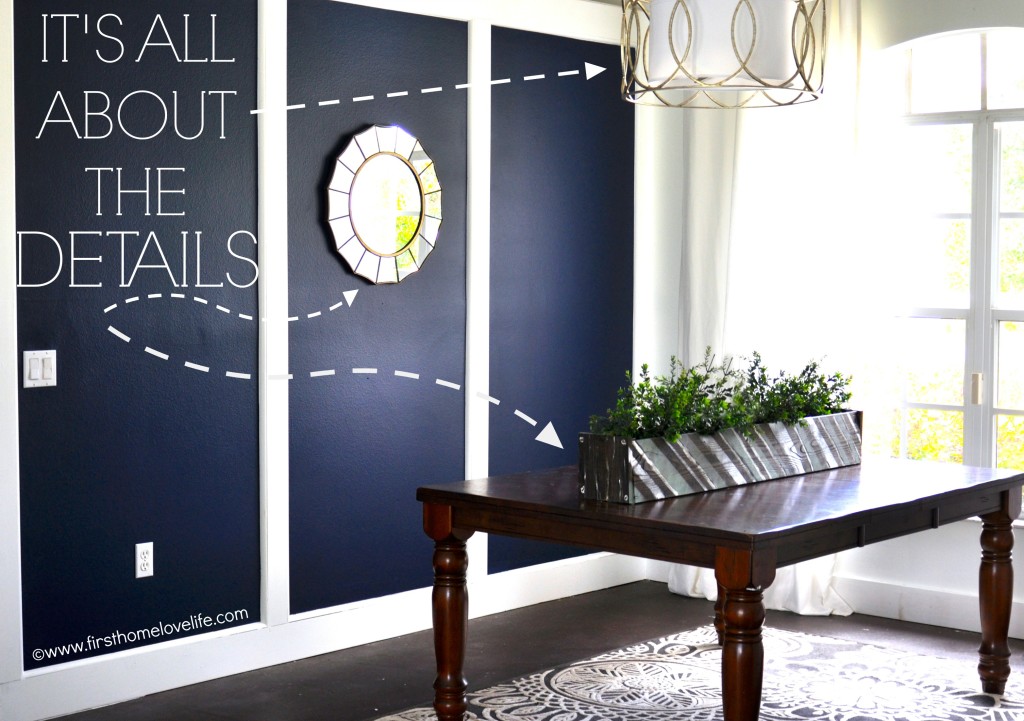 How do you like the direction our dining room is heading in? Love the light? How about the navy wall?
I'd love to hear your opinions about what kind of chairs I should buy either by leaving a comment below or on my Facebook page!
Talk to you soon guys, take care!
XO
Disclaimer: I received this light and/or compensation from National Builder Supply to produce this post. All opinions are 100% my own. For more information of First Home Love Life's disclosure and privacy policy click here.
Comments
comments