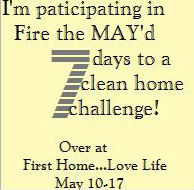 How did you guys do yesterday? 
See…I told you this would be a breeze!
Are you ready for today's assignment?
 Go grab that bottle of water, and light your good smelling candles….it's time for day two!
Day 2 Cleaning Schedule
unload dishwasher

run one load of laundry

wipe down kitchen cabinets
WOOD DAY: since everything should be nice and free of dust. Go grab your wood polish and a cloth and give all your wooden surfaces a good wipe down. Including your kitchen cabinets (if they're wood)
wash floors in main living areas

fold and put away laundry

load dishwasher
Make sure to link up so you can win that gift basket of $50 worth of my favorite cleaning products and supplies! Today I want to see the difference in your furniture from giving it a good polish…like this…
After
Look at that shine!
Wood furniture benefits from a good polish every few months. A little goes and LONG way, so don't use more than a tablespoon per piece of furniture.
Now if your sitting here saying…
"What is polish?" "Never heard of polish?"  "What?! You're supposed to polish your wood furniture?!"
Don't worry! 
Guess what I'm throwing in the prize basket today?
Happy Cleaning!

Comments
comments