We have had this sad little area next to our screen enclosure ever since we moved in (almost 2 years ago).
I wasn't really sure what to do with it…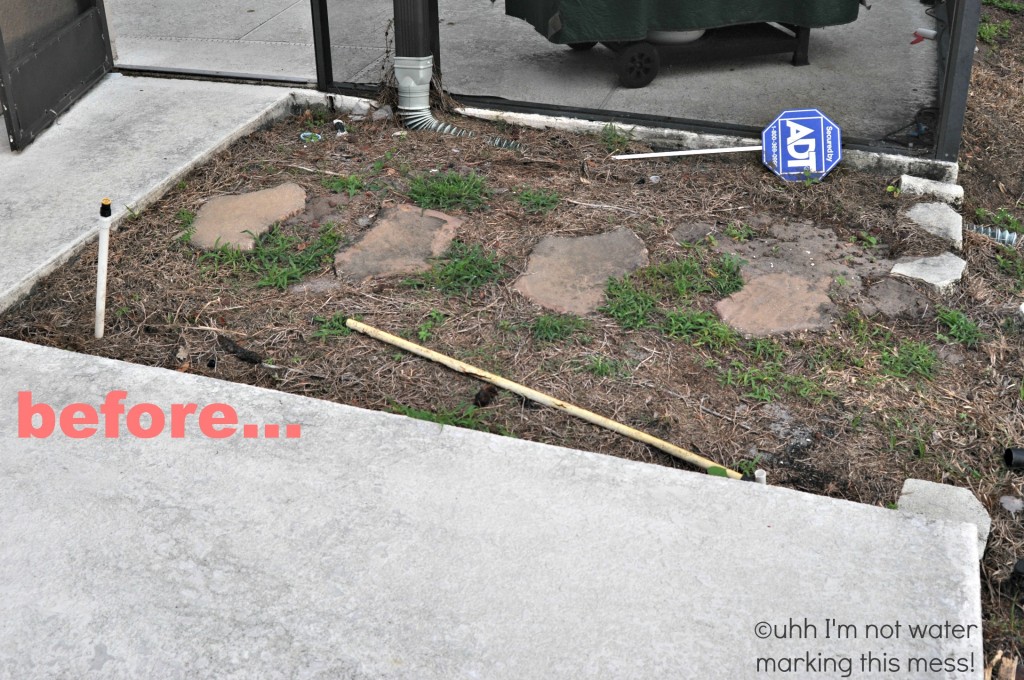 Originally I was thinking it might be a good area to plant roses, but it gets pretty shaded in the afternoon, and roses need to have a lot of sun.
So last week, when I was out grocery shopping, I picked up a pack of those prepackaged fresh herbs and the light bulb went off…
Why am I spending $5 every time I need fresh herbs when I could buy them potted and grow my own?
The space needed a major overhaul… I wanted to leave the stepping stones, but fix the stone retaining wall since our back yard slopes down.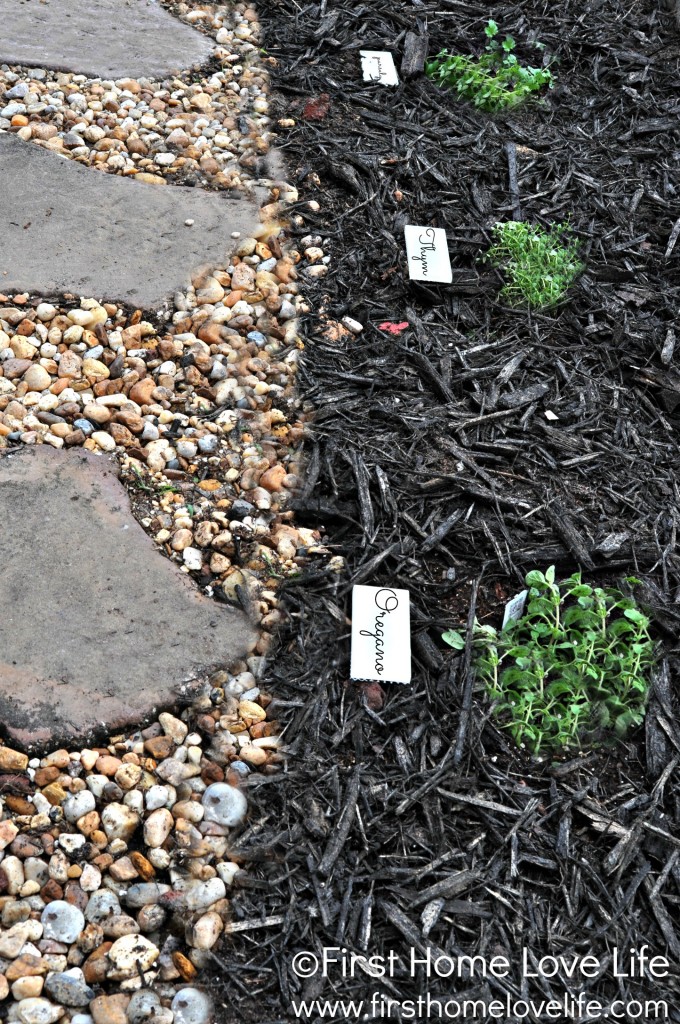 In a little over an hour my husband pulled up the dead weeds, laid weed block fabric, and added organic gardening soil.
We planted a few herbs (the ones I use the most) and then surrounded them with black mulch, and accentuated the stepping stones with river rocks to create a clear path.This way when I need to snip off a few leaves I won't have to walk in the bed.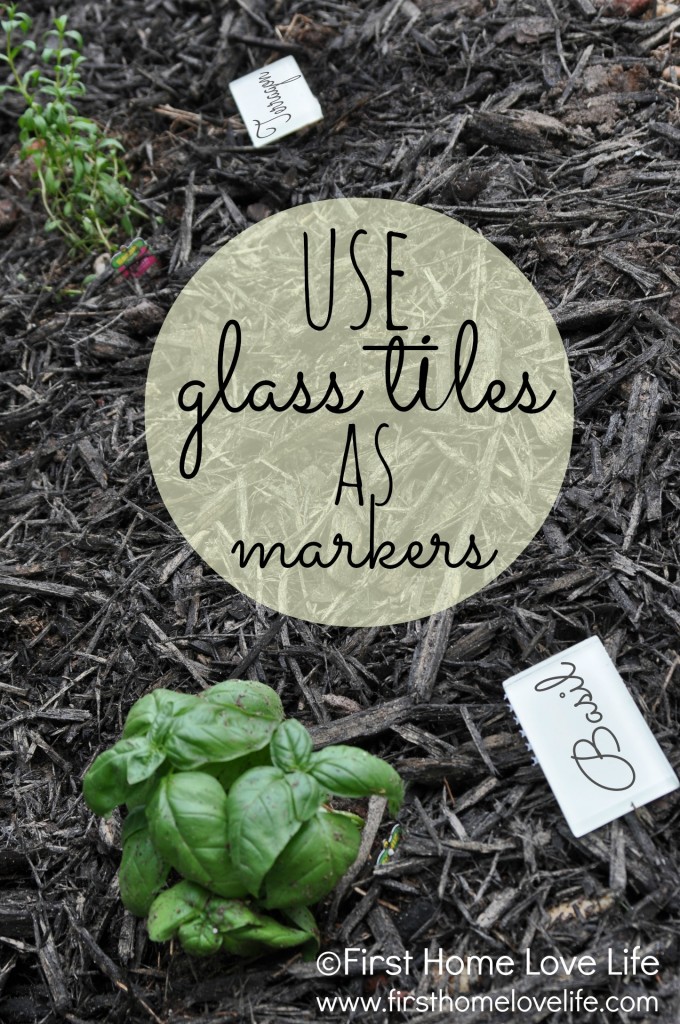 I had a sheet of glass tiles sitting in my garage, and thought they would make really pretty herb markers. So I cut the individual tiles off of the mesh backing, and printed out the names of the herbs I planted onto vinyl, then painted poly over everything to seal it. I'm not sure how the vinyl will hold up in the long run, but for now it looks great and didn't cost me a dime to make, so I'm happy with it.
The space wasn't too big (5x4ish), and I didn't want to over crowd the plants. Herbs really spread out over time, so 3 on each side of the stone path seemed perfect, and I only planted what I know I use a lot.
Here's what I planted and how I usually use it…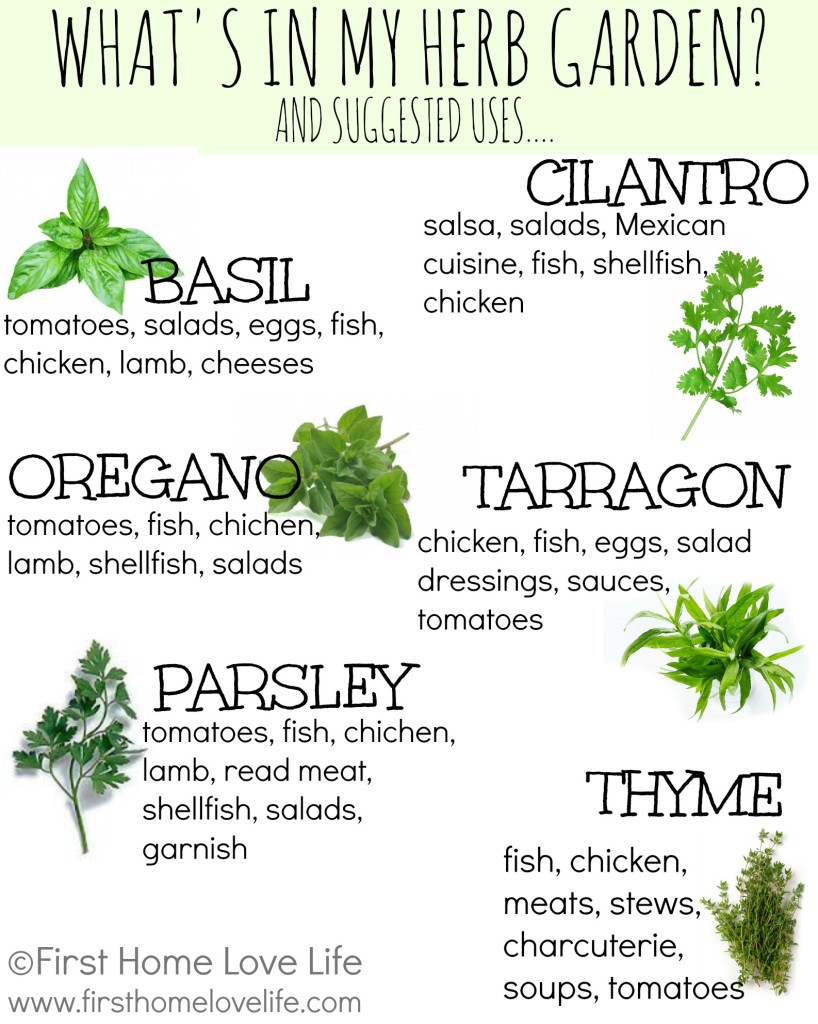 If you're not familiar with cooking with herbs and their flavors, then my best advice is to experiment. Herbs are fragrant, so go to your local nursery and stick your nose in them, even pull off a leaf and pop it in your mouth. You'll know if you like it right away.
Basil- is sweet and goes good on almost anything especially tomatoes and tomato sauce
Oregano- kind of peppery and earthy, a little goes along way, goes great with Mediterranean food
Parsley- I planted flat leaf, but there is also a curly variety (better for garnishing in my opinion) The flat leaf has a better subtle taste for cooking, earthy with a hint of lemon
Thyme- LOVE thyme, it's lemony, peppery, and earthy, just make sure to only use the leaves, the stems are too hard to eat
Tarragon- is one of those herbs you either love or hate, I personally love it, it kind of has a licorice flavor, but when put into something like chicken or tuna salad, it shines!
Cilantro- fresh, kind of spicy, but indescribable. If you love Mexican food, and salsas than it's an herb you have to have in your garden.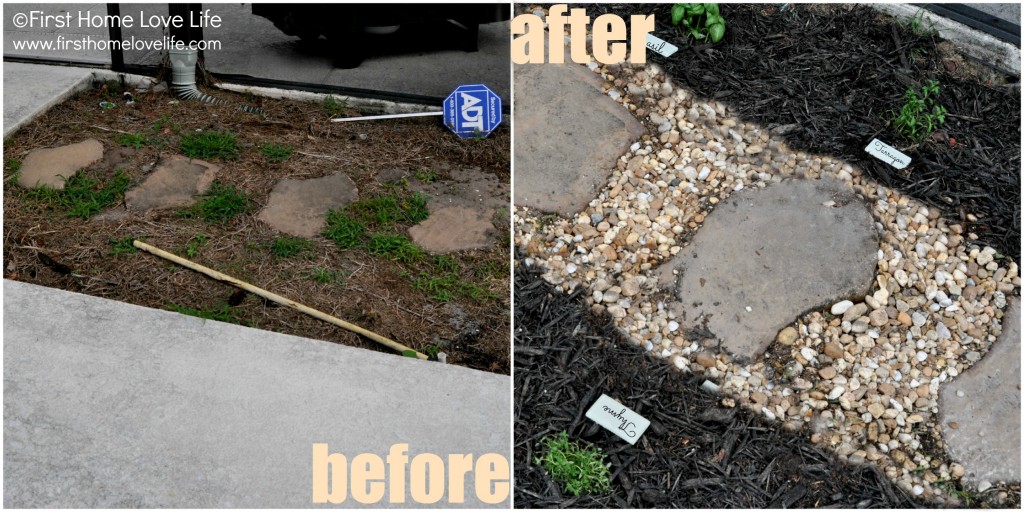 I eventually would like to expand the herbs I have. Things like rosemary, chives, and dill are herbs I use on occasion but didn't feel I needed to have right now.
I think the best thing about this other then using the wasted space that was there before is that it's usable space. Planting roses or flowers would have been pretty, but having my own herbs right outside my kitchen door will save me a trip to the grocery store, which will in turn save me money down the road.
I'm so happy with the way our little herb garden turned out, and can't wait until they start growing so I can use them!
Do you have herbs growing in your garden? What kind do you have?
XO
Linking up to Twelve-O-Eight, DIY SHOWOFF
Comments
comments