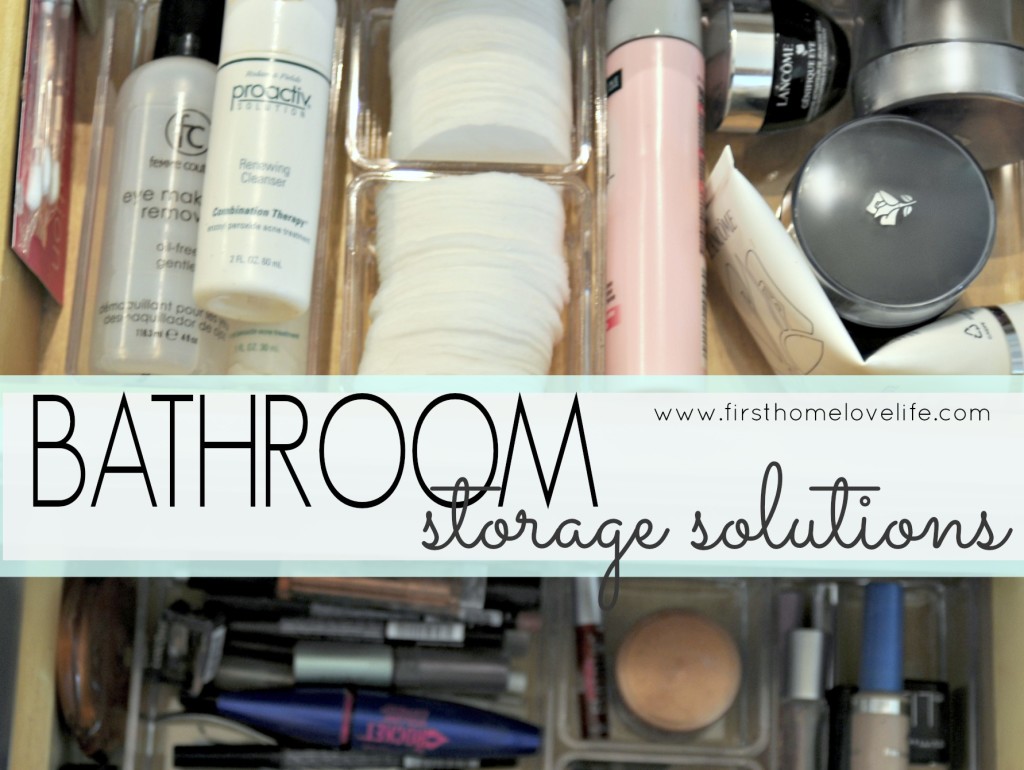 Today, I'm showing you different storage solutions and organization tips for your bathroom…
We've been living in this house for 2 years now, and I am just now starting to go back in and tweak areas that aren't as organized and functional as I'd like them to be.
It's never too late to do this
The linen closet in our master bathroom was the first to get a mini makeover. By redoing the linen closet I was able to free up space in our bathroom vanity, so I tackled that next.
I picked up some clear drawer organizers from The Container Store (they are my favorite!), and got to work.
PULL
First, I pulled everything out from the drawers and underneath the sinks.
PURGE
Anything that was almost empty, or old/expired go tossed. I always keep a pen and paper with me when I do these types of projects to write down what I need to buy or replace. This way I won't forget what I've thrown out or need.
PURCHASE
Last, head to the store with your list and purchase what you need. I always feel like an organized space isn't finished until it's restocked, but that's just me. 😉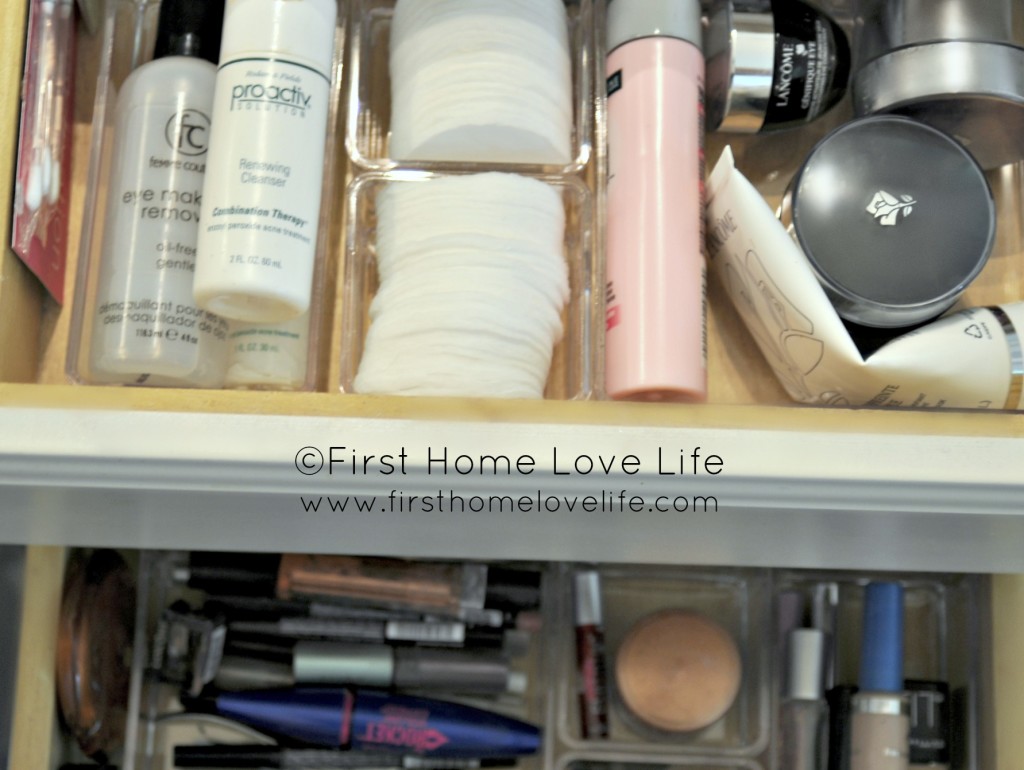 The top drawer is for skin-care related items. Cleansers, toners, moisturizers and creams…
The second drawer holds my makeup, and the third holds hair care products, and the last drawer which is deeper then the other three holds hair tools like my flat iron, hair dryer, brushes, etc…
Under The Sink
I don't store much under the sink, but just in case you don't have drawers, buy plastic drawers similar to the ones I use for our closet pharmacy, but bigger.
That will keep everything neater and more tidy.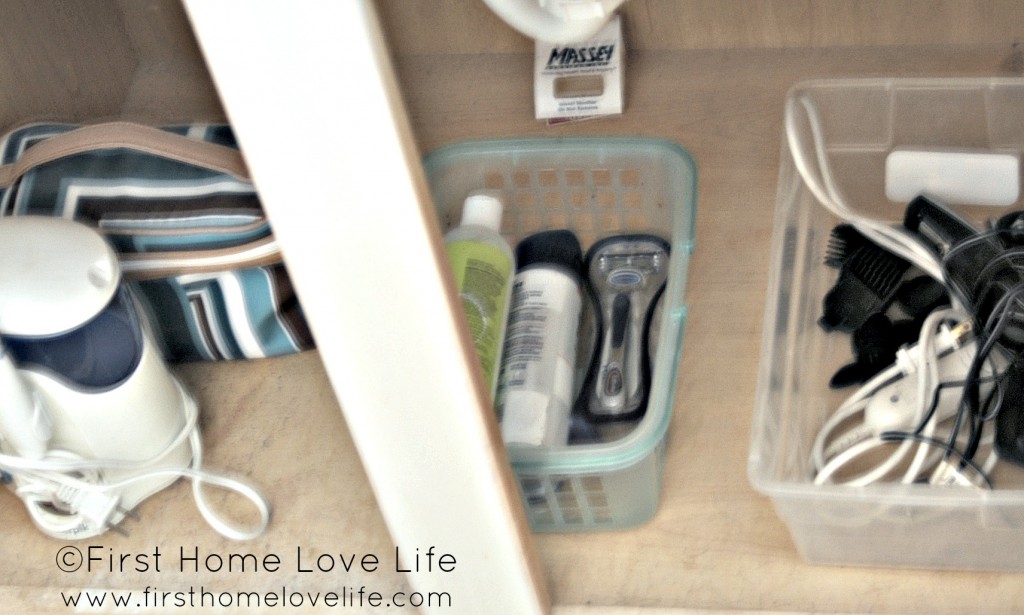 For men
My husband is a simple man. He doesn't have a ton of products or tools in the bathroom, but he does have a "habit" of leaving stuff all over the counter all the time. My solution to that problem was to create a "daily hygiene basket" for him.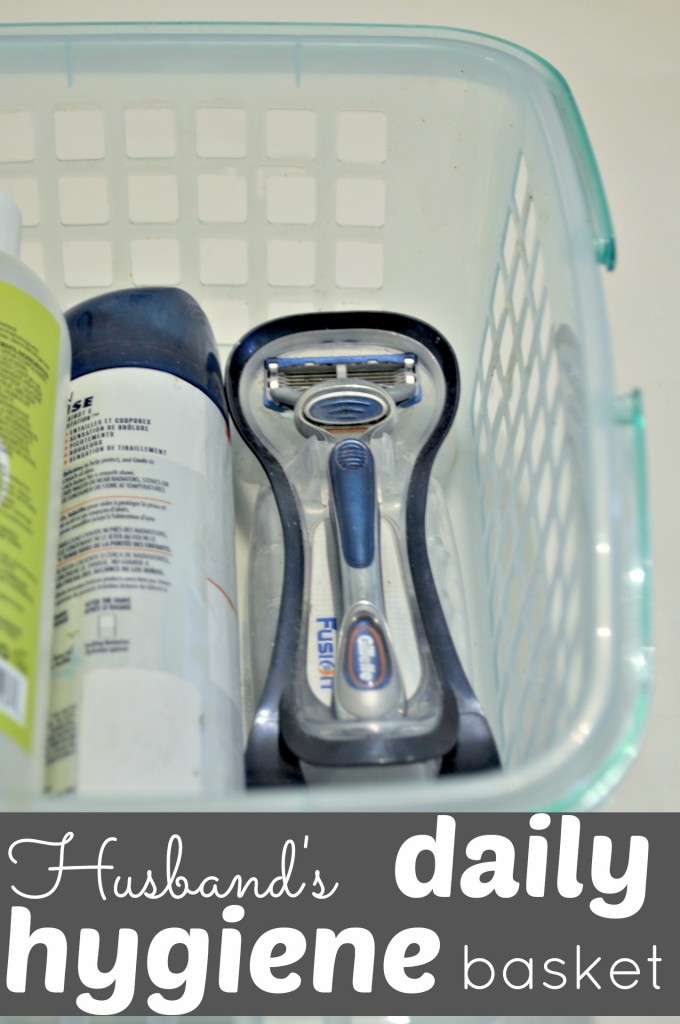 The basket stays under the sink until he needs to do his daily routine. This way everything is right there for him, and he can take out the entire basket onto the counter, use it, and put it back under the sink. This system seems to be working for him…but only time will tell if it's a true success.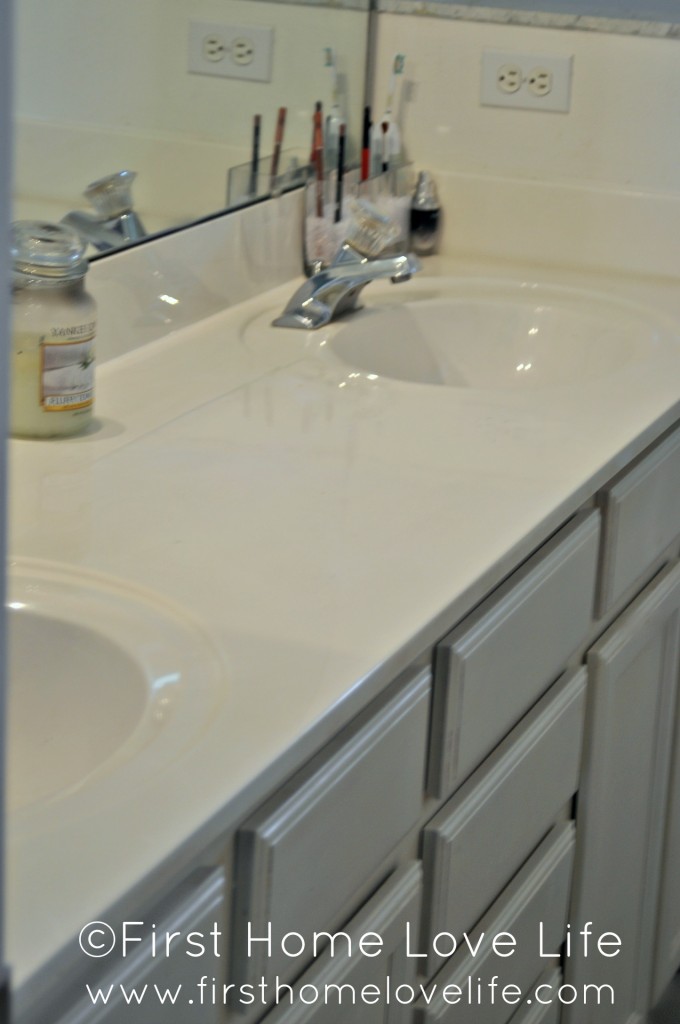 The only thing I decided to leave on the counter on my side was a few makeup brushes, my daily moisturizer and toothbrush. These things I could easily just slide under the sink if I needed the counter completely clear but I like to have these things out and accessible.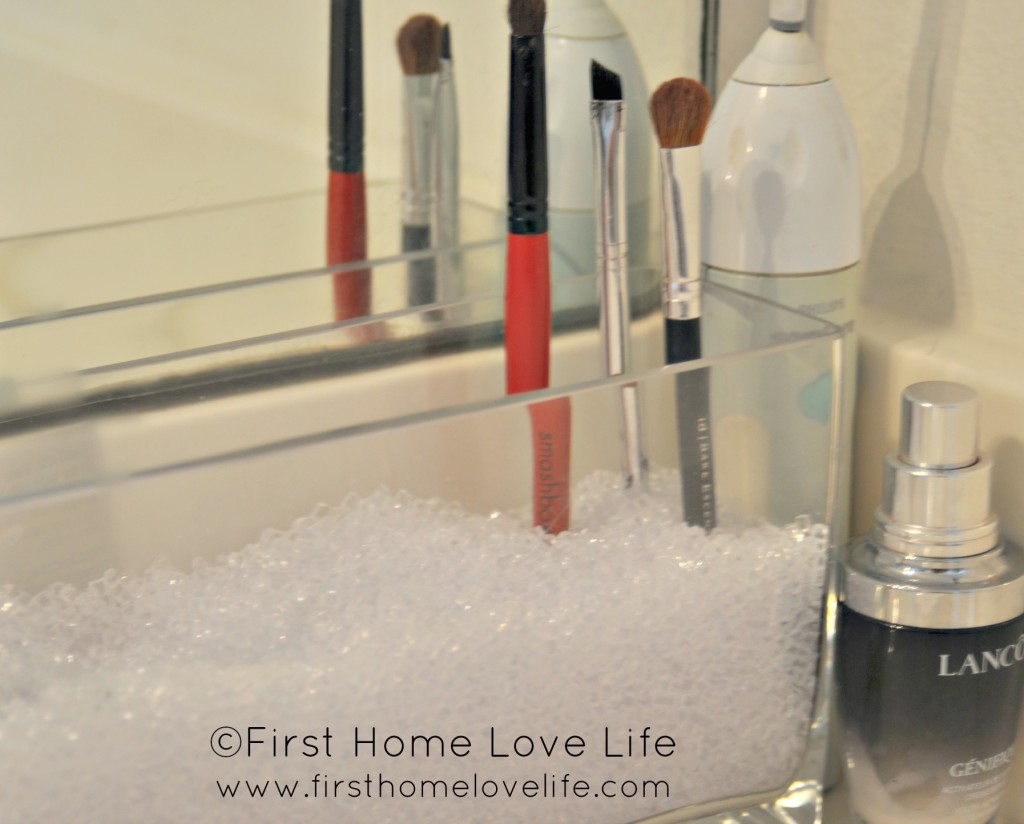 I bought this glass vase and the bead filler at Michael's and this allows me to keep my makeup brushes from getting lost or misshaped from being squished with other things. My other makeup brushes are two sided so I'm keeping those in the drawer until I replace them with one sided ones.
As for the medicine cabinet…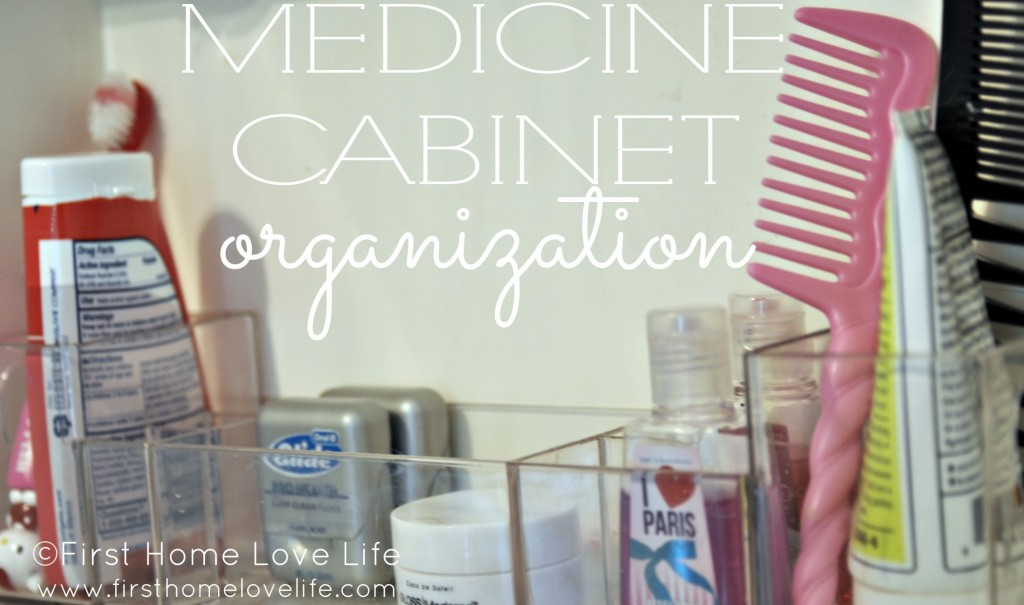 These little organizers are fantastic for keeping everything in it's place. You can find them in all different sizes and shapes. I love that they're clean acrylic so you can see everything easily at first glance.
Decorative Touches
Lastly, an organization/decor tip when it comes to bars of soap.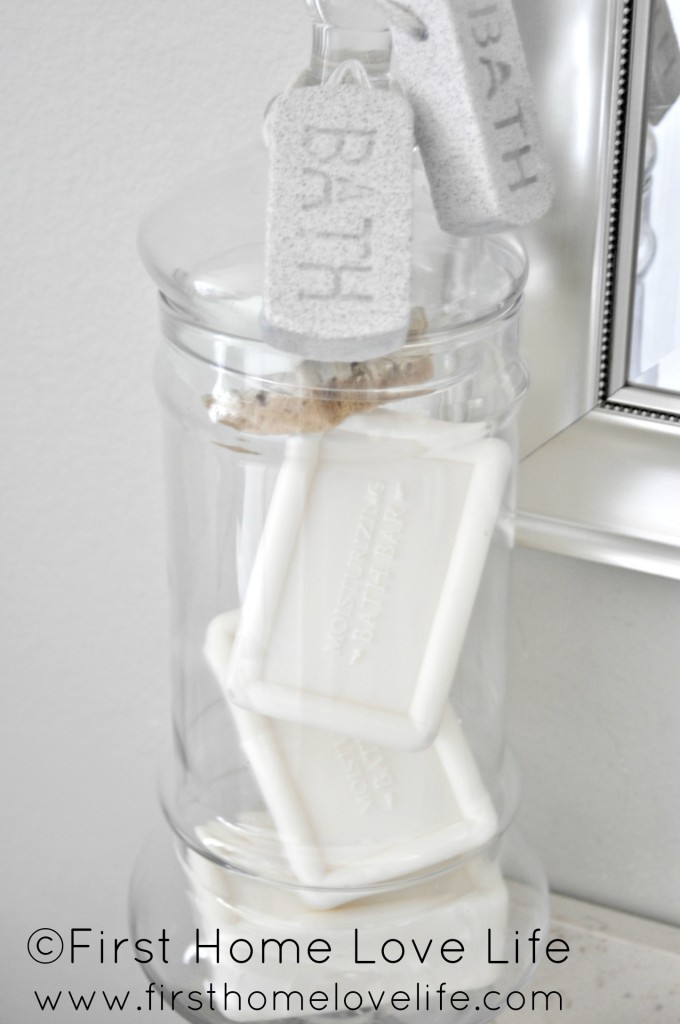 I love storing decorative soaps in apothecary jars on the counter of our guest bath. It's a really pretty decorative element in the bathroom that's also functional is needed.
Talk to you soon!
XO
Comments
comments