This is real life. A not so Pinterest perfect holiday home tour…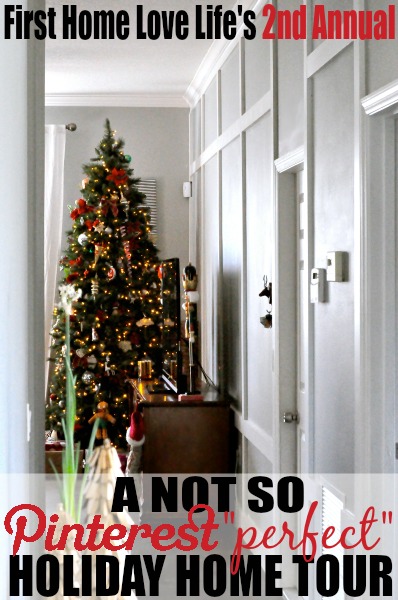 When I shared my Christmas Tour last year, I felt stressed, overwhelmed, and under impressed with my house compared to so many other holiday home tours that took over my Pinterest feed right after Halloween. Since I had already committed to be part of a home tour series I went along with it anyway and 'A Not So Pinterest Perfect Holiday Home Tour' was born. 🙂
This year I said 'no' A LOT! No to home tours, no to group giveaways and blog group parties. I knew I would be swamped with  living life and enjoying this season with my family and friends, and as much as I love a quick recipe or home decor post- it wasn't going to happen on anyone's time but my own, and you want to know how I'm feeling? JOYFUL. Relaxed. Thankful. Blessed.
So today I'm sharing just a few photos of my 'real life' Christmas decor and some happenings around here. Honestly, Christmas decor is light and simple this year. I only put out a few things that I love to make our home feel festive without cluttered. No regrets about that either and I actually feel a Christmas decor purge coming on after the New Year because why store things away in boxes if I don't plan to put them out again, you know? 🙂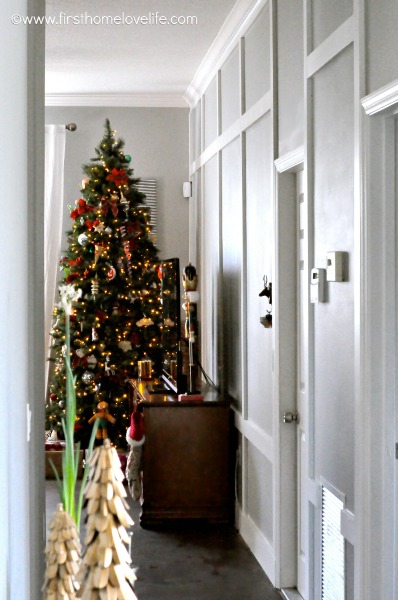 Really, the only room that got decorated for the season is our family room. It's where we open gifts on Christmas morning and because it's right off the kitchen, people tend to congregate there when we're entertaining.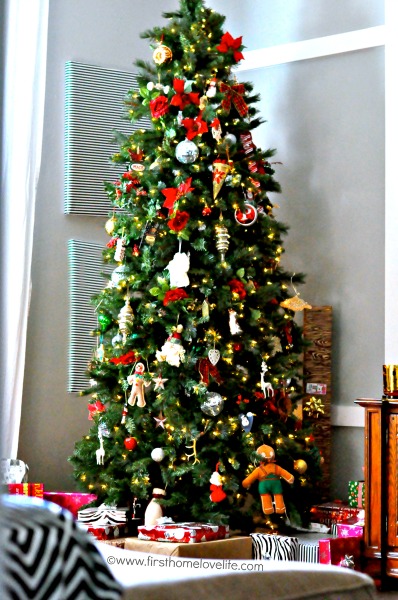 I love our Christmas tree. It's not trendy or themed but has all of the ornaments I either inherited or we've picked out as a family. It looks pretty much the same every year and has such a nostalgic feeling to it. 🙂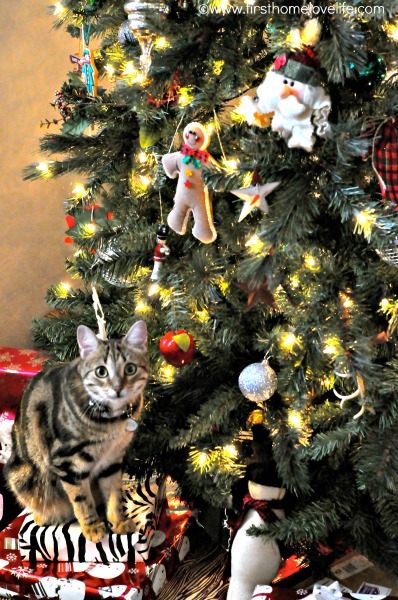 Baby Rosie loves it too. 😉
I did add a few gold ornaments to some twigs in the kitchen but that's it for the inside decor pretty much. Our hot cocoa station has been a big hit too this year since we've had quite a few chilly nights.
One thing that is new in the kitchen is our lights, and no not the Christmas variety! 😉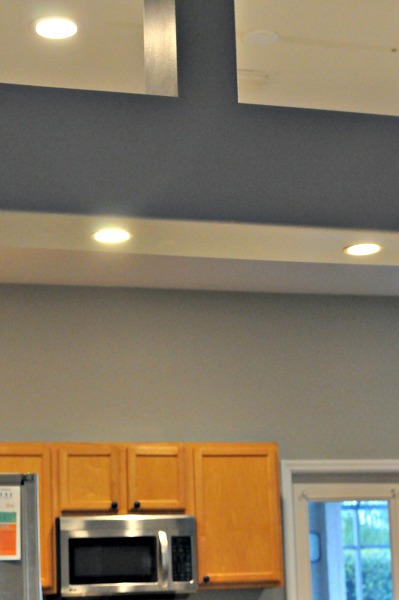 For three years the only working kitchen light was actually an oddly hung somewhat broken nook pendant that finally completely broke a couple of months ago, and since we're not so Pinterest ''perfect'' today, here's the ugly truth of what I've been dealing with…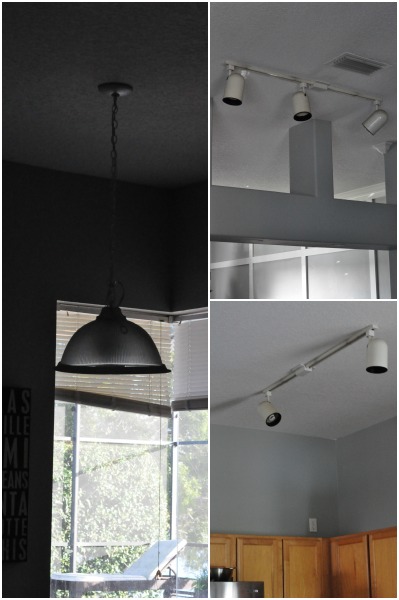 Dark, dated, broken, beat up…my kitchen in a nutshell and why I rarely, and I do mean RARELY show pictures of it. 😉
So a few weeks ago we finally bit the bullet and called in some pros to take down the old broken lighting and replace it with new recessed LED lights, and while it's not exactly 'pretty' it's made my kitchen usable again, just in time for holiday entertaining!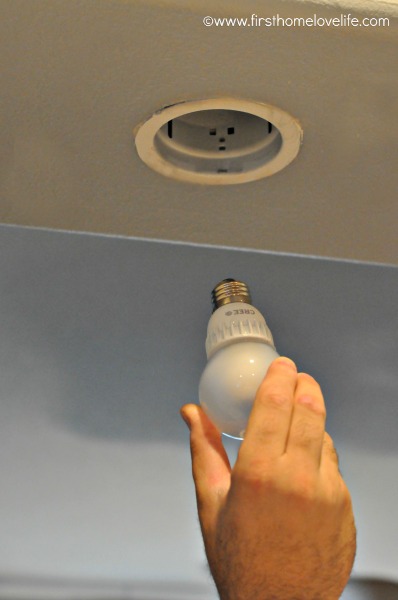 We opted to go with soft white Cree LED bulbs we were sent by Cree because they give off an incredible amount of light at such a low energy cost! Perfect for a high traffic, always being used room like a kitchen. You can find Cree LEDs at your local Home Depot, and we've been slowly replacing all of our old lights to them and whew, what a difference! 🙂
The only problem is I can see just how bad our kitchen really is, and its now high up on the priority list for things I want to improve in 2015!
Moving on to the outside… 🙂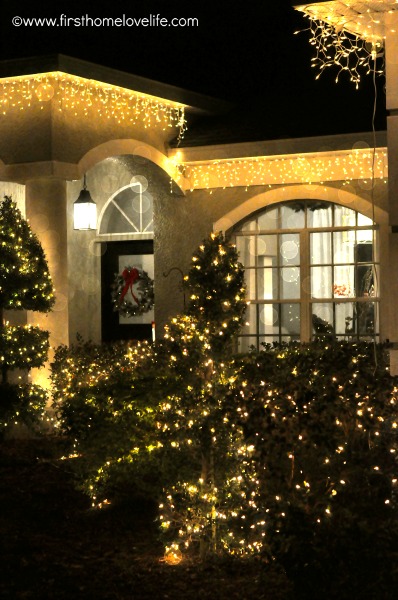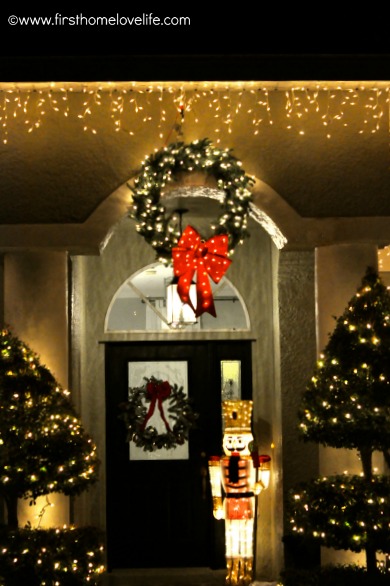 White icicles, a few wreaths, and LOTS of twinkling white lights. Some people may think it's boring, but I'm a white lights kind of girl and just love the glow it puts all over our home this time of year! 🙂
So there you have it! Simple decor, simple changes, and a super stress-free holiday season…
…and on a side note I just wanted to let you all know how truly thankful and appreciative I am for every single one of you that has been a part of this little slice of the web I call First Home Love Life. Thank you so much for reading along, commenting, pinning, tweeting, and joining in on our journey as we transform our house into a home. As you may know, I do earn a little income from this gig every time one of you visits here and feel truly blessed that I'm able to share with and inspire you all while making a living. So as a HUGE thank you and a way to give back this season I used a portion of the income I've made to sponsor two local children's Christmas morning which you helped to make possible!
My goal next year is to be able to give more children a wonderful Christmas morning, so please continue to share First Home Love Life with your friends and family. 🙂
Talk to you soon friends, take care!
XO
**This post was brought to you in partnership with Cree who compensated me for my time and provided me with some of the LED bulbs used in our kitchen. Please read my full disclosure pertaining to partnerships and sponsors here. 
Comments
comments