Taxes. 
You either hate this time of year or love it, but many of us will get a little money back to do what we please with. 
So I asked my friend Eleni from Eleni $aves U to give my readers a little advice and guidance on how to S.T.R.E.T.C.H every penny.
Take it away Eleni…
———————————————————————————————————————————
Each year many of us plan on receiving a tax refund from Uncle Sam.  I thought you might be surprised to know that many Americans do not add their tax return into their annual budget.  The government isn't sending you a bonus check.  No, instead this is money held from your paycheck to pay your taxes.
Now that we got where the money comes from, I'm asking you to reframe the way you view your refund.  Many people don't look at it as earned income, but indeed it is.  Your check is not a gift, it's your hard earned money, so save and spend it wisely.  According to Capital One Financial Corporation,  "Nearly a quarter (22%) of Americans plan to use their refund to pay down debt, while a relatively small percentage will save (16%) or invest (4%) their returns." Here are some steps on how to stretch that tax refund.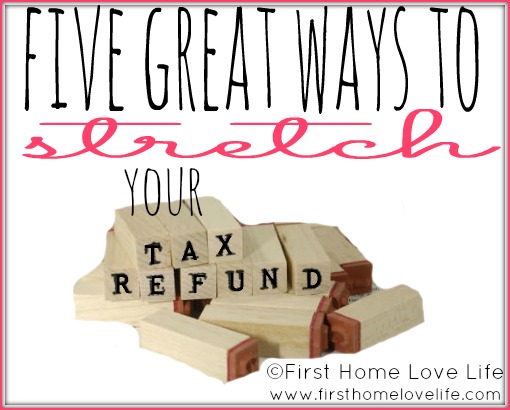 Take time to have a spending plan meeting around your return.  Look at it this way… Uncle Sam is trying to help you save!  Start wisely and set up a direct deposit to get your refund quicker.  Did you know that you can separate your refund into 3 different accounts as well as purchase US Savings Bonds? Completing the IRS Form 8888, Allocation of Refund, at the time of filing gives you an option to separate and save early on.  You can divide your refund and be less likely to spend the money as it's pre-allocated into purposeful accounts.

This is the financial tool I advocate for the most.  I have many readers that continue to be shocked that we choose to keep a cash emergency fund vs use credit cards.  All I can say is that everyone knows what works best for themselves, but to be able to have the peace of mind that their is emergency money provide, money that you won't pay interest on, is a huge sigh of relief.  Trust me, emergencies will happen.  There are many emergencies that have come up for us (car repairs, loss of job, furlough days, out of area deaths in the family, medications and doctor's sick appointments,  storm preparations, etc.) and I'm sure to can list a few that you wish you had an emergency fund for.  So, how much is up to you.  Many people are comfortable with $1,000 in a separate account and ideally if you can reach to have 3-6 months of savings then you will be secure if your source of family income lost their job, etc.

Do you have debt?  That's the next step to take stretching your refund.  Thanks to Dave Ramsey, we use the snowball method to pay down debt.  Simply put, start with the smallest debt (which with your tax refund) may mean you are able to payoff multiple debts this year.  This also gives you the mental motivation and inspiration toward paying down continual debt throughout the year.

Have you been putting off things you need?  According to the National Center for Healthy Statistics, 1 in 4 of us to put off medical, dental, and mental health needs, because of money.  So, why not use allocate your refund for those needs.  I'm talking about taking care of yourself physically and mentally so that you can be present to make healthy decisions.  A hefty refund can be a strong start toward goal setting.  So, if you are healthy and need a new coat, clothes, or mattress then don't feel guilty in spending some of that refund on your needs.  

Reward yourself by getting a step ahead.  If you've moved through steps above, then by all means set aside your cash and go on vacation or save for the upcoming holiday.  I find that its best to establish a separate account not affiliated with a check/ debit card so that it's MORE difficult to spend that money.  Some readers opt for a high interest saving account, but I'm not advocating for the stock market.
If you anticipate the money coming in and spend your tax refund wisely, it can and will stretch a long way.  Personally, I have a stronger relationship with my money, because my husband and I took time to have monthly money meetings, be honest with our spending, and share with others our triumphs and struggles.

Comments
comments