Today I'm sharing some great cleaning uses for vinegar in your kitchen! I bet there's a few you've never thought of! 🙂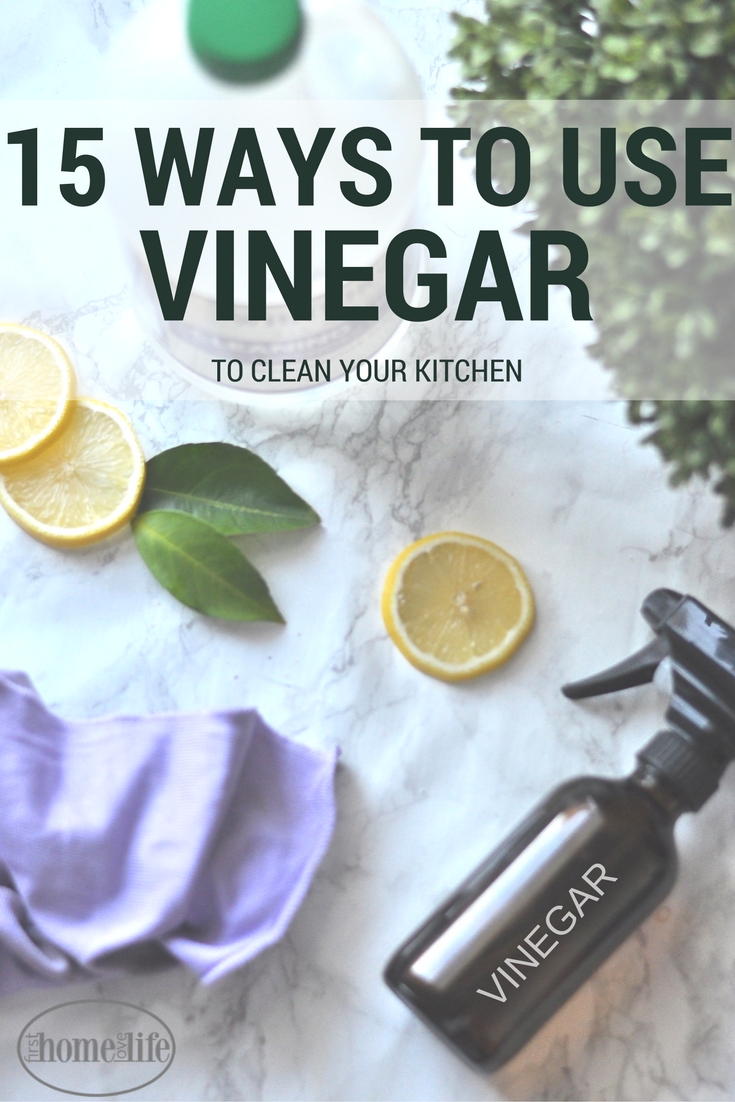 Hey friends!
Yesterday I shared a super easy organization project that you could tackle in about an hour or so- organizing under the kitchen sink. I also briefly mentioned to you in that post that I like to keep a bottle of vinegar in with my cleaning supplies down there.
What for? Well, I'll give you 15 reasons why I and EVERYONE should keep a bottle of white vinegar in their own cleaning caddy. Some of these uses you probably know about, but I bet you'll find at least one new trick below…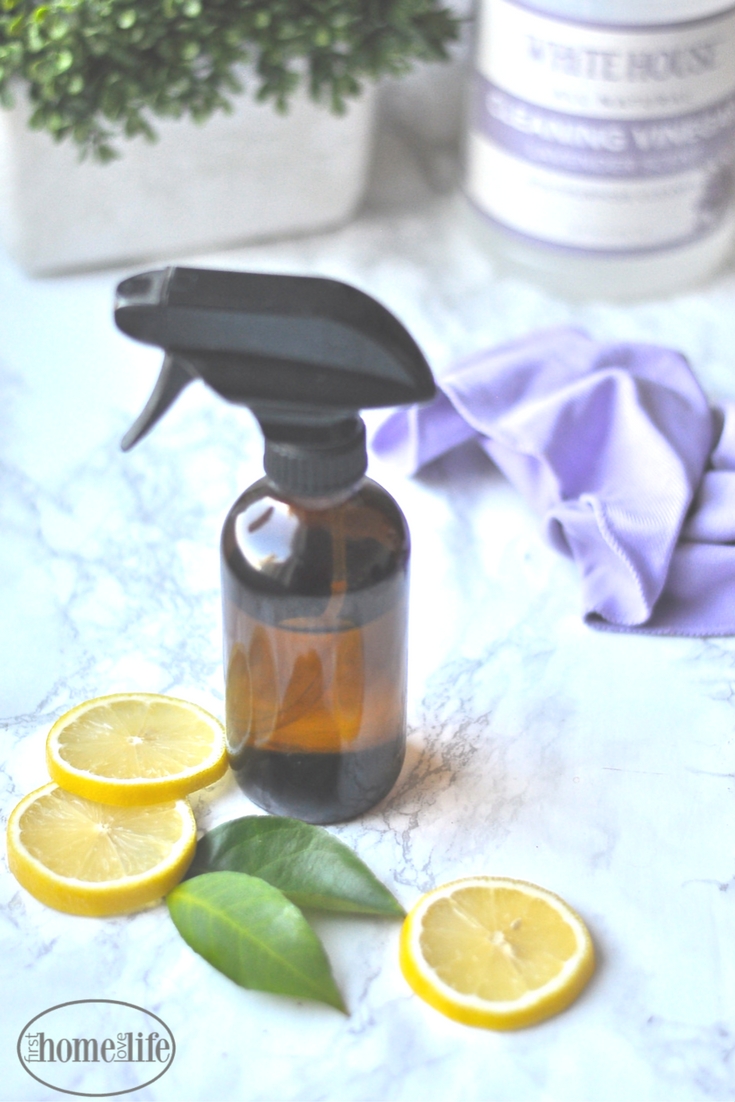 Freshen Garbage Disposal-

Pour 1/2 vinegar and 1/2 water equally into ice trays and let it set up in freezer over night. Pop a vinegar cube down the disposal and turn it on while flushing it with cold water for a minute or so. (I like to throw a couple a pieces of lemon afterwards down there, and run the disposal again to make it smell lemony-fresh) 🙂

Clean Your Keurig or Coffee Maker-

Fill the reservoir with white distilled vinegar and let it sit for a few hours before running it through a brewing cycle. Rinse thoroughly with water a few times when the cycle is finished and your machine will act like it's brand new!

Deodorize Your Sink Drain-

Pour a cup of white distilled vinegar down the drain once a week. Let it sit for about 30 minutes and then flush it with cold water.

Clean Your Refrigerator-

Wash with a solution of 50/50 warm water and white distilled vinegar.

Disinfect Cutting Boards-

Wipe down your cutting board with full strength white distilled vinegar to disinfect and clean the wood!

Clean Your Microwave-

Heat up for about 30 seconds a solution of 1/2 cup of white distilled vinegar and 1/2 cup of water in the microwave, it will loosen splattered food making it easy to wipe down and it will deodorize the inside.
Silverware Polish-Use vinegar to help your silverware shine! Dissolve 1 teaspoon of salt in 1 cup of white distilled vinegar and stir in flour until it becomes a paste. Apply paste to the metals and let it stand for about 15 minutes. Rinse with clean warm water and polish with a soft cloth until dry.

Bye Bye Ants!

Wipe down counter tops, cabinets and floors with white distilled vinegar to deter ants.

Cleaning Stainless Steel Appliances-

Remove streaks from stainless steel appliances by using vinegar and a soft cloth. ALWAYS try in an inconspicuous place first.

Cleaner Dishes and Glasses-

Pour 1 cup of white distilled vinegar in the bottom of dishwasher, along with your regular dishwasher soap and run the cycle. (Only do this when you need the extra help. Using vinegar regularly in your dishwasher can damage it.)
Get Rid Of Refrigerator Smells- Soak a bunched up newspaper in a 50/50 solution of white vinegar and water and wring it out until just damp. Let it sit in your refrigerator over night and the next morning the smell will be gone! It's a miracle!

Clean Your

Floors– As long as you don't have waxed floors (i.e. natural stone, marble…etc) 1/2 cup of vinegar to a gallon of water is a great floor cleaner!
Cleaning Hard Water Deposits On Faucet- Do you have that nasty crusty stuff around the base of your faucet? Make a paste out of baking soda and 50/50 water and white vinegar. Smear it around your faucet and let it sit for 30 minutes. Scrub with a toothbrush and the crud will lift off, then rinse clean and it will look brand new!
Get Rid Of Greasiness- Wipe grease off exhaust fan grids, the inside of your oven, or anywhere greasy with a sponge soaked in white distilled vinegar.

Rejuvenate Old Sponges and Rags-

Get more time out of your sponges and dishrags by placing them in just enough water to cover them. Then add 1/4 cup white distilled vinegar and letting them soak overnight.
Did you know them all?
There's so many cleaning uses for vinegar all over your house, but I mainly use it in my kitchen. It's a great green alternative to cleaners and hey…it works great!
So I want to know if you have any other tips and tricks for me to learn about what YOU use vinegar for? So leave me a comment below or on my Facebook page. I'd love to know!
Talk to you soon friends, take care!
XO
Comments
comments